BetOnline is an American sportsbook with a trusted following, operational since 2004. While the overall package may not be quite as impressive or dazzling as some of its competitors, the site meets the brief and as a sportsbook, delivers. In this BetOnline Sportsbook Review we'll dive deeper into some slightly different markets on offer, and look at some of the more practical details of playing with BetOnline.
First-time depositors can get up to $1,000 in a sign-up bonus, while the site encourages players to use bitcoin or other cryptocurrencies. At 15, the number of different cryptocurrencies to choose from is decent. There is no structured rewards or loyalty programme, but this doesn't mean you wont be rewarded for your repeat business.
BetOnline Sportsbook Review
BetOnline provides a fully functional sportsbook which is a bit more stripped down than other offerings out there – at which we believe no doubt will appeal more to a certain class of bettor. Does the pared back offering appeal to sharper bettors? All your main American sports are covered, and bet building tools are there to allow you to customise your bets beyond the mainline markets.
One glaring error, but which ought to be easily fixable, is the fact that despite encouraging players to play with cryptocurrency, BetOnline doesn't provide a facility to buy any when you're there. Operators such as Cloudbet and Stake – while neither operate in the US – use a third-party that allows you to buy crypto easily there and then.
---
| | |
| --- | --- |
| Pros | Cons |
| US players allowed; widely accessible globally | Less encompassing sports offering than other sites, though main sports catered for |
| Good range of crypto on offer | No way to buy crypto on-site |
| Reasonable rollover requirements on bonus funds | Better UIs out there |
| Friendly, responsive, helpful proactive customer support | |
---
Sports Betting Experience
BetOnline is first and foremost an American sportsbook, which is immediately apparent in its sports offering. While the other sportsbooks we've reviewed often offer a more eclectic range of sports, BetOnline's focus is firmly routed in it's US market – not that that's a bad thing.
What's more, there are some unique offerings we've not seen anywhere else.
At BetOnline you'll find all the mainline markets – moneylines, point spreads and totals (over/under), and a wide range of player prop bets and futures bets (outrights).
The sportsbook navigation bar strips out 10 "Main Sports":
| | |
| --- | --- |
| Baseball | Hockey |
| Basketball | Horse Racing |
| Boxing | Martial Arts |
| Football | Soccer |
| Golf | Tennis |
BetOnline's 10 main sports
And has some unique offerings under "Other Sports":
| | | |
| --- | --- | --- |
| Aussie Rules | Financials | Rugby Union |
| Auto Racing | Handball | Snooker |
| Cricket | Lottery | Surfing |
| Darts | Politics | Table Tennis |
| Entertainment | Rugby League | Wrestling |
Some unique "other" options – Financials and the Lottery?
Unique markets
On the sports front, we haven't found another site making a Surfing market yet, while BetOnline's US-centric focus is exemplified in other non-sports categories too.
For example, while the Entertainment category offers popular markets on the Oscars, it also has a market on who Bill Gates might date next (ex-girlfriend Ann Winblad is favorite at +400, followed, weirdly (and uncomfortably), by Greta Thunberg at +2000. The Duchess of York and Kim Kardashian are both at +5,000, while Hilary and AOC are tied at +6,600. Queen Elizabeth II and Caitlyn Jenner are rank outsiders at +10,000).
In the Financials category, you can bet on the specific last digit (0-9, including decimals) of the Dow Jones Industrial Average at the closing bell. Individual numerals are offered at +750, or chose Odd or Even at a very generous -105 (better than the usual -110 vig).
The Lottery market isn't wildly different – bet on whether the first number drawn in the New York Lottery is Odd (-112) or Even (-108); you can work out why the odds differ.
The Politics offering is substantial too, with markets on elections in Brazil, Hungary, Australia, Colombia and the Philippines, and, unsurprisingly, a wider range of US markets than we have seen elsewhere.
Bet building tools
Sophisticated BetSlip
BetOnline has a fairly sophisticated Bet Slip that allows you to add single bets, roll these into parlays (if applicable), create teasers if you're betting on football or basketball, and create "If Bets" – a multi-bet structure that needs the previous bet to hit to activate the next bet, but where the odds are not linked together, as they are in a parlay.
Player Prop Bet Builder
For sites with a US-centric focus, it seems a decent prop building tool is essential. BetOnline's stacks up against the competition. For example, Bovada – another recommended US online sportsbook – also offers parlay and prop building tools to make it easier for players to place exactly the bet they want to – or to get as close as possible within the rules of each sportsbook (Top tip: Always be sure to read your sportsbook rules. They differ from book to book.)
The first option is a single-player Stat, or Statistics, option. We've selected a few NBA superstars to help for illustrative purposes.
Here, we've gone for James Harden to put at least 24 points on the Sixers. When betting on basketball, you can chose from a range of different stats: Points, rebounds, assists, Pts + Reb + Ast, Reb + Ast, 3pt FG Made, Blocked shots, and Steals. For this, we're offered odds of -130.
Second, is a head-to-head bet, where you select one player to outperform another for your selected stat. Harden to outscore Giannis is underdog territory at +163.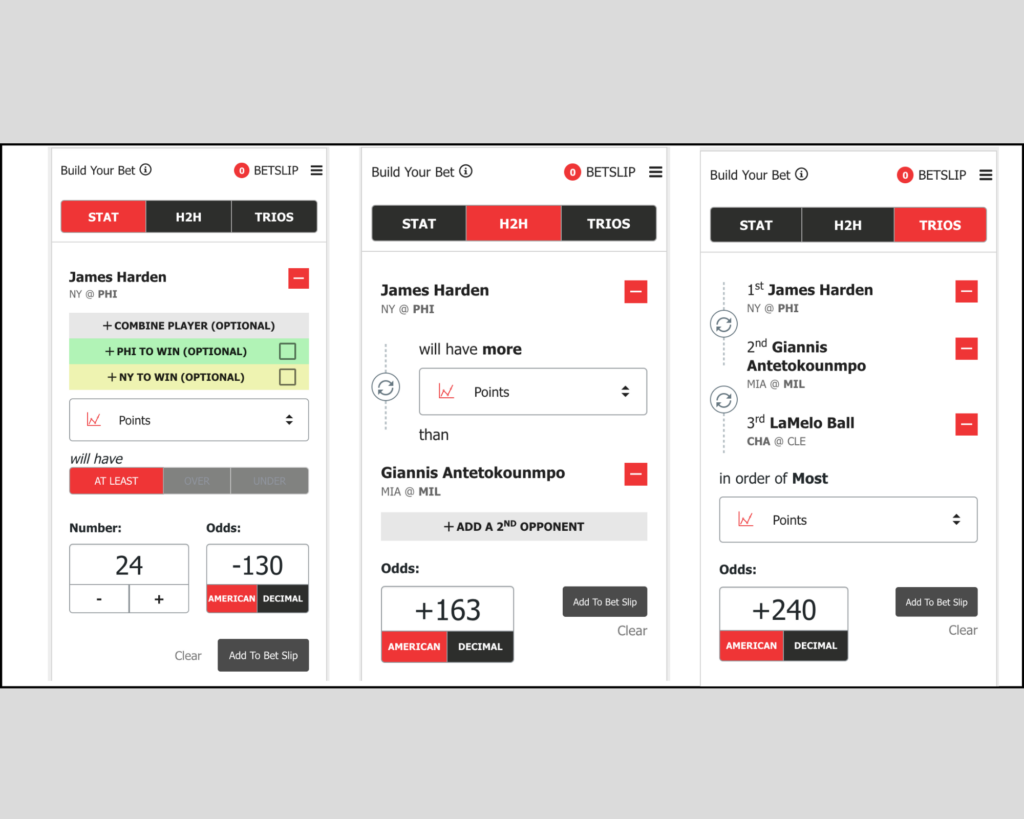 Adding another opponent, in the form of LaMelo Ball, take us in to Trio territory. The trio doesn't require Harden to just outscore Ball as well, but rather at the end of the night the number of points scored by all three must stack up in that exact order – with Harden outscoring Giannis, and Giannis outscoring LaMelo (it might help to think of this like a racing trifecta).
Bet limits
BetOnline has a complex matrix of bet limits – too much to cover comprehensively here, but suffice to say games with more action allow for higher limits, hence weekend games have bigger limits than midweek games.
For that same reason, the mainline markets – moneylines, spreads and totals – have much larger limits that props or futures. Live bet limits are much lower. A max bet limit will be displayed on your Bet Slip when betting.
Here are some key highlights:
NBA: Game Spread: $30,000, Moneyline: $10,000, Totals: $5,000. Team totals: $1,000.
NBA Live: Spread: $1,000, Totals: $1,000.
NFL Mon-Wed: Spread: $20,000, Moneyline: $3,000, Totals: $5000. Team totals: $500.
NFL Thu-Sun: Spread: $50,000, Moneyline: $20,000, Totals: $20,000. Team totals: $1,000.
NFL Live: Spread: $1,000, Moneyline: $1,000, Totals: $1,000.
MLB: Run line: $5,000, Moneyline: $10,000, Totals: $5,000. Team totals: $1,000.
MLB Live: Moneyline: $1,000, Totals: $1,000, Team totals: $1,000.
NHL: Spread: $3,000, Moneyline: $6,000, Totals: $6000. Team totals: $500.
NHL Live: Spread: $1,000, Moneyline: $1,000, Totals: $1,000.
It is worth pointing out that if you wish to wager more than the existing limit you can get in touch with the book to discuss your case. It's a conversation they're more than happy to have.
Boosted Odds – and Other Sports Promos
Keep an eye out for the Odds Boosters, which sit near the top of the navigation sidebar. Here you can find select odds boosts for the day, which might see a +130 underdog boosted to +160, for example – or a player prop future market boosted from +1200 to +1400.
Like other books, BetOnline will run smaller promotions to entice a bet, like $25 risk-free live bets or player props.
---
BetOnline Sportsbook Review – Live Betting
The live betting options at BetOnline don't seem quite as sophisticated as they are at other sportsbooks, but there are other features that count for positives.
Tennis, for example, is hugely popular live-betting option, yet when we did this review we found a limited number of live markets on offer compared to other sites. However, this may have been a reflection of the fact that it was a secondary tour game, rather than an ATP event of a Grand Slam tournament.
On the other hand, and this is a big however for anyone who may not be based in the US, BetOnline does stream live NBA games as well as footage of lesser sports that fans might not be able to see otherwise.
We're not sure how many people outside of Russia want to watch their hockey league, but the screen shot below shows how we watched a bit of the Sibir Novosibirsk at Slavat Yulaev game. The open live markets are displayed clearly.
For live sports that aren't being streamed – like the tennis match that was on when we wrote this sportsbook review – there is a Match Tracker graphic that shows a representation of the live game, which you can toggle between the Score Board with.
For sports like the NBA you can find the mainline markets – spread, moneyline and totals, for both the game and the period in play, but not much else (like player props, for example).
---
Bonuses and Rewards
$1000 Welcome Bonus – 50% or 100% matched
BetOnline offers a Welcome Bonus of up to $1000 for first-time depositors, but like other sportsbooks, makes it more attractive to players who are willing to bet in cryptocurrency. BetOnline does this by changing its match-percentage depending on your choice.
If you deposit in fiat currency – i.e., regular cash – then the first-time Sports bonus is a 50% matched deposit bonus, up to $1000. In other words, if you want to receive the full $1000, you need to deposit $2000 of your own funds. It is worth noting that deposits made via Skrill and Neteller are exempt from this promotion. The minimum deposit to qualify for the offer is $55.
If you are willing to play in crypto, that 50% match is upped to 100%, so you only need to deposit the equivalent of $1000 in your cryptocurrency of choice to receive the $1000 equivalent in bonus funds. The minimum deposit to qualify for the offer is also lower, at $20 equivalent.
BetOnline accepts 17 cryptocurrencies for users to play in: Bitcoin (BTC), ApeCoin (APE), Avalanche (AVAX), Binance Coin (BNB), Bitcoin Cash (BCH), Cardano (ADA), Chainlink (LINK), Dogecoin (DOGE), Ethereum (ETH), Litecoin (LTC), Polygon (MATIC), Ripple (XRP), Shiba Inu (SHIB), Solana (SOL), Stellar (XLM), Tether (USDT), and USD Coin (USDC).
Rollover requirements
It is no secret that over time, the house always wins, and as such, it should come as no surprise that any sportsbook offer of bonus funds comes with strings attached – usually in the shape of playthrough or rollover requirements before you can withdraw your funds.
Such requirements are the industry norm, but at a certain point, from a player's perspective, an overly burdensome playthrough requirement can become a turn off.
Compared to other online sportsbooks, BetOnline's rollover requirements on bonus funds is reasonable indeed – and as a selling point this shouldn't be underestimated.
The rollover requirement on the Sports first-time deposit bonus is 10x if you deposit in fiat currency, and 14x if you deposit in cryptocurrency.
If you deposit $1000, you receive $500 (a 50% match) for $1500, which needs to be wagered 10x ($15,000) before you can withdraw. Or, you deposit $1000 equivalent in Bitcoin, for $2000 equivalent, to be wagered 14x ($28,000) before you can withdraw. It is noteworthy that this promotion is only available to players in the US and Canada.
While that isn't as favourable as Bovada's 5x rollover, it is four times the amount, while it compares very well against Stake's 40x requirement.
BetOnline
Welcome Bonus
Stake
Welcome Bonus
Bovada
Welcome Bonus
Fiat
50% matched up to $1000 (10x on sports)
–
50% matched up to $250 (5x on sports and horses)
BTC
100% matched up to $1000 (14x on sports)
200% matched up to $1000 (40x)
75% matched up to $750 (5x on sports and horses)
How BetOnline's Welcome Bonus stacks up against the competition.
Sports Reload Bonuses
If you reload your account with a deposit of more than $50, you're eligible for a 25% reload bonus of up to $250. i.e., a $1000 deposit maxes out the bonus. This comes with a 6x rollover requirement.
Crypto Boosts
For specific cryptocurrencies – namely, Bitcoin, Bitcoin Cash, Ethereum, Litecoin and/or Dash – you can earn a further 35% boost, valued up to $350, on deposits over $20. These boosts carry an 8x rollover requirement.
The site currently offers a further 5% boost to all crypto deposits (at 10x rollover).
Refer-a-friend
For every friend that signs up and shares your personal referral code, you can receive a 200% match, up to $200.
Other terms and conditions do apply to these bonuses, so – as ever – it pays to read the specifics in the Terms and Conditions on-site.
Rewards
Navigating the website, it would appear that BetOnline has no structured Reward or Loyalty programme. There are no links to VIP Clubs, or to explanatory pages that lay out tiered structures and list the incremental benefits of achieving a higher level.
This may be a blessing – depends on how you look at it. Some (many) sites use their loyalty programmes as legitimate retention tools for their players – and from the user's perspective you're told upfront what you can get in return for your custom. Some players like this, and climbing loyalty tiers can be as much an achievement as returning a positive ROI on your bankroll.
However, for the focussed or sharp sports bettor, it's not inconceivable that a lot of this promotional material is distracting and gets in the way of your primary purpose.
Having spoken to BetOnline, rest assured that this book is as savvy as any other, and if you're playing regularly, and wagering decent amounts, they will notice. And this means you will be treated as you would expect to be by a sportsbook that values your business.
Higher limits, bigger and better bonuses, other perks and freebies will always be up for discussion if you show BetOnline your value by playing regularly and wagering decent amounts.
---
Deposits, Withdrawals and Limits
American Express
Bitcoin
Discover
MasterCard
Moneygram
Neteller
Ria
Skrill
Visa
Wire Transfer
BetOnline does offer an array of deposit methods for players wanting to use fiat currency, but as a site it pushes its users towards adopting cryptocurrency – which is interesting because this highlights perhaps the site's biggest area for improvement:
While BetOnline encourages cryptocurrency adoption, there is no way to purchase any cryptocurrency on-site.
Playing with fiat
You can deposit funds using a credit card – Visa, MasterCard, Discover and American Express are all accepted – money orders, bank wire transfers or via Person-to-Person platforms MoneyGram or Ria.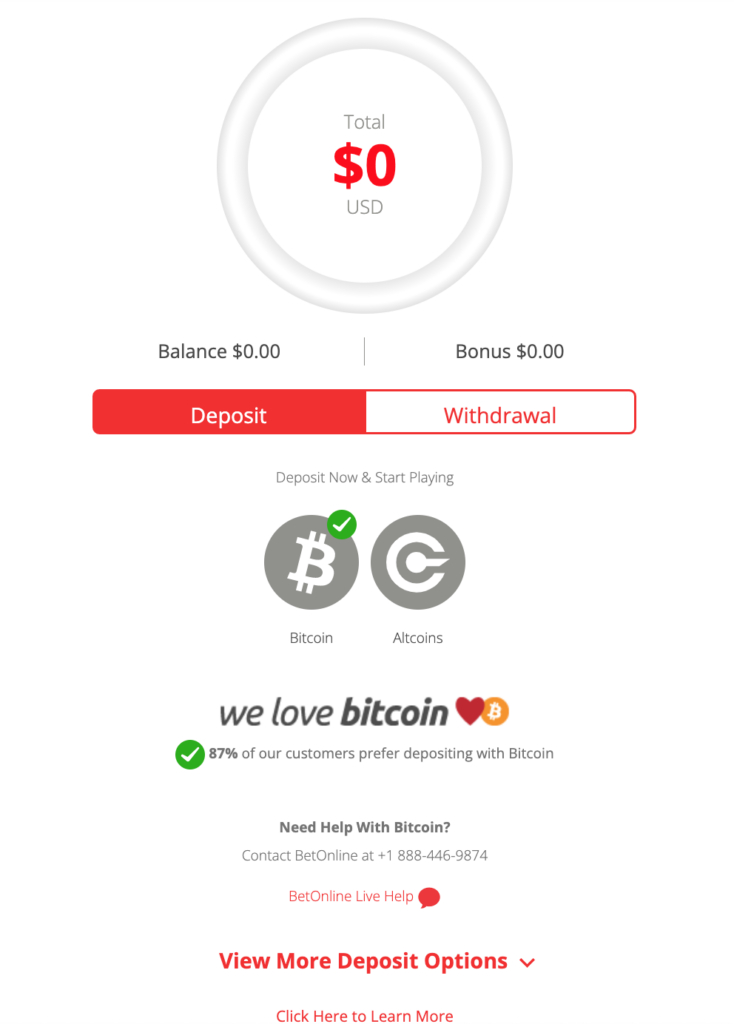 This is the BetOnline's Cashier window, from which you can deposit or withdraw funds.
Playing with crypto is most certainly favored by the operator. The Bitcoin icon is pre-ticked to draw your attention to it, though you need to click on it to deposit, while the Altcoin button next to it takes you to the other 14 currencies on offer.
Once you select your currency of choice, and the amount you wish to deposit, a wallet address and QR code is immediately generated for ease of transaction.
If you want to deposit fiat, you need to click on "View More Deposit Options".
For Withdrawals, the process is similar, merely reversed. See below for transaction costs and limits.
Playing with crypto
Like other online sportsbooks, BetOnline encourages players to play with cryptocurrency – hence the more generous bonuses and promotions offered to reward crypto play.
BetOnline now accepts 18 cryptocurrencies for users to play in, adding more since this review was originally published: Bitcoin (BTC), ApeCoin (APE), (Avalanche (AVAX), Binance Coin (BNB), Bitcoin Cash (BCH), Cardano (ADA), Chainlink (LINK), Dogecoin (DOGE), Ethereum (ETH), Litecoin (LTC), Polygon (MATIC), Ripple (XRP), Shiba Inu (SHIB), Solana (SOL), Stellar (XLM), Tether (USDT), TRON (TRX) and USD Coin (USDC).
Deposit and Withdrawal Limits
The tables below summarise the information gleaned as best we could from the BetOnline Knowledge Base – the onsite depository of information designed to provide users with the information they may be looking for. BetOnline's information isn't complete, so is provided below to the best of our ability.
| | | | |
| --- | --- | --- | --- |
| Deposit method | Min deposit | Max deposit | Fee |
| Credit Card (Visa, MasterCard, Discover, AmEx) | $25 | $5,000 | 7.5% |
| Person to Person (MoneyGram, Ria) | $100 | $600 | As per service provider |
| Money orders | $300 | $9000 | As per service provider |
| Bank wire transfer (3-5 days) | $500 | $10,000 | As per bank |
| Bitcoin (BTC) | $20 | $500,000 | No fee |
| Ethereum (ETH) | $20 | $100,000 | No fee |
BetOnline's deposit options
Withdrawal method
Min withdrawal
Max withdrawal
Processing time
Fees
BTC
$100
$100,000
Within 24 hrs
–
BCH
$20
$100,000
Within 48 hrs
–
ETH
$200
$100,000
Within 48 hrs
–
LTC
$20
$100,000
Within 48 hrs
–
XRP
$20
$100,000
Within 48 hrs
–
USDC
$300
$100,000
Within 48 hrs
–
Bank Wire
$500
$25,000
Within 15 bus. days
< $1,000 – $45
$1,000-$5,00 – $60
>$5,000 – 3%
Cheque
$500
$2,500
Within 7 bus. days
$500-$1,500 – %50
$1,500-$2,500 – 3%
Person to Person (MoneyGram, Ria)
$50
$400
Within 5 bus. days
$50-$100 – $26
$100-$200 – $35
$200-$300 – $44
$300-$400 – $51
Money order
$500
$4,500
One per week
$80
BetOnline's Withdrawal structure. Other cryptocurrencies are not specifically mentioned.
It is worth noting that the information provided online comes with the caveat that some geographic restrictions may apply, and that the listed minimum and maximum amounts are subject to change without notice.
---
Customer Support
Within hours of setting up a BetOnline account, I got a call from a personal account manager to ask if there was any assistance he could provide. This was mightily impressive, though no doubt triggered by my implied intent to deposit $5,000 in BTC.
Friendly, personable and very helpful, he answered all my questions and this is a big tick in BetOnline's pros side of the ledger. It would be interesting to know where the line is drawn though – would $1000 get you the same treatment?
There is a toll-free hotline that players can call, around the clock, as well as a live-chat function online. It's worth stressing that these aren't just tools for use where there are issues that need resolving though – you can call to talk about the good stuff too, like increased bet limits, or structuring bets that may not be immediately available on site.
For less urgent issues, users can search the Help Center to try to find the information they're after, while customer support can also be emailed.
Security / Trustworthiness
In relation to this question, the length of time an operator has been operating in this space is often a good indicator of trustworthiness. That it has operated its sportsbook for two decades, since 2001, is therefore testament to BetOnline's security and trustworthiness.
The site offers Two Factor Authentication (2FA) and when making withdrawals, reserves the right the ask for proof of identity/address and to conduct other KYC checks.
Is BetOnline legit?
BetOnline is legit – as suggested by the fact it's been in operation since 2001. It remains a popular choice for online sports bettors and casino gamblers in the US, especially.
The operating company is registered and licensed in Panama.
---
Did BetOnline get shutdown?
No. BetOnline remains fully operational. From time to time, online sportsbooks have been known to go down. Like any website or online business, sometimes technical glitches or maintenance require downtime, as might upgrades.
As far as we are aware, BetOnline itself has never fallen foul of an adverse hack or attack. Players are urged to practice good online security practices themselves to ensure their accounts do not get hacked.
Does BetOnline actually payout?
Of course. This type of question is often posted by disgruntled players who, for some reason, may find their withdrawals taking longer to process than usual. BetOnline says its Bitcoin withdrawals are usually settled within 24 hours, other crypto withdrawals within 48 hours and fiat withdrawals dependent on the method requested.
Occasionally sportsbooks will have good reason to delay a withdrawal – for many legitimate reasons – and so users should be aware of their sportsbook's Terms and Conditions for its players.
In a word, Yes. In the US there is no federal law that prevents sports betting with an entity based outside of the US. BetOnline, based out of Panama, therefore fits the criteria. However, the laws on sports betting do vary from state to state.
What is the minimum deposit for BetOnline?
The minimum deposit at BetOnline depends on your method of deposit. The smallest minimum is $20 for cryptocurrencies like Bitcoin and Ethereum, followed by $25 if you make a fiat deposit via your credit card.