The Bovada sportsbook has been live since 2011. It offers a breadth and depth of sports to bet on, with some slick features like fan-requested prop bets and personal prop and parlay bet building tools.
First-time sportsbook depositors get a Welcome Bonus of up to $250, or $750 if you deposit in bitcoin or crypto. Loyalty is rewarded through reward points earned for dollars wagered, which can be redeemed for cash. VIP players redeem fewer points per dollar claimed.
Bovada Sportsbook Review
Bovada is an offshore online sportsbook available to players in the US. It operates alongside its sister site, Bodog, which is available in other geographies, primarily Canada. Recently, the casino side of the concern has been making strides into Latin America as well, though it's unclear if the sportsbook will follow.
Bovada has been an established sportsbook since 2011.
---
| | |
| --- | --- |
| Pros | Cons |
| Established sportsbook; operational since 2011 | Currently operating unlicensed |
| Available to US players | Outside US, limited availability |
| Slick betting tools; fan props, prop & parlay builder | Low max deposit limits; unusual withdrawal structure |
| Good Community ties | Limited number of cryptocurrencies accepted |
---
In-depth Sports Betting Coverage
For North American sports fans, Bovada offers competitive odds on all major sports, from the NFL and NBA to MLB, NHL and MLS – and a bunch of smaller sports in between.
The Bovada sportsbook provides all the mainline markets: moneylines, point spreads and Totals (Over/Under), as well as a host of specials including prop bets and futures/outrights.
At Bovada you can bet on:
| | | |
| --- | --- | --- |
| Football (including, but not only NFL) | Boxing | Table Tennis |
| Basketball (including, but not only NBA) | Cricket | Volleyball |
| Baseball (including, but not only MLB) | Motor Sports (including F1) | Handball |
| Hockey (including, but not only NHL) | Aussie Rules Football | Esports (multiple titles) |
| Golf (PGA, DP World Tour and other tours) | Rugby League | Virtual Sports |
| Tennis (ATP, WTA, all major tours) | Rugby Union | Curling |
| NCAA Football | Snooker | Badminton |
| NCAA Basketball | Darts | Winter Olympics |
| Soccer (all major leagues and competitions) | Cycling | |
| MMA (including but not only UFC) | Futsal | Entertainment markets |
The in-depth sports offering available at Bovada.
Slick Sports Betting Tools
Requested props – #whatsyawager
One cool section that stands the site apart from competitors is called "#whatsyawager" – a selection of prop bets created because fans have specifically asked for them.
Here's one fight fans were interested in: a UFC market on "Who Will Conor McGregor Fight Next?"

Props Builder
The site also boasts a really slick Prop Builder tool that allows users to create their own player props from a wide selection of individual player/prop data.
For example, in the NFL you can build your own head-to-head prop bet pitting two quarterbacks against each other, or choose one running back over another for more rushing yards. Where appropriate, you can even structure a trio – such as choosing a wide receiver to log more rushing yards than two other WRs playing in the same game.
It's an ingenius way to allow players the bet by repackaging the existing player prop data.
Parlay Builder
On the same page, Bovada allows you to build parlays easily from the individual markets on offer and groups these singles together by cumulative odds to produce different parlays sized by odds bracket. For example, you can parlay single bets in various structures that pay <+1000; +1000 to +2000; +2000 to +5000; and >+5000.
"Buying points" is easy
Bovada will also let you "buy points" if you're betting on the spread or on the Total. All this really means is you're placing a spread or totals bet at a level that differs from where the sportsbook as set its mainline market. For example, if the spread on a game between the Lakers and Pelicans is set at 12, you can buy a point to bet at a spread of 11. Of course, in doing so the odds will change, but maybe that's where you see value.
Most sportsbook will let you do this, but at Bovada its given a catchy name and can be done easily direct from the bet slip. on other sites you may need to navigate to find "Alternate lines" on a game.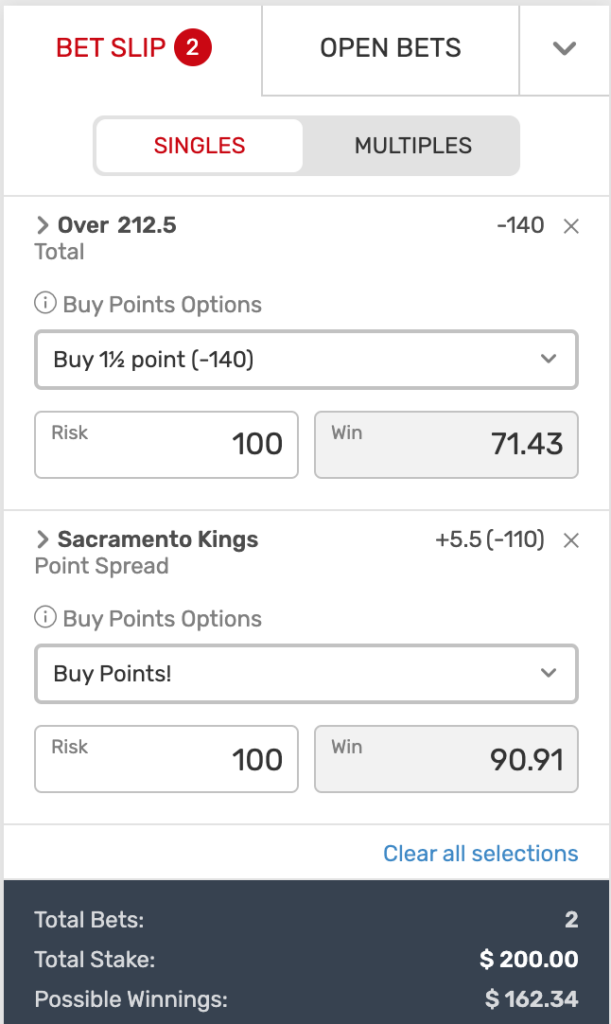 Bet Slip shows 2 bets selected
On the Singles tab, shows potential winnings for each individual bet – and combined winnings at the bottom of the slip.
In this example, $71.43 in the first bet and $90.91 in the second, for a total $162.34.
The "Buy points!" function is clearly visible and easy to use. In this example, 1 1/2 points from the mainline Total of 214 (see below)
when you enter the amount you wish to wager in the "Risk" field, it automatically calculates and shows potential winning in the "Win" field.
Bet Slip shows the same 2 bets
When viewed on the "Multiples" tab, however, the Bet Slip automatically shows a two-leg parlay.
Odds on the parlay are given as +264.
The bet slip takes the two separate $100 wagers and combines them to show a $200 parlay.
The "Win" amount auto calculates to $454.55.
This provides an easy illustration as to the effectiveness of parlays in increasing winnings.
Bet Limits
The minimum bet is $0.50 and while there is no definitive maximum bet – that depends on the odds on offer and the type of bet being placed – Bovada does say it caps its sportsbook payouts to a pretty hefty $250,000.
As a recreational player, it's unlikely you'll be placing wagers that pay out anywhere near that amount, but you should be able to safely lay thousands of dollars of action if you wish.
However, if you want to roll numerous bets into one giant parlay, for example, then Bovada reserves the right to send your bet slip for review before deciding whether or not to accept your wager.
Whether or not there is any wiggle room around this will most likely depend on your relationship with the sportsbook. If you're a big-betting whale and/or a long-term customer, you're likely to have more sway than a first-timer.
Racebook
Separate from it's sportsbook, but worth a hat tip, Bovada also has a racebook if you fancy a day at the races as an alternative to your usual sport/s of choice. Users don't need a separate account and can access the racebook via regular log in.
---
Bovada Sportsbook Review – Live Betting
No sportsbook these days can survive without offering live betting in real time – especially not if they're online.
Bovada Live offers live odds, moving in real time, as games progress and action comes in, on the mainline markets (i.e., moneyline, spread and totals) and the same bets for periods where appropriate (e.g., third period in a hockey game), and other live prop bets in some sports.
In baseball, markets exist for each at-bat (hit, strike or walk), while in football you can bet on each play (rush, complete/incomplete pass, turnover). For basketball, the moneyline, spread ranges and totals are generally divided into per team over/unders and combined totals.
Remember, all sportsbooks do their best to balance their exposure at all times, trying to balance the market as best they can.
---
Bonuses and Rewards
Welcome Bonus – $250, or $750
Bovada's sportsbook offers first-time customers a 50% matched deposit Welcome Bonus of up to $250. This jumps to a 75% matched deposit bonus of up to $750 if you sign up and make your first deposit in bitcoin (or another cryptocurrency).
In Bovada's own words, "Use Bitcoin, Get More Benjamins".
Rollover requirements
A rollover requirement stipulates how much you need to wager before you can withdraw bonus funds. All sportsbooks have them, and there will be differences between books in how these funds are awarded and managed, so it's important to check your sportsbook's own terms and conditions.
At Bovada's sportsbook, for winning wagers they will credit you the lesser of the risk amount or win amount, while on losing bets, the amount you risk contributes to any rollover requirement. Bets that push, or are voided do not count towards rollover.
For the Bovada Welcome Bonus, the rollover requirement is 5x on sports and horses, on both the initial deposit and the bonus amount.
Bovada
Welcome Bonus
Cloudbet
Welcome Bonus
BetOnline
Welcome Bonus
Fiat
50% matched up to $250 (5x on sports and horses)
–
50% matched up to $1000 (10x on sports)
BTC
75% matched up to $750 (5x on sports and horses)
100% matched up to 5 BTC
–
How Bovada bonuses stack up against the competition.
Tell A Friend – Referral benefits
Bovada does have a refer-a-friend bonus which is a nice touch. When a friend makes their own first deposit they are eligible for the Welcome Bonus, while you can earn up to a further $125 if they use your referral code. As with all bonuses, terms and conditions apply.
Rewards
Once you've deposited and start playing, Bovada has a Rewards programme in which you can work your way up through the six different tiers from Starter (0 points), to Rookie (2500) all the way into the Hall of Fame (5,000,000).
Reward points are earned per dollar wagered (see table) and can be redeemed back for cash. The higher your tier, the fewer reward points you need to redeem per dollar. At the Starter and Rookie levels, you have to redeem 2500 reward points for $1. By the time you get to Legend and Hall of Fame status, this has fallen to 1000 reward points.
One nice touch – points earned are kept for life, so there's no decay if you don't play for a while. Cashback offers based on reward points earned work by returning to players a certain percentage of their losses.
| | | |
| --- | --- | --- |
| Bet type | Dollar wagered | Reward Points earned |
| Sports single bet | $1 | 3 |
| Sports teasers | $1 | 15 |
| Sports Round Robin | $1 | 25 |
| Sports parlays | $1 | 25 |
| Racebook straight wager | $1 | 40 |
| Racebok exotics/multiples | $1 | 60 |
Bovada Sportsbook reward points earned per amount wagered. Reward points aren't credited until a bet has been officially settled
---
Deposits, Withdrawals and Limits
American Express
Bank Transfer
Bitcoin
MasterCard
Visa
Deposits and Withdrawals
At Bovada you can deposit in different ways. Accepted credit cards are American Express, Visa and MasterCard.
Your first deposit when made using one of these cards carries no fee, but subsequent deposits are charged a fee of at least 15.9%, depending on the card used. This, the site says, is dependent on the card company and the issuing bank, so be sure to check these details for yourself. Bovada itself charges no fees to fund your betting account.
Withdrawals can be made via the more traditional channels of check, sent by courier, or bank wire transfer. Bovada will not charge you for your first check within a 90-day period, but subsequent checks come with a $100 processing fee.
Less traditionally, users can open a MatchPay account to facilitate peer-to-peer transactions, while Bovada's Player Transfer tool allows the community to interact and share funds at no cost.
MatchPay
MatchPay is a P2P trading platform on which you can buy and sell credit with other MatchPay users, allowing funds to be transferred using PayPal, Venmo, Zelle and CashApp.
Accounts can be created on site, with a username, password and the email address associated with your Bovada account. When looking to deposit, you create a MatchPay Order, which, when matched with another user converts the credit into USD to play with. When looking to make a withdrawal, the amount is removed from your account and held in reserve, allowing you to create a MatchPay Offer. When your offer is matched, you sell the credit for USD.
Bovada Community – Player Transfer
Another cool way to exchange funds at Bovada is to join the Community and use the Player Transfer function. While it may sound like you're trading soccer players, this is a way to move funds around throughout the community at zero cost.
Crypto transactions
As an early crypto adopter, Bovada encourages its players to bet with crypto – hence a higher dollar value attached to the crypto Welcome Bonus. Deposits can be made in Bitcoin (BTC), Bitcoin Cash (BCH), Bitcoin SV (BSV), Ethereum (ETH) and Litecoin (LTC).
Where cryptocurrency deposits and withdrawals incur on-chain transaction fees (depending on the token), these will be determined by market rates. Most exchanges also charge a withdrawal fee, which can vary greatly, so it pays to know how your exchange handles these transactions. A Bitcoin transaction at current prices is ~$2; some ETH transactions (and thus for other ERC20 contracts too) may cost $30-$40 depending on where gas fees are. Again, Bovada makes a point of saying it doesn't profit from these fees.
Settlement time also depends on the crypto in question, and the amount being transfered. Bitcoin settlement may take 24 hours. Other transactions will depend on how long it takes to get on-chain approval.
Deposit and Withdrawal Limits
It is important to know that there are both deposit and withdrawal limits on the funds held in your Bovada account.
The table below shows both minimum and maximum deposit and withdrawal limits.
Payment
method
Minimum deposit/withdrawal
Maximum deposit
Maximum
withdrawal
Visa / MasterCard
$20
$1500
–
Direct Bank Transfer
$50/-
$800
–
Check
-/$100
–
$3000 (or incrementally, 1 check per week)
MatchPay (PayPal, Zelle, Venmo, CashApp)
$20
$1000
$1000 (2 per day)
BTC, BCH,
BSV, LTC
$10 equivalent
$5000
Unlimited (max. increments of $9500 every three days)
ETH
$50 equivalent
$5000
Unlimited (max. increments of $9500 every three days)
Bovada's Deposit and Withdrawal limits.
---
Customer Support / Help Center
The site has no live chat support function, but the customer support team can be emailed or called at any time.
Complaints and more serious issues can be raised via email, but wait times vary and may take longer than one would wish. In an effort to plug this hole, Bovada has pulled together its Help Center – an information pool to address frequently asked questions around common topics.
Users search their way around Help Center articles in the hope to finding the answer to their questions. The content is pretty extensive, but when you want a simple question answered simply it can prove to be a frustrating user experience.
Security / Trustworthiness
Security is good – by which we mean it operates to the best industry-norm standards. The sportsbook did take a hit in late 2021 when a poorly timed systems upgrade fail took the site down at an inopportune time. Once it became apparent that fixing the glitch was going to take longer than they first thought, the site then had to deal with the PR fallout.
First and foremost, Bovada had to reassure customers that this was not a hack, and that their funds were safe.
Despite the negativity and fear, it did prove to be a technical issue and eventually the site got back up. No one was hacked, no funds were lost, but a degree of reputational damage was done.
Is Bovada Legit?
In a word, Yes. The world of online betting is constantly developing and growing – and reputable operators can only grow their businesses by delivering a great product and proving themselves trustworthy.
If you are based in the United States, Mexico or Brazil and want to bet on your favorite sports (especially North American sports), then Bovada is definitely a sportsbook worth considering.
That said, it is worth noting that Bovada's Curacao license is at the moment unverifiable.
---
Is Bovada a good sportsbook?
Bovada is an established sportsbook, having been in operation since 2011. The sports offering is extensive across a wide number of sports – from the most popular Leagues and competitions to much more niche options. Bonuses are attractive for players, site security is of paramount importance and the site is trustworthy.
Deposits are safe, and deposit and withdrawal times are reasonable.
Yes, it is legal to bet on Bovada. In the US there is no federal law that prevents sports betting with an entity based outside of the US. Bovada, based out of Costa Rica, thus fits that criteria. However, the laws on sports betting do vary from state to state. Betting online with Bovada is legal in all states except for Delaware, Maryland, Nevada, New Jersey, and New York.
How long does it take Bovada to get you your money?
This depends on your chosen method of withdrawal when you make a withdrawal request. Bovada says it usually takes 24 to 48 hours to review a withdrawal request. For cryptocurrencies, once a withdrawal has been approved, BCH, BSV, LTC and ETH settlement is usually done within one hour, according to Bovada. Bitcoin transaction may take up to 24 hours to complete. If you ask for a check, that might take anywhere from 10 to 15 business days to get to you.
What customer service options does Bovada offer?
Bovada's Help Center is an online resource customers can use to search for answers to questions. Failing that, customer service reps are available by phone or via email, 24/7. There is no live chat function on the site.