Cloudbet is a trusted online sportsbook, in operation since 2013, that offers users a wide variety of sports to bet on. Operating primarily as a cryptocurrency site, it is unabashedly the choice for crypto enthusiasts – currently offering over 25 cryptocurrencies for use.
With the latest addition of new coins, Cloudbet now supports 18 of the top 21 cryptocurrencies by market cap – with, we're told, more in the pipeline.
Cloudbet has recently launched a six-tiered loyalty programme, with loyalty points rewarded for dollars wagered – win or lose. Loyalty points are rewarded based on amounts risked, or won, and the margin at which each bet is offered, so there is no simple formula at work here. The higher your loyalty tier, the more is returned to you through bonus funds, while the rollover requirements falls. The site doesn't offer a Welcome Bonus, but believes its loyalty programme offers players more over time than they would receive in just a one-off, first-time deposit match.
One aspect of Cloudbet's sportsbook offering that we are definitely fans of is its proprietary visual tools to help represent the data relevant to the event – which can provide useful information to help your bet-making decisions simply at a glance.
Cloudbet Sportsbook Review
Cloudbet is a sportsbook that has offered competitive odds and incredibly high limits on top sports and major leagues since 2013. It is a crypto-focused platform that allows users to bet on more than 30 different sports with currently over 25 different cryptocurrencies, with more to come.
As one of the pioneers of crypto gambling, Cloudbet has developed a reliable reputation in the crypto community and says it has served over 100,000 customers worldwide.
Cloudbet does geo-block customers from some countries due to regulatory requirements, including the US, the UK, China and Singapore.
---
| | |
| --- | --- |
| Pros | Cons |
| "Zero margin" (no vig, no juice) bet offers | Unavailable in US |
| Over 25 cryptocurrencies to chose from; fiat too | Transparency on reward points can improve |
| Unique visual data tools to inform betting decisions | |
| Favourable rollover requirements on sports bonuses | |
---
Sports Betting Experience
Cloudbet's sports offering covers a wide range of sports, from the popular staples of North American sport to the extremes of Indian Kabbadi and Finnish Pesapallo. All major sports and their leagues and competitions are available.
Cloudbet offers all the mainline markets you would expect to find at a comprehensive sportsbook, from the moneyline, point spreads and totals markets, to extensive prop bets and specials.
The sportsbook also offers a wide range of Outrights, not just in major sports but also some of the smaller, or faster growing markets such as MMA and the UFC.
At Cloudbet you can bet on:
| | | |
| --- | --- | --- |
| America Football (NFL, NCAA, +) | Esports | Rugby League |
| Aussie Rules | Floorball | Rugby Union |
| Badminton | Futsal | Snooker |
| Bandy | Golf (PGA, DP World Tour, +) | Soccer (all major comps) |
| Baseball (MLB, +) | Handball | Squash |
| Basketball (NBA, NCAA, +) | Horse Racing | Table Tennis |
| Boxing | Ice Hockey (NHL, +) | Tennis (ATP, WTA, +) |
| Chess | Kabbadi | Virtual Sports |
| Cricket | MMA (UFC, Bellator, +) | Volleyball |
| Cycling | Motor Sports (F1, Moto GP, +) | Water Polo |
| Darts | Olympics (Summer and Winter) | |
| Entertainment | Pesapallo | Politics |
Cloudbet's extensive sports offering.
Sorting on Cloudbet's sportsbook is an absolute breeze. It is easy to find what you're looking for, and you can personalise your sidebar by starring your favorites which then appear on top when you return to the site. Once a sport is selected, it's an intuitive setup to continue to drill down to your bet of choice.
We had no issues with the site speed through the course of our in-depth Cloudbet Sportsbook Review, with no page lag or failed page loads. Importantly, there is zero loss of functionality – or efficiency – when accessing the site on mobile.
Unique Data Visualisation Tools
Something that sets Cloudbet apart from the competition is some impressive data visualisation tools, designed specifically to provide you, the bettor, with more data and information to help you make as informed a decision as possible.
The old adage that information is power rings true – and in the sense that Cloudbet wants to empower its players – this is the stuff that makes for sharper betting decisions.
True probability charts
These aren't available for every event listed on the sportsbook, but when they do appear they appear front and centre so they're unmissable to the user.
The charts provide a line graph for the true probability of outcomes as suggested by Cloudbet's data (which comes from various different sources). It's probably easiest to demonstrate with an example or two.
As we approach the Round of 16 in the UEFA Champions League, Chelsea take on French outfit Lille next. The chart below shows the percentage probability of the three possible outcomes in the 1×2 market. Chelsea are clear favorites, while a draw is more likely than a Lille victory. As it happens, this chart is pretty static, but let's say there was some interesting team news – the Chelsea squad hit by a Covid outbreak – you'd see the data shift.
Cloudbet Opinion
Cloudbet Opinion is a funky tool that lets you compare the action Cloudbet has taken so far on an event with the odds on offer.
With Chelsea being -320 favorites, it's perhaps no surprise that in this case the action laid so far has been weighted in Chelsea's favor. There is one important point to note here, and that's that this bar reflects the number of bets placed on each side of the market, not the total value of money wagered.
In others words, this is a tool that better reflects the betting public's consensus view on the outcome of an event, rather than a visual that could be skewed due to one large position.

Where this tool comes into its own is when it shows action taken that contrasts with the outcome suggested by the odds – i.e., when it becomes an indicator of a potential upset, or shows an underdog to be overly valued in the face of overwhelming backing of the favorite.
Either way, as a tool it may expose value in the odds – the holy grail for all sports bettors.
Head-to-heads
At the moment, this function only appears to be available under a limited number of Cloudbet's sport offerings, but if it can roll it out through other sports it would be tremendously impressive.
Let's illustrate using the ATP Delray Beach, Men's Singles match between the UK's Cameron Norrie and America's Sebastian Korda.
Not only does the betting page have the True probability chart and the Cloudbet Opinion bar, but there is also a sidebar head-to-head for the two players.
The sidebar head-to-head offers three tabs. The first is the Matchup between the two players
They've played twice, and Korda has won both times.
The traffic lights shown recent win/loss records for the last five matches.
Vital stats for each player are shown, most interestingly when it comes to placing a bet, their year-to-date (YTD) records and current/highest rankings
The line graph at the bottom shows their ranking trajectories over time, providing at a glance a trend view of their performance over time.
Norrie, who is five years older than Korda, has practically plateaued since 2019, while his younger competitor has been climbing the ranks impressively and, one suspects, has momentum on his side.
The next two tabs provide individual stats for each player. Here, we'll take a look at Korda's:
First off, the drop down menu allows you to select a timeframe. It defaults to the past five years, but you can select specific years if you wish. This is handy if the player has had time out, say for injury.
Next, the three court icons show the win/loss percentage, by relevant surface – clay, grass and hard (naturally color-coded) – which is crucial depending on which tournament you're betting on.
Then, the last five match results. Occasionally, this may throw up a gem of information – such as the fact that three matches ago Korda dumped Norrie out of the first round of the Aussie Open in straight sets.
Great odds…
Cloudbet's mainline odds are generally very competitive, and the sportsbook claims to be able to offer players better lines because as a crypto operator it has fewer traditional-finance overhead costs than comparable sportsbooks that work in fiat. Cloudbet says that it likes to pass on the benefits of being on the blockchain to its players – which it does so through better lines than its competitors.
… well displayed
This may seem a minor point, but its illustrative of the attention to detail that you find on the Cloudbet site. Pretty much every sportsbook will offer you the option of presenting the odds in any one of the three main standard formats – American, Decimal and Fractional. At Cloudbet, they go a step further and also offer the far more esoteric, and way less used, Hong Kong and Malaysian formats too.
We doubt there are really that many people looking for Malaysian odds – but when you're that one in a million, doesn't it make you feel really special when you find someone willing to cater for you?
Zero Margin Bets
Talking of better lines, a Cloudbet hallmark is what it calls its "Zero Margin" games. Margin is the same as vig – for the uninitiated, that's the fee that sportsbooks charge players for taking their action. No vig means you get to win more money on your bet.
Many sportsbooks boost odds on specific games, or offer promotions around a game in which odds are boosted, but Cloudbet's zero margin games are offered regularly – it's a standard feature of its sportsbook.
Look for the yellow boxes used to highlight the zero margin game, but we do have to point out that only the first 1,000 customers can benefit from the zero margin – and your winnings on a zero margin/no vig game are also capped at a $1000 equivalent. While that may seem a negative for some, for the average recreational bettor we reckon that's a fair number.
If you do want to bet more on a game that is offered at zero margin – i.e., take a position that would exceed the $1000 win if it hit – you can contact support to get your bet on, just that you have to place it at the regular market odds, not vig-free.
Any sports bettor knows the value in shopping the line – and the zero margin basically guarantees the best price available. This is a decent feature that works pretty strongly in Cloudbet's favour.
High Bet Limits
While the minimum bet is set at just 0.001 BTC, Cloudbet's upper limits are not static and are adjusted depending on how much action is being taken on any particular market. Indeed, Cloudbet's high limits are a selling point that the site itself uses in its promotional material.
For instance, in high liquidity markets, like the NBA or NFL Playoffs – or the Super Bowl – bettors can wager huge sums. For Super Bowl LIII in 2019, When TB12 earned his sixth ring by beating the recently crowned LA Rams, Cloudbet adopted a 20 BTC betting limit.
Politics
Within the sportsbook, Cloudbet has actively developed an impressive Politics betting offering, with the 2020 US Election seeing enormous betting interest. The site most recently made prediction markets in the 2021 German election, and there are prediction markets open on the Brazilian election, the next UK General Election and, of course, the 2024 US Presidential Election, and the 2022 Midterm elections.
---
Cloudbet Sportsbook Review – Live betting
No sportsbook these days can survive without offering live betting in real time – especially not if they're online.
Cloudbet's live sports offering – or "In Play" as they call it, is as good as you would expect, with live odds moving in real time on the mainline markets (i.e., moneyline, spread and totals) be it for the final result or, where appropriate, the period of play (e.g., hockey periods, football quarters). Some sports also offer live props. The live tennis offering is extensive.
Live betting is definitely a must nowadays and we are glad to see that it is not missing from Cloudbet. In fact, access the sports page at practically any time and there will be some live event in progress with markets available.
Live events normally come with numerous stats and a graphic representation of the match. Lines are updated immediately.
---
Bonuses and Rewards
A re-hashed sports bonus – no more 5BTC Welcome Bonus…
Cloudbet used to be famous for its 5BTC Welcome Bonus – a very generous 100% matched first-deposit bonus, up to 5BTC. When this was first launched in 2013, BTC was valued at around $70, so in fiat terms that was still a relatively attractive $350, but of course it had the added bonus imbedded in the notion that the price of BTC could rise.
As we now know, the price of Bitcoin indeed sky-rocketed, which the site operators say, is one of the reasons behind a recent wholesale re-hash of the site's bonus structures. The fact of the matter, quite simply, is that at $40,000 (a level around which BTC has roughly traded recently) the whopping 5BTW Welcome Bonus, while eye-catching – wasn't really proving all that attractive as very few players were looking to deposit as much as $200,000 to take full advantage of the offer.
… Enter the New Loyalty Programme
Instead, the sportsbook has overhauled the way it treats its sports bettors, in a way that it clearly feels is more beneficial to the player. It has done this by introducing a six-tiered Loyalty program that rewards points to players as they go.
All players start at the Bronze level, and as you play you progress through Silver, Gold, Emerald and Sapphire to Ruby. The system itself is intertwined with – indeed, truth be told, relies more heavily on – casino gameplay, but that doesn't mean you have to use the casino to progress.
For sports bettors, what's important is that as you play, you earn reward points, whether you win or lose.
The calculation of theses reward points depends on how much you win (on winnings bets), or risk (on losing bets), and the odds on the bet in question – as well as your current tier status.
Cloudbet prides itself on its narrow margins, which of course are beneficial to all players, and so those bets with larger margins (i.e., more vig) will earn more reward points, while bets offered with already very slim margins (i.e., less juice) will return you fewer reward points. As you climb through the tiers, the potential to earn reward points is multiplied as well, so it quite literally pays to progress.
As this screenshot from Cloudbet shows, at the starting Bronze level the rewards points earned for playing can be up to a 0.12% return – dependent on the factors just described above. At Silver, this moves up to a potential 0.24% (i.e., 2x); at Gold, up to 0.30% (2.5x); Emerald, up to 0.36% (3x); Sapphire, up to 0.42% (3.5x); and topping out at up to 0.48% (4x) at the highest Ruby level.
Rollover / Playthrough requirements
Like any sportsbook, bonus funds are subject to rollover or play-through requirements.
Within the Loyalty scheme tiers, the bonus rollover requirements fall as you progress. At the Bronze level, they start at 5x, falling to 4x at Silver, 3x at Gold, 2x at Emerald and to just 1x at the Sapphire and Ruby levels.
These levels stack up well compared to some of the rollover requirements at other sportsbooks. At both Bovada and sister-site Bodog, the rollover requirement on Welcome Bonus funds is 5x on sports and horses; at BetOnline it is either 14x or 10x depending on whether you deposited crypto or in fiat, respectively. Stake has a very serious 40x play-through requirement before you can withdraw.
Looking After Loyal Customers
It is worth recognising that through this change the sportsbook has also made a clear effort to look after it long-term customers – which we believe is always a good sign if you're looking to judge how a sportsbook is likely to treat its customers.
Players that were active in Q4 2021 before they introduced the new system, that had created their accounts in 2015 and 2016 are guaranteed to enjoy a minimum of Gold member benefits. Members dating back to 2014 are guaranteed Emerald benefits, and truly OG members from 2013 are guaranteed Sapphire status.
---
Deposits, Withdrawals and Limits
American Express
ApplePay
Bitcoin
Ethereum
MasterCard
MoonPay
Visa
Deposits and Withdrawals
As we wrote at the start, crypto enthusiasts may want to consider making Cloudbet their sportsbook of choice. The site currently accepts more cryptocurrencies than any other we know, and, the company tells us, has more in the pipeline and is looking to add up to another 10 tokens in the near future.
For the time being, players can use these currencies at Cloudbet:
| | | |
| --- | --- | --- |
| Bitcoin – BTC | Tether – USDT | Dogecoin – DOGE |
| Bitcoin Cash – BCH | USD Coin – USDC | Shiba Inu – SHIB |
| Bitcoin SV – BSV | Dai – DAI | Polygon – MATIC |
| Ethereum – ETH | Pax Dollar – USDP | Uniswap – UNI |
| Chainlink – LINK | Paxos Gold – PAXG | Algorand – ALGO |
| Dash – DSH | Litecoin – LTC | Terra – LUNA |
| Cardano – ADA | Polkadot – DOT | TerraUSD – UST |
| Solana – SOL | Fantom – FTM | |
| Avalanche – AVAX | FTX Token – FTT | Binance Coin – BNB |
| Ripple – XRP | Stellar – XLM | Binance USD – BUSD |
The impressive number of cryptocurrencies accepted by Cloudbet.
Once you have selected your currency, the deposit address is shown, which you can copy, or choose to scan the QR code. Cloudbet also provides players with access to MoonPay as an easy way to buy crypto with your credit card (see below).
When withdrawing from Cloudbet, the process is simply reversed. Provide your wallet address, double-check to ensure you have selected the correct blockchain, and submit your request.
For many transactions withdrawals may be instant, or very fast, once on-chain confirmation is received. However, it may take longer, and up to 24 hours. Cloudbet suggests that if your withdrawal is not settled within that time, contact their support team.
Buying BTC on site with MoonPay
MoonPay provides a quick and easy way to buy crypto on your credit card.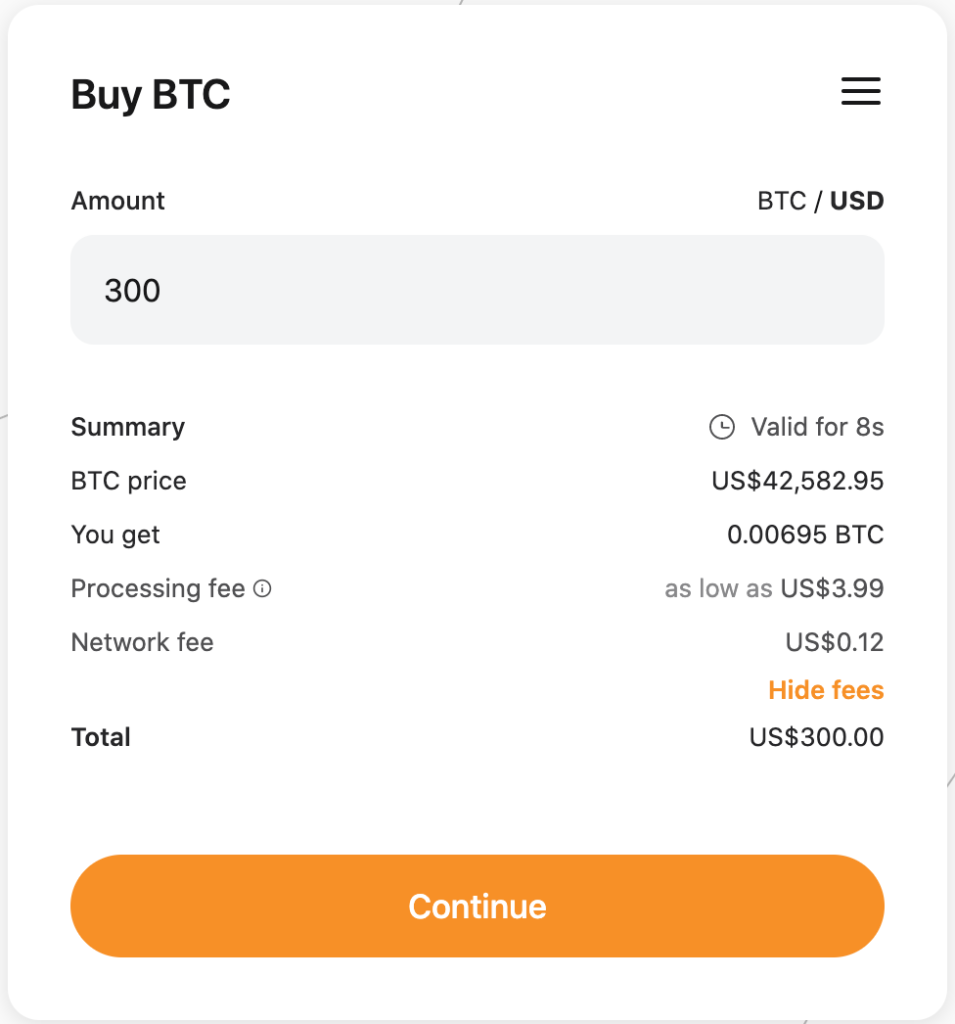 MoonPay means you can buy BTC with your credit card in a couple easy steps.
Hit the "Buy BTC" button at the top right of the header bar and the MoonPay website opens.
The hamburger menu lets you choose your currency of choice with which to transact.
Enter the amount you wish to spend and you will be shown exactly how much BTC that buys you.
No hidden fees: You can click to immediately see what extra charges there are on your transaction.
Deposit and Withdrawal Limits
Deposit limits at Cloudbet are purposely low to prevent any barrier to entry. Indeed, for some users, playing with Cloudbet has facilitated their entrance into the world of cryptocurrency.
Depositing BTC, BCH, ETH, PAXG, LTC and DSH requires a minimum of 0.0001 – with the same applying to withdrawals. For the stablecoins like USDT, USDC, USDP and some other currencies like DAI, LINK and DOGE, the minimum is 1.
Cloudbet has no maximum deposit or withdrawal limits.
---
Customer Service and Support
Bettors can use the Cloudbet live chat function for customer support after logging into the site. An agent from the support team will usually be available to answer your questions or help out with any issues.
Users can also send their questions via email, but replies may not always be prompt.
Security / Trustworthiness
Cloudbet has built a reputation for trustworthiness since 2013.
In terms of security, it employs the highest industry standards. Funds are stored in cold storage, while only enough to sustain daily operations are kept in the site's hot wallet.
Is Cloudbet Legit?
In short, Yes. The site has been in operation for almost a decade now, and in the world of online sports betting, that kind of longevity stands for something.
If you are based outside those geographies from which Cloudbet operates, then it is definitely a sportsbook worth considering.
Cloudbet operates under a Curacao license.
---
Is Cloudbet a good sportsbook?
Cloudbet is an established sportsbook, having been in operation since 2013. The sports offering is extensive, from the most popular leagues and competitions in all major sports down to some weird and wonderful outliers. The Welcome Bonus is generous, site security is of paramount importance and the site is trustworthy.
Deposits are safe, and deposit and withdrawal times are reasonable.
Yes, although due to regulatory restrictions Cloudbet has chosen not to make itself available to players based in the US, as well as a few other geographies, including the UK. Cloudbet is licensed in Montenegro.
How long does it take Cloudbet to get you your money?
Withdrawal times may depend on your currency of choice. Many blockchain transaction will settle instantly, or very quickly once on-chain confirmation is given, although some withdrawals may take longer.
Cloudbet aims to settle all withdrawals within 24 hours and recommends players contact support if their funds are not received in the timeframe.
What customer service options does Cloudbet offer?
Cloudbet's Customer Service team are available either via live chat on the site, or by email if necessary.
---