Luka Doncic was the preseason favorite to win the 2022 NBA MVP award. Much has changed since then with Joel Embiid currently the runaway favorite for the MVP.
Odds to win 2021-22 NBA MVP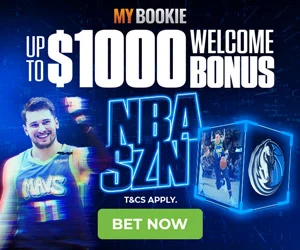 ---
---
MVP Favorites
Doncic is the unanimous early favorite amongst sportsbooks. The Slovenian finished fourth and sixth in MVP voting over the past two seasons after impressive displays. Fresh from signing a $207 million supermax extension, Doncic is expected to take his game to the next level this season under the guidance of Jason Kidd.
Embiid came close to winning MVP last season but injuries set him back. He finished second in MVP voting despite missing 19 games so a healthy season could be all it takes for the Sixers center to win the award.
Two-time MVP Antetokounmpo missed out on a three-peat last season despite having another career year. With an NBA title and Finals MVP now under his belt he could make a run for his third MVP award.
Considered by many to be the best player in the league, Durant's MVP chances may be hampered playing alongside James Harden and Kyrie Irving (on the road). Expect Durant to preserve his energy until the playoffs at which point he'll be playing at MVP level.
Last season's leading scorer had a career year putting up 32 points per game. The return of his running mate Klay Thompson will boost Curry's MVP chances with the Warriors likely to become a top contender in the West.
NBA MVP Trends
Winners win MVP
Winning plays an integral part in players getting the nod for MVP. Only two former winners played on teams that had less than 50 wins. In fact, since 1985 only two recipients played for teams that finished worse than second in their conference.
Scoring is the Key
The award typically favors offensively charged players. The league's leading scorer has won four of the last five awards so it pays to pick a player with a heavy scoring output.
Experience Counts
Not since 1969 when Wes Unseld won the award has a rookie been named MVP. Unseld is one of only four players under the age of 23 to have won the award. Recipients are usually in the prime of their careers which means they will have had several seasons worth of experience.
Centers Dominate the Award
Centers have traditionally done well in MVP award voting. Big men won 22 of the first 28 MVP awards and account for 27 of the 65 awards. The league's shift away from dominant bigs has seen guards and forwards win all the recent awards. Jokic's win last season made him the first center since Shaquille O'Neal in 2000 to win the award.
Past NBA MVP Winners
Here are the MVP winners from the past ten seasons:
2020-21: Nikola Jokic, Denver Nuggets
2019-20: Giannis Antetokounmpo, Milwaukee Bucks
2018-19: Giannis Antetokounmpo, Milwaukee Bucks
2017-18: James Harden, Houston Rockets
2016-17: Russell Westbrook, Oklahoma City Thunder
2015-16: Stephen Curry, Golden State Warriors
2014-15: Stephen Curry, Golden State Warriors
2013-14: Kevin Durant, Oklahoma City Thunder
2012-13: LeBron James, Miami Heat
2011-12: LeBron James, Miami Heat
How to bet on the 2022 NBA MVP?
NBA MVP betting is one of the most popular futures betting options offered by sportsbooks. Futures are typically bets on season-long outcomes such as the eventual NBA champion, Coach of the Year or Rookie of the Year.
Odds for futures bets are set during the preseason, but can fluctuate throughout the season based on performances, injuries, transactions and results.
NBA MVP Odds Explained
Basketball sportsbooks usually display MVP odds like this:
Luka Doncic +509
Joel Embiid +735
Giannis Antetokounmpo +740
This indicates that Luka Doncic is the favorite because he has the lowest number beside his name. In this situation, he is viewed as the favorite over Joel Embiid and Giannis Antetokounmpo.
How do those numbers translate into payouts? Consider Giannis Antetokounmpo as an example. If you bet $100 successfully on Giannis to win MVP, you'd get $840 – your original stake is returned plus your winnings of $740.
---
NBA Title Odds
The defending champion Milwaukee Bucks are one of the favorites to bring home the title.
See how all playoff teams rank.
---