Given the history and special relations between the two nations, the USA vs England World Cup clash is expected to be one of the most-watched group stage matches of the tournament.
USA vs England, Group B qualifying match
Al Bayt Stadium, Qatar 2022
Friday 25 November, 14.00 US EST, 19.00 GMT UK, 22.00 local time
With the popularity of soccer in the US ever growing, and the MLS going from strength to strength, this is set to be the most-watched USMNT performance in history. Against England no less, who have struggled against the USA on the World Cup stage, failing to win in their two World Cup meetings.
Still, the Three Lions go into this as clear favorites. England, having lost to Croatia in the semi-finals in 2018, will once again be dreaming – and no doubt singing – about football coming home.
But… as England have learned over the years, they underestimate the USA at their peril, especially with the likes of Chelsea's Christian Pulisic in the side.
If you're a history buff, England have never beaten the USA in a World Cup tie before.
Harry Kane will no doubt be looking to open his Golden Boot account, and expect the tabloids to be all over this match in the run up to this group stage clash.
Although we're still some way off, and final squads haven't yet been announced, there are some players whose inclusion are pretty much assured bar any unforeseen circumstance.
Players to watch – USA
USMNT would seem to have age on their side, though of course that means a lack of experience on the biggest of world soccer stages. Keep an eye on the teenage duo of Giovanni (Gio) Reyna and Ricardo Pepi up front, and another on 19-year-old Joseph (Joe) Scally at the back – all three of whom ply their trade in the Bundesliga (at Borussia Dortmund, FC Augsburg and Borussia Monchengladbach, respectively). At 20, Chelsea's Christian Pulisic almost seems old.
USMNT's goalkeeper is Zack Steffen, Manchester City's #2 behind Ederson.
Players to watch – England
Up front, skipper Harry Kane looks to reel in Wayne Rooney's all-time scoring record, and Man City's Raheem Sterling. Speaking of Man City, the midfield could be bossed by John Stones, possibly even alongside teammates Jack Grealish and youngster Phil Foden. Expect Liverpool captain Jordan Henderson to be there.
Jude Bellingham could make a splash in his first World Cup, like Harry Maguire did four years ago – which links us nicely up with centre-back Ben White. Expect a big tournament from West Ham's Republic of Ireland-convert Declan Rice too.
Between the sticks, Jordan Pickford.
Download The AllStar App
Stay up-to-date with all player, team and tournament news. Available for download at both the App Store and Google Play.
Get all your World Cup news sent directly to your phone – free.
---
Head-to-head: USA vs England
There have been two previous USA vs England World Cup ties and nine international friendlies played over the years. USMNT have won twice (1950 World Cup, 1993 friendly), drawn once (2010 World Cup) and lost eight.
| Date | Competition | USA vs England |
| --- | --- | --- |
| June 28, 1950 | World Cup | 1-0 |
| June 8, 1953 | International friendly | 3-6 |
| May 28, 1959 | International friendly | 1-8 |
| May 27, 1964 | International friendly | 0-10 |
| June 16, 1985 | International friendly | 0-5 |
| June 9, 1993 | International friendly | 2-0 |
| August 7, 1994 | International friendly | 0-2 |
| May 28, 2005 | International friendly | 1-2 |
| May 28, 2008 | International friendly | 0-2 |
| June 12, 2010 | World Cup | 1-1 |
| November 15, 2018 | International friendly | 0-3 |
England don't have a great World Cup track record against the USA. Could there be another upset on the cards?
---
South Africa 2010: USA 1-1 England
A rebuilt England side under Fabio Capello undoubtedly had talent – Lampard, Rooney, Gerard, Ferdinand. With 34 goals in nine wins from 10 matches, England were the highest-scoring qualifying team that year. The nation's hopes rode high for a proud showing in South Africa.
A week before their first game, skipper Rio Ferdinand went down with a knee injury in training, his tournament cruelly over before it began.
In their opening group match, England faced the USA – in a game they were expected to comfortably win. Steven Gerard had read the script, finding the net on just 4 minutes to give the Three Lions the lead.
In the 40th minute came the moment that haunts England football fans to this day. Clint Dempsey, the USA midfielder who plied his trade in the London capital at Fulham, posed no real threat as he struck half-heartedly in the general direction of the England goal.
He's only human…
What happened next was a goalkeeping blunder for the ages. Going down on bended knee, Rob Green failed to collect the ball… Instead, all he could do was watch in horror as it came off high on his right hand, diving desperately as it crossed the line.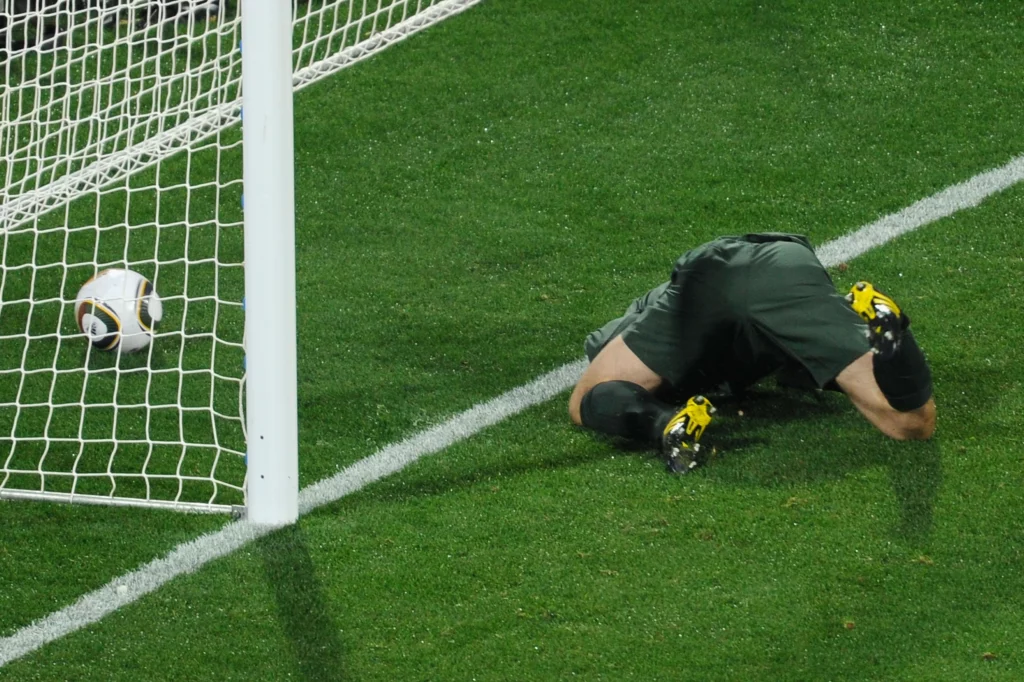 While accidents happen, perhaps it says more about England that they couldn't find a second-half winner.
Ultimately, both the USA and England moved on to the Round of 16 – only to be sent straight home. England lost heavily to Germany 4-1, bemoaning a disallowed Lampard goal that would have made it 2-2 at half time.
The USA went behind to Ghana early on, before Landon Donovan equalized from the spot in the 62nd minute, only to concede in extra time to lose 2-1.
---
---
Brazil 1950: USA 1-0 England
The USA famously pulled off one of the biggest upsets in the history of the game when they played The Game of Their Lives to beat England in a Group B match in Belo Horizonte, Brazil.
In the opening group matches, the USA had been beaten 3-1 by Spain, while England had had a 2-0 win over Chile.
In a classic sporting tale for the ages, the USA's amateur minnows, led by Harry Keough, Frank Borghi, Gino Pariani and Walter Bahr, took on the "Kings of Football". England boasted legends such as Alf Ramsey and Stanley Matthews (although he famously sat out the USA game, resting for the next "big" match against Spain).
A 38th-minute goal from Joe Gaetjens was all that separated the teams; the USA entering the history books with the unlikeliest of upsets.
England went on to lose to Spain and failed to advance beyond the group stage. The same fate beset the USA after a 5-2 loss to Chile.
The USA would not qualify for the World Cup for another 40 years, until Italia '90.
---
How to watch USA vs England World Cup
In the US, on Fox Sports/FS1 at 14.00 (English); Telemundo (Spanish)
Fox Sports holds English-language rights, and will air all 64 matches live across the Fox and FS1 channels. All games will also stream live on the Fox Sports app.
NBCUniversal's Telemundo holds Spanish-language rights in the US.
In the UK, on ITV at 19.00.
In the UK, the BBC and ITV share coverage rights, between them showing all matches. Here is the whole schedule for both channels – who is showing what, when.
---
More FIFA World Cup 2022 coverage