An NBA championship ring represents the pinnacle of a player's career. They usually feature several multi-carat diamonds and intricate designs that detail the team's championship journey. With so much bling on one ring, we examine how much one of these is worth.
The first championship rings
Championship team players have accepted rings to mark their victory since the first finals series of what was then the Basketball Association of America in 1947. The Philadelphia Warriors handily beat the Chicago Stags 4-1 to walk away as series winners.
How much does an NBA ring cost?
Championship rings were standardised by the NBA until 1983 when winning teams began making their own designs. Designs these days are a little more creative and as a result, more expensive to make.
The Toronto Raptors made headlines in 2019 with reports that their championship ring cost upwards of $100,000 to make. The ring features over 650 diamonds, 17 rubies and has a weight of 14 carat. The Toronto skyline features prominently on the face of the ring with 74 diamonds representing the Raptors' total regular season and postseason wins.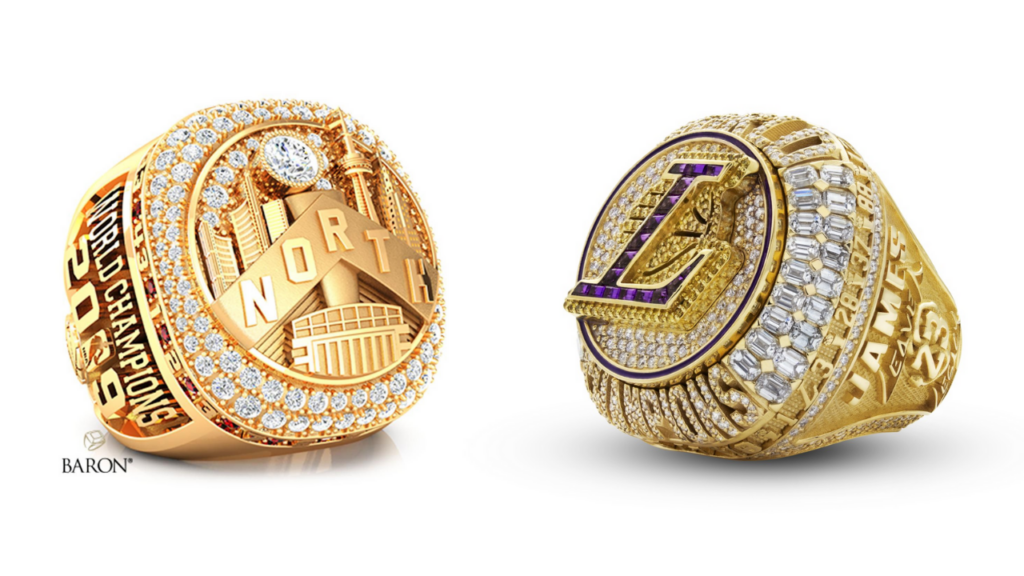 Not to be outdone, the Lakers' ring commemorating the 2020 season is said to be worth $150,000. It weighs 16.45 carats and has a total of 804 stones, making it the most expensive in league history. The ring features a detachable face which reveals the 12 retired Lakers jerseys on a snakeskin background in homage to Kobe Bryant's 'Black Mamba' nickname.
Which teams have the most NBA championship rings?
The Boston Celtics and the Los Angeles Lakers are the two most triumphant teams in the NBA with 17 championships each. They are followed by the Chicago Bulls, Golden State Warriors and San Antonio Spurs who have five or more titles. Together, the five teams account for nearly 70% of all NBA championship titles.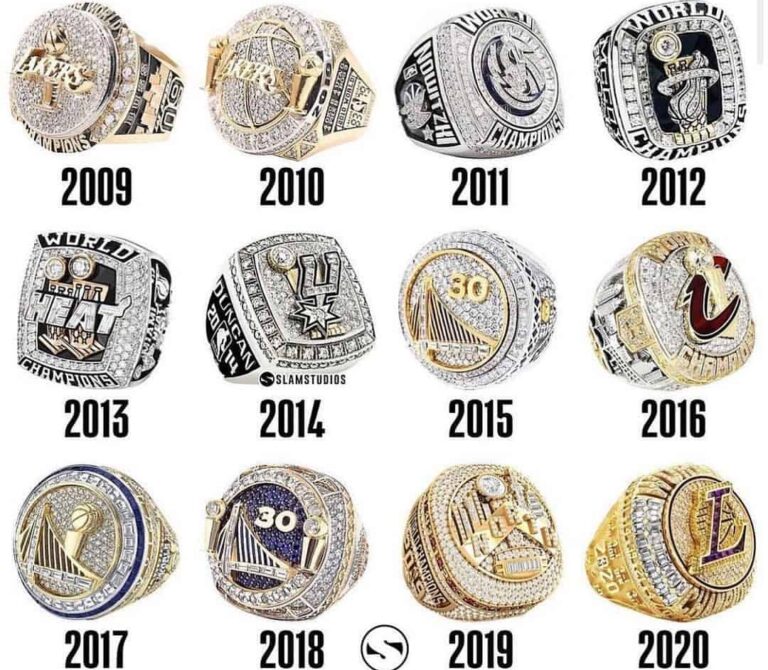 Which player has the most NBA championship rings?
NBA legend and former Celtic Bill Russell's name is synonymous with winning, with a record 11 championship titles. That ties him with Henri Richard of the NHL for most championships won by an athlete in North American sports. Russell's dominance on the defensive end and his elite rebounding skills helped win eight consecutive championships between 1959 and 1966. Outside of the NBA, Russell also won two NCAA championships and a gold medal for basketball at the 1956 Summer Olympics.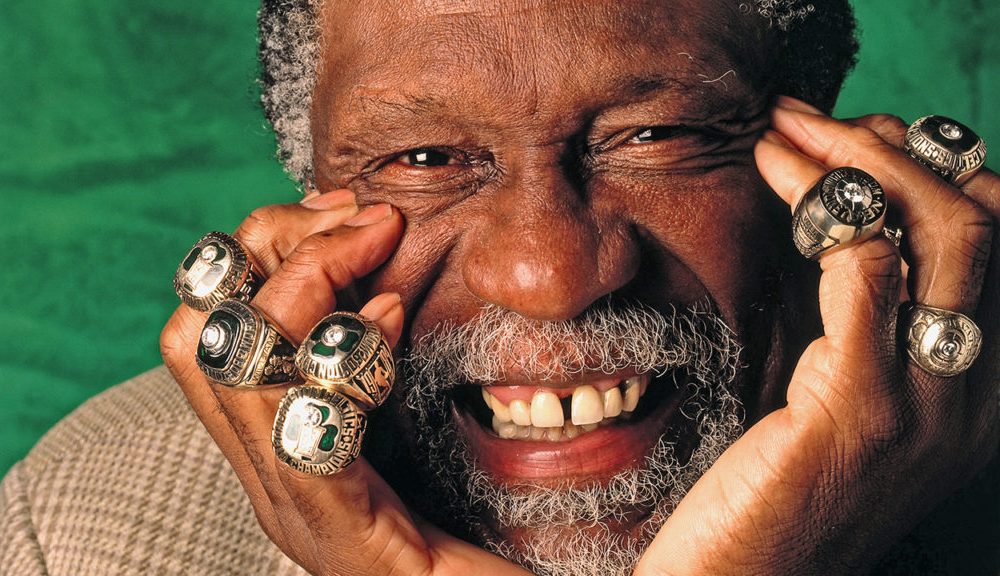 How much do championship rings sell for?
Several players have sold their rings for various reasons. In 2019, Lakers legend Kareem Abdul-Jabber sold nearly $3 million worth of memorabilia including four rings with proceeds going to his Sky Hook foundation. The rings had starting bids between $60,000 to $65,000 with his 1987 ring going for $398,937.50. His ring from 1985 sold for $343,700 whilst the other two rings from 1980 and 1988 both sold for $245,500.
A more recent Laker, Metta World Peace, sold raffle tickets for his 2010 ring. He raised over $600,000 in the process with proceeds used to fund a charity for mental illness.
Players often order multiple rings for their family and inner circle. An identical version of Kobe Bryant's first championship ring sold at auction in 2020 for $206,000. The ring was issued in a smaller size to fit Bryant's mother Pam and belonged to a private collector.
These type of rings are more likely to appear in auctions compared to the original player issued ring. For example, a 2001 ring that Shaquille O'Neal gifted to his publicist is now available on eBay for $29,500.
Unfortunately, not all rings sell for charity or good causes. In 2010, Antoine Walker sold his championship 2006 ring to offset $12.6 million of debt. His ring ended up bringing in $21,000. The sale came a year after former Chicago Bull Randy Brown sold his three rings for $53,833.
Determining the worth of an NBA championship ring
Ultimately, a lot of factors come into play when determining the worth of a championship ring. The value of the diamonds and gemstones play a significant role in pricing a ring. Belonging to a popular championship run or a certain player can also boost the value of a ring. By the same token, rings given to family and friends of players or staff are likely to be worth significantly less. All these factors are taken into account when assessing a championship ring's value.