MyBookie is one of the newer kids on the online sportsbook block, having been in operation only since 2014. While it hasn't been around as long as some of its competitors, in this MyBookie sportsbook review, we'll see how it compares.
First-time depositors can get up to a $1,000 Welcome Bonus, while users can continue to benefit from decent ongoing bonus offers and some big-ticket competitions that may appeal to some. The site has only recently added a VIP loyalty programme, though heavily skewed towards casino play – the tiers, for example, are named Heart, Club and Diamond.
MyBookie Sportsbook Review
MyBookie.ag is an offshore, online sportsbook with an impressively wide, in-depth sports offering. While all the main North American sports and leagues are on offer, so too are some in far flung distant lands.
The UI is simple, user-friendly and effective. Navigation is, for the most part, straight forward, although sometimes the labelling of events can let the site down. Compared to other sites, we feel the Live Betting offering is a bit of a disappointment.
However, there are some nice touches at MyBookie which we credit.
For one, all online sportsbooks prefer players to play in cryptocurrency, and try to convert folks usually through bigger bonuses. MyBookie is very low-key on this, and while it does offer bigger bonuses for its casino and there are crypto benefits, it plays this low-key, which is appreciated. Another impressive offer is its alternative first-deposit bonus which comes with a much less-burdensome rollover requirement than its Welcome Bonus. More on that below.
---
| | |
| --- | --- |
| Pros | Cons |
| Available to US players | |
| Simple, easy to use UI | Low maximum withdrawal limits |
| Generous Welcome offer; excellent opt out bonus still offered | Cumbersome KYC/documentation requirements… but for good reason |
| Good deposit limits | Longer withdrawal process than others |
| No hard sell to use crypto; "Crypto rewards" on fiat deposits | |
---
Sports Betting Experience
Perhaps the first thing that strikes you when visiting MyBookie is that navigation around the site is a cinch (at first). The choice of color scheme – which is going to appeal to any Bengals fan – with its bold orange on black, does make everything pop.
The sports on offer sit clearly marked on the left-hand side, in that orange, and the odds stand out too – identifiable at the most cursory of glances. Navigation is easy, with all options dropping down within the same left-hand sidebar on the main sports lobby page.
What's more, the sports on offer and the availability of markets on sometimes unheard of competitions are extensive (Belarussian Premier League soccer anyone?). Always a good sign in a sportsbook, whether that allows folks looking to bet on more esoteric sports to find what they want, or to encourage others to explore other sports away from the big five.
One nice feature is that for those big leagues in major sports, they have been stripped out from other leagues for easier navigation. For example, the NBA sits by itself away from "Basketball" – under which you can chose to bet on leagues in 20 different countries (from Argentina to South Korea, via Estonia). And because college basketball is such a popular betting sport, the NCAA also stands along (as does the WNBA). In hockey, the NHL stands aside from nine other leagues in different countries.
At MyBookie you can bet on the following sports:
| | | |
| --- | --- | --- |
| Basketball (NBA, NCAA, WNBA) | Esports | Special wagers / Current events |
| Hockey (NHL, NCAA, others) | Tennis | Surfing |
| MMA | Soccer | Table tennis |
| Golf | CFL | US Politics |
| Baseball (MLB, others) | Aussie Rules | Volleyball |
| Football (NFL, NCAA) | Entertainment | Wrestling |
| Boxing | Horse racing | |
| Motorsports | Rugby (League and Union) | |
Aside from the sports, MyBookie offers betting markets in Entertainment, Politics and what it calls "special wagers" for current events. This doesn't make them unique, but it does help to round out an offering that anyone looking for a sportsbook these days would expect to see.
With the drama of the Oscars behind us (if only – you know that slap is going to talked about for some while yet), entertainment markets turn to the Grammys next. Olivia Rodrigo is favorite (-110) to win Album of the Year for Sour, followed by Billie Eilish at +600, while Justin Beiber is the rank outsider at +4000.
Staying with the music world, but jumping to "special wagers" on current events, you'd think it would be even money, but you can get odds of -125 that Rihanna and A$AP Rocky have a daughter, and -105 that it's a boy. It also pays +900 if they have twins.
Bet building tools
All the mainline markets – moneylines, point spreads and totals (over/under) – and a decent range of player prop bets and futures bets (outrights) are available on the major sports at MyBookie.
Smart BetSlip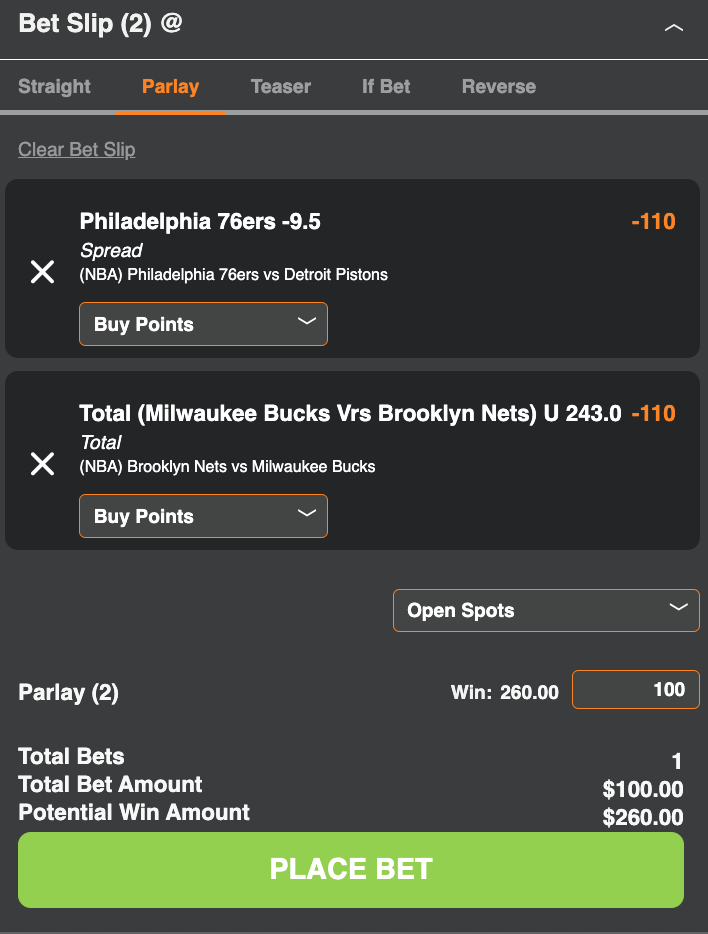 MyBookie's Bet Slip allows you to add single bets and roll them into parlays – like we have done here. If the Sixers cover the spread against the Pistons, we can then roll that into a hopefully low-scoring match between the Bucks and the Nets. (If you don't know what an Under is, read about it here.)
The parlay pays $260 versus the combined $180 you would win on two singles given the vig at -110.
If you're betting on football or basketball, you can also create teasers by buying points.
You can also create "If Bets" – a multi-bet structure that needs the previous bet to hit to activate the next bet, but where the odds are not linked together, as they are in a parlay – and Reverses.
Player Prop Bet Builder
These days, it's pretty much de rigeur that an online sportsbook needs a decent prop building tool. MyBookie's stacks up against the competition – because it's highly recognisable.
Indeed, it uses the same underlying technology and UI as BetOnline, SportsBetting and Bodog and Bovada (Click on each to read our in-depth best online sportsbook reviews)
Once you click to "Build" a prop bet, you can chose a Single player prop against a specific statistic for the game (the Stat tab). For this example though we've chosen a head-to-head for KD to outscore Kyrie as he returns to action for the Nets. His having not played for so long no doubt plays a part in this bet being heavily favoured at odds of -186.
The middle tab on the left hand side takes you into Quick Picks – and this literally does what it says on the tin. Chose any of the categories in grey, from the main Game Markets, to Performance Doubles, to, as we have here, Reb + Ast stats.
The available markets appear immediately below, allowing you to chose quickly… +400 that James Harden totals more than 23 combined.
The last tab, the "Over/Under" displays all open o/u markets available on the game.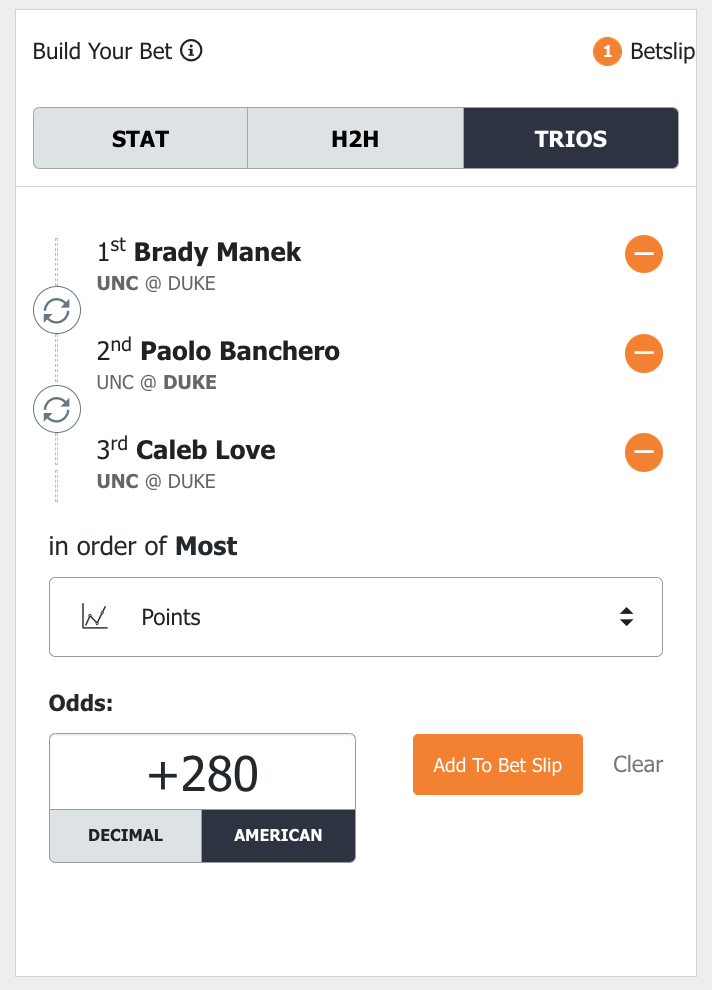 Lastly, returning to the player prop options, we've had to acknowledge the massive face-off between North Carolina and Duke in the Final Four of NCAA March Madness.
We've done so with, quite frankly a longshot, as illustrated by the +280 odds, but nonetheless…
This prop allows us to back Brady Manek, the bearded wildman of UNC, to not only outscore his Blue Devil rival Paolo Banchero, but that they will both outscore Carolina's Caleb Love too, in that order.
Incidentally, UNC are +160 underdogs going into the game.
Contests and… Super Contests!
As a handy retention tool for existing sport-betting customers, MyBookie runs a number of Contests at any given time.
For example, last year's NCAA March Madness bracket competition offered a 1BTC first prize (in BTC or cash equivalent) and a Doodle NFT second prize.
Squares sees users buy squares on a 100-square board, to which numbers are assigned once the competition begins and are knocked off using the last number of a teams cumulative score at the end of each period of play (e.g., At the end of the 2nd Quarter it's Cardinals 14, Patriots 10. The last number for the Cards is 4, and for the Pats it's 0. The square with Cardinals #4 and Patriots #0 wins the Q2 prize).
There are also a number of survivor pool competitions run during the NFL season, the richest of which is worth $100,000 and finishes in Week 18, or when there is a last man standing – whichever comes first.
And then there are Super Contests – the largest of which was $300,000 last year.
Bet limits
The default wagering limits at MyBookie are a minimum bet of $2 and a maximum bet of $2,000 on major sports' mainline markets (moneylines, point spreads and totals).
The bet limit on props and futures is set at $250.
Compared to other sites, for example BetOnline or Cloudbet, these limits are low.
However, you can contact the book to request to have these default limits changed. The bookmaker's Limits Team will review your request and, they say, let you know the result of their deliberation within 12 hours.
---
MyBookie Sports Review – Live Betting
MyBookie offers Live Betting – as any online bookmaker these days must – but compared to others, its offering feels weak.
Some of the other sportsbooks we've reviewed have clearly made a decision to try to make their live-betting offering as appealing as possible. Often, this takes the form of data analysis, such as head-to-head records for the two opposing teams or individuals. Other sites have live-action tracking tools for sports like tennis, soccer and hockey, or better yet, the ability to live-stream pictures of the action.
MyBookie doesn't seem to offer anything more than the very bare minimum – occasionally changing odds as time goes by. At least it does that.
At the time of our review, Live Golf was the top sport on offer, but the page was, to be blunt, very confusing. For a start, the page showed three sets of odds on the 144-man field. The set of odds on top was at least dated the most recent, but the two sets behind it were dated the same, yet had different values. But this begs the question why a live-betting page would have any old odds quoted at all. Surely all the data on that page would be up to the minute?
On top of all this confusion, we then noticed that the name of the tournament given was actually for a one that ended two weeks ago… Being charitable, we have to be open to the possibility that this was simply an error in the data feed, and let's face it, accidents do happen.
Maybe it was just poor timing when we were writing this review.
In fairness, we're willing to come back another time to check things out – perhaps when there's more big-game action happening. But that said, I'm not holding my breath as there was very little on display to suggest that the experience will be any different.
Perhaps we'll be pleasantly surprised when we return, but for the time being there is no doubt that this is on the disappointing end of the sportsbook review spectrum!
---
Bonuses and Rewards
$1,000 Welcome Bonus – 50% matched
MyBookie's Sportsbook Welcome Bonus is a 50% first-deposit matched bonus, up to $1,000 (with a minimum requirement of $50).
As such, to receive the full $1,000 of bonus funds (or as MyBookie – and many others sites call it – free play), you need to deposit $2,000 of your own funds.
Rollover requirement
At MyBookie, the rollover requirements on any of their deposit bonuses is a multiple not just of the bonus funds but of the initial deposit amount as well. Therefore, if you were to deposit $2,000 and received $1,000 in freeplay, your rollover requirement is to wager 10x $3,000 – so $30,000 before you could withdraw those funds.
Compared to other online sportsbooks, this requirement is greater than the 5x offered by Bovada, matches the 10x offered by SportsBetting and BetOnline on fiat deposits (crypto deposits have a higher 14x requirement) and significantly less than Stake's extreme outlier 40x.
MyBookie
Welcome Bonus
SportsBetting
Welcome Bonus
BetOnline
Welcome Bonus
Stake
Welcome Bonus
Bovada
Welcome Bonus
Bodog
Welcome Bonus
Fiat
50% matched up to $1,000 (10x)
OR
10% matched up to $200 (1x)
50% matched up to $1,000 (10x sports)
50% matched up to $1,000 (10x sports)
No fiat offering
50% matched up to $250 (5x on sports/horses)
100% matched up to C$400
BTC
–
100% matched up to $1,000 (14x sports)
100% matched up to $1,000 (14x sports)
200% matched up to $1000 (40x)
75% matched up to $750 (5x on sports/horses)
Extra C$300 BTC bonus available
How MyBookie's Welcome Bonus compares to the competition.
$200 Cash bonus – 10% matched
This bonus is a first for us in so far as we haven't seen any other sportsbook offer anything similar. And it wins big kudos for MyBookie, in our opinion.
In their own words: "Use this bonus if you want a smaller bonus with a lower rollover and shorter commitment."
Recognising that not everyone may want to commit a significant amount of money to their first deposit – which most sportsbooks try to make as appealing as possible by offering bonus funds – and more importantly, may not want to commit to, let's face it, a lot of playthrough given rollover requirements, MyBookie offers this toe-dipper bonus.
On your initial deposit only, you can get a 10% bonus up to $200 at only 1x rollover. Therefore, a $100 deposit earns you a free $10, and you only have to wager that $110 before withdrawing funds. Of course, to take full advantage, you can deposit $2,000, for the $200, with a wagering requirement of $2,200.
If you compare that to the 50% matched Welcome Bonus, at a rollover requirement of 10x, this means you can forfeit $800 of freeplay, but your wagering requirement is $2,200 versus $30,000. That's huge, and something for which we tip our hats to MyBookie.
Sports Reload Bonus – 25% up to $500
For existing players, MyBookie will match 25% of a top-up bonus up, to $500. The minimum amount to qualify is a $100 deposit (so you would receive $25 in free play) and the maximum amount to receive the bonus is $2000. This comes with a 5x rollover requirement.
Refer-a-friend
Once you have made your first deposit, you are eligible to receive a 200% matched refer-a-friend bonus, up to $200. Only one bonus per friends is allowed, but feel free to introduce as many friends as you can.
This headline offer is the same as what you'll find at SportsBetting.ag and BetOnline, and is greater than other offers made my the other sportsbooks we have reviewed to date. That said, other terms and conditions do apply to these bonuses, so it always pays to read the specifics in the Terms and Conditions on-site.
---
Deposits, Withdrawals and Limits
Bank Transfer
Bitcoin
MasterCard
Moneygram
Visa
At MyBookie you can deposit in both traditional fiat currency and cryptocurrency. It is noteworthy, form a user experience that while this sportsbook does recommend players use cryptocurrency it is far more restrained than other sportsbooks in sending this message. In fact, MyBookie ought to be credited form not pushing the hard sell where other books do.
Depositing in fiat currency
Visa and Mastercard prepaid, credit and debit cards can all be used at MyBookie. The minimum deposit via debit/credit card is $45, and the maximum is $2,500. The site does say there are also daily, weekly and monthly deposit limits, and those details are shown on your Cashier page once you have an account set up and you've started playing.
Mastercard deposits come with a 4.9% processing charge, while Visa transactions come with a 6% fee. As a part of their welcome package, the site waives these fees on your first deposit if you make it via these channels.
Players can also deposit using MoneyGram, a peer-to-peer transfer platform. If you select this as your method of deposit, you then enter the amount you wish to deposit and "Get Receiver info". Once you find someone to take the other side of your transaction, MoneyGram provides you with a reference number that you then enter into MyBookie's system via the Cashier page.
Perhaps oddly, MyBookie's Help Center make no mention of depositing via bank wire or cheque, although you can withdraw funds via e-check or wire.
Depositing in cryptocurrency
At MyBookie, players can use cryptocurrencies, although compared to other sites the number of currencies available for use is relatively small.
Of course Bitcoin (BTC), is available, as is Ethereum (ETH), Bitcoin Cash (BCH), Litecoin (LTC) and Ripple (XRP).
Crypto rewards
Another nice touch at MyBookie comes in the form of "Crypto Rewards", which it gives players when they deposit in fiat currency. MyBookie adds 10% of your deposit amount to your Crypto Reward balance, up to a total balance value of $100.
When you make a crypto deposit of $45 or more, the crypto rewards are released to you as freeplay funds, with only 1x rollover.
This is another very laid-back approach to encouraging crypto conversion, in line with the site's overall approach to this, which we like.
Deposit and Withdrawal Limits
The table below outlines the various deposit limits, by channel, at MyBookie.
| | | | |
| --- | --- | --- | --- |
| Deposit method | Min deposit | Max deposit | Fee |
| MasterCard | $45 | $2,500 | 4.9% |
| Visa | $45 | $2,500 | 6.0% |
| Person to Person (MoneyGram) | $100 | $500 | As per service provider |
| Bitcoin (BTC) | $20 | $10,000 | $5 on deposits <$20 |
| Ethereum (ETH) | $20 | – | No fee |
| Bitcoin Cash (BCH) | $20 | – | |
| Litecoin (LTC) | $20 | – | |
| Ripple (XRP) | $20 | – | |
Deposit options at MyBookie.
MyBookie does do a good job about being very transparent about its requirements before you can withdraw funds. any deposits made must be played through at least 1x before funds can be withdrawn. Bonus funds all have their own rollover requirements, and we encourage you to always read the terms and conditions of each offer before deciding whether or not you wish to take part.
Withdrawal method
Min withdrawal
Max withdrawal
Review period
Processing time
Fees
BTC
$100
$5,000
2 bus. days
1 bus. day
None
BCH
$20
$5,000
2 bus. days
1 bus. day
–
ETH
$200
$5,000
2 bus. days
1 bus. day
–
LTC
$20
$5,000
2 bus. days
1 bus. day
–
XRP
$20
$5,000
2 bus. days
1 bus. day
–
Bank Wire
$100
$5,000
2 bus. days
5-7 bus. days
$100-$500: $15
$501-$5,000: $35
eCheck
$50
$100
2 bus. days
10-15 bus. days
$5
Person to Person (MoneyGram, Ria)
$50
$400
2 bus. days
Within 5 bus. days
$50-$100 – $26
$100-$200 – $35
$200-$300 – $44
$300-$400 – $51
Money order
$500
$4,500
One per week
$80
MyBookie's Withdrawal Structure
---
Customer Support
MyBookie has a number of customer support channels available, the most accessible being live chat on site and the searchable Help Centre resource for FAQs.
Live chat is responsive, though I got the definite, albeit unsurprising, feeling that my agent "Michael C" had some suspiciously bot-like responses ("I appreciate your patience and I apologize for the delay. I'm almost ready with your inquiry, can you allow me two more minutes to continue the investigation?)
Users can also email ([email protected]) or call customer support if needed (number only provided once you're a member).
Security / Trustworthiness
When you set up an account at MyBookie you are required to enter a PIN for Two Factor Authentication (2FA) purposes whenever you log in. When making withdrawals, MyBookie will ask for proof of identity and address, and may conduct other KYC checks.
Most of the online sportsbooks we have reviewed thus far allow for sign-up using either your Google profile or simply with an email address. MyBookie goes one further at this early stage and asks for an address, with proof of that address when you want to make a withdrawal. For some, this may be a turn off at that early stage, but in this day and age it is easy to appreciate why a legitimate site would want to that. Indeed, it does suggest to a potential user early on that this is a site that takes security seriously – which really ought to be looked on as a positive rather than a PIA negative.
In our reviews of the best online sportsbooks, we have generally used longevity as an indicator of trustworthiness in the space. However, the fact that MyBookie was only established in 2014 should not count against it
Is MyBookie legit?
Yes, MyBookie is a legit online sportsbook, licensed in Curacao. Although it has not been in operation for as long as some of its competitors, MyBookie does seem to be fairly well regarded and trusted in the community.
---
Is MyBookie legal in USA?
MyBookie is a legal offshore entity, based out of Costa Rica. It accepts players from all US states apart from New York, New Jersey, Nevada and Pennsylvania. Dependent on where you are in the US, the legalities of online sports betting will vary.
How does MyBookie payout?
The quickest and simplest way to withdraw funds from your MyBookie account is via bitcoin. Although the site asks fr two business days to review a withdrawal, and then one more day to complete the transaction, often these are settled much quicker. Other methods such as eCheck and Bank wire take longer to process – and come with fees, unlike bitcoin transactions
Yes, MyBookie is a real, legitimate licensed offshore online sportsbook and casino. Real money players can find a solid sports offering at the site, with safe and secure methods of depositing and withdrawing funds.