Argentina are genuine contenders, in what may be Lionel Messi's last dance. Don't miss the Argentina vs Mexico World Cup Group C clash on November 26.
Argentina vs Mexico World Cup Group C qualifying match
Lusail Stadium, Qatar 2022
Saturday 26 November, 14.00 US EST, 19.00 GMT UK, 22.00 local time
With Qatar 2022 possibly being Lionel Messi's last World Cup, Argentina look poised to make a deep tournament run. They are the 2021 Copa America holders, and just recently notched a 3-0 win over Italy.
Drawn with Poland, Saudi Arabia and Mexico, Argentina are clear-cut favorites to top Group C – but as soccer always seems to show us, anything is possible in this beautiful game.
Mexico, led by former Argentina and Barcelona manager Tata Martino, are looking for their first win over Argentina in tournament play since 2004, a 1-0 Copa America win.
Argentina have put "El Tri"out of the FIFA World Cup three times – in 1930, 2006, and most recently, in 2010.
Mexico's approach to this match undoubtedly will be shaped by the result of their first match against Poland. Argentina play Poland on November 30 at Stadium 974.
A Top 10 Showdown
Argentina are FIFA world-ranked #4 and Mexico are #9.
After a tense road to a second-place finish in CONCACAF qualifying, Mexico can set their sights on the big stage. While Messi's last World Cup run will be the dominant story, he isn't the only veteran looking to bow out on a high. Mexico will look to senior players Guillermo Ochoa (36) and Andres Guardado (35), the team eager to send their own legends home with an historic tournament run.
Fresh off of a dominant 3-0 outing against Italy in the Finalissma, "La Seleccion" looks ready, and hungry, to bring glory back to South America for the first time since 2002.
Players To Watch – Mexico
Leading the front line will be Wolverhampton striker Raul Jimenez, complemented by wingers Hirving Lozano and Jesus Corona. A balancing midfield act will likely see La Liga's Andres Guardado and Ajax's Edson Alvarez looking to bring fluidity in transition to both offence and defence.
At the back, experienced central defender Hector Moreno, playing in his fourth World Cup, in front of keeper Guillermo Ochoa in his fifth and final tournament on the biggest stage.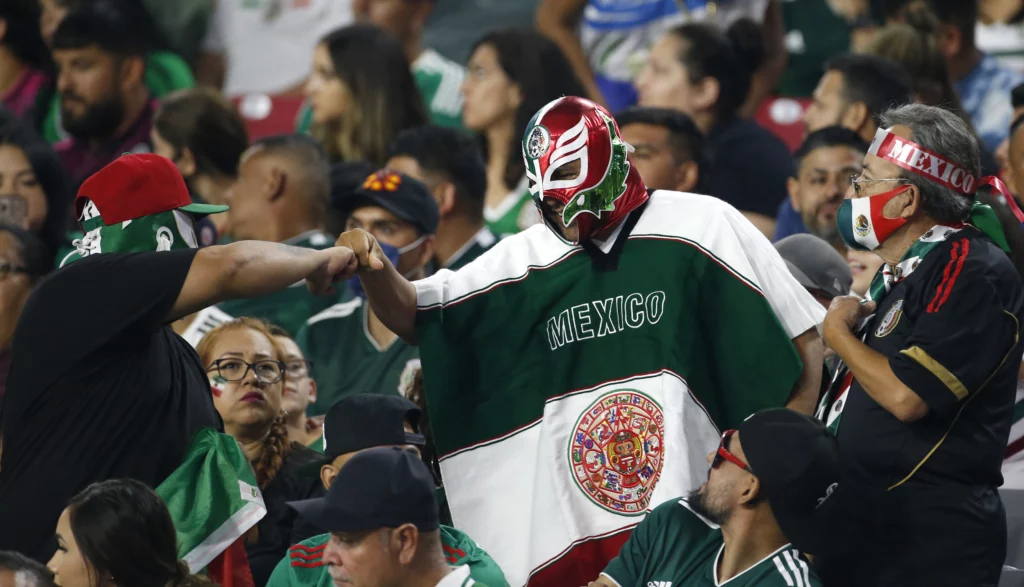 Players To Watch – Argentina
Lionel Messi. Arguably the greatest to have ever played, he has won nearly every trophy in his career except the crowning glory of the FIFA World Cup Trophy. This should be all the motivation he needs.
With another birthday between now and November, Messi will be 35 when he takes to the field in Qatar.
Of course, Argentina are more than just the one man. Alongside La Pulga in a ferocious front line is Inter Milan striker Lauturo Martinez and PSG's Angel Di Maria.
In the midfield, watch Villareal's Giovani Lo Celso and Atletico Madrid's Rodrigo De Paul. Across the back, keep an eye on Tottenham's Cristian Romero and Benefica's Nicolas Otamendi, with Emiliano Martinez, the seasoned Aston Villa keeper, between the posts.
Download The AllStar App
Stay up-to-date with all player, team and tournament news. Available for download at both the App Store and Google Play.
Get all your World Cup news sent directly to your phone – free.
---
Head-to-head: Argentina vs Mexico
These two teams have a long, albeit fairly one-sided, history dating back to a nine-goal 1930 World Cup thriller that ended 6-3 in Argentina's favour.
In total, the head-to-head record in all matches, including friendlies and tournament play, stands at 30 matches, with Argentina taking 16 Wins, 14 Draws, 5 Losses.
Mexico last won in 2004, but their faithful fans remain ever hopeful.
---
South Africa 2010: Argentina 3-1 Mexico
As far as recent World Cup memories go, this match still stings for fans of El Tri.
12 years on from that Carlos Tevez goal in the Round of 16 of the 2010 FIFA World Cup, Mexico fans finally see an opportunity for redemption.
Argentina breezed past Mexico afte Tevez's opening goal as momentum never seemed to switch Mexico's way. In the days long before VAR, fans could only scream at their TVs as the replay showed Tevez yards offside before he headed in the first in a 3-1 loss.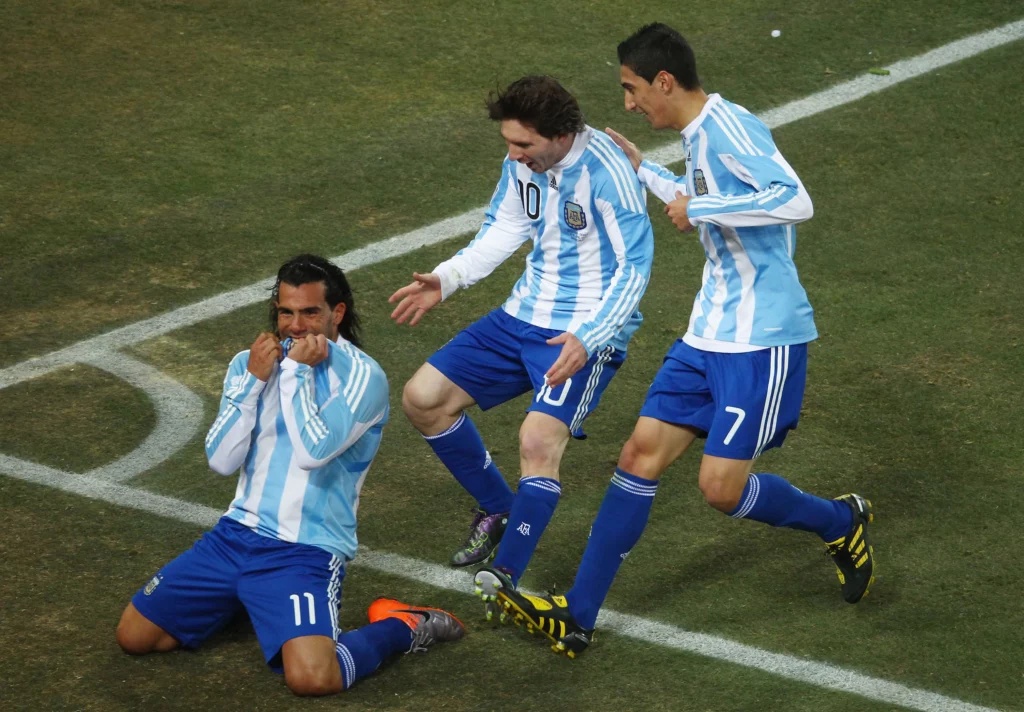 Higuain scored after an horrendous Ricardo Osario mistake gifted the Argentine striker before half-time. However much the first goal hurt, you can't argue with Tevez's second – a glorious strike outside of the 18 yard box that rifled into the top right corner.
Javier Hernandez at least was able to grab Mexico a consolation goal to avoid a shutout.
---
How to watch Argentina vs Mexico World Cup Group C
In the US, on Fox Sports/FS1 at 14.00 (English); Telemundo (Spanish)
Fox Sports holds English-language rights, and will air all 64 matches live across the Fox and FS1 channels. All games will also stream live on the Fox Sports app.
NBCUniversal's Telemundo holds Spanish-language rights in the US.
In the UK, on ITV at 19.00.
In the UK, the BBC and ITV share coverage rights, between them showing all matches. Here is the whole schedule for both channels – who is showing what, when.
---
More FIFA World Cup 2022 coverage from The AllStar