The winner of this match will challenge Argentina for top spot in Group C – and the opportunity to avoid champions France in the next round. Mexico vs Poland is the opening Group C World Cup match to watch.
Mexico vs Poland, World Cup Group C qualifying match
Stadium 974, Qatar 2022
Tuesday 22 November, 11.00 US EST, 16.00 GMT UK, 19.00 local time
On the second day of play at Qatar 2022, Poland and Mexico clash for only the second time in international tournament play.
Mexico are here through CONCACAF qualifying, while Poland won their UEFA World Cup play-off final against Sweden 2-0.
The result of this match will no doubt dictate how both teams approach their matches against Argentina, as they look to set up for the Round of 16.
A win for Mexico will set them up nicely for their next match against Argentina. Read our preview of the Argentina vs Mexico game.
Poland take on Saudi Arabia after this, which could prove to be a welcome breather if they win this one, before facing Messi and co.
Poor Recent Form
Both teams have failed to hit their stride of late, both suffering big losses last time out. Mexico's was 3-0 to Uruguay, who dominated from kick-off and never allowed El Tri to get a rhythm.
Led by former Barcelona and Argentina manager, Tata Martino, Mexico are feeling the pressure with only one win from their last four outings. However, they remain the FIFA world-ranked #9 team.
#21 Poland, meanwhile, are reeling from an absolute 6-1 thrashing by #2 Belgium in the UEFA Nations League. Five different Red Devils got on the scoresheet, while Poland's sole goal came, perhaps predictably, from Lewandowski. The captain undoubtedly has a lot of heavy lifting to do in carrying his nation's hopes.
Both teams will look to reverse their fortunes with the World Cup fast approaching.
Players To Watch – Mexico
Sevilla's Jesus 'Tecatito' Corona will want to give the Mexico front line a much needed injection of vibrancy.
Look to Ajax defensive midfielder, 24-year-old Edson Alvarez to bring fluidity to Mexico's transitional game. A strong tournament could be just what is needed to announce himself to the world's biggest clubs.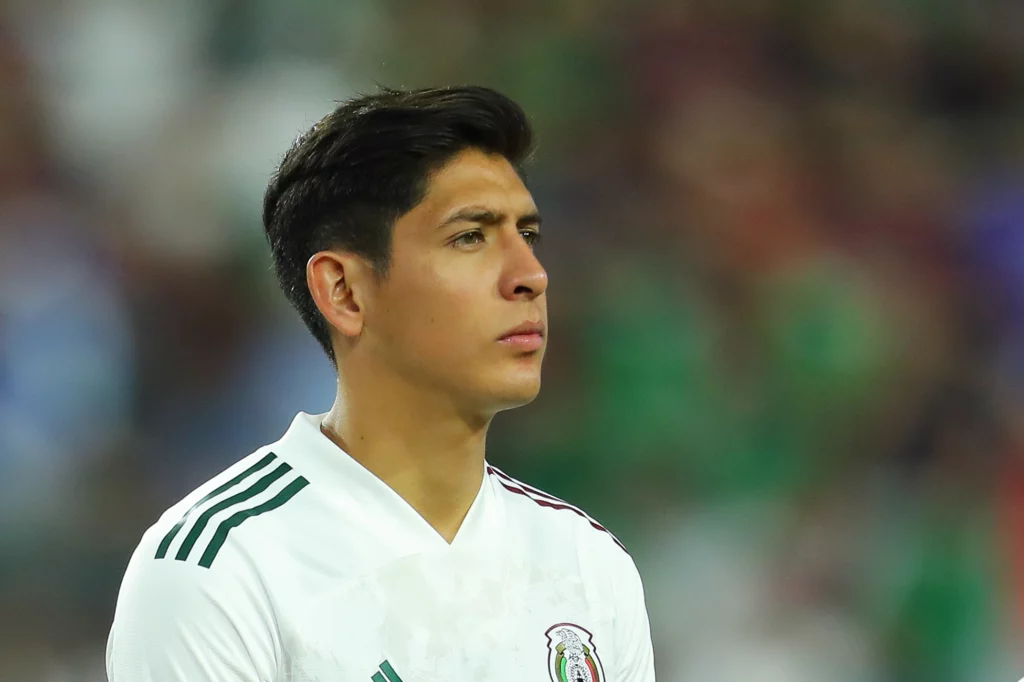 Taking part in his fifth and final FIFA World Cup, Guillermo Ochoa, is eager to go out on a high after an illustrious goalkeeping career for the national team.
Players To Watch – Poland
With 35 Bundesliga goals this season, FIFA's 2021 Best Men's Player, Robert Lewandowski will lead his team from the front.
Keep an eye on experienced Aston Villa right back Matty Cash. English-born and raised, he was granted Polish citizenship last year due to his mother's side of the family. He'll want to make his mark for his adopted nation on the big stage.
Between the posts, seasoned Juventus keeper Wojciech Szczęsny.
Download The AllStar App
Stay up-to-date with all player, team and tournament news. Available for download at both the App Store and Google Play.
Get all your World Cup news sent directly to your phone – free.
---
Head-to-head: Mexico vs Poland
It's something of a rarity when these two teams take the field – they have only met eight times over the years. Poland's record against Mexico stands at three wins, three losses and two draws.
They have met once before on soccer's biggest stage – in the 1978 World Cup in Argentina. On that day in Rosario, Poland never went behind, emerging 3-1 victors.
---
Argentina 1978: Poland 3-1 Mexico
Back in 1978, the format had two group-stage rounds. Poland did superbly well in the first, finishing with a 3-1 thumping of Mexico to secure top spot. Mexico, in contrast, had a dismal campaign losing all their group stage matches.
Two Polish legends connected for the first goal. Just before the half, Grzegorz Lato whipped in a cross with his left that Zbigniew Boniek slotted home.
Mexico equalized, but hopes of a first win were quickly erased by a Kazimierz Deyna goal four minutes later. Boniek's brace in the 84th minute came via a magnificent strike taken outside the box that rifled into the net. An exclamation point to write Mexico's ticket home.
---
How to watch Mexico vs Poland World Cup Group C
In the US, on Fox Sports/FS1 at 11.00 (English); Telemundo (Spanish)
Fox Sports holds English-language rights, and will air all 64 matches live across the Fox and FS1 channels. All games will also stream live on the Fox Sports app.
NBCUniversal's Telemundo holds Spanish-language rights in the US.
In the UK, on ITV at 16.00
In the UK, the BBC and ITV share coverage rights, between them showing all matches. Here is the whole schedule for both channels – who is showing what, when.
---
More FIFA World Cup 2022 coverage from The AllStar