Two of the biggest names in European football clash on November 27. Spain vs Germany will more than likely determine who tops Group E. But Japan and Cost Rica could offer curveballs.
Spain vs Germany World Cup Group E qualifying match
Al Bayt Stadium, Qatar 2022
Sunday 27 November, 14.00 US EST, 19.00 GMT, 22.00 local time
November 27, match day two of the group stage, sees four-time FIFA World Cup winners Germany (1954, 1974, 1990, 2014) take on 2010 World Cup champions Spain, in what has the potential to be an extremely entertaining fixture.
Germany will look to reverse their big-tournament underperformance of recent years. Spain, meanwhile, will look to recapture the success they enjoyed 10-15 years ago.
La Roja's outstanding run on the international stage included European Championships in 2008 and 2012 – either side of their 2010 FIFA World Cup win in South Africa.
Recent showings under Louis Enrique suggest they're heading in the right direction. Euro 2020 semifinalists (losing to eventual winners Italy on penalties) and 2020-21 Nations League finalists, losing 2-1 to France. Good to be in the mix and thereabouts.
A Spanish revival of sorts could be on the cards at Qatar 2022.
Germany have also disappointed on the biggest stages since lifting the World Cup in Rio in 2014. Expect them to give their all to turn that around.
Group of Death?
There's usually has one group that, on paper at least, looks like it will trickier to qualify from than its members would like.
While there isn't one clear standout Group of Death in Qatar, there are a couple that could stake a claim. Group E is one.
Alongside Spain (2010 winners, FIFA world-ranked #7) and Germany (2014 winners, FIFA world-ranked #12) are Japan and Costa Rica.
Japan is, at #23, the highest ranked Asian nation in the competition, and qualified top of their group. Costa Rica may also prove tricky foe and has tournament form – they were losing quarterfinalists (on penalties) eight years ago.
Download The AllStar App
Stay up-to-date with all player, team and tournament news. Available for download at both the App Store and Google Play.
Get all your World Cup news sent directly to your phone – free.
A Fresh Start for Germany?
Four years removed from their World Cup win, Germany's exit at the group stage in Russia was a real shock. Followed by another early exit at Euro 2020, Joachim Low's 15-year reign in charge came to an inglorious end.
Hansi Flick came in after an incredible 2020-21 season with Bayern Munich, having led his side to an incredible, sextuple. The only other side to achieve this is Pep Guardiola's 2009 Barcelona.
Flick won his first eight games as national coach, with an aggregate scoreline of 33 for and only two against.
Although Germany opens this tournament against Japan and Spain against Costa Rica, the tactical battle due to ensue between Enrique and Flick makes this one of the many must-see matches of the group stages.
Players To Watch – Spain
Since taking over in 2018, former Barcelona manager and player Luis Enrique has revolutionized Spanish football. He has achieved this by complementing a blend of experience with exciting, young blood.
At just 17, Gavi has taken Barcelona and the football world by storm with his skill and passing ability. He is the youngest goal scorer for Spain and looks set to break even more records with his national team.
Another Nou Camp youngster to watch is Pedri. With comparisons to Xavi and Andre Iniesta, he has already established himself in the conversation around the world's elite midfielders. At over 70 matches for club and country, no one played more than the 19-year-old prodigy in the 2020-21season.
He was also named the 2021 FIFA Golden Boy – the first Barca player honored with the award since Lionel Messi in 2005.
Players To Watch – Germany
Chelsea's Kai Havertz has been tremendous for the Blues since arriving from Bayern Leverkusen in 2020. His poise and calm in front of goal in big games have made him a constant in Thomas Tuchel's team.
His standout goal last year – the UEFA Champions League winner against EPL rivals Manchester City.
The brick wall that is Manuel Neuer is looking for his second crown after 2014. This season saw the 36-year-old lift his 10th straight Bundesliga title, with a joint league-leading 10 clean sheets at Bayern Munich.
---
Head-to-head: Spain vs Germany
Spain and Germany have squared off 25 times through history, and it's been a pretty even contest overall. Germany has won nine, Spain eight, with eight draws between them.
Euro 2008: The two teams met in the final of Euro 2008.
Germany finished second in their group, losing to Croatia but beating Poland and Austria. In the knockout stages they held off Portugal in the quarters and Turkey in the semifinal.
Spain topped their group, with three wins over Russia, Sweden and Greece, before overcoming Italy and meeting Russia again in the semifinal.
In the end, a 33rd minute goal by Liverpool's Fernando Torres was all that separated the sides.
World Cup 2010 – South Africa: Spain vs Germany was a World Cup semifinal tie in 2010.
A momentous 4-1 win over England sent home a squad that arrived in South Africa full of promise. Germany did it again in the quarters, thumping Argentina 4-0, setting up their semifinal match against Spain.
In contrast, Spain eked out 1-0 victories over Portugal in the Round of 16 and Uruguay in the quarterfinals. That scoreline continued in the semi with Germany, a 73rd minute goal from Puyol separating the teams.
Spain went on to beat the Netherlands in the finals, also 1-0, this time after extra time. A solitary goal from Iniesta in the 116th minute was the difference.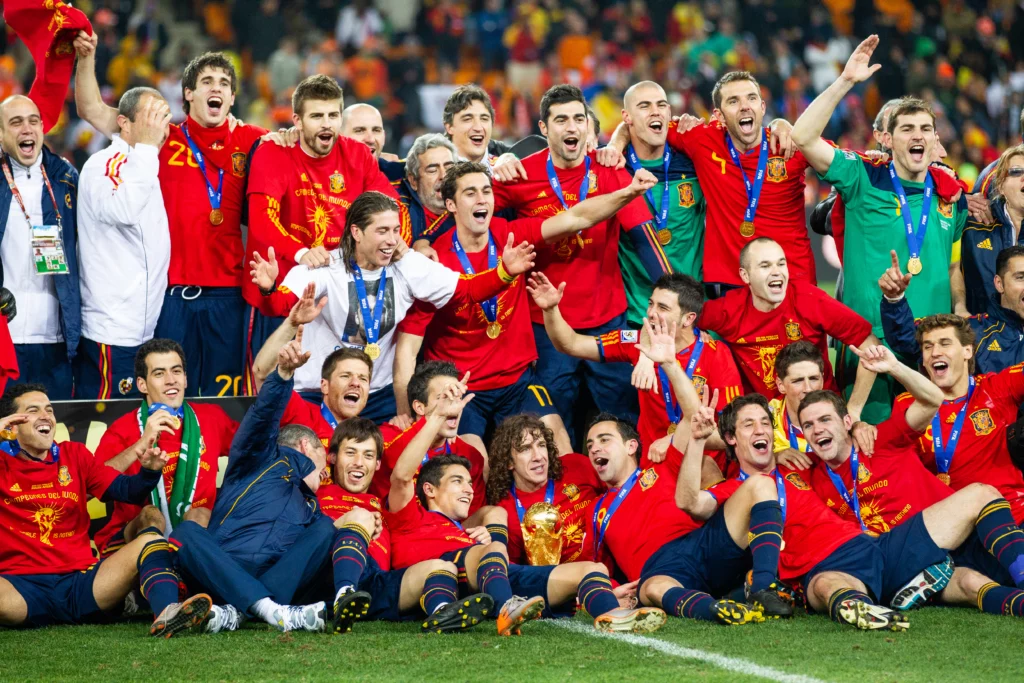 Nations League, November 2020: Spain 6-0 Germany
If winning the World Cup was Joachim Low's high point in his international management career, this was his low.
The game marked the biggest margin of victory for either team over the other, and Germany's worst defeat since 1931. It's probably fair to say that the wounds are still open and Flick's men will want to right the wrong.
In a shockingly one-sided contest, Spain dominated, the first goal coming from a Morata header on 17 minutes.
Manchester City teammates Ferran Torres and Rodri made it 3-0 at the half.
After the break, Torres only needed 10 minutes for his brace, after a great run from left-back Jose Gaya. His hat trick came on 71, with an incredible curler to the bottom right. Mikel Oyarzabal, on as a sub, scored the sixth to complete the memorable win.
---
How to watch Spain vs Germany World Cup Group E
In the US, on Fox Sports/FS1 at 14.00 (English); Telemundo (Spanish)
Fox Sports holds English-language rights, and will air all 64 matches live across the Fox and FS1 channels. All games will also stream live on the Fox Sports app.
NBCUniversal's Telemundo holds Spanish-language rights in the US.
In the UK, on ITV at 19.00
In the UK, the BBC and ITV share coverage rights, between them showing all matches. Here is the whole schedule for both channels – who is showing what, when.
---
More FIFA World Cup 2022 coverage from The AllStar