You won't have read a single article on sports betting without coming across "the vig", which is short for "vigorish".
Understanding what the vig is, and being able to calculate how much you're paying, is crucial if you want to maintain a long-term sports betting career.
The vig, in short, is the price a sportsbook charges you to take your bet. It's a service fee, or a commission.
It goes by different names, in different places: in the US, it's also commonly known as "juice", and sometimes the cut, or the take. In the UK and Europe, it is known as "margin".
Whatever it's called, think of it as the price you have to pay to play.
What is the vig?
To understand vig, we need to get our heads around the basic mathematics behind sports betting.
Before setting a market, a sportsbook assesses its view on the implied probability of an outcome. Having reached that conclusion, a book can then set odds around that implied probability.
The easiest way to illustrate this is through a coin toss – an event with only two possible outcomes.
The Coin Toss
Heads or tails – the only two possible outcomes of a coin toss. That makes it a 50/50 outcome; an even-chance bet on either side. The implied probability is 50% heads or tails.
The odds on this are written as +/-100 in American odds and in decimals as 2.00.
The probability of an outcome (p=1) refers to a singular event. On this one coin toss, the probability of it being heads or tails is equal, so: p=0.5 on both sides.
If you were to wager this in a friendly manner with a friend, neither of you would have an edge over the other, and over time – say a sample size of 1,000 coin tosses – you would expect to break even if you placed a $100 on each toss.
Because the game is fair, at +/-100, for every $100 you bet, you would stand to win $100 in return.
How this looks with vig
Now, imagine you are no longer making this bet with a friend, but with a sportsbook – a sportsbook that is the business of making of money.
The probability remains p=0.5 on heads or tails. But instead of the odds being +/-100 the books sets the odds on both sides at -110.
As we know, a bet at -110 means you need to lay $110 to win $100 – or to put it another way, a $100 bet returns $91.
By setting the odds at -110 – or, by adding the vig – the sportsbook guarantees that it makes money regardless of the result.
Let's say Heads wins.
For every $100 placed on heads, that bet wins and pays out $91, for $9 profit.
For every $100 placed on tails, that bet loses so it keeps $100.
The $9 on the winning bet is the vig the sportsbook keeps. As a sports betting hobbyist, or a sharp bettor, that's the number that's important you.
---
---
Calculating vig
The vig you are paying on any given bet can always be calculated in a few simple steps.
To illustrate, let's use the upcoming Christmas Eve game between the underdog Tennessee Titans at +155 and the favorite San Francisco 49ers at -175, according to the latest moneyline odds on Stake.com:
To calculate vig:
Convert the American odds into decimal odds:
For positive odds (underdogs) the formula is:(American odds/ 100) + 1 = decimal odds. For negative odds (favorites) the formula is: 1 - (100 / - American odds) = decimal odds.
Therefore, we have:
Tennessee: (+155 / 100) +1 = 2.55
San Francisco: 1- (100 / -175), so 1- (-0.5714) = 1.57
2. From the decimal odds calculate the implied probability:
(1/ decimal odds) * 100 = implied probability
Which gives us:
Tennessee: 1 / 2.55 * 100 = 39.22%
San Francisco: 1 / 1.5714 * 100 = 63.64%
3. Sum the two implied probabilities, giving us 102.86%, and compare that to 100%.
In this illustration, the difference of 2.86% is the vig. In fairness to Stake.com, that's a pretty decent – as in, low – vig.
Calculating vig at -110
If we return to the commonly seen odds of -110 described above, and using the maths we've just walked you through, we get this:
Convert American odds to decimal: -110 /-100 = 1.91 / 1.91
From decimal odds, calculate implied probability: 1.91 / 1.91 = 52.38% /52.38%
Vig: 52.38% x 2 = 104.76%, less 100% = 4.76%.
---
Or use a calculator…
Of course, while the math is important to understand, luckily for you it can all be done much quicker and easier by using The AllStar's Odds Conversion Calculator.
In fact, this even goes one step further to give you the implied probability as well, so you can calculate the vig much more conveniently.
---
Vig differs – from bet to bet, and type of bet
Most discussions around long-term sports betting success will tell you that you need to win 52.38% of your bets simply to break even.
That statement is made on the premise of odds of -110 on a fair game – i.e, that is accepted as a fairly standard vig – so to "cover the vig" requires you to win 52.38% of the time.
The assumption of -110 works well when we talk about vig on Point Spreads and on Totals (Over/Unders), because those markets are often set around that level.
However, the sportsbook does of course maintain the discrepancy to move those odds around the game line.
In fact, if we stick with Stake's odds on the Tennessee v San Francisco game, this is an excellent example of how odds either side of the spread or total market can vary away from -110.
Point spreads
The moneyline odds of +155/-175 imply that Stake expect's this game to be pretty close as there isn't a huge variation in the odds.
This is reflected also in the Point Spread market, which as we can see, centers around a 3.5 point (Over: -111 / Under -102) or 4 point (Over -118 / Under +104) spread.
At 3.5 points, the vig calculations look like this:
Convert American odds to decimal: -111 / -102 = 1.90 / 1.98
From decimal odds, calculate implied probability: 1.90 / 1.98 = 52.63% / 50.51%
Vig: 52.63% + 50.51% = 103.14%. Less 100% = 3.14%.
At 4 points, the the vig calculations look like this:
Convert American odds to decimal: -118/ +104 = 1.84 / 2.04
From decimal odds, calculate implied probability: 1.84 / 2.04 = 54.13% / 49.02%
Vig: 54.13% + 49.02%, 103.15%. Less 100% = 3.15%.
This illustrates brilliantly how a sportsbook will set odds that deliver very similar levels of vig.
Totals (Over/Under)
On the totals market for the same game, the main line is 44.5 points, with odds of -109 either side.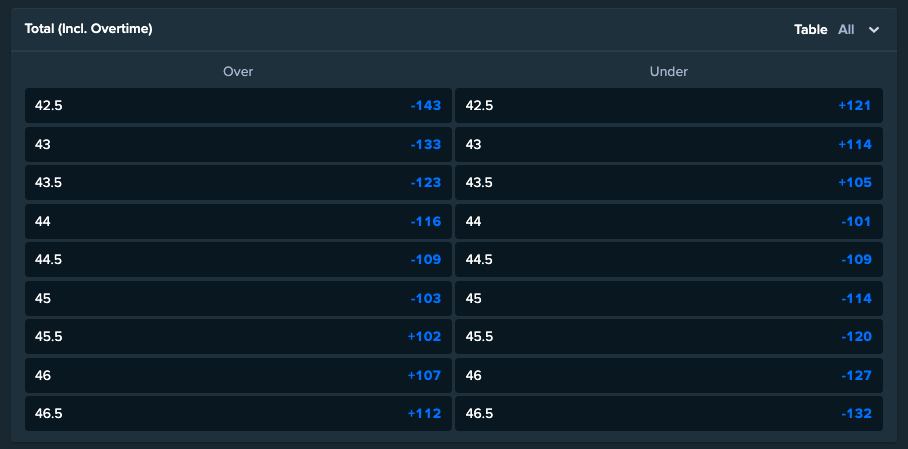 At 44.5 points and odds of -109 / -109, the vig is 4.3%.
That said, the half-point markets either side of 44.5 are also set competitively:
At 44 points and odds of -116 / -101, the vig is 3.95%.
At 45 points and odds of -103 / -114, the vig is 4.01%.
What this illustrates again is the sportsbook's savy in setting vig. First, the highest vig is taken on the most balanced market at -109; second, less, but similar amounts of vig are being charged on the half-point markets either side of the main market.
More than one full percentage point less is being charged on the spread versus the 44.5-point totals market.
In both of these markets you are paying a lot more vig than the moneyline's 2.86%.
Outrights / Futures
Sometimes these bets can carry the highest amount of vig, but it's harder to calculate than on a mainline bet because of the multiple potential outcomes versus a game line. For example, a futures bet on the NFL – say, most yards thrown by a QB – involves 32 teams, so therefore 32 QBs as a minimum, maybe more. But rest assured, the vig is there.
You can read much more about futures betting in guide to futures betting.
---
What vig means for your bankroll
Here's a thought: what if you were to win more bets than you lose, but still come out behind? That would suck, but it is possible – because of the vig.
As mentioned already – if you hypothetically placed all your bets at -110, you would need to win 52.38% of those bets just to breakeven. And of course, in the real world not all your bets will be placed at those odds. This means your breakeven percentage is going to shift as well – and to be profitable at all (not even hugely), you'll need to track your bets properly.
This is all part of the art of bankroll management, which is crucial if you plan to be able to bet on sports with any sense of longevity without having to reload your bankroll.
Shop the line
As ever, we advise you to shop for the best line available to you, wherever you are.
If you think of the vig as the price you have to pay to play – as a free, or a commission – this is a no-brainer. In any other walk of life you'd do the same, right?
Vig is really not so much of an issue for the casual bettor making one or two bets on big games here and there, but it becomes far more important if you intend to be a long-term sport bettor placing many bets throughout the course of a season.
Vig will always exist, and therefore always eat into your potential winnings. But you can at least partly rectify this by shopping around for the best lines available to you on any given bet.
In Conclusion
The main takeaways from this discussion, math and calculations aside, are:
Vig is likely to closest to -110 odds on Point Spreads and Totals. Moneylines are often also competitive, as sportsbook vie for your business.
Futures/Outrights and Props bets/Specials can often carry much higher levels of vig.
For casual bettors, this is unlikely to be of much concern. To a sharp bettor, or someone trying to start a longer-term sports-betting record, taking into account vig is crucial.
As ever, shop for the best lines available to you. Why settle for paying more, when a little effort can save you money?
What does the 'moneyline' mean on sports gambling websites?
The moneyline is a bet on the winner of an event. It is perhaps the simplest bet in sports as it usually has only two potential outcomes – Win or Loss, although in some sports like soccer, there is a third, in a Draw.
Here you can find The AllStar's guide to the moneyline bet.
American odds explained – all you need to know
A parlay bet, or an accumulator, constitutes different legs, where the winnings from one rolls on to the next, and the next, and so on. For your parlay to win, all the individual bets must win.
Parlays are a great way to boost your odds, and winnings. Read our in-depth guide to parlay betting here.
Can you parlay prop bets?
Yes. A sportsbook will accept most bets in a parlay structure. Prop bets, which tend to be largely made up of spreads and totals are generally all fine to be included.
Parlays are a great way to boost your odds and hence winnings – but it is always worth checking the specific rules of your sportsbook/s as they may differ.
Is it possible to make decent stable income on sports betting?
Yes – if you know what you're doing. While you may get lucky one day, you can also find Lady Luck deserting you on an off day. One of the many keys to success is managing your bankroll properly.
Odds conversion – Quick lookup table
You can use the table below for a quick reference of popular betting lines.
| Fractional | Decimal | American Odds | Implied Probability |
| --- | --- | --- | --- |
| 1/5 | 1.20 | -500 | 83.3% |
| 2/9 | 1.22 | -450 | 81.8% |
| 1/4 | 1.25 | -400 | 80% |
| 2/7 | 1.29 | -350 | 77.8% |
| 3/10 | 1.30 | -333.3 | 76.9% |
| 1/3 | 1.33 | -300 | 75% |
| 4/11 | 1.36 | -275 | 73.3% |
| 4/9 | 1.44 | -225 | 69.2% |
| 5/4 | 2.25 | 125 | 44.4% |
| 11/8 | 2.38 | 137.5 | 42,1% |
| 9/1 | 10.00 | 900 | 10% |
| 10/1 | 11.00 | 1000 | 9.1% |
| 20/1 | 21.00 | 2000 | 4.8% |
| 50/1 | 51.00 | 5000 | 2% |
| 100/1 | 101.00 | 10000 | 1% |
| 1000/1 | 1001.00 | 100000 | 0.1% |