No player has had more transfer gossip written about him this summer than Frenkie de Jong.
Indeed, the Dutch midfielder was the subject of a saga that now appears destined to end with the player staying put, but interest from Chelsea and Manchester United surely prompted de Jong to at least consider what his future would look like away from Barcelona.
United made a particularly strong sales pitch to sign de Jong with Erik ten Hag keen to be reunited with his former Ajax teammate at Old Trafford. However, the club's lack of Champions League football was believed to be a sticking point for the 25-year-old, who wants to play at the elite level of the sport.
Midfield solution
Manchester City operate at the elite level, but they were never linked with de Jong. They should have been, though. De Jong would have been the perfect midfield solution for a team that is making an ideological transition following the summer signing of Erling Haaland from Borussia Dortmund.
Haaland's arrival at the Etihad Stadium has changed the attacking dynamic for the Premier League champions. Previously, the likes of Gabriel Jesus and Raheem Sterling provided forward thrust and verticality in the wide areas, with Phil Foden predominantly used as a 'false nine' for his qualities in and out of possession.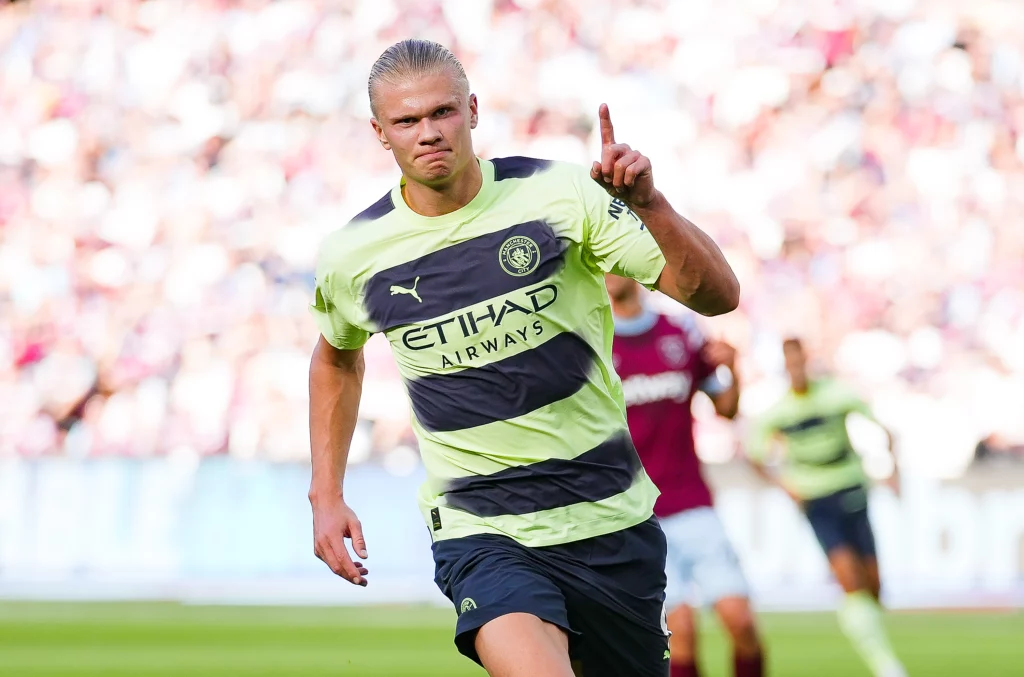 Now, though, Jesus and Sterling have been sold and Haaland has been brought in, meaning Manchester City's verticality primarily comes through the centre of the attack. Haaland has demonstrated his goal-scoring ability by netting six times in his first four Premier League appearances, as City reshuffled the team around him.
Frenkie de Jong
Pep Guardiola has favoured a midfield three of Kevin de Bruyne, Rodri and Bernardo Silva since Haaland's signing. This unit offers Manchester City a lot, but it lacks a player who can break the lines at speed. This is the sort of player who could get the best out of Haaland for City by creating moments of quick transition.
De Jong excels in this regard. The Dutchman averages 6.81 progressive carries per 90 minutes, placing him in the 93rd percentile for this attribute among players in his position. De Jong is also in the 95th percentile for carries into the final third, illustrating how comfortable he is at taking the ball up the pitch and into dangerous areas.
De Bruyne is more than capable at progressing the ball, but Manchester City depends on the Belgian to maintain a grip on possession while Rodri is in the side to keep the structure and offer protection. Silva, however, is an intricate possession player who often slows down the play for City when they now have a centre forward who thrives on speed.
New dimension
Guardiola has adapted his outlook on how the game should be played numerous times over the course of his managerial career. His Barcelona team was known for its use of the ball, and this is something that has underlined Guardiola's ideology, but Manchester City has done more to make good use of space under the Catalan's stewardship.
The summer signing of Haaland shows this. City hasn't just signed one of the best goal scorers in European football at this moment in time, they have added a different dimension to its play. Before, Manchester City had to be very precise in attacking patterns. Now, City has an out-ball they can use to devastating effect. 
City have a generational talent in their squad and they must take measures to harness Haaland's strengths. They have already done this to a certain extent – look at the passes played in behind for Haaland in the 2-0 win over West Ham – but more improvements can be made and the signing of de Jong would have permitted this.
Conundrum
Even as he has scored goals, much has been made of Haaland's inability, or unwillingness, to involve himself in Manchester City's build-up play. The Norwegian had just eight touches of the ball as City beat Bournemouth 4-0 while he registered 18 touches in the win over Crystal Palace (three of them saw him find the back of the net).
This highlights the conundrum Guardiola faces as he attempts to integrate his new centre forward: Can City afford to essentially play with 10 men in possession if that one player delivers so many goals in other areas of play?
To what extent must Guardiola compromise on his principles to get the best out of Haaland? De Jong would help the City manager bridge the gap between the ideological options he currently has.
Of course, Manchester City might be presented with the chance to sign de Jong at a future date with the Dutch international staying at Barcelona until January at the very least, but they could have accelerated their evolution by landing him this summer. So many clubs were interested in de Jong, it's something of a mystery that City weren't one of them.