For the first time in my life as a Manchester United fan, I was left feeling physically sick after watching Saturday night's pathetic 4-0 capitulation at Brighton.
No anger, no rage, no sadness, no frustration – just a resignation that this club has fallen so far, it might be too difficult to save it.
But enough about that miserable rabble who are not fit to wear the shirt, because a panacea of sorts is coming on Wednesday night.
United's under-18s will play in the FA Youth Cup final for the first time since 2011, facing Nottingham Forest at Old Trafford. Nearly 60,000 tickets have already been sold, at 1 pound each, with all proceeds going to the MU Foundation.
That will make it the largest crowd in English football this season, outside of United first team home games and matches at Wembley Stadium.
Your time is up
The fans are clearly voting with their feet, and sending a message to the current bunch of overpaid frauds who are masquerading as Manchester United players: Your time is done, and the future is now, so get out of the club.
And win or lose, Wednesday night's game will be a symbolic one.
As a new generation of kids look to announce themselves as the next set of "Busby Babes" or "Fergie's Fledgelings", the careers of two players from the last bunch to win the Youth Cup will be fizzling out to an ignominious end.
And good riddance, I say.
Paul Pogba and Jesse Lingard seemed destined for greatness after that 2011 triumph, along with Ravel Morrison, but for various reasons it hasn't really worked out for any of them.
Bad taste
Morrison was the chosen one, the greatest talent Sir Alex Ferguson had ever seen come through the academy. But he squandered his potential amid off-field issues, and ultimately never lived up to his superstar potential.
Lingard and Pogba will both depart on free transfers this summer, after leaving supporters with a bad taste in their mouths.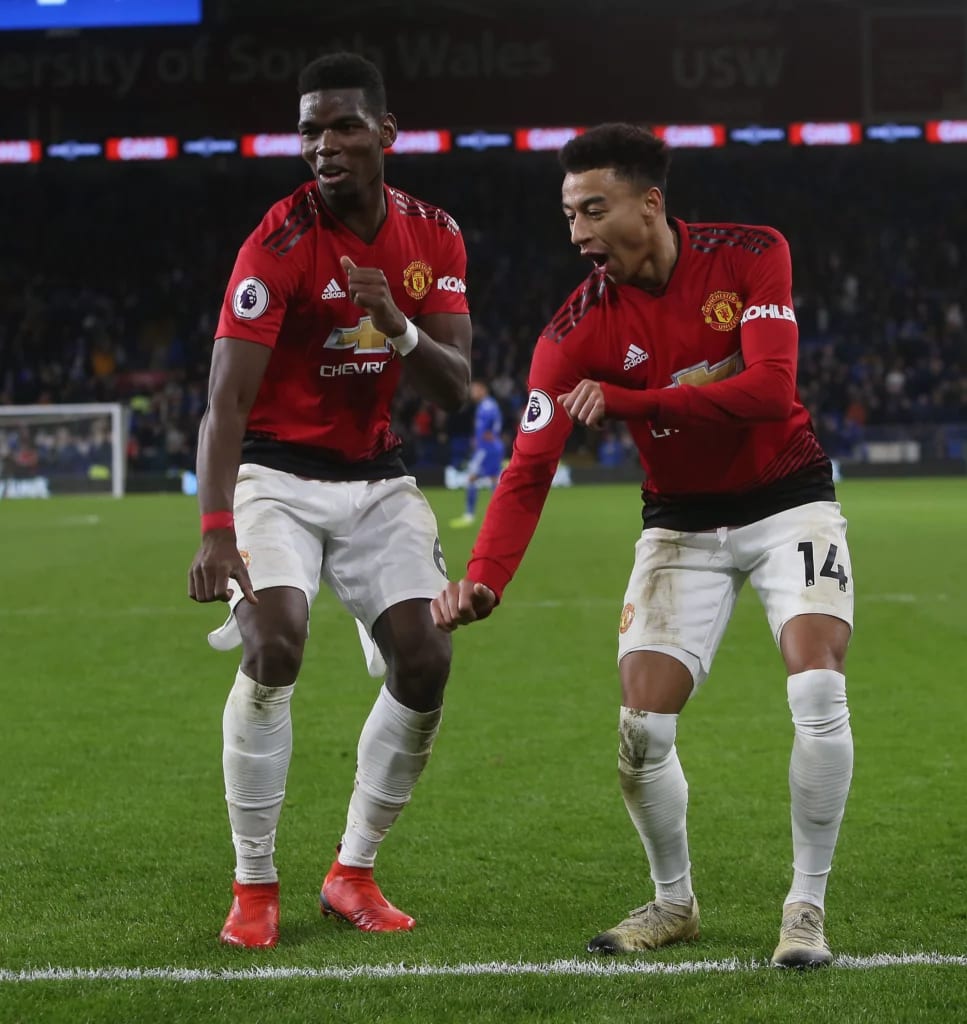 "JLingz" truly embarrassed himself when he let his loudmouth brother trash the club for not giving him a "proper send-off" in the win over Brentford last week, after supposedly giving 20 years of blood, sweat and tears.
Yes, Lingard has been there since 9 years old, but he was also disrespecting the club in January, posting pictures of himself in a West Ham shirt on social media, and he's been dogshit every time he's stepped on the pitch this season.
Contrast his attitude with Juan Mata and Nemanja Matic, who were both given heroes' sendoffs by Old Trafford after the Brentford game.
Neither has ever moaned despite having much bigger claims to starting spots than Lingard, and they will be far more fondly remembered than him, which says a lot for a player who has scored goals in three cup finals for United.
Paul Pogba
Then there is Pogba, who has spent the past week flirting with Manchester City, and posted videos of himself dancing in the gym at Carrington, and mucking about trying to kick a ball out of the window.
The perennially-injured Frenchman is only just returning from his latest spell on the sidelines, and it doesn't bear thinking about how much money he has raked in per minute he has actually spent on the pitch, since returning to United from Juventus in 2016.
Only United could let a player of his talent leave the club for free in 2012, re-sign him for 90 million four years later, then let him walk out again for nothing, all while failing to get a tune out of him.
To be fair, Pogba has taken the club for a ride, and has never truly looked committed to restoring it to greatness, despite a good start when he led us to victory in the 2017 League Cup and Europa League finals.
Pogba is a sublimely talented footballer, with natural gifts few players have. But he has never consistently put a string of great performances together for a whole season at United. Meanwhile, he's regularly made negative headlines while speaking ill of the club on international duty.
If he wants to go to Man City, and trash any last shred of respect he had from United fans, then fine. He probably wouldn't even get into their team, and would disrupt their wage structure and their dressing room – so I'm all for it. Get it done, Pep Guardiola.
Wayne Rooney
It all brings to mind club legend Wayne Rooney's famous quote on his final years at United.
"I remember once when I got to training the day after a loss, I was still so angry and went into the changing room with Michael Carrick. We found Jesse Lingard and Paul Pogba dancing to music," Rooney said.
These two have never truly "got it," and their attitude and lack of dedication off the pitch has ultimately been reflected on it.
It pains me to say it, having seen them both do wonderful things in a United shirt, but I will feel completely indifferent when they finally leave this summer.
Exciting prospects
It's time to move on, and it's time to find the next crop.
There are several hugely-exciting prospects in this youth side who have a chance to force their way into incoming manager Erik ten Hag's first team plans for next season. United fans would like to see nothing more – it's in the DNA of the club.
With more than 10 first-team squad players expected to leave or be sold in the summer, this is a huge opportunity for Alejandro Garnacho, Charlie McNeill, Kobbie Mainoo, Shola Shoretire, and Alvaro Fernandez – to name a few – to put their hand up and be counted.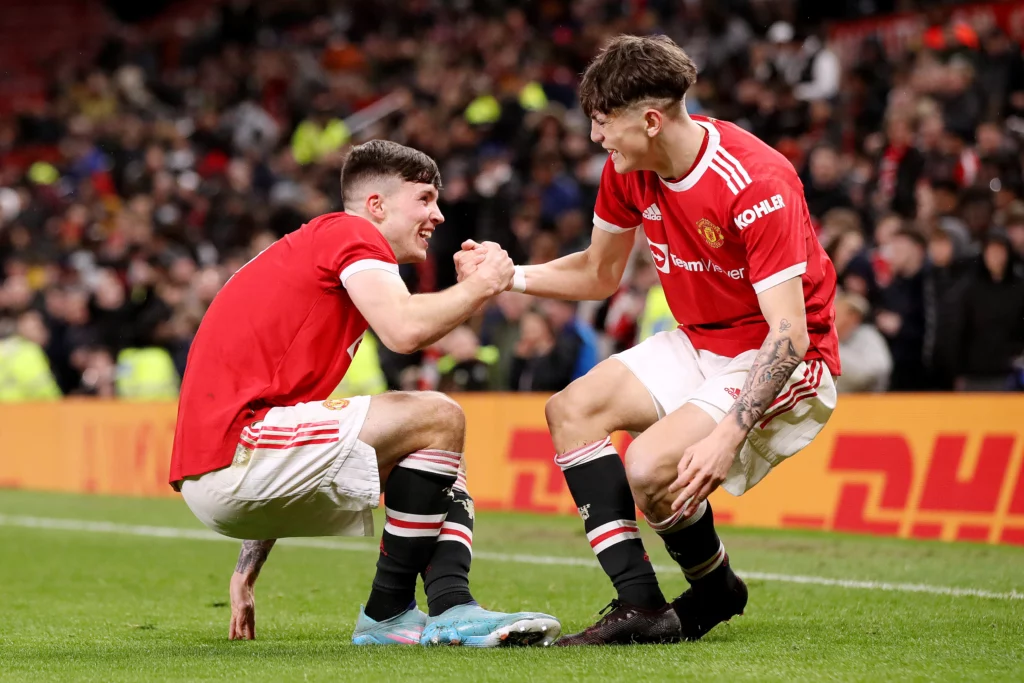 Alejandro Garnacho
Garnacho is probably the pick of the bunch. The 17-year-old has already been given his first-team debut, as a late substitute against Chelsea, with Cristiano Ronaldo taking on a mentor role to the Spain-born Argentine.
A forward who has already earned a senior international call-up, Garnacho has caught the eye with several fantastic goals for the team en route to the final, and looks like a future superstar.
Ronaldo handed him the match ball after his hat-trick against Norwich, and clearly sees something special in him.
Hannibal Mejbri won't be in the side, as he is a fixture in the under-23s, but he is another who can become a quick, easy solution for United next season. As could fellow midfielder James Garner, who may yet guide Forest to the Premier League before signing off his second loan spell there.
I have no doubt that every player who steps onto the pitch on Wednesday night will actually care about wearing the United shirt, and give everything for it, unlike the sorry set of losers we have seen steal a living lately.
They would probably run through a brick wall to get the chance to play for the first team, while Pogba would pull a hamstring just thinking about doing the same.
So don't despair – the night is darkest just before dawn, as they say.