LONDON (AP) — Arsenal, one of the most storied teams in English soccer, has endured some turbulent times since it last won the Premier League title 19 years ago.
Now, sitting at the top of the table with a young and exciting team, it feels unrecognizable to the club that sparked such vocal criticism from its own fans over that period.
"In the 12 years I've been here it has never been as hard as it is to get a ticket," Arsenal chief executive Vinai Venkatesham told The Associated Press in an interview. "It has never been as loud at the stadium and we have never had as many seats full as we have at the stadium. And if you are trying to get a ticket at the moment they are like gold dust."
It wasn't so long ago that the mention of banners at Arsenal would have signalled the latest protest from an increasingly divided fanbase.
Some supporters even took to hiring planes to fly giant messages that called for former manager Arsene Wenger to be removed during the latter days of a 20-year reign that delivered 10 major trophies.
On Wednesday, there was a totally different feel as Arsenal presented eight new banners that will adorn the exterior of its Emirates Stadium, replacing its existing artwork and aiming to "transform the north London skyline and redefine the club's home as a cultural landmark."
The collection, which will be in place for at least 10 years, celebrates Arsenal's greatest achievements, players and managers. However, it is the promise of what lies ahead that is driving the feel-good factor around the club.
Sights set on return to Champions League
"This season for us is about progress, is about moving the club forward. We want to get back in the Champions League, competing in the biggest competition that exists," Venkatesham said. "There is positivity around the club because we feel we are heading in the right direction, but we've got a long way to go to achieve what we want to achieve. We are at the start of that journey. I think we should be feeling positive because we are making some traction. There's no one here getting carried away. There's no one here getting above their station."
There is positivity around the club because we feel we are heading in the right direction, but we've got a long way to go to achieve what we want to achieve.

Arsenal Chief Executive Vinai Venkatesham
Venkatesham's caution is understandable given what Arsenal has endured since it last called itself England's finest.
On its way to its last title in 2003-04 it became the first and only team in English soccer's modern era to go undefeated in a league campaign, earning it the nickname of the "Invincibles."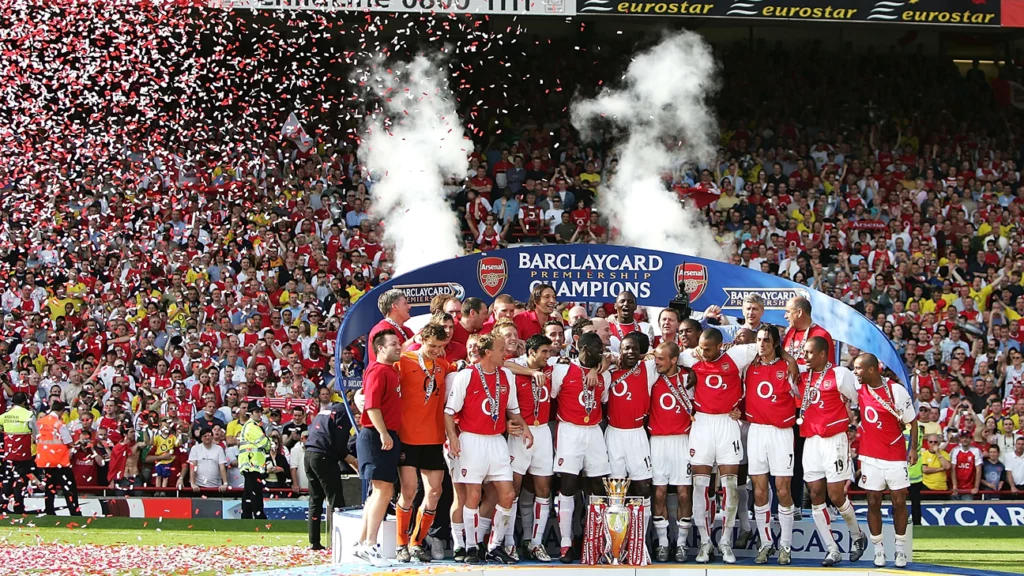 Since then, however, it has watched as Chelsea, Manchester United, Manchester City and Liverpool dominated the Premier League at various times.
Arsenal, meanwhile, has been in decline. It has not qualified for the Champions League since 2016.
Trusting Arteta
Its fans have been increasingly vocal in venting their anger, with the rise of social media providing a toxic platform at times.
As recently as last season their disillusion could be heard and seen inside the Emirates, with three straight league defeats at the start of the campaign prompting some to call for Arteta to be fired.
The most humbling of those was a 5-0 rout by Man City on Aug. 28, 2021.
"I remember that date. It is seared in my memory. I know where I was, where I was sitting. It was a long journey home," Venkatesham said. "If you'd have asked me then what we felt, we felt we were on the right path. I know the first three games of the season we were under intense pressure, but we had great belief in Mikel, we had great belief in (sporting director) Edu, we had great belief in what we were trying to do in terms of our recruitment strategy and the types of players we were going to bring in. But can I say that sitting here having played three, lost three, bottom of the league, having a two-week international break was a pleasant time? It wasn't, but we were all absolutely together."
Roll the clock forward and that patient approach, as well as the club's faith in Arteta, has paid off.
Arsenal is five points clear of City at the top of the table, having lost just one game all season.
"Mikel is a hugely impressive individual," Venkatesham said. "From the first moment a group of us spent some time with him, it was clear that he was going to develop the right type of culture at the football club, it was clear that he could represent this football club both on and off the pitch in the right way and it was clear to our technical staff and to Edu, whose opinion was very important on this, that Mikel had a fantastic tactical brain and it felt like he could be the type of modern coach that could take the club from where it was to where we wanted him to take it to."
Feeling the Love
He says the connection between Arsenal and its fans is about more than just what is happening on the field.
The new banners are an example of how the club is reaching out to supporters, who were consulted over the design and content of the artwork led by Turner Prize-winning artist Jeremy Deller, artist Reuben Dangoor, and graphic designer David Rudnick.
The "Invincibles" are featured as well as the Champions League-winning Arsenal women's team.
There is a banner of Arsenal's former stadium Highbury, while fans and supporters' groups from around the world are also featured.
Legendary players, managers and their families were also consulted.
"For me, probably the thing I'm most proud about at the moment is the connection of the whole Arsenal family. Ex-players, staff, fans, club, management, it just feels like everybody is really together," Venkatesham said. "It is a good example of what the club is all about at the moment. That sense of community, all of us together and the bond, at least in the 12 years I've been at Arsenal, I can't think of a time when it has ever been stronger."
This articles was written by James Robson. Find him @ https://twitter.com/jamesalanrobson