The Ben Simmons trade saga has given NBA fans something to talk about all offseason. Will he stay in Philadelphia or will he go? Does he land in California or team up with Karl-Anthony Towns in Minnesota? Will he report to training camp or risk millions in fines? With so much conjecture about the Australian's future, we break down views from all corners of the NBA.
The latest developments
NBA training camp is underway but Ben Simmons has yet to report for work. Adrian Wojnarowski reported that Simmons intends to "never play another game for the franchise" and that he hasn't spoken to the Sixers brass since August.
Joel Embiid, Tobias Harris and Matisse Thybulle had plans to travel to Los Angeles to visit Simmons but were told not to come as he won't change his mind. According to Simmons' agent Rich Paul the message is clear, "We want to be anywhere but in Philadelphia."
What do the sportsbooks say?
With all good rumors, it's only natural that you want to see where the money is. Vegas odds currently have the San Antonio Spurs in prime position to acquire the point forward. Fellow small-market team Minnesota have led the rumor race all offseason and are currently second favorites to land Simmons.
Not usually a team to dominate headlines, the Spurs have all the necessary assets to package a trade with the 76ers. San Antonio is a likely destination given that Coach Gregg Popovich is possibly the only coach in the NBA that could motivate Simmons to realize his full potential. With the Spurs in a semi-rebuild mode after losing Demar DeRozan and Patty Mills, a Texas move for Simmons is certainly plausible.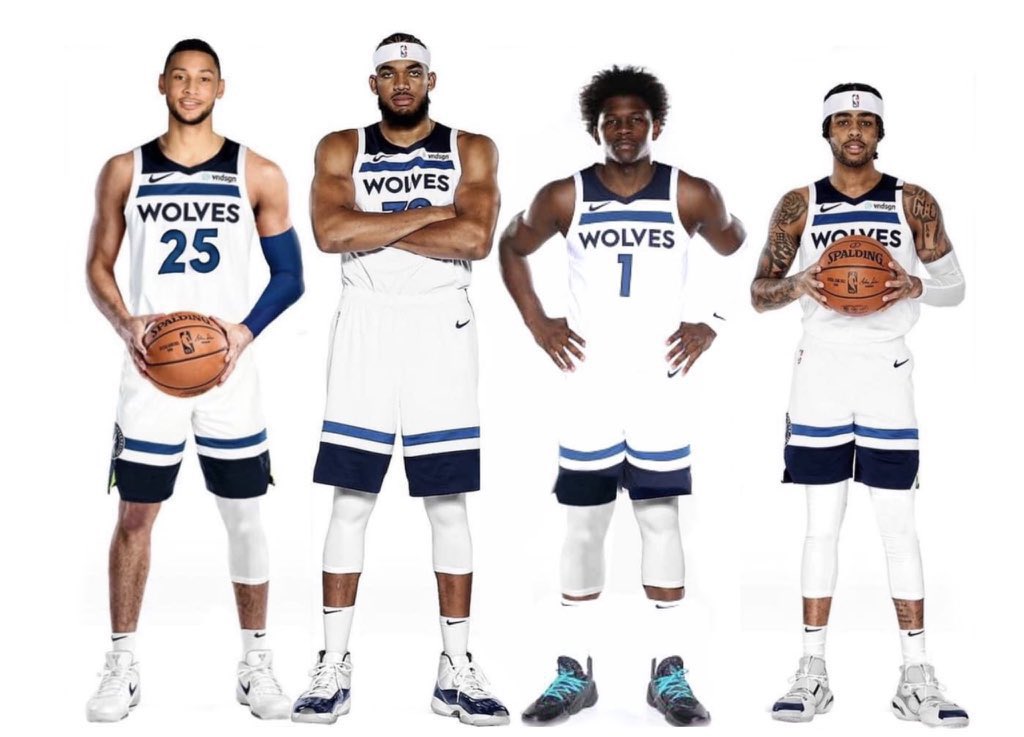 Meanwhile, the Timberwolves have been linked to Simmons all summer. With new owners including Alex Rodriguez now onboard, the Wolves are more likely to make a splash in the Simmons sweepstakes. Minnesota, however, already mortgaged their future last season in the Andrew Wiggins-D'Angelo Russell swap so a third team may be needed to make this trade possible. The Timberwolves recently parted with their President of Basketball Relations Gersson Rosas for non-basketball related matters. It remains to be seen how the move will impact trade talks going forward but heading into the season without a GM is never a wise move.
A list of familiar teams round out the top seven trade destinations. The Houston Rockets are in third place, following recent reports of a potential John Wall trade.
| | |
| --- | --- |
| Team | Odds |
| San Antonio Spurs | +450 |
| Minnesota Timberwolves | +450 |
| Houston Rockets | +500 |
| Sacramento Kings | +1200 |
| Portland Trailblazers | +1500 |
| Toronto Raptors | +1500 |
| Golden State Warriors | +1500 |
Latest odds for Ben Simmons' trade destination
What do the Hall of Famers say?
Former Sixer Charles Barkley did not hold back when Simmons made his trade request at the end of August:
"So let me get this straight. We liked you enough to give you $200 million. The only thing we ask is you be a good basketball player. We're just saying 'shoot the ball' and he's mad and wants to leave town? This is total B.S."

Charles Barkley on The Mike Missanelli Show
Lakers legend Shaquille O'Neal meanwhile believes the writing has been on the wall for a while.
"He hasn't had a lot of communication with them (the Sixers) this summer. He hasn't gotten any better over the last four years. If you don't have communication with upstairs it's not going to go well. Philly fans gave up on him, or are starting to give up on him. It'll probably be good for him to go somewhere else."

Shaquille O'Neal speaking to Complex
What do the 76ers say?
Franchise center Embiid may have thrown Simmons under the bus following their playoff exit but he was quick to dispel rumors of a rift. Ultimately, Embiid appears to hope that Simmons returns next season so they can run it back.
Sixers coach Doc Rivers, who criticised Simmons after the team's playoff exit, also appears keen to start over with Simmons.
We're going to always do what's best for the team. But I can tell you up front, we want to get Ben back. And if we can, we're going to try to do that.

Head coach Doc Rivers on First Take
What does LeBron think?
LeBron James recently fired off a tweet that the NBA twitterati viewed as a not-so-subtle shot at Simmons. Klutch Sports represents both athletes.
Several videos of Simmons draining jumpers surfaced this offseason, but Sixers fans know all too well that such videos never translate to on-court success.
What will this drama cost Ben Simmons?
Simmons will take a hit financially if he stays true to his word and refuses to attend training camp and pre-season. The Sixers can fine Simmons for missing practice but the NBA's collective bargaining agreement stipulates that players can only be fined a total of $15,000 for three missed practices, after which a team can suspend the player. An initial suspension would cost Simmons $227,613 per game whilst an indefinite suspension after 20 games would cost him $322,261 per game.
Simmons has 4 years and $147 million left on his contract and is scheduled to receive 50% of his salary before October 1. The Sixers' first preseason game isn't until October 4 so any game fines would only impact the remaining $16.5 million that is set to be paid out during the season.
Until such a trade happens, it remains to be seen who will blink first in the standoff between Ben Simmons and the Philadelphia 76ers.