The AllStar is proud to present The Daily Swish, a digest of what's shaking and baking in your favorite basketball league. This is the place to help you start your day (or end it) with notable newsy nuggets from around the association.
The Chicago Bulls erased a 19-point deficit to overcome the Boston Celtics and the short-handed Sixers got the job done at home against Damian Lillard and the Trail Blazers.
Making Headlines
The high flying Chicago Bulls continued their rampage across the league, defeating Boston 128-114. Chicago proved to be a class above the Celtics who led the game 103-89 after three quarters. A 21-3 Bulls run in the fourth dashed Celtic hopes and DeMar DeRozan scored 10 points in the final six minutes to seal the win. A clearly frustrated Marcus Smart called out Celtics stars Jayson Tatum and Jaylen Brown in his post game interview saying, "They don't want to pass the ball."
In Philadelphia, the short-handed Sixers pulled off an unlikely win over the Trail Blazers. Despite missing Tobias Harris (health and safety protocols) and Joel Embiid (rest), the Sixers rallied to a 113-103 victory over the Blazers. Philly fans took the opportunity to show Blazers guard Damian Lillard love during the game by chanting "We want Lillard". Lillard was an offseason acquisition target for the Sixers though a trade never materialised.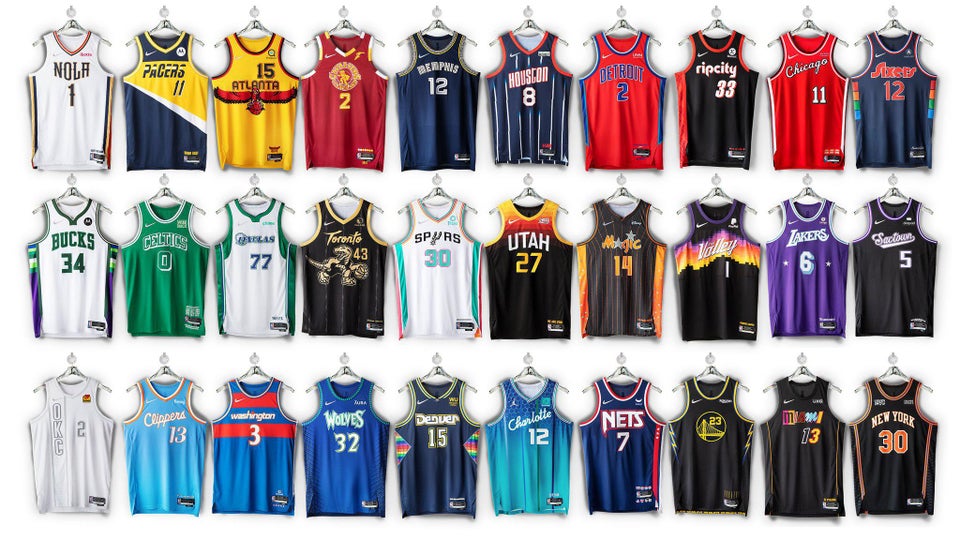 All 30 NBA teams revealed their City Edition jerseys for the 75th anniversary season. The designs are meant to blend details and elements of each team's history into one unified look. The Utah Jazz and Phoenix Suns are the only teams sticking with last year's designs although their jerseys will still feature this season's special diamond-textured league logo and Nike swoosh. The new jerseys will be available for purchase from November 15 onwards.
Last Night
Game (home team in bold)
Top Performers
76ers 113 def Trail Blazers 103
Andre Drummond (PHI) 14 pts, 15 rebs 7 ast
Damian Lillard (POR) 20 pts, 7 reb, 10 ast
Cavaliers 113 def Hornets 110
Jarrett Allen (CLE) 24 pts, 16 reb, 2 ast
LaMelo Ball (CHA) 30 pts, 7 reb, 6 ast
Pacers 131 def Spurs 118
Domantas Sabonis (IND) 24 pts, 13 reb, 6 ast
Dejounte Murray (SAS) 16 pts, 6 ast, 2 reb
Hawks 118 def Wizards 111
Clint Capela (ATL) 16 pts, 12 reb, 1st
Spencer Dinwiddie (WAS) 14 pts, 5 reb, 10 ast
Bulls 128 def Celtics 114
DeMar DeRozan (CHI) 37 pts, 7 rebs 2 ast
Jaylen Brown (BOS) 28 pts, 7 reb, 3 ast
Raptors 113 def Knicks 104
OG Anunoby (TOR) 36 pts, 6 reb, 2 ast
Julius Randle (NYK) 22 pts, 9 reb, 5 ast
Grizzlies 106 def Nuggets 97
Ja Morant (MEM) 26 pts, 7 reb, 8 ast
Nikola Jokic (DEN) 23 pts, 7 reb, 7 ast
Magic 115 def Timberwolves 97
Cole Anthony (ORL) 31 pts, 9 reb, 8 ast
Karl-Anthony Towns (MIN) 23 pts, 16 reb, 6 ast
Clippers 99 def Thunder 94
Paul George (LAC) 32 pts, 9 reb, 7 ast
Shai Gilgeous-Alexander (OKC) 28 pts, 7 reb, 2 ast
What's On Tonight
Click on the team for the best odds on spread bets.
You can get live scores, game trackers, latest results and betting odds directly from our app. Download it here.
#What'sTrending
Father time is catching up with Carmelo Anthony after he shared the floor with Kenyon Martin Jr.
Fans were excited to see this season's City Edition jerseys.
Some however weren't too pleased with the Celtics' new threads.
Best of r/NBA
The City Edition jersey designs got everybody on Reddit talking.
Chicago's comeback win against Boston was the most upvoted and discussed game with many showing appreciation for DeMar DeRozan's impressive play.
News broke that it will be a few more weeks before Pelicans forward Zion Williamson fully participate in practice.
Performance of the Night
DeMar DeRozan torched the Celtics for 37 points on 15/20 shooting to lead the Bulls to a 6-1 record.
Play of the Day
Magic rookie Franz Wagner scored a career high 28 points including this vicious dunk over Jarred Vanderbilt.