The AllStar is proud to present The Daily Swish, a digest of what's shaking and baking in your favorite basketball league. This is the place to help you start your day (or end it) with notable newsy nuggets from around the association.
Today, the focus is on the Phoenix Suns failing to reach a contract extension with marquee center Deandre Ayton. NBA commissioner Adam Silver also offers his thoughts on Kyrie Irving and Covid vaccines. Plus: One day till the 2021-2022 season begins.
Making Headlines
Talks on a rookie contract extension between Phoenix and Ayton ended ahead of a Monday deadline with no agreement, ESPN's Adrian Wojnarowski and Brian Windhorst reported. The No. 1 pick in the 2018 draft had apparently been pushing for a full, five-year, max contract. However, the Suns failed to make a formal offer.
Commissioner Silver faced the press yesterday, voicing hopes that Irving would get vaccinated and play a full season with his Brooklyn Nets. He added that about 96% of NBA players have opted for the jab. Silver also spoke about tampering investigations into Chicago and New Orleans, and about expanding the league.
The start of a new season inevitably has everyone buzzing about their predictions for the year. We have some handy previews including who is favored to win it all (the Nets) and for most valuable player (Luka Doncic).
#What'sTrending
If you needed more reminding:
Magic is happy about that. And why not, when you have three big reasons to be optimistic about the season.
One more trending tweet, direct from a league about to kick off a milestone season. The NBA is also due to start revealing the best players in its 75-year history.
Best of r/NBA
Phoenix failing to offer Ayton a deal was the day's most up-voted Reddit post.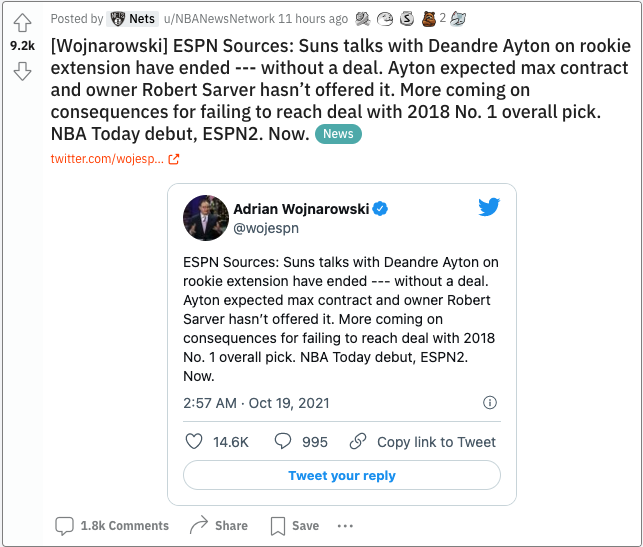 The Athletic's write-up on the developing bond between James Harden and Steve Nash in Brooklyn also attracted a lot of attention.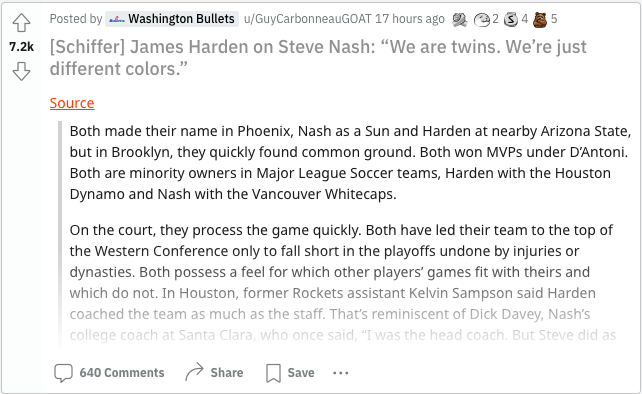 Performance of the Night
The commish got our hopes up talking about a possible return to Seattle. Some of us old timers at The Daily Swish fondly remember a time when Gary Payton and Shawn Kemp reigned supreme in the Emerald City with the Sonics.
Kevin Durant made his debut with Seattle in the 2007-2008 season before relocating with the franchise to Oklahoma City the following year. If we were into idle prognostication – and we are – could we foresee KD returning to Seattle one day to close out his career? Stranger things have happened in this league.
For getting us excited and holding court intelligently on a number of hot-button issues, Adam Silver's done enough for our performance of the night.
Play of the Day
Only a day before we get real games. For now, enjoy Lamelo Ball injecting some pizzazz into a Charlotte Hornets intra-team scrimmage. Jamal Crawford, who loves making his own razzle dazzle, gave the young feller a well-deserved shout out for our Play of the Day.