The AllStar MMA app. Exclusive content from expert writers, fighter insights from the athletes themselves, full card breakdowns, fighter match-ups and individual profiles.
With pro picks to help your MMA and UFC betting.
The AllStar is also one of the best MMA betting apps, with betting odds, expert betting opinions and picks, and a proprietary odds comparison tool to help you find the best lines available.
The Best MMA News App
Customize your news feed
The AllStar is comprehensively the best MMA news apps, helping you cut through the noise. Receive only the news you want.
Once you've downloaded the app, choose which organizations you want to see news about – UFC, Bellator, PFL, ONE Championship – and get notifications on the stories that matter to you sent directly to your device.
---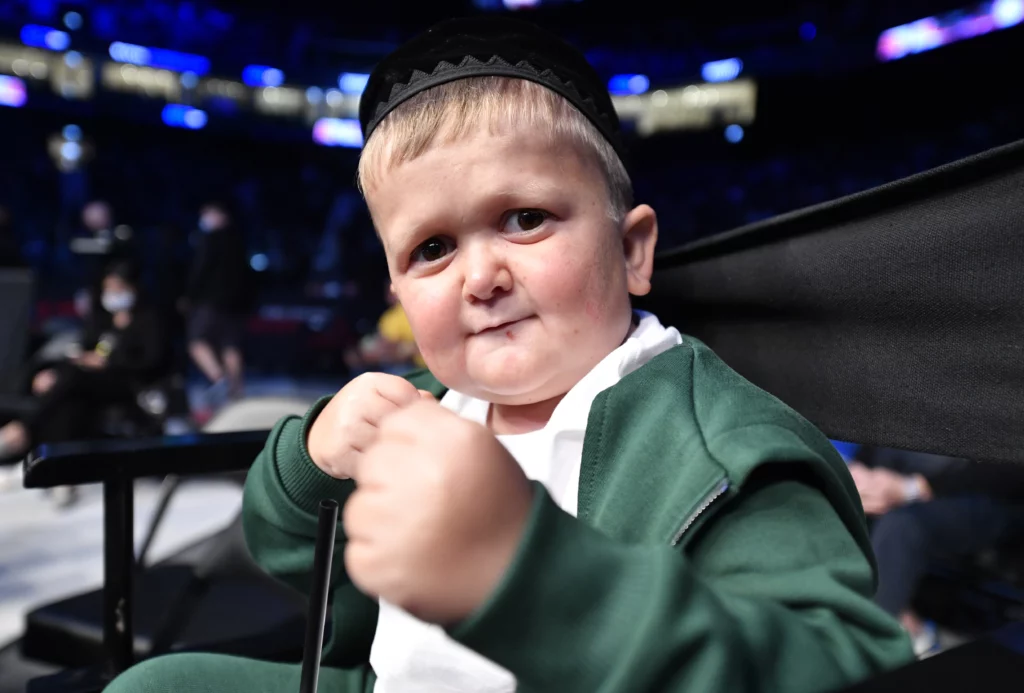 Download The Best UFC News App
Get all your UFC news, free to your device.
Fighter records. H2H match-ups. Odds comparisons. Live in-fight stats.
---
Exclusive Content – Athlete Insight
Get unique insights from fighters and experts, from fight card previews to break downs of wins and technique. All alongside exclusive interviews, BTS access, training camps and more.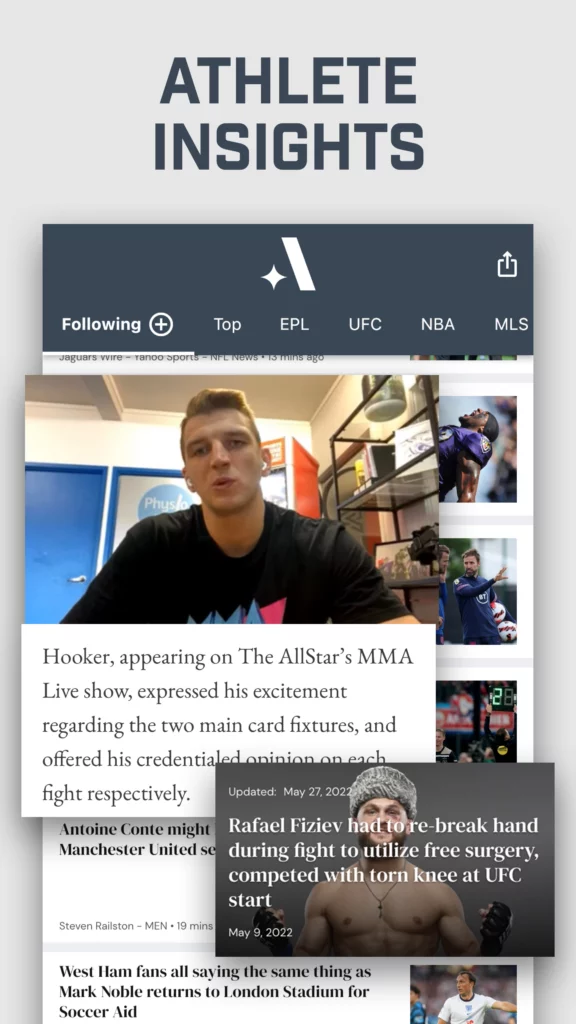 The AllStar MMA app brings you the athlete's view, offering unique insight into the sport.
Get Dan Hooker's (@danthehangman) take on upcoming fight cards and big-name bouts as he hosts The AllStar MMA Live.
Ex-UFC fighter Roxanne Modafferi writes exclusively for The AllStar, with tales of life inside MMA's premier organization.
The AllStar's very own @JHKMMA brings his awesome fighter access to deliver insights from the men and women that don't just talk, but do!
Want a jump on the stars of the future – the up-and-comers ready to burst on to the UFC scene? Check out The AllStar's Road to the UFC coverage.
---
Exclusive Content – The Best UFC News App
On The AllStar's MMA app you can find:
Full fight-card schedules; listings for all fights, fighters' full records.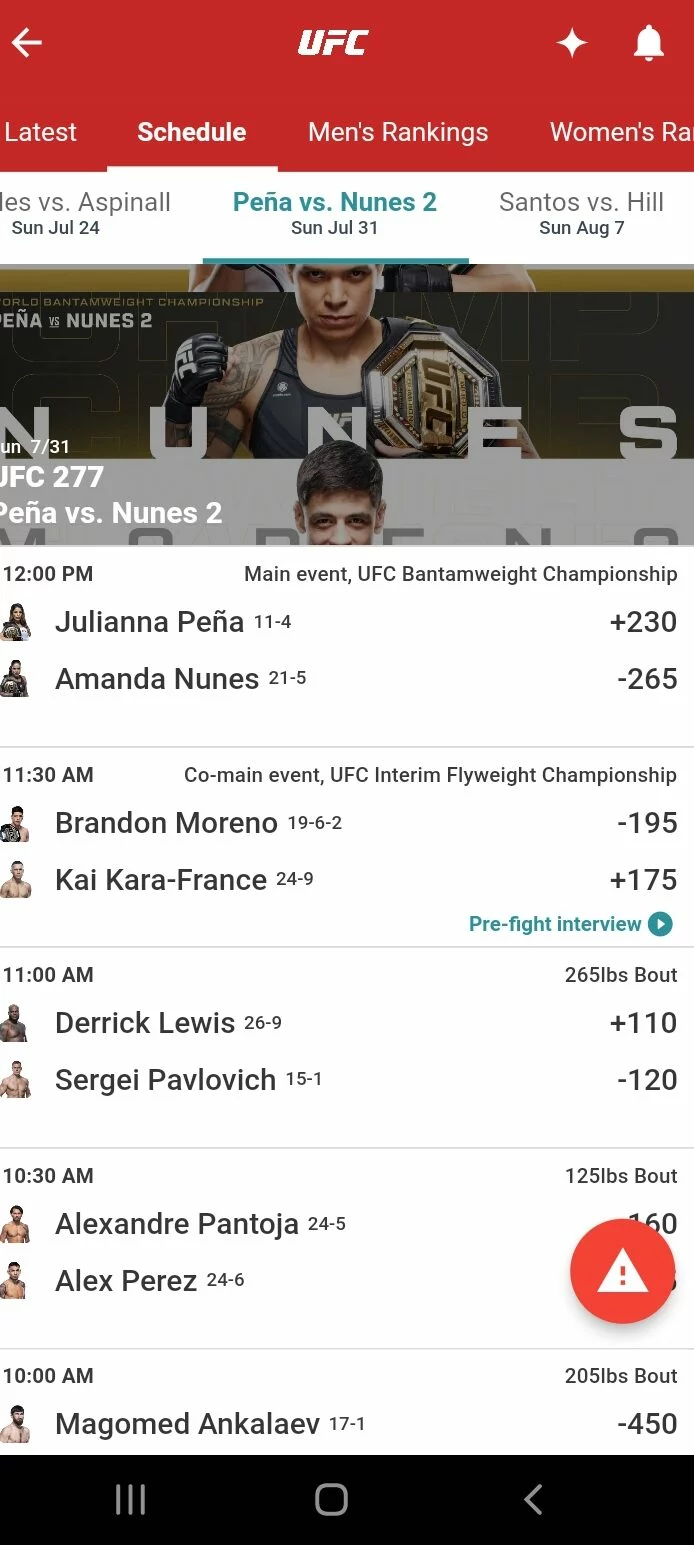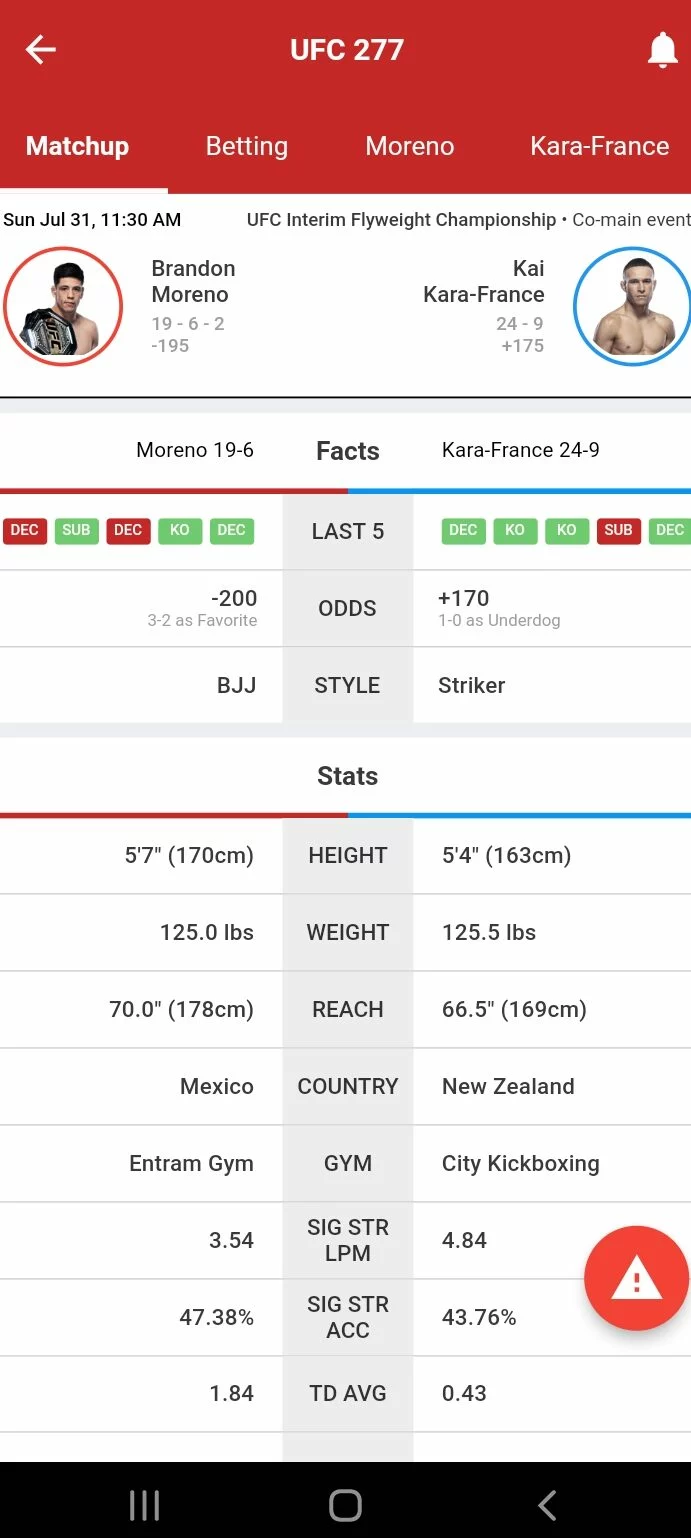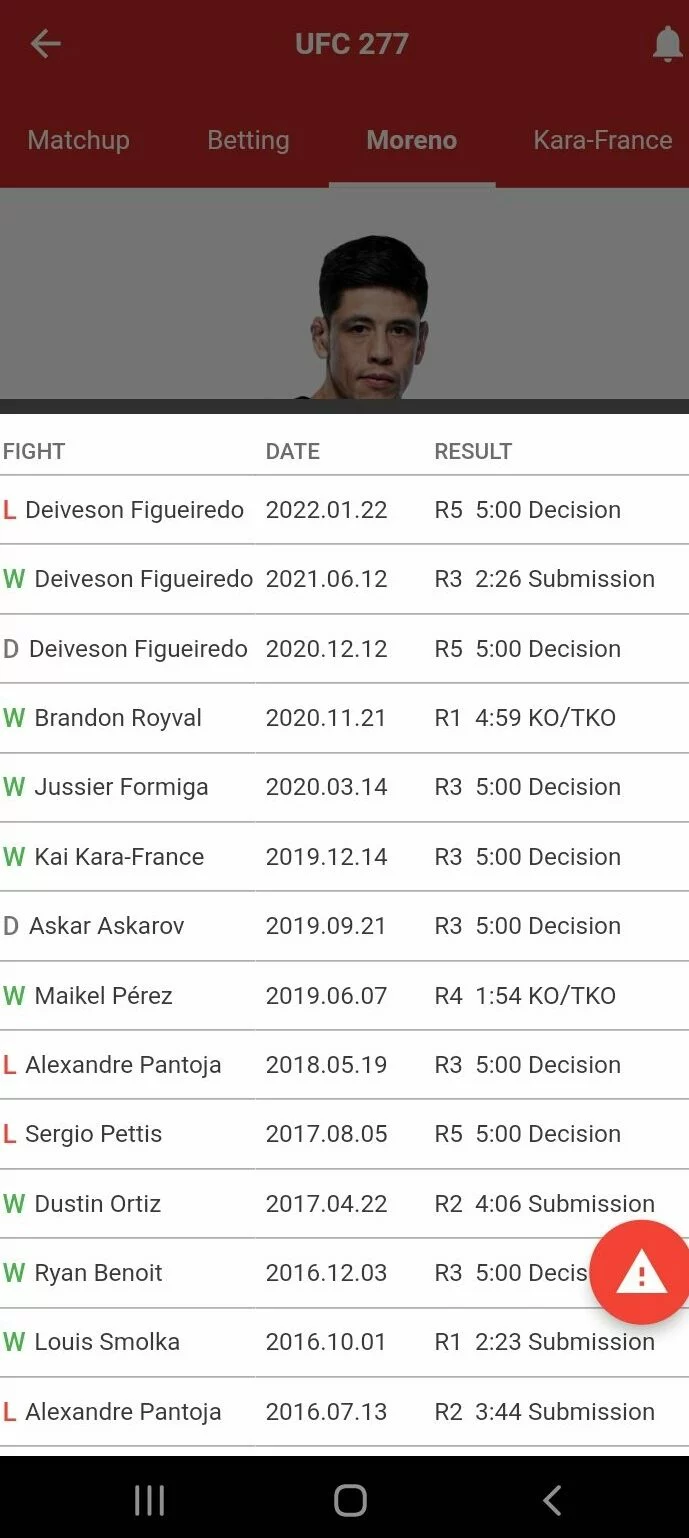 Fight previews; in-depth head-to-head match-ups.
Exclusive AllStar Athlete Insights.
Post-fight highlight reels.
---
Exclusive Content – Best app for MMA betting
On the app you'll also find exclusive content on betting tips and picks for big event cards, from hardcore MMA fans and professional tipsters alike.
If you're looking for some different prop bets too, the app can deliver those as well.
The AllStar app – the Best MMA betting app.
Betting Tools – Odds Comparisons / Odds Calculators
if you're looking for sportsbook action, be sure to check out the app's proprietary odds comparison tool.
If you think you have a value bet, makes sense to place it at the best odds available to you.
---
The Best MMA App Brings You Live Updates
The Allstar MMA app really comes into its own when the action is live – get live updates and unique in-fight live data delivered straight to your device.
Proprietary Features – Live Fight Stats
When the bell rings, the app delivers live updates of key statistics, right to your device.
First off, Knockdowns. By who, and how many.
Tracking Total Strikes – landed and thrown – shows you at a glance who's done what.
Of that total, how many have been Significant Strikes? That's a massive factor in who might win or lose, crucial if you're looking at live betting on a fight. Head Shots, Body Shots, Leg Kicks… all great data for an MMA fan.
And when fighters roll… who has the most number of Takedowns and more importantly, what is each fighter's Control Time once they're on the mat?
These are all stats we know our users love – brought to by the best MMA app.
On top of all the stats you want, The AllStar offers unique Common Opponents data, which explores how each fighter has performed against anyone they've both fought before. Did one lose and one win? If so, what was the nature of the win, and technically, what bearing does it have on the fight we're watching now? Does it highlight a defensive weakness in a fighter? – and how does knowing all this information inform our betting decisions?
Live Twitter feeds
Keep an eye on what others are saying as the action unfolds. What's UFC Twitter reacting to as the fight unfolds. For sure, there's never a shortage of opinion out there!
Post-fight Highlights
If you miss the live action, no drama – visit the app to see big fight highlights.
---
The AllStar's also a Free Sports App
This best MMA app is available completely free: No ads, no subscription.
Who are we? The AllStar is a collaboration between sports fans, athletes and insiders from all your favorite sports, bringing you content and features that matter to you.
The AllStar gives you:
Exclusive content.
Proprietary news aggregation: All the biggest stories from all the biggest news sites.
Live scores and stats for the sports you choose to follow.
Full personalization: Only receive the news and notifications that you want to see .
---
News Aggregation on the MMA App
The AllStar supplements its own coverage by scouring major media news feeds to deliver the news you need to stay up to date with what's going on in the world of MMA.
Choose which competitions or organizations you want to hear about and let The Allstar's MMA app filter out the noise.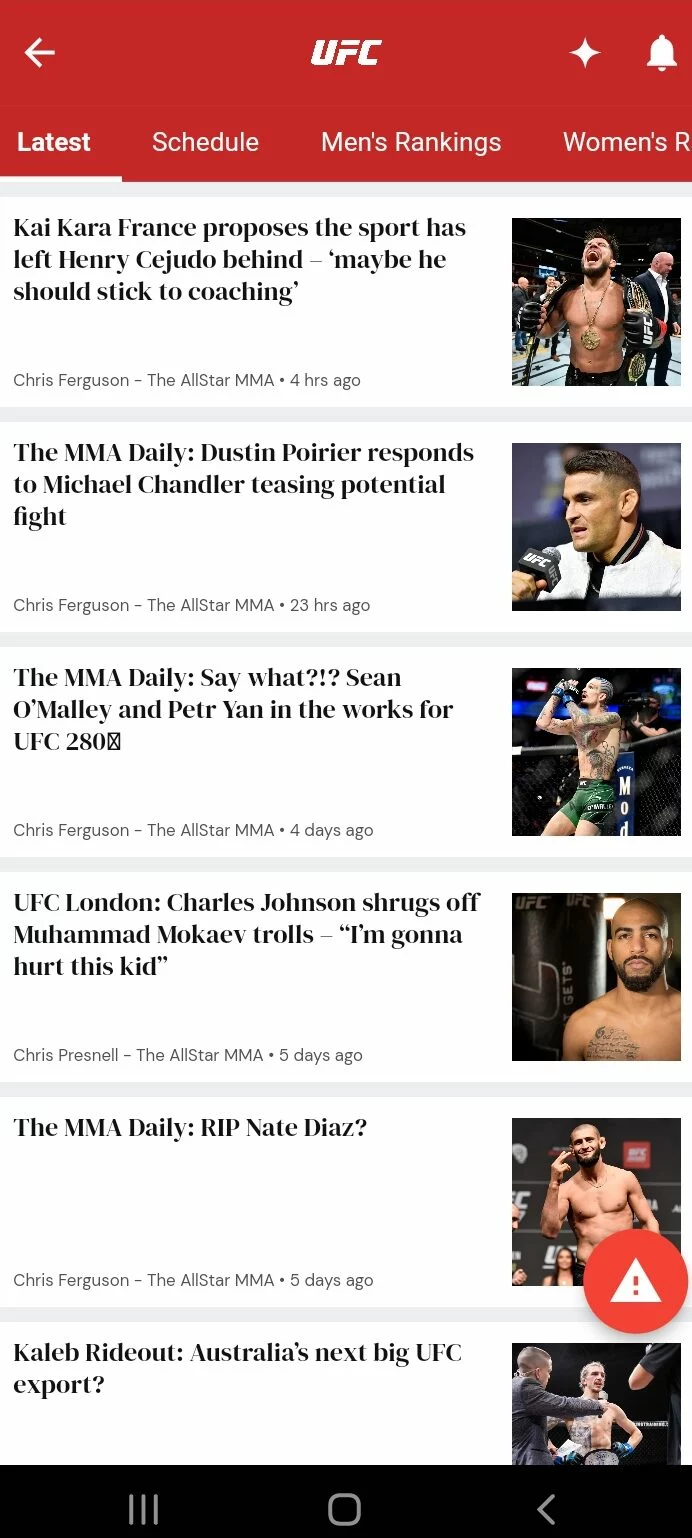 ---
What is the best MMA app for android?
If you're looking for the best mma app for android, head to the Google Play store and look no further than The Allstar.
What is the best mma app for iPhone?
If you own an iPhone and are hunting for the best mma app, then head to the App Store and download The Allstsr's mma app. It's got all you need to keep you up to speed on what's going on in the sport.
What is the best betting app for mma?
There are a bunch of mma apps available to fans today, but for all your MMA news and for previews, odds, picks and predictions, you'd be hard pushed to find another that's the best MMA betting app.
If you want more information to help you with your mma betting, download the app now. Alternatively, explore online, or do a best betting app reddit search and maybe you'll find a bunch of different subreddits you might be interested in joining.
The AllStar: Your Best MMA App
Get all your MMA news sent direct to your device, free. Available for download at both the App Store and Google Play.