Most heavyweights at the highest level of combat sports have a difficult time finding the bodies to conduct a proper training camp. That's not the case for Chris Daukaus.
Daukaus, who has knocked out four straight opponents since entering the UFC in the summer of 2020, is scheduled to face former 2-time heavyweight title challenger Derrick Lewis on Dec. 18 at UFC Vegas 45: Lewis vs Daukaus.
Even though the 32-year-old former police officer comes from a smaller team in Philadelphia, "small" is not the word to describe his training partners. Daukaus has skyrocketed up the division to No.7 in the rankings and finding the right-sized sparring partners are a big part of the equation. 
"The one guy, Pat [Brady], he just recently came to the gym," Daukaus told The AllStar. "He's been there for probably six, eight months now. And he actually brought a couple of the heavyweights with him. Really, really thankful we got those guys in there.
"Ryan [Appleby] who is a collegiate wrestler. So he's been helping me really well with my wrestling defense and my wrestling offense. Pat's an animal. He can go, you know, he's a really good striker. Super fast, super explosive especially in on the double legs and his shots. And then, John's there too. John [Mercurcio] is a really crisp boxer, like a kickboxer type."
He continued, "I got Oleg [Alf] who's there. My Russian brother over there who been preparing me for all the Russians. His jiu-jitsu is top-notch. Whatever kinda fight that I have signed, I pretty much have all my bases covered."
Brotherly love
In addition to this solid crew, UFC middleweight Kyle Daukaus is always in the trenches of every training camp putting in the hard rounds for his older brother.
"I get my ass beat by my brother all the time," the elder Daukaus revealed. "Like my brother is the better fighter out of both of us. I've said this forever. People think just because I win and I connect with people…I'm a heavyweight. If I touch you one time, you go to sleep.
"My brother whoops my ass. Like when he's in camp and I'm in camp, I'm getting my ass kicked by that dude 95% of the time. He is the better MMA fighter."
BJJ roots
Around the time Daukaus made his UFC debut, he received his Brazilian Jiu-Jitsu black belt. He has been honing his ground game at Martinez BJJ for the past 10 years.
With his quick hands and knockout power, Daukaus has not been able to display much of his grappling prowess inside the Octagon but against Lewis, it could be the perfect opportunity.
"I'll pull guard on Derrick Lewis and throw up a triangle or something," the American said with a smile. "I'll pull a Rose Namajunas. Flying armbar off the cage."
---
Fighter profile
Chris Daukaus is a 32 year old male fighter from the United States with 12 pro wins and 3 losses. Daukaus is scheduled to fight Derrick Lewis at UFC Fight Night: Lewis vs. Daukaus on Saturday December 18, 2021.
Recent form coming into this matchup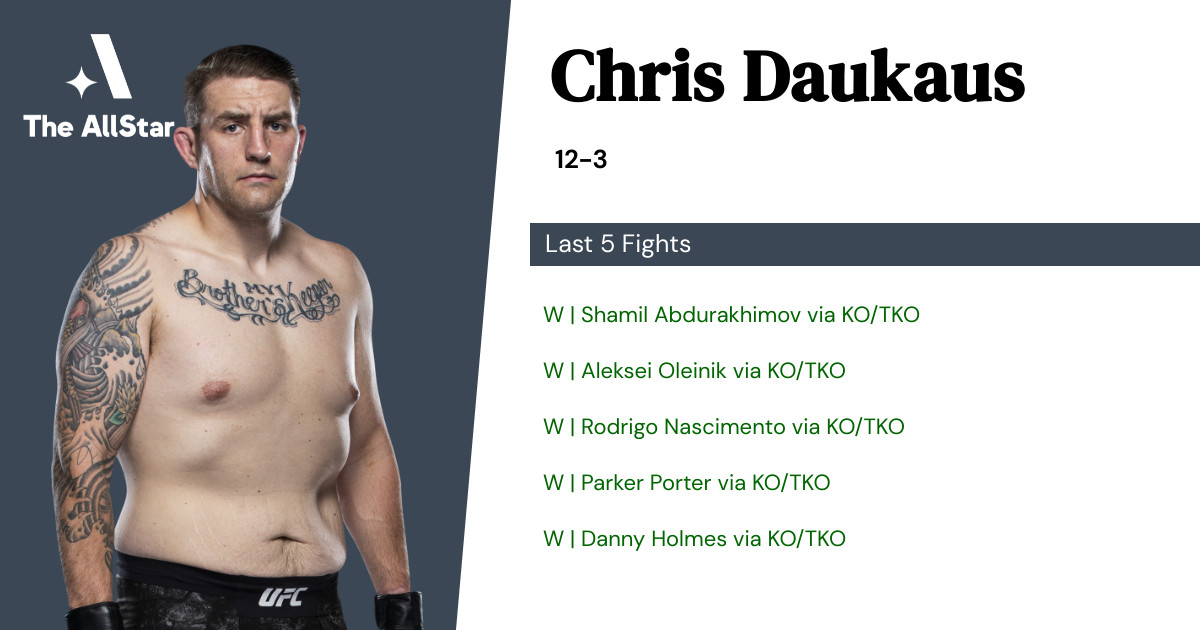 Daukaus has gone 5-0 in the last 5 professional MMA fights.
Next opponent: Derrick "The Black Beast" Lewis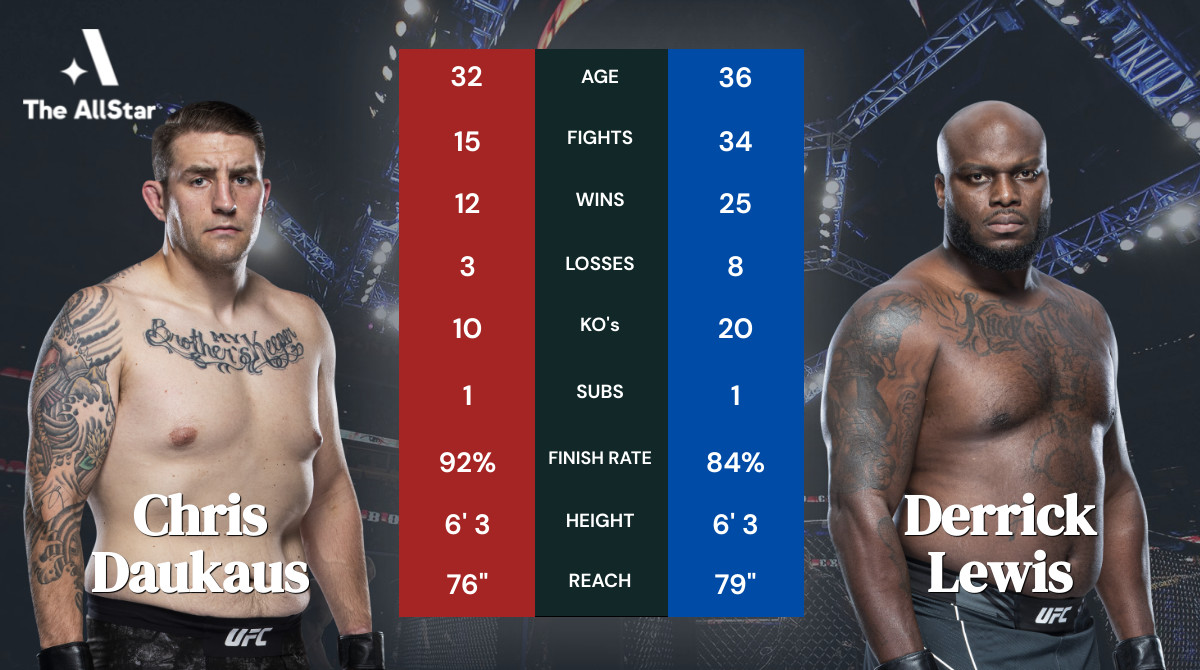 Lewis's recent form coming into this matchup
Derrick "The Black Beast" Lewis is a 36 year old male fighter from the United States with 25 pro wins and 8 losses. Lewis is scheduled to fight Chris Daukaus at UFC Fight Night: Lewis vs. Daukaus on Saturday December 18, 2021.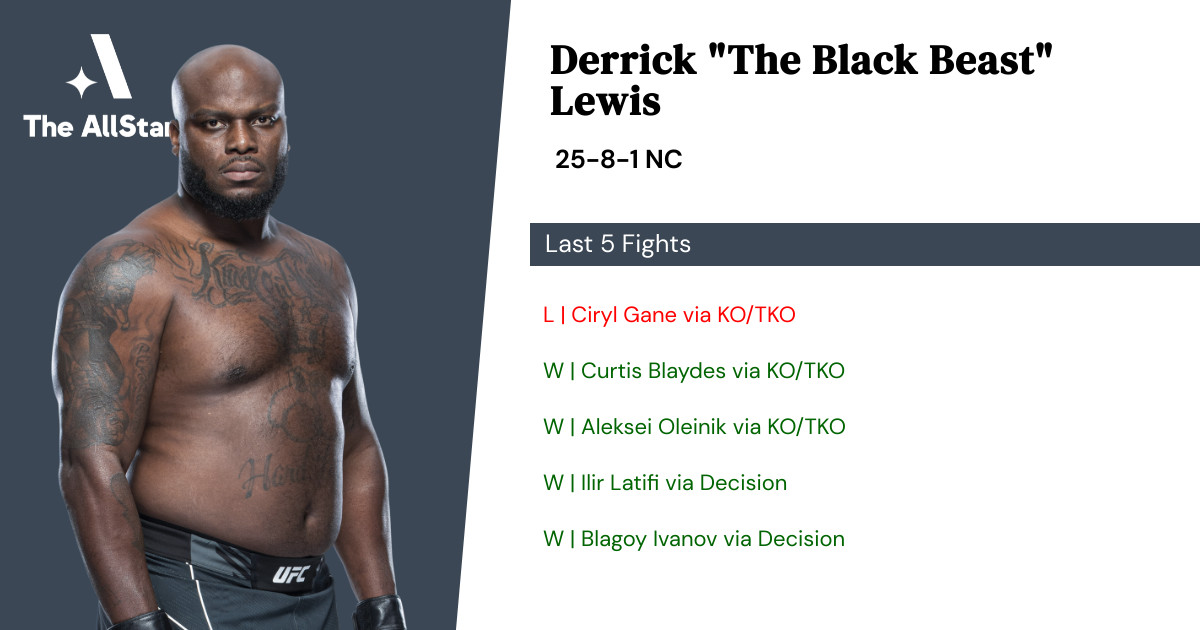 Lewis has gone 4-1 in the last 5 professional MMA fights.
How to watch and bet on Chris Daukaus vs Derrick Lewis