Current Champion: Rose Namajunas
UFC Women's Strawweight Rankings
History of the UFC Women's Strawweight Division
The UFC Strawweight division officially began in 2014 and needed a way to determine a champion. The Ultimate Fighter 20 (also known as The Ultimate Fighter: A Champion Will Be Crowned ) was created to determine the inagural UFC Women's Strawweight Champion. This was the first female-only season. Let's take a look at the history of the UFC Strawweight title.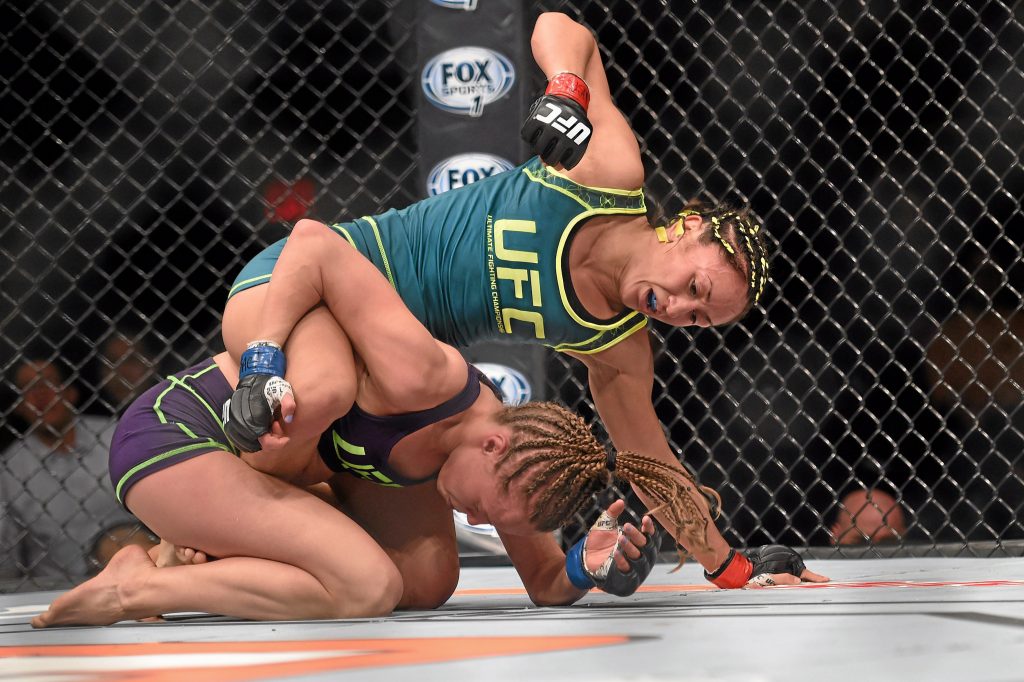 The First UFC Strawweight Champion
The first UFC Women's Strawweight Champion was crowned at The Ultimate Fighter 20 Finale. The final bout of the Women's Strawweight Tournament took place between Carla Esparza and Rose Namajunas on December 12, 2014. Carla Esparza defeated Rose Namajunas by submission (rear-naked choke) in round three to become the inaugural UFC Women's Strawweight Champion.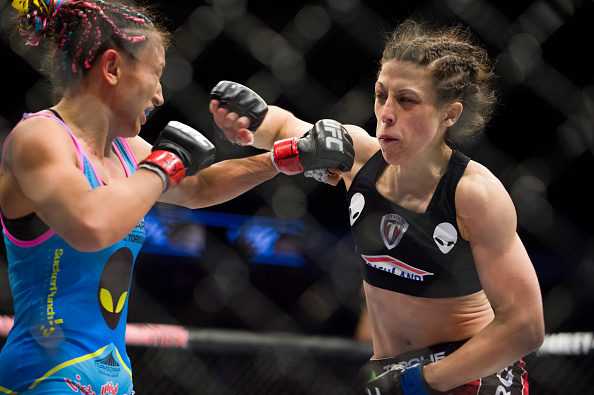 The Boogywoman Arrives
At UFC 185 Joanna Jędrzejczyk became the second UFC Strawweight Champion with a brutal TKO over Carla Esparza. The Polish Strawweight would go on to amass the most title defences in the UFC Women's Strawweight Title history, defending the title 5 times against Jessica Penne, Valérie Létourneau, Cláudia Gadelha, Karolina Kowalkiewicz, and Jéssica Andrade.
Every Rose Has Its Thorn
Rose Namajunas became the UFC Women's Strawweight Champion at UFC 217 on November 14, 2017 in New York City. She defended her title in a rematch with Jędrzejczyk at UFC 223, and won by unanimous decision.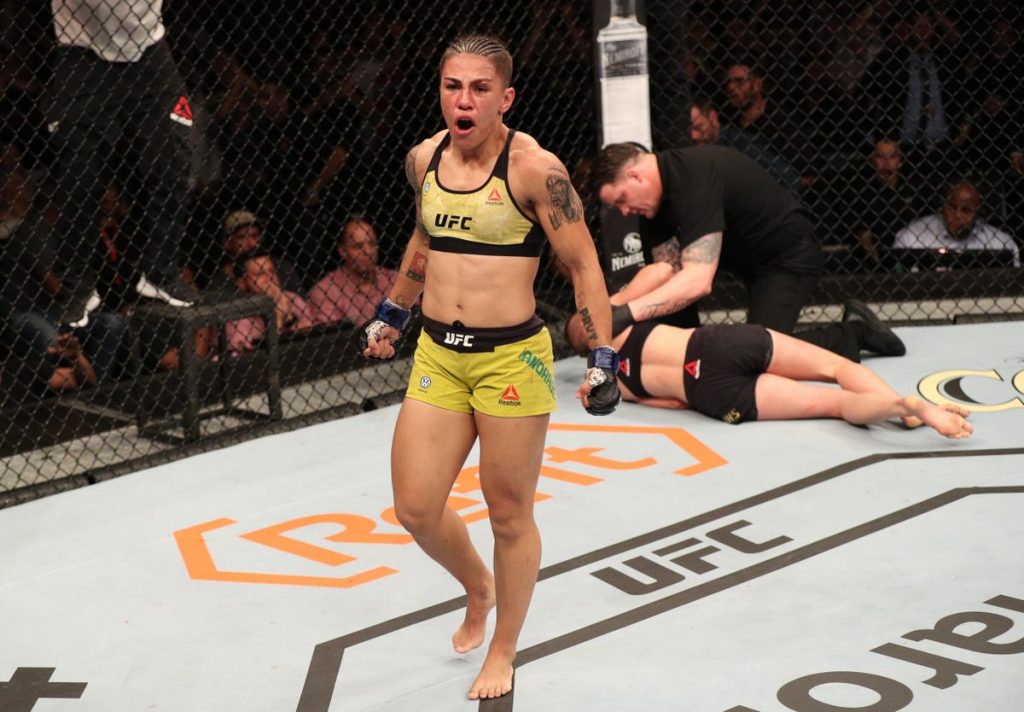 The brutal Jéssica Andrade
Rose Namjunas' title reign was stopped short by Jessica Andrade at UFC 237. Namajunas seemed in control of the fight for the first 2 rounds, but while attempting a triangle choke, she was lifted in the air and slammed on her head. It wasn't pretty, but Jéssica Andrade was now the new UFC Women's Strawweight Champion.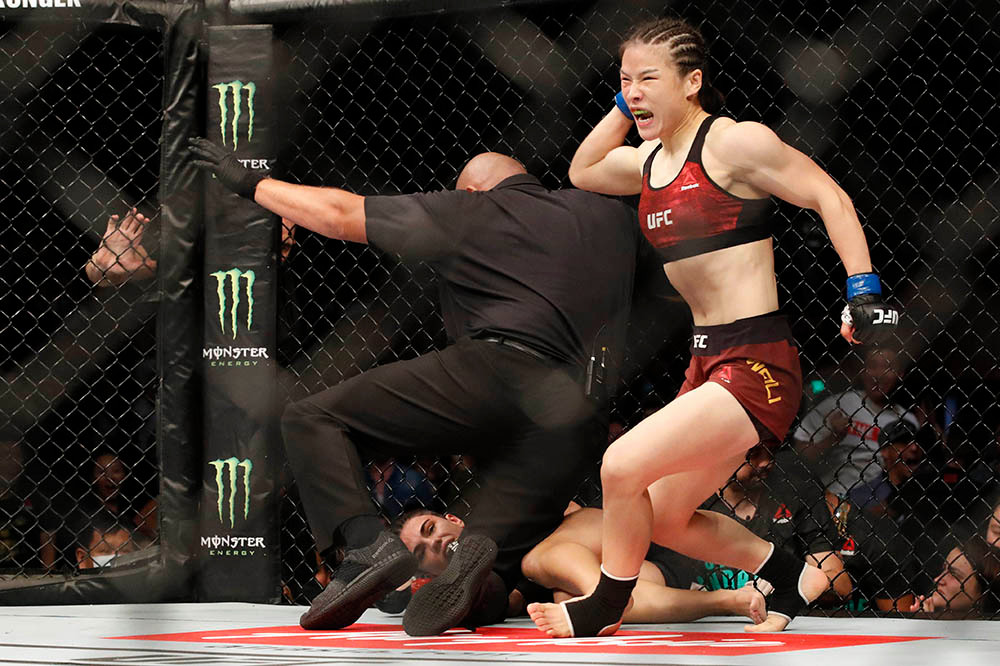 Zhang Weili
Chinese superstar Zhang "Magnum" Weili came into the UFC with an impressive 16-1 record. She won 3 straight fights in the UFC Strawweight division before getting a title shot against Jéssica Andrade. Zhang defeated Andrade by TKO at UFC Fight Night: Shenzhen, and became the new UFC Women's Strawweight Champion.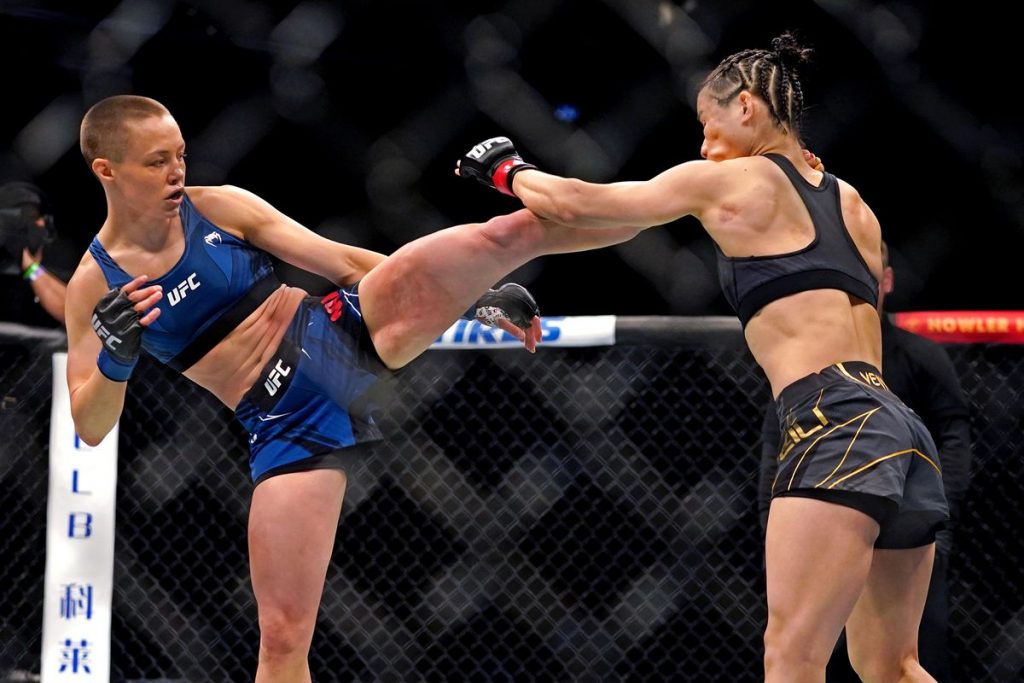 Rose Returns
Rose Namajunas didn't let the loss to Jéssica Andrade set her back. She rematched Andrade at UFC 261 and won by split decision. With that victory, "Thug" Rose earned a title shot at the current UFC Women's Strawweight Champion Zhang Weili. Namajunas vs Zhang took place at UFC 261. A massive pay-per-view which featured three title fights including Kamaru Usman vs Jorge Masvidal and Valentina Schevchenko vs Jéssica Andrade. Rose Namajunas shocked the world again. She knocked Zhang out with a head kick at 1:18 of the first round. Namajunas became the UFC Women's Strawweight Champion once again. She became the first ever UFC female fighter to lose and regain a UFC Championship belt.