When Darian Weeks heard that he was going to Paris, he was elated to add another international experience to his belt.
Having traveled to Bahrain and Australia in his amateur career, he'd never been to that part of the world. He'd get to fight a world-class opponent in Cedric Duombe, even though the kickboxer only has two MMA fights.
And then, the fight fell through by no fault of the fighters. In an interview with The AllStar, Weeks explained why the fight fell off the card as well as what's next for him.
"The French boxing commission doesn't allow a fighter with less than four fights fight someone with more than five fights…so it just seemed that you know he didn't have enough MMA fights."
Despite Duombe's lack of MMA experience, Weeks felt that his lengthy career as a kickboxer- eight-three fights- made him more than ready to handle himself in the cage. He also understood that the French Boxing Commission, which oversees MMA events, is still in a phase of being extra cautious: "It being the first that the UFC's ever gonna do in Paris, maybe they just didn't want things to go sideways."
While one big opportunity diminished, another one quickly materialized as Weeks was soon re-booked to fight Yohan Lainesse at UFC 279 on September 10th. The event is headlined by the monstrous fight between Khamzat Chimaev and Nate Diaz, and Weeks gets the tall task of opening the card.
His excitement was evident: "I feel like it'll be a good stage for us to set things off. What could it be on a better card than Nate Diaz and Khamzat card, you know? I feel like it's a good fight for this card, we can make an explosive fight. I'm excited- I'm excited, you know, I got another opponent who's gonna be willing to get in there and bang with me."
Despite only having seven pro fights- five before the UFC- Weeks has a lot more MMA experience than most new signees, fighting eighteen times as an amateur. After amassing a 15-3 record, Weeks went pro and finished his first three opponents within two rounds.
His first two UFC fights didn't go his way, but Weeks prides himself on being one who adapts and elevates from every bout with adversity. He battled with two incredibly high-caliber opponents in Bryan Barbarena and Ian Garry, absorbing all he could from those two losses.
Even against a guy lower on the welterweight totem pole than his first two opponents, Weeks has high respect for Lainesse.
"I'm expecting to take it anywhere that, you know, anywhere he wants to take it, you know what I'm saying. If he shoots on me, I wanna, you know, sprawl, now I'm on top, now I'm on his back beating his head. If he wants to stand up and bang, let's stand up and bang, let's trade punches you know, let's see who's faster, let's see who's sharper…Anywhere across the board, I feel comfortable…I feel like I'll be on top."
---
Fighter profile
Darian Weeks is a 28-year-old male fighter from the United States with 5 pro wins and 2 losses. Weeks is scheduled to fight Yohan Lainesse at UFC 279: Chimaev vs. Diaz on Saturday, September 10, 2022.
Darian Weeks's recent form coming into this matchup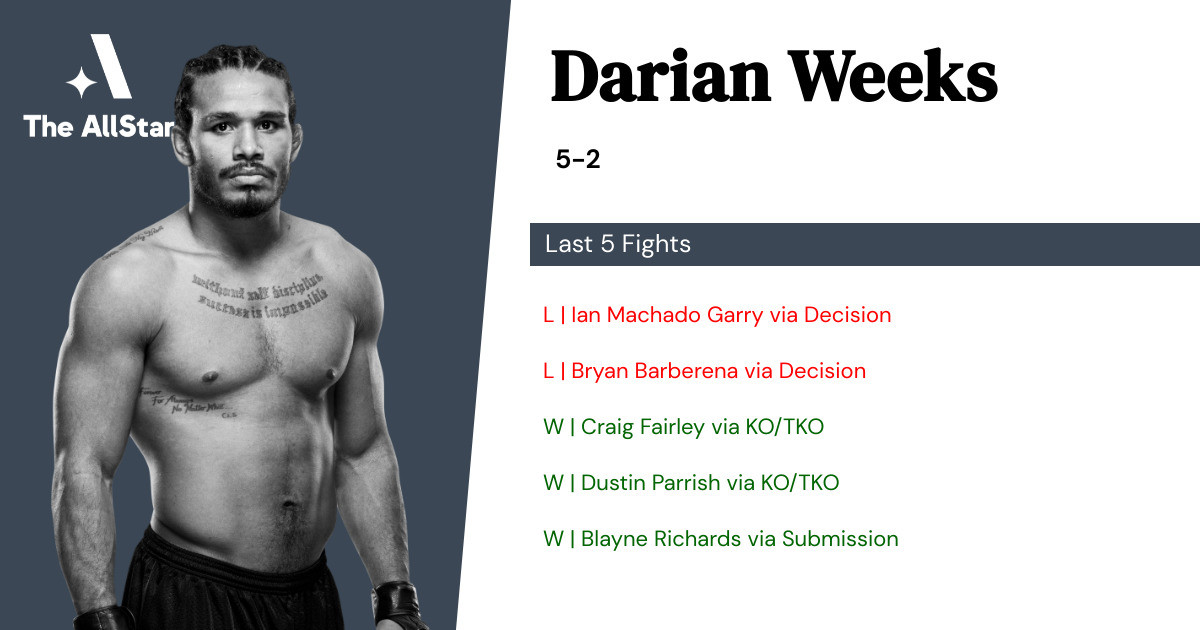 Darian Weeks has gone 3-2 in the last 5 professional MMA fights.
Loss vs Ian Machado Garry • Decision R3 5:00 • 2022-04-09
Loss vs Bryan Barberena • Decision R3 5:00 • 2021-12-04
Win vs Craig Fairley • KO/TKO R2 1:51 • 2021-02-12
Win vs Dustin Parrish • KO/TKO R2 1:20 • 2020-10-10
Win vs Blayne Richards • Submission R2 3:56 • 2019-12-07