Daniel Lacerda makes his UFC debut at UFC Vegas 41. Daniel Vreeland takes a look at what makes the debuting prospect stand out.
The Stats
| | |
| --- | --- |
| Name | Daniel "Miojo" Lacerda |
| From | Valenca, Rio de Janeiro, Brazil |
| Class | Flyweight (125lbs) |
| Height | 5'6″ |
| Reach | 69 inches |
| Pro Record | 11-1 |
| Last Promotion | Shooto Brazil |
The Lowdown
Lacerda makes his way to the UFC through a number of regional Brazilian promotions. Although he has fought internationally before, as part of a fight card in Portugal, the vast majority of his work comes in his home country. Unlike a lot of the names that you see in smaller South American promotions, Lacerda does not have a particularly padded record. He faced decent competition, pretty much right from the get-go. Some of that is due to being willing to fight anyone and not having his management cherry-pick fights for him. Some of it is also due to taking a bunch of those fights through Shooto Brazil, which is one of the better promotions in the region, alongside of Jungle Fight.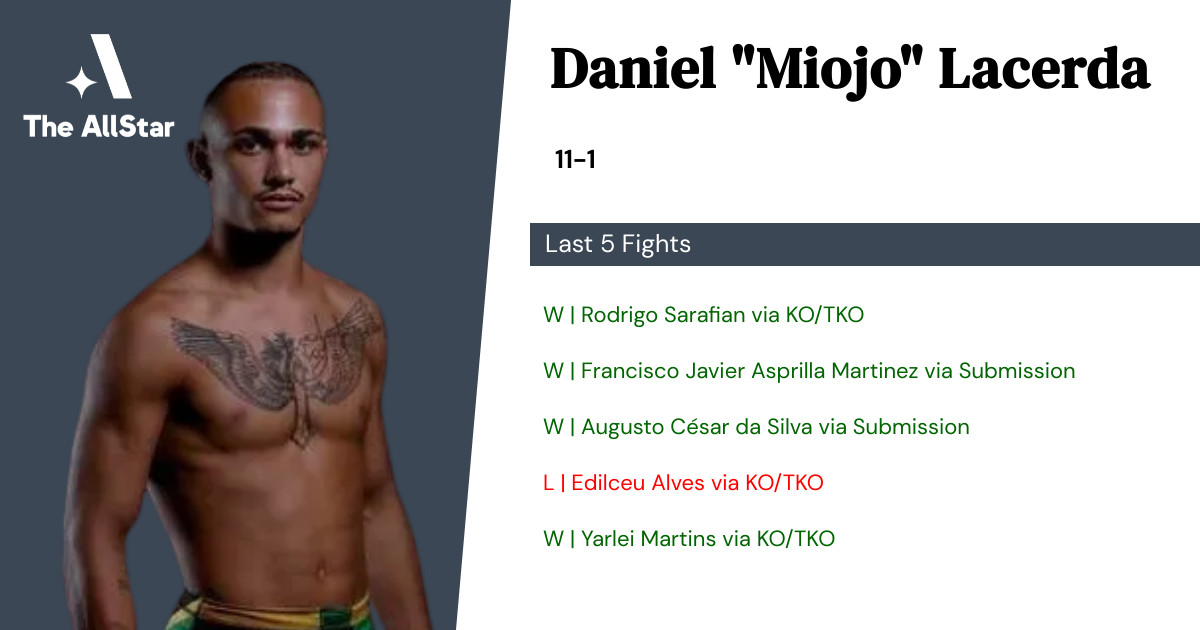 In addition to having good experience, Lacerda also has a lot of it. The jiu-jitsu brown belt has the professional fights of someone much older than him, and this isn't just because he rattled off a bunch of fights in a row – although he did once take fights in back-to-back weekends when he was younger. The majority of his fights come with a full training camp and that fact has shown through his progression. He's the type of fighter who comes with something new every time you see him step into the cage, even if that thing is just a slightly better feint or the finish at the end of a takedown.
What to Expect Saturday
When Daniel Lacerda takes to the cage this weekend, there will be fireworks. That's not just because he's fighting Jeff Molina (although that doesn't hurt), but it's because he brings fireworks everywhere he goes. He throws big shots and with virtually no wind up to them, which makes them both sneaky and really powerful. The shots in particular that are so impressive are the kicks that he goes up higher with. He'll use kicks to the legs, but not nearly to the extent that we've seen with recent trends. Instead, he prefers to work the ribs and try to go for the headshot to end it.
I'm not sure either of these fighters will be interested in grappling, but Lacerda has shown that he has that in him as well. He has a really nice double leg takedown that he finishes with a slam, and the jiu-jitsu is sharp when he gets there. With Molina having all of those finishes on the mat, I sort of expect Lacerda to stay away from there unless he's having issues on the feet. However, based on what I've seen from his speed and power, I really don't expect that to be the case in this fight. This fact makes it even crazier that we see the odds where they are, which is currently with Lacerda as a +145 underdog.
Tale of the Tape
| Daniel Lacerda | vs | Jeff Molina |
| --- | --- | --- |
| 25 | Age | 24 |
| 12 | Fights | 11 |
| 11 | Wins | 9 |
| 1 | Losses | 2 |
| 7 | KO's | 3 |
| 4 | Subs | 4 |
| 5′ 6 | Height (in) | 5′ 6 |
| 69 | Reach (in) | 69 |
Daniel Lacerda vs Jeff Molina
What to Expect Long-Term
At only 25-years old, there is really a lot of room for growth with Lacerda. However, I think he can compete with some of the people in the top ten of the flyweight division right now. He can match speed with just about anybody in the division, but ultimately it may be how risky he is that could cost him a fight here or there. However, I don't think adopting a more conservative style would serve him any better, as letting it fly is part of what makes him special. Perhaps adding more grappling to his game plan would allow him to progress further and faster.
As I mentioned, I think he could already be a top 10 talent, so with the right adjustments and a little luck, I would not be surprised if Lacerda cracked the top 5 and maybe even challenged for the title one day.