Variations, ad infinitum, of the same joke are already flying around Man United Twitter.
Frenkie de Jong rejected United and stayed at Barcelona to play Champions League football. Now he will be watching Europa League football from the bench.
After one of the most boring transfer sagas in history, which more importantly failed to bear fruit for Manchester United in the summer, you can't fault our fans for delighting in De Jong's and Barca's misfortune.
De Jong played his 150th game for Barcelona in midweek, but it was in a role becoming far too familiar – as a substitute, as his side blew it against Inter Milan in a Champions League group game.
Europa League
The 3-3 home draw, which should have really been a loss for the Spanish side, is likely to condemn Barca to Europa League football in February, which will also have a huge knock-on effect for their already perilous finances.
Walking a tightrope all summer long with levers pulled left and right, Barca budgeted not just to reach the Champions League knockout stages but the quarter-finals.
According to The Athletic, "Mes Que un Club" still owe 108 million euros for Philippe Coutinho, Miralem Pjanic and Neto, who don't even play for them anymore, as well as Camp Nou renovations.
They're now paying 41 million euros to investment firm Sixth Street for TV rights, and not even winning the Europa League would cover the money lost from exiting the Champions League early.
De Jong made Barca tick when he came on against Inter, and is clearly one of their best players, but has not started any of their important games this season.
Transfer saga
Something is clearly going on. Perhaps it is because De Jong refused to take a paycut in the summer, nor forgo a hefty sum of unpaid wages, and that he is reportedly angry at being criticised by the club's president for doing so.
United waited for months during the transfer window to strike should he hand in a transfer request, all while our new manager Erik Ten Hag plotted building an entire team around him.
Now Barcelona are apparently considering selling him again next summer – Diario Sport said he will even consider leaving in January if the situation does not change.
It was reported this week by The Independent that United have maintained contact with Barcelona about resurrecting the deal, and now may be the perfect time to strike, as tedious as the whole thing was before.
What United's own midweek European game – an uninspired, lucky 1-0 home win over minnows Omonia Nicosia – showed was that Ten Hag is still in desperate need of De Jong, no matter how well he has managed to patch a winning team together.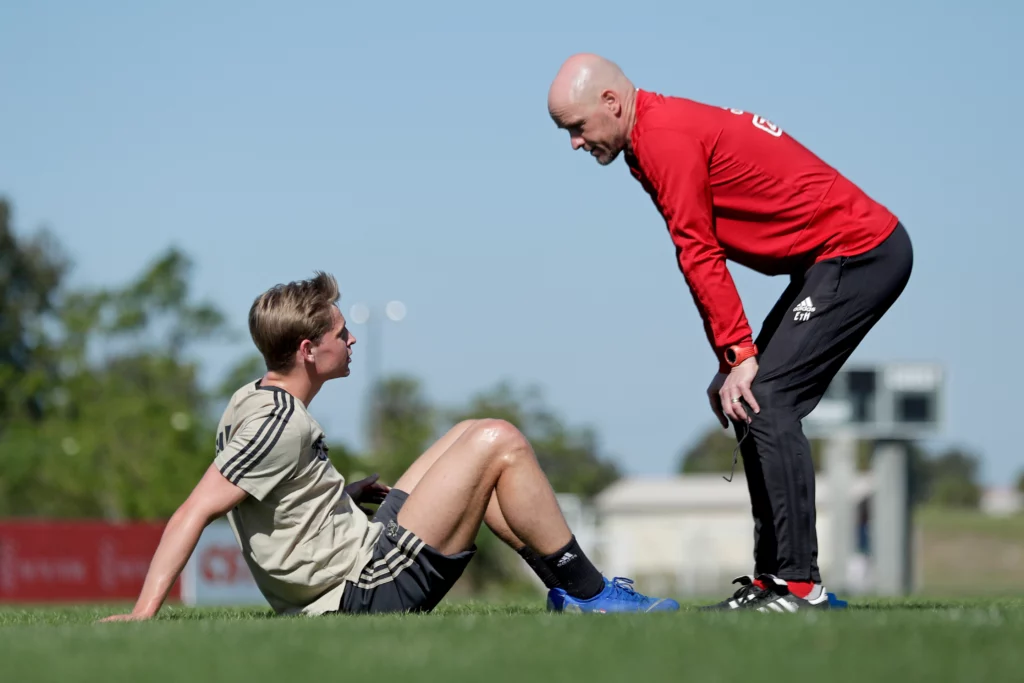 Christian Eriksen
It was clear at Old Trafford how crucial Christian Eriksen is to this team. He has the ability to unlock defences, and can find a pass out of nothing against sides that park the bus, something that Fred – who started the game in Eriksen's place – cannot do, and never will.
United played better when Eriksen came on, and he was involved in the move that led to an injury-time winner from Scott McTominay.
But as brilliant as Eriksen is, the fact United are so reliant on a 30-year-old free transfer signing, who suffered a serious heart attack on the pitch 15 months ago, is worrying.
Pair De Jong and Eriksen in the same squad, as was Ten Hag's initial plan, and now we're talking.
With Bruno Fernandes continuing his worrying slide into total ineffectiveness, Eriksen could have even been given a go at No 10 if De Jong was in place to pull the strings in midfield the way the Dane has done so effortlessly this season.
Bruno Fernandes
Fernandes has assumed the captain's armband from Harry Maguire, but has been no more effective on the pitch. He loses the ball far too much, trying Hollywood passes instead of simple ones out to the wings or through the lines – something Eriksen is a master at.
Until Bruno tightens up his game, he should really be on the bench – but the only other rival for his place, Donny van de Beek, is out injured, and out of favour anyway, meaning United will stick with Fernandes against Newcastle this weekend.
It's another long-term issue Ten Hag will need to fix, like replacing David de Gea with a goalkeeper who can distribute the ball, signing a quality right back to compete with Diogo Dalot, and bringing in a young, hungry forward who can score, assist and press.
For now, an eighth win in 10 games is certainly a positive run, and three more points will be expected on Sunday.
The Devil's Keeper just hopes that John Murtough, Richard Arnold and the Glazers are already lining up a move for De Jong at the earliest opportunity, because he is still the missing piece in Ten Hag's Man United puzzle.