Gary Payton II will have the chance to join his father as an NBA champion if the Golden State Warriors win the title. His father, Hall of Famer Gary Payton, won a title with the Miami Heat in 2006.
There have been numerous father-son duos to play in the NBA but only a select few that have won championships as players.
Matt Guokas Sr and Matt Guokas Jr
Probably one of the lesser known father-son duos to play in the NBA, the Guokas were the first father-son pair to both win an NBA title as players.
Matt Guokas Sr won his championship in the 1946-47 season with the Philadelphia Warriors. The elder Guokas averaged 1.7 points in his lone season with the Warriors. He later lost his right leg in an automobile accident and served as an announcer for the NFL's Philadelphia Eagles from 1953 to 1985.
His son had a far more successful NBA career, playing in the NBA for 10 years between 1966 to 1976. He won his title in his rookie season with the Philadelphia 76ers playing alongside Wilt Chamberlain. Guokas Jr averaged 3 points in 11.7 minutes in his championship winning season. He later went on to coach the 76ers and Orlando Magic.
Rick Barry and Brent Barry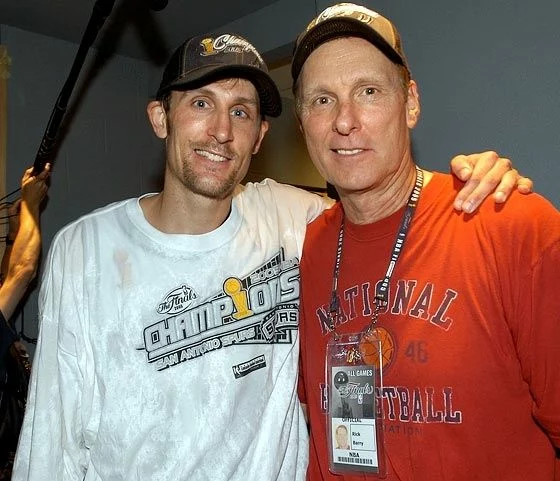 8-time All-Star Rick Barry had three sons play in the NBA but only one who went on to win a championship.
Rick Barry was one of the most prolific scorers in NBA history who was known for his unorthodox underarm free throw technique. He's the only player to lead the NCAA, NBA and ABA in scoring. Barry led the Golden State Warriors to the finals in 1975 where they won the championship. He also took home MVP honors with finals averages of 29.5 points, 5 assists and 3.5 steals.
His third son Brent Barry is best known for winning the 1996 Slam Dunk title. Brent won two rings with the San Antonio Spurs in 2005 and 2007. He averaged 9.3 points and 3.2 assists per game over his 14-year career.
Bill Walton and Luke Walton
Bill Walton led the Portland Trail Blazers to a championship in 1977, earning Finals MVP honors as well. He would go on to win the league MVP award in 1978. Injuries hampered his career but Walton managed to win the Sixth Man of the Year award in 1986, becoming the only player to have also won an MVP. Walton won his second NBA title in the same year as a member of the Boston Celtics.
Despite enjoying a less celebrated playing career than his father, Luke Walton managed to enjoy two championship winning seasons, making them the first father-son duo to win multiple championships. Luke was part of Kobe Bryant's Lakers that won back-to-back titles in 2009 and 2010. After 10 years as a player, Luke went on to coach in the NBA, winning another title in 2015 as an assistant coach of the Golden State Warriors.
Mychal Thompson and Klay Thompson
Klay Thompson's father Mychal was respectable player in the 1980s. The elder Thompson was drafted first overall in 1978 and put up a decent average of 20.8 points per game in the 1981-82 season for the Portland Trail Blazers. He was later traded to San Antonio and then Los Angeles where he became a valuable substitute player. Thompson backed up Kareem Abdul-Jabbar in 1987 and 1988 when the Lakers won back-to-back titles.
The younger Thompson has enjoyed considerably more success than his father. He's won three NBA titles so far as a star for the Golden State Warriors and made the All-Star team five times. Klay is currently 18th on the list of all-time three-point leaders despite missing the last two seasons with injury.