It was a surprise when on March 25, 2021, the Toronto Raptors traded their second-longest-tenured player, Norman Powell, for a then-22-year-old Gary Trent Jr. It was not a surprise that Powell shipped out — the Raptors were 18-26 at the time and as far as team-building went, more in the stage of tanking for draft picks than shelling out gobs of cash for high-end starters, and Powell's deal expired at the end of the season.
In fact, the same deal took place approximately 23 years earlier, when the Portland Trail Blazers traded Trent's father, Gary Trent, to the Toronto Raptors. No, the surprise was that the Raptors dealt a valuable player, almost unique in the context of the team, for a younger, less consistent player cut from the same archetypal cloth. The Raptors didn't even acquire a draft pick. Yet in the year since, Trent has emerged to be even more Powell-like in his approach to the game. 
In some ways, though, Trent has surpassed his predecessor. He's grown into a solid facsimile of what Powell did for the Raptors — but without the same weaknesses. That's why the trade, which may have been surprising at the time, is starting to make so much sense in hindsight.
Shooting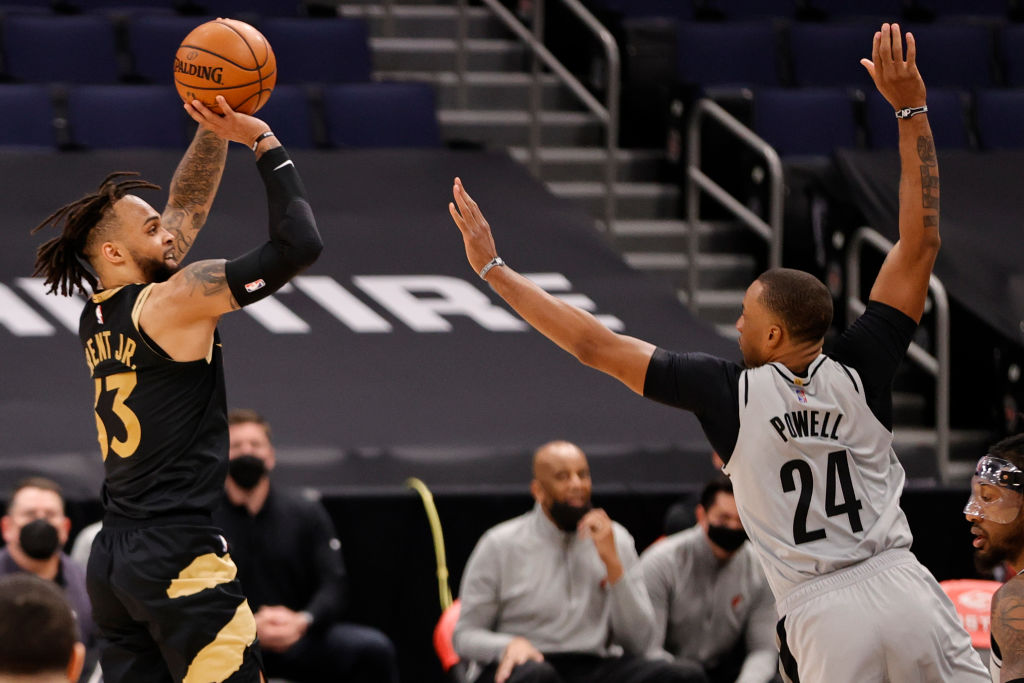 Powell and Trent started their careers as different calibers of shooters. Powell shot 31.4 percent from deep in his college career at UCLA, while Trent shot 40.2 at Duke. But Powell improved rapidly with the full weight of the Raptors' organization behind him. He became what Nick Nurse referred to as "a vault-up shooter" due to his high bounce into his jump-shot combined with his high and fast release. He quickly became a 40-percent shooter from distance as a Raptor, basically hitting or surpassing that mark every season since 2018-19. 
Trent has been similarly effective, albeit as a different type of shooter. He's more of a set shooter, with little up-and-down in his jump. But he's shot 38.7 percent from deep over his career on a higher three-point rate than Powell; despite not being much of a vault-up shooter, he can still get his shot off with aplomb. He fancies side-steps and one-dribble escape moves to get into his shot rather than simply leaping over contests. 
For the Raptors, the result is comparable. Trent takes a larger share of the Raptors' per-game threes than Powell ever did and is second among rotation players in accuracy. Even though Trent hasn't equalled Powell's percentage from deep, he's become even more critical to the team than Powell ever was purely due to how few other shooters are actually on the team.
Finishing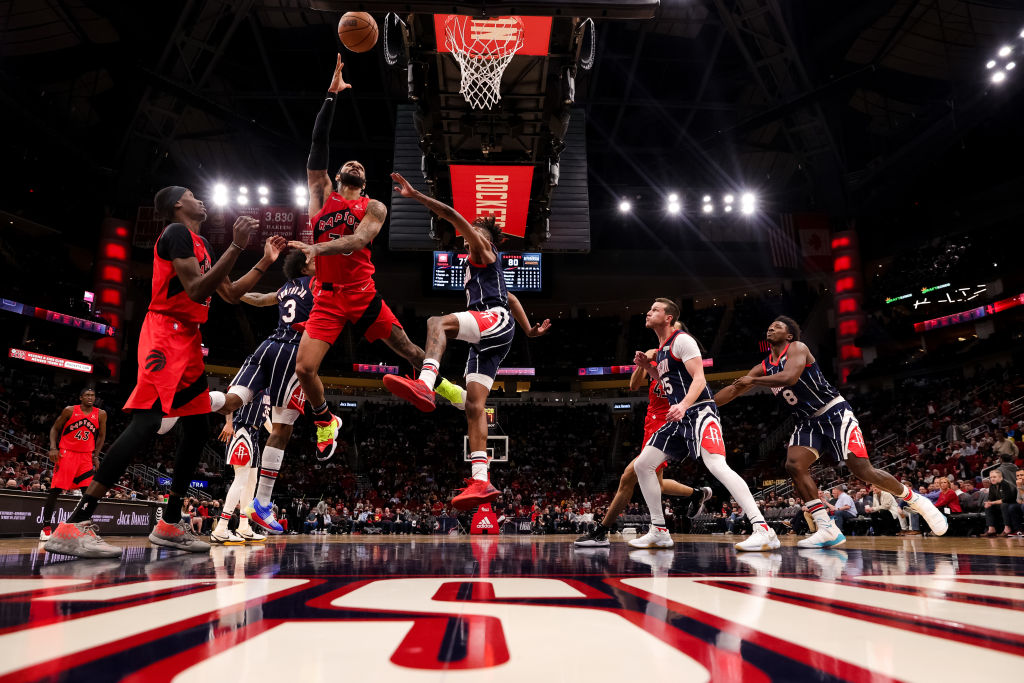 Shooters get run off the line, making their ability to finish at the rim critical to being useful offensive players. For his first three seasons, Powell was a below-average finisher for a wing. He was always athletic, but he didn't do enough to force defenders off-balance and create space for his own finishing. When he added a bag of tricks and counters, he became automatic at the rim. 
It's more difficult for Trent to solve defenses at the rim. He's not bursty with his handle and has often shown a preference to step back in the midrange for jumpers than to push advantages all the way to the rim; he's a 12th-percentile creator of shots for himself at the rim for his position. And when he gets there, his lack of burst is just as harmful. He hasn't eclipsed 60 percent at the rim since joining the Raptors. 
While Powell could jump over and yam through defenders, Trent doesn't have that athletic luxury. He prefers floaters and funky hook shots to create space for himself when a defender is contesting his layups. He's shooting under 50 percent on shots classified as layups, which is horrifyingly bad. Trent could learn to use change-of-speed and physicality on the ground rather than in the air to create space for his at-rim attempts; Fred VanVleet and Kyle Lowry before him both underwent the same process of adapting to NBA defenses. Lowry didn't become an above-average finisher until his fifth season, and VanVleet is only now flashing the signs. Trent has time and a path, even if he's not there yet.
Fortunately, creating and finishing layups at the rim doesn't seem to be as lacking for the Raptors now as it was even a season ago. Scottie Barnes is elite there, and Pascal Siakam has improved dramatically over the last few years; both shoot percentages in the high-60s at the rim. The Raptors have a player or two almost always in the game who pressures the rim. That wasn't the case when Powell was a Raptor. Trent's not a threatening finisher. Yet it doesn't seem to limit his offense.
---
---
Self-creation
In 2019-20, Powell's isolation attempts and efficiency burst out of their shells, as he became a 90th-percentile-or-better isolator for the rest of his time in Toronto. (He was the second-best isolation player in the league in 2020-21.) Yet the Raptors never opened a huge amount of opportunity for Powell in that field, and Trent has already assumed a similarly sized role as Powell's best season. Trent only uses slightly above one isolation possession per game, but he is Toronto's most efficient isolator, scoring 1.08 points per possession there, good for 85th percentile league-wide. 
Trent shoots 45.2 percent on pull-up 2-pointers, which isn't world-beating, but it's a solid bail-out option for a possession that's created no advantages. Trent is well above average for both midrange frequency and accuracy. He may not be elite at the rim, but he's developing into one of the premier scorers in the midrange. That's valuable at Trent's level, as long as it's not a team's first option. If he becomes one of the league's best there, well, then the Raptors are sniffing around the edges of a championship. 
Perhaps Powell would have pushed the Raptors to greater heights had they made him the late-clock options and given him a chance to isolate several times a game. We'll find out with Trent, who is quickly following in his footsteps. After trading Powell, the Raptors sorely lacked his ability to get a bucket in disadvantageous positions. No longer: Trent is filling that role nicely.
Starting versus coming off the bench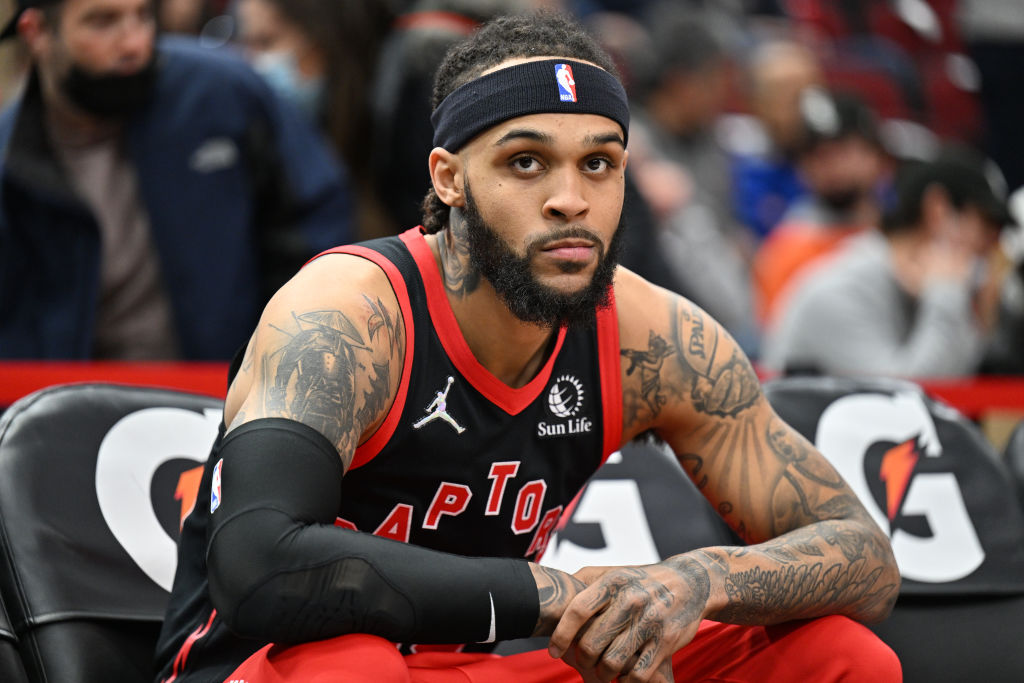 There's more that unites Trent and Powell than just their numbers: both have been significantly better as starters than as bench players. 
It's not just minutes, either. In 2020-21, Powell was significantly better even when balancing for pace and minutes. Per 100 possessions, he averaged more of every counting stat (but blocks, which were equal) as a starter versus bench player. He also shot more efficiently from everywhere, including the free throw line. 
Trent has only played one game off the bench this season (which was a terrible performance, scoring six points on nine shots), but last year Trent had a similar mental block to coming off the bench, with more per-possession stats in every category as a starter in addition to better percentages from everywhere on the floor. 
Lots of players perform better when they know where and when their shots and minutes will come from; it's not unique to Powell and Trent. But it is a commonality — and one that limits Toronto's approach to team-building. VanVleet and Siakam are the stars and both need to start. OG Anunoby is the team's best defender and a critical floor-spacer. Barnes is the future — a prize rookie upon whom the team's future depends. Similarly, both need to start. That means the Raptors have one starting spot with which to play, and Trent hasn't proven he can offer as much on the floor when coming off the bench. Even if Toronto wanted to start a center, it can't. But because Trent is such a critical floor-spacer and scorer, the point is moot: with his abilities, he needs to be starting either way.
Consistency
Trent has had some of the biggest swings of the season across the entire league. Trent tied DeMar DeRozan's franchise record for most consecutive 30-point games in February, but he also shot 31.1 percent from the field over a stretch of 11 games later in the season. Then a 40-piece against the Phoenix Suns, and back to single digits against the Denver Nuggets. Inconsistency is normal for young players, but it's clearly better to know what you're getting from players.
Fortunately for Trent, Powell was similar in his early career, alternating stretches of 20-point games with stretches of single-digit  games. But by 2020-21, that was gone. He went 28 consecutive games with double-digit scoring marks — his last 28 before being traded for Trent. Powell of course was 27 years old at the time. Trent has many years to go before the same should be expected of him.
Defense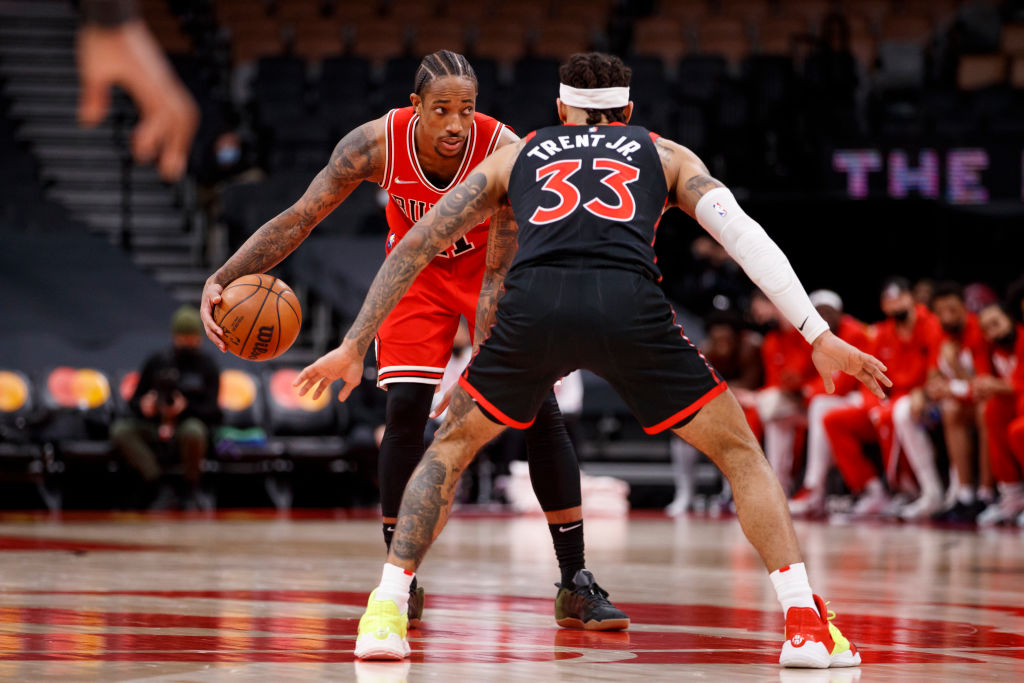 This is the area in which Trent has a sizable advantage over Powell. For all his quick-twitch athleticism, Powell never became a plus defender. He has never had a full season in which his team was better on defense with him on the floor versus the bench. He has never had a season with a positive defensive RAPTOR score, a single-number metric from FiveThirtyEight.
Trent is, to be fair, in a similar position in his career. But he still does helpful things on the defensive end. Namely, Trent is third in total deflections this season. Powell isn't in the top 100. Trent's ability to force so many turnovers is vital to Toronto's transition attack. He still makes mistakes, particularly in navigating off-ball screens, but in already possessing a tool to transform his defense into a weapon, Trent is starting from a superior position than Powell ever reached. 
Trent wasn't always such an aggressive defender, and without that unique skill, he slotted rather comfortably into a similar category as Powell. Trent's improvement on the defensive end has not escaped his teammates' notice.
"Gary is one of the best players I've ever seen, no offense, [to] not play defense then all of a sudden become a good defender," said Khem Birch early in the season. "It's crazy. I swear I've never seen that before."
Playability across a variety of styles and lineups is a requirement to getting time in Nurse's system; defense earns minutes — not just scoring. Trent's defense may not be the best on the team, but it's far from a liability. It's possible that if Powell had reached that point, he would still be a Raptor.
Conclusion
Trent's superior defense explains Toronto's preference between the two wings, even disregarding the age difference. Because basketball is a fluid sport, with each of these categories of course impacting one another at all times, being a two-way player has consequences on every aspect of the court. Of course, you don't give your points back on the other side. But beyond that, Trent sparks transition offense, which means even if he shoots less efficiently than Powell, he's giving the Raptors more of the best kind of offensive possessions.
As a result, Trent's on/offs are better now than Powell's ever were in Toronto. The Raptors are 6.4 points per 100 possessions better with Trent playing than on the bench — the best Powell ever reached was 3.7 points better. That is despite Powell being a more efficient shooter, finisher, and self-creator, as well as being more consistent. 
It should no longer be a surprise when Masai Ujiri and Bobby Webster win a trade. So even if it was shocking when the Raptors traded Powell for Trent, it makes perfect sense now. Trent is already more integral to the team's success than Powell ever was. And throw in the fact that he's five years young with plenty of areas to improve upon, and the trade is already won. The real determination will be by how much, as the Raptors enjoy the fruits of Trent's improvement for the next several years to come. 
---