Coming into this season, Pascal Siakam was not a big man. Having played the power forward position for the vast majority of his NBA career, he had little opportunity to develop his center skills.
Siakam has never been much of a screen setter. His career-high mark for possessions used per game as a screen setter was a mere 1.3, set last season, only the 60th-highest in the league. He's never been efficient in such plays. In fact, coming into this year, he's scored a middling 0.95 points per possessions as a roller — which are supposed to yield highly efficient, at-the-rim shots.
That changed entirely when Siakam returned to the floor after leaving health and safety protocols on December 28. The Toronto Raptors have started Siakam alongside OG Anunoby and Scottie Barnes whenever the three have been healthy since then. All three are forwards, and it has often been Siakam nominally playing center for the Raptors. He's done so despite the Raptors playing three centers in the rotation — Chris Boucher, Precious Achiuwa, and Khem Birch — all of whom come off the bench. In order to make such a unique rotation choice work, Siakam's ability to set screens and create efficient points in such plays has skyrocketed.
---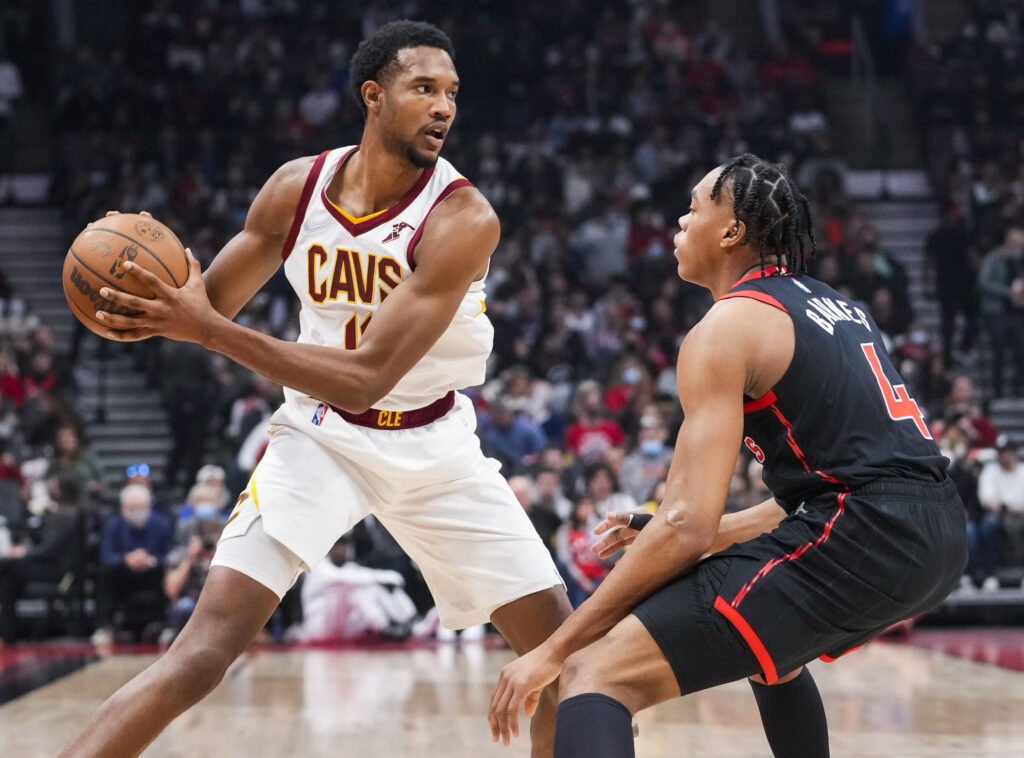 NBA ROTY Betting
Cleveland big man Evan Mobley is the favorite to take top honors this season.
But where does Raptors sensation Scottie Barnes rank?
See how all the rookies stack up.
---
Siakam's screening has been excellent
NBA Advanced Stats only counts a possession ended by a screener in its pick-and-roll-screener category, which includes shots, fouls, or turnovers. By that count, Siakam averaged less than one such possession a game over his career coming into this season and fewer than one point per possession. But since Dec. 28, Siakam has more than doubled his average to 2.5 possessions used per game and has scored 1.2 points per possession. It's been a momentous leap for him in an offensive skill usually reserved for bigs.
Like anything else in basketball, there's a craft to screening. But because it's often grunt work that rarely results in a box score stat for the screener, the craft involved is often of a different type than the art of scoring. It's less flash and more grime. If lead scorers sing like Mick Jagger, then screeners are more akin to Tom Waits. And in the past, Siakam has gotten more Satisfaction than Jockey Full of Bourbon.
That hasn't been the case over the past few weeks.
Breaking down the screens
Siakam has spent plenty of time screening like a normal big: hitting the ballhandler's defender, rolling into space, and gathering the pass to score at the rim. There's a rhythm to finding open space, and Siakam can lay down a funky bass line.
He's been creative in using his screens to create flexible advantages, not just attacking the rim. He's popped for easy jumpers. He may not be an exceptional shooter for a power forward, but he's more acceptable spacing the floor as a center.
He's forced switches, isolating against smaller players and scoring with ease. He's been one of the leaders in isolation and out of the post for a few seasons now, meaning if he's able to switch away from his primary defender and remain guarded in single coverage, he'll generally create an efficient look.
He plays smart, too, thinking the game a step ahead of defenses. When he's anticipated a switch coming, he's slipped to the rim for easy points.
Even if he's not the one scoring, he's kept the chains moving in the middle of the floor, waiting for defenders to show their cards, and then passing to teammates for easy points.
The Raptors used Siakam's screening ability combined with Fred VanVleet's shooting threat to ice the Los Angeles Clippers in the clutch on Dec. 31. From 4:30 in the fourth onward, the Raptors initiated every half-court possession until the end of the game — seven consecutive possessions — with varied forms of VanVleet-Siakam pick and rolls. All resulted in high-efficiency looks, and six of the seven yielded points.
Siakam's ability as a roller unlocks a number of facets of Toronto's offense that aren't easy for the team to facilitate in other ways. He's not a world-beating shooter, and putting him in on-ball actions without the ball in his hands keeps defenses from capitalizing on his passivity from distance. But there are many different types of spacing. And Siakam creates vertical spacing with his rolling ability, offering more room for Toronto's shooters behind the arc when the defense sinks in to protect the rim. VanVleet is attempting almost five pull-up triples a game, and if defenses have to contort to take away the pass to Siakam on the roll, VanVleet has more room to fire over top of screens.
The Raptors have choices in terms of who sets screens when Siakam shares the court with Barnes and Anunoby; all three are effective there. But because Siakam is a more efficient scorer in the paint and the latter two are better off-ball shooters than Siakam, it makes sense to most frequently put Siakam on the ball as a screener and the others around the arc spacing the floor. Siakam hasn't had the opportunity or the proclivity to thrive in such circumstances in the past. Now he has, having played almost half of his minutes at the center spot this year. He now unlocks Toronto's best offensive qualities when he mans the center spot. While Siakam's on/off net rating this season before Dec. 28 was a solid +3.9, it's since ballooned to +34.6, the best on the team over that stretch by a ridiculous margin. His skill-set has become even more critical to the team's success since he's started filling the big role on offense.
The benefits for Toronto going forward
It's obviously a good thing for Siakam and the Raptors both that he's added to his offensive arsenal. But it's also a necessary skill; the reason why Siakam has had to add center skills to his bag is because teams so frequently defend him with centers. Since Dec. 28, Joel Embiid saw the plurality of defensive possessions against Siakam for the Philadelphia 76ers, Marcus Morris Sr. for the Los Angeles Clippers, and Jakob Poeltl for the San Antonio Spurs. That's not a new strategy. In the past, opposing defenses have walled off the rim for Siakam by putting centers on him and asking them to lay off into the paint, daring Siakam to shoot. The Sixers used Embiid to slow Siakam over the seven-game playoff epic in Toronto's 2018-19 championship run. It's likely Siakam will continue to see centers opposite him, whether or not he's actually playing center for Toronto.
Using Siakam as a screener is a useful counter for Toronto. It's not a tool the Raptors are going to use 20 times a game, not a staple food like meat and potatoes. But it solves sludgy problems for which Toronto hasn't had easy answers in the past. And as the Raptors showed against the Clippers, it can become a staple in the final few minutes of a close game, a crowbar used to unwedge the planks nailed over their halfcourt offense. Most importantly for the Raptors, at 19-17, it looks like they're on their way back to the playoffs after a down season last year. And they're already filling the strategic toolbox to make sure they're ready for any chess match once they get there.
---
Top 10 First-Time All-Star Candidates
Fred VanVleet is putting up All-Star numbers this season.
How does he compare with the other potential All-Stars?
---