When Dan Hooker outwrestled Nasrat Haqparast, it was not a shock to Frank Hickman.
Hickman, the assistant wrestling coach at City Kickboxing, was in the corner at UFC 266. The American has been training with Hooker's team in New Zealand for the past several years and understands the level of grappling they possess.
"First time I went over there in 2019, we wrestled and I've always thought Dan's been able to wrestle," Hickman told The AllStar. "He's always been very hard to take down, hard to control, and he's sneaky himself. He knows how to wrestle and take guys down himself.
"So when I saw his wrestling and stuff, I really wasn't surprised at all. I knew what he's capable of. I knew Andrei [Paulet, City's head wrestling coach,] and the boys had him tuned up, dialed in. Even though he didn't train with the team for quite some time. That's muscle memory you don't lose over time. I knew if he wanted to go with the takedown game, I knew he was gonna beat him with the takedown game. Obviously, he beat [Nasrat] on his feet and he got the takedowns when he needed to.
"As far as Dan Hooker's wrestling goes, he is right where he needs to be because he's good at it."
Hickman on Hooker vs Makhachev
The Kiwi's skill on the mat will be put to the test next against Islam Makhachev at UFC 267 in Abu Dhabi on Oct. 30. Makhachev is a dangerous adversary with a grappling-heavy approach. Many consider him the boogeyman of the lightweight division, the second coming of Khabib Nurmagomedov.
Hooker didn't have long to prepare. He committed in early October to take Rafael dos Anjos' spot to face Makhachev, who is on a five-fight win streak. There are high stakes and both fighters will be tested in different areas of their skillsets.
Makhachev is "on a hot streak," Hickman said. "Everybody knows where he is good. Where he's good, he's good. But I think this is a great matchup for Dan.
"I think frame-wise, lankiness-wise, ability to scramble. It's a good matchup. And I know that Islam is a heavy favorite but I reckon he hasn't faced somebody with Dan's caliber who can kinda like put everything together like Dan can. So this is going to be an interesting fight.
"Probably going to be a chess match type of a fight which most of them at this level are especially when you get to that top ten, top eight echelon of these weight classes."
Return to New Zealand?
Hooker did not return to New Zealand to conduct a short training camp with his teammates and coaches. Instead, he stayed in Las Vegas to prep with Hickman, under the guidance of Eugene Bareman and the City Kickboxing coaching staff.
Hickman, a Bloomsburg University wrestling standout, has traveled to the Caucasus region to train with many of the world's best grapplers so he fully grasps the style of wrestling in the area. Nurmagomedov is easily the region's greatest MMA product.
"A lot of it is, from my opinion, is control," Hickman said about Makhachev's style. "How you can control a guy, different positional work and stuff. Dagestan has the best wrestlers in the world. They represent a lot of the Russian team.
"They got tremendous wrestlers so even though it's a different kind of style, it all can kinda correlate. But again with Dan's frame and lankiness it brings a lot of struggle to some of these guys. And I think this is an example of something that could be a long night for old boy."
Speaking more recently with The South China Morning Post, Hooker questioned whether Makhachev would be familiar with the way he grapples.
"You can look at the guys that he trains with," Hooker said. "They're all like of a similar build. They're all quite stout like shorter, stockier like a wrestler. And that lends itself to kinda different style, a lot of leverage. I'm quite good at unorthodox stuff when it comes to grappling."
---
Fighter profile
Dan "The Hangman" Hooker is a 31 year old male fighter from New Zealand with 21 pro wins and 10 losses. Hooker is scheduled to fight Islam Makhachev at UFC 267: Błachowicz vs. Teixeira on Saturday October 30, 2021.
Hooker's recent form coming into this matchup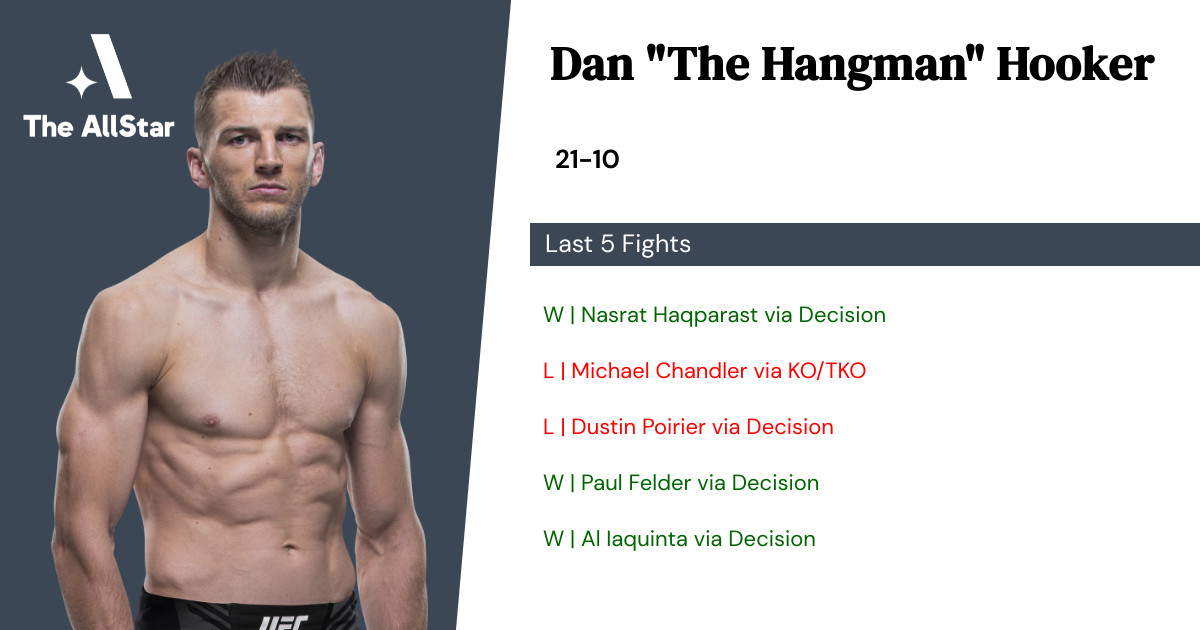 Hooker has gone 3-2 in the last 5 professional MMA fights.
Win vs Nasrat Haqparast • Decision R3 5:00 • 2021-09-25
Loss vs Michael Chandler • KO/TKO R1 2:30 • 2021-01-23
Loss vs Dustin Poirier • Decision R5 5:00 • 2020-06-27
Win vs Paul Felder • Decision R5 5:00 • 2020-02-22
Win vs Al Iaquinta • Decision R3 5:00 • 2019-10-05
Dan Hooker's next opponent: Islam Makhachev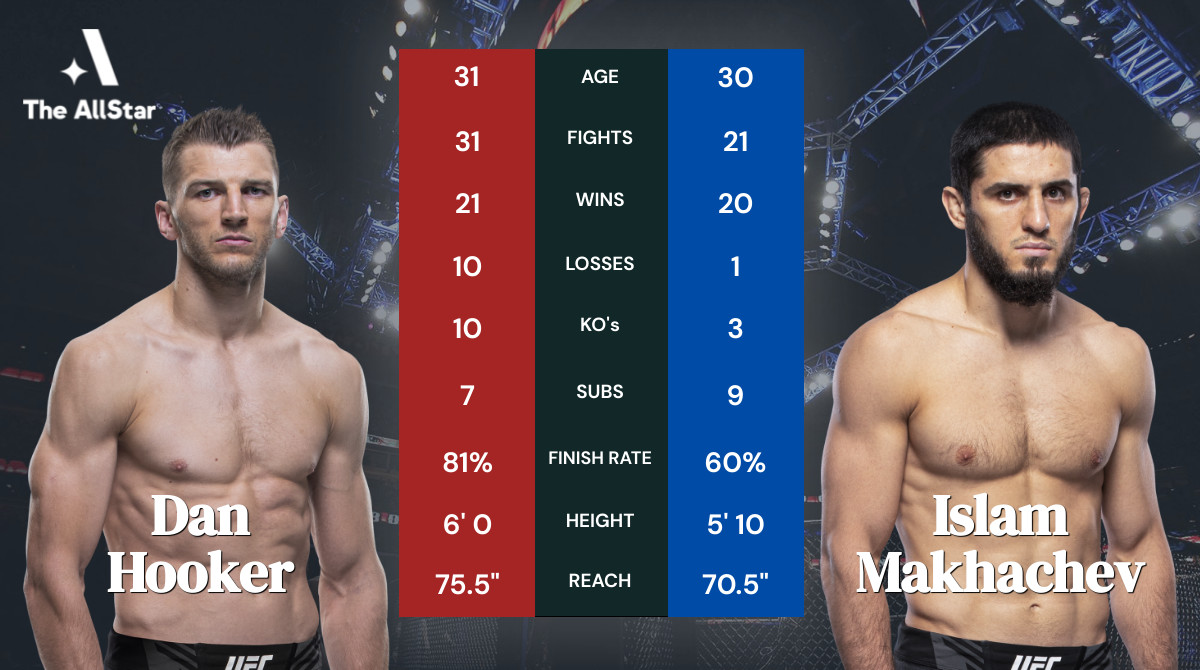 Islam Makhachev's recent form coming into this matchup
Islam Makhachev is a 30 year old male fighter from Russia with 20 pro wins and 1 loss. Makhachev is scheduled to fight Dan Hooker at UFC 267: Błachowicz vs. Teixeira on Saturday October 30, 2021.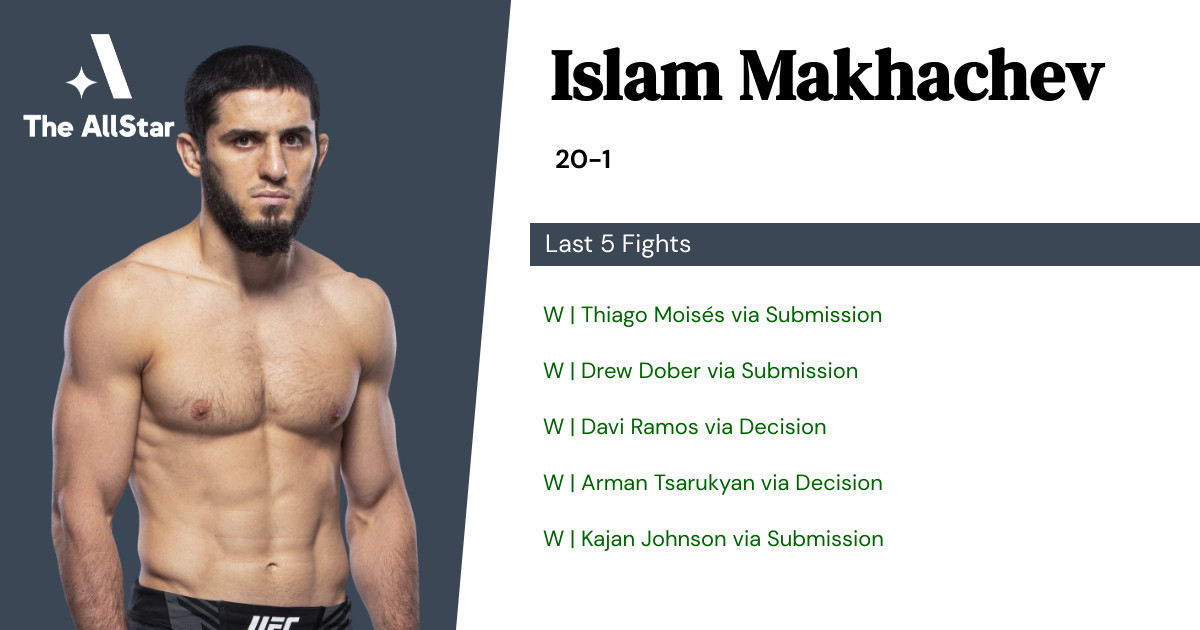 Islam Makhachev has gone 5-0 in the last 5 professional MMA fights.
How to watch and bet on Dan Hooker vs Islam Makhachev
Keep track of all the latest odds and line-movements at our bout page for this matchup.
---
Use the AllStar's directory to find the best sportsbooks and recommendations on where to place UFC bets online. If you just want to play for fun, head over to our Fantasy UFC picks app to make your fight predictions for Dan Hooker vs Islam Makhachev totally FREE.
The AllStar also has a comprehensive UFC betting guide and UFC Odds Comparison tools to help you find the best online betting opportunities.