Brooks Hatlan spent 50 years in prison in The Shawshank Redemption — from 1905 to 1955. He was the librarian inside. When he was finally released, the world was different for him. The speed of people racing to and fro, and the presence of newfangled automobiles, were too much for him. Things had changed.
NBA big men would have experienced a similar shell shock had they sat out for, say, 10 years. Once upon a time, bigs were asked to protect the rim, rebound the basketball, and score in the post on offense. That wasn't so long ago. For example, over the course of Al Horford's first six NBA playoff runs, from 2007-08 to 2012-13, he attempted four triples, total. Things have changed.
Horford has done just about everything for the Boston Celtics on their miracle run to the NBA Finals. Remember those four triples he took over the first 48 playoff games of his NBA career? Now he attempts over four a game — 4.6, to be exact, for the Celtics. And he has made 46.3 percent. Horford starts at power forward for the Celtics alongside the freakishly athletic center Robert Williams III, and he attempts over half of his shots from deep when sharing the floor with Williams. He almost never posts up when alongside Williams yet frequents the low block when his big man partner is on the bench. He also spends much more time driving the basketball when sharing the floor with Williams. All this to say, he molds his game to suit his circumstance.
Horford's game on the offensive end looks like this when he's playing power forward:
To much more of this when he's at center:
He's not just a scorer. Horford has long been one of the best creators at the big position, with an above-average assist-to-usage percentile for his position every season of his career, and ranking in the 90th percentile or higher for the last six seasons. In the two clips above, he may have used a post possession without Williams and driven alongside him, but both ended in assists.
When combining his 3-point marksmanship and passing acumen, Horford ends up in a field almost on his own. He's currently one of three players to be averaging at least 3.0 assists per game while shooting at least 45 percent from deep. Not only is he the only big to be doing so this season, but if you add in the actual number of threes he's taking per game, he's the tied third-tallest player in history to have reached those benchmarks in a playoff run. This ain't your grandma's center. 
Defensively, Horford is a shape-shifter, too. Perhaps, in some ways, more so than he is on the offensive end. Horford does what bigs used to do, blocking 1.5 shots a game, second behind only Williams for Celtics in the playoffs. He leads the team in rebounding.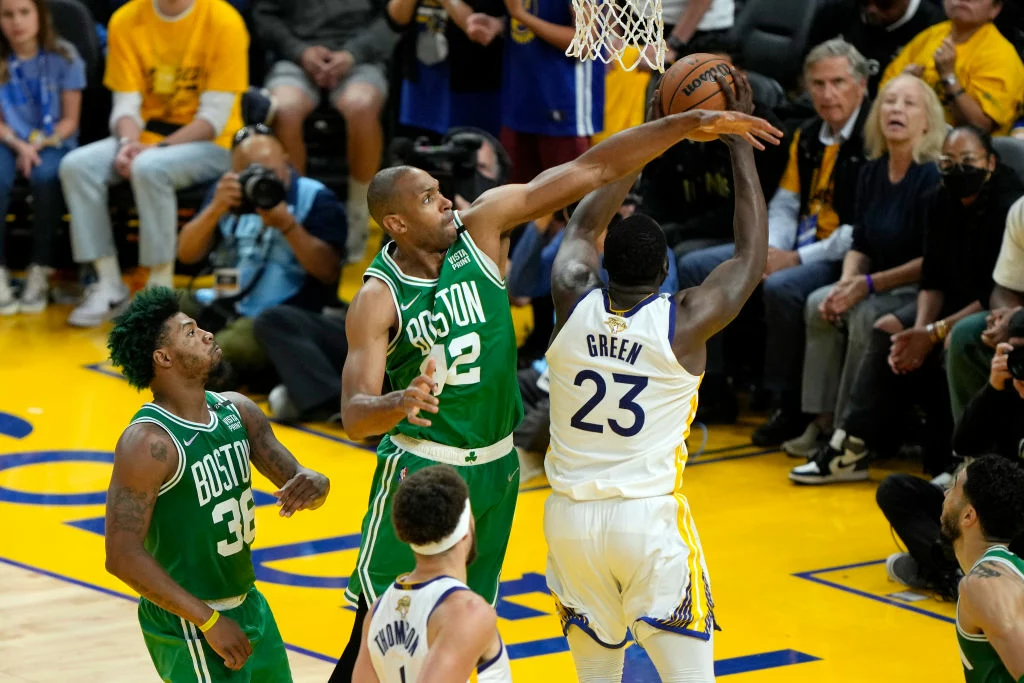 But he does so, so much more than just the traditional big stuff. He's defending the fourth-most isolations per game in the entire playoffs, showing his ability to step out onto the perimeter and force a contested shot from virtually anyone an outrageous 3.6 times per game. Not only is his frequency high, but he's allowing only 0.71 points per possession on such attempts, one of the lowest marks allowed amongst defenders. (Consider, as a point of reference, that the average possessions is worth just north of 1.0 points.) In the regular season, he led the league in isolations defended and only seven players managed to hold opponents to lower scoring efficiency.
Horford has also defended the ball handler in the pick and roll a beefy-for-a-big 0.9 times per game, allowing a minuscule 0.5 points per possession in such scenarios. Once again, no big man has matched his ability there, either, during these playoffs.
All told, Horford has been everything, everywhere, all at once. (I already made that joke about Draymond Green here, but if there's anything you can repeat multiple times, it's surely a metaverse joke.) Offensively he's been: a floor spacer, creator, finisher, driver, poster, passer, screener, and more. Defensively: rim protector, rebounder, switching big, isolation stopper, more. Talk about whiplash, even from when Horford first reached the playoffs in his rookie season in 2008 to now. The growth of the NBA over that decade and a half makes Hatlan's 50 years look like child's play in terms of development of the world around them over that same time period.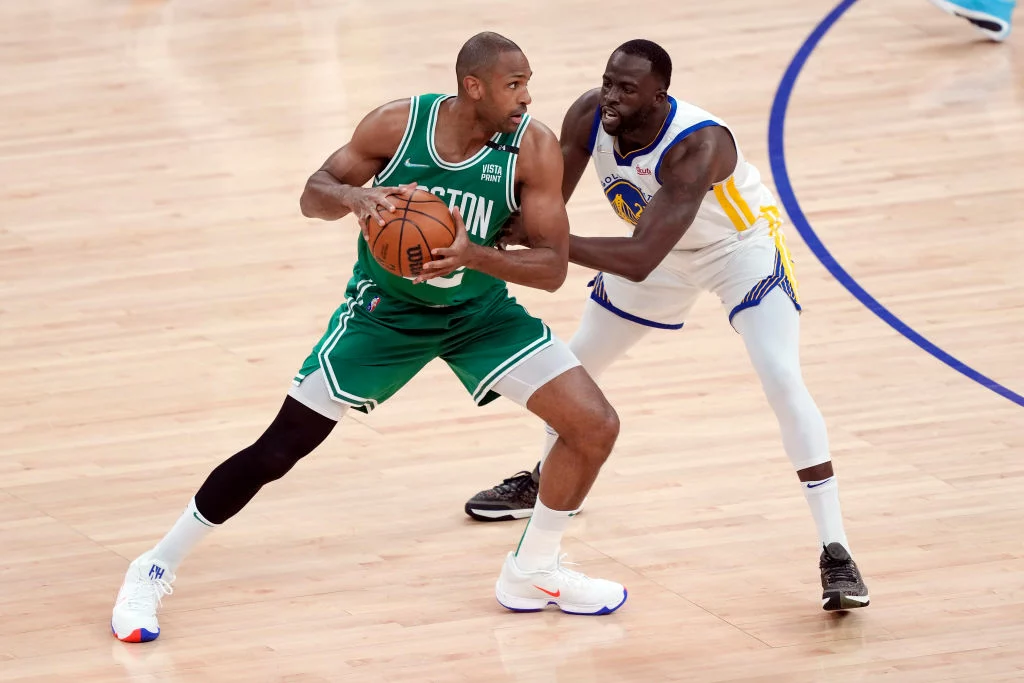 Game 1 of the Finals against the Golden State Warriors was, for Horford, more of the same. The Warriors are cutting edge and futuristic, and Horford in many ways faced the trailblazer for his own career path in Draymond Green. Horford still chucked his opponents in the slammer.
He was there, plugging the gaps when the Warriors built a lead during the first three quarters. He protected the rim as a helper and walled off the paint in the pick and roll, in isolation. His solidity kept the game within reach. Then with just over five minutes left, he hit a triple to take the lead. On the next possession, he hit another to push Boston ahead by six. All told, he outscored Golden State 11-3 over the final 5:10 of the game. Sometimes role players quietly push the boulder up the hill, and sometimes they lift the whole thing over their heads and toss it over the mountain with a roar and a shrug.
He finished with 26 points on 6-of-8 shooting from three alongside his usual three assists. In doing so, Horford became only the third big of all time to hit so many threes and throw so many assists in a Finals game.
Brooks Hatlan was overwhelmed in his new world of the 1950s after being released from prison. Horford on the other hand has helped define the new world order in the NBA, only missing the playoffs twice in his storied career. Hatlan was released from prison, but Horford is tossing his opponents inside nightly; the Warriors are only his newest victims. Horford has been in the NBA playoffs for so long that he's seen the world change. But it hasn't passed him by; instead, he's behind the wheel, driving the NBA into its braver, newer world.