When the Boston Celtics hired Ime Udoka as Brad Stevens' replacement the general consensus was that the front office had acquired the most talented coach on the free agent market. After spending seven years as Greg Popovich's understudy, followed by a year under Doc Rivers in Philadelphia, and a year working along side Mike D'Antoni and Steve Nash in Brooklyn, Udoka projected to be a well-rounded coach with deep rooted relationships around the NBA.
"People overemphasize X's-and-O's in the league. All the coaches know their X's-and-O's. It's basketball. It's not analytical geometry or something like that. That stuff's not tough. But to understand how to get the most out of people, to develop relationships with players, to make people accountable, to make them want to play for you are really the keys. He's got all of that," Greg Popovich told the media following a Team USA practice session in the summer.
Unfortunately, thing's didn't go as planned to begin the season. Udoka, much like his team, had a steep learning curve, and impatient Celtics fanbases wasn't best pleased. Poor game management, questionable rotations, notable collapses from winning positions, and a shooting slump of biblical proportions all weighed heavy on the first-year head coach. Through all the rhetoric about a modernized offensive approach and stout defensive principles, the Celtics looked like a team destined for the play-in tournament again.
To compound those struggles, Udoka often found himself relying on a non-shooting backcourt pairing of Marcus Smart and Dennis Schroder, while semi-known shooting commodities Payton Pritchard and Aaron Nesmith were glued to the bench. Frankly, some of Udoka's in-game decisions were perplexing, and with each loss, the pressure cooker intensified. In hindsight, perhaps everybody was to hasty to judge a rookie head coach hellbent on implementing a radical systematic overhaul in the opening months of the season, something which Marcus Smart later spoke on.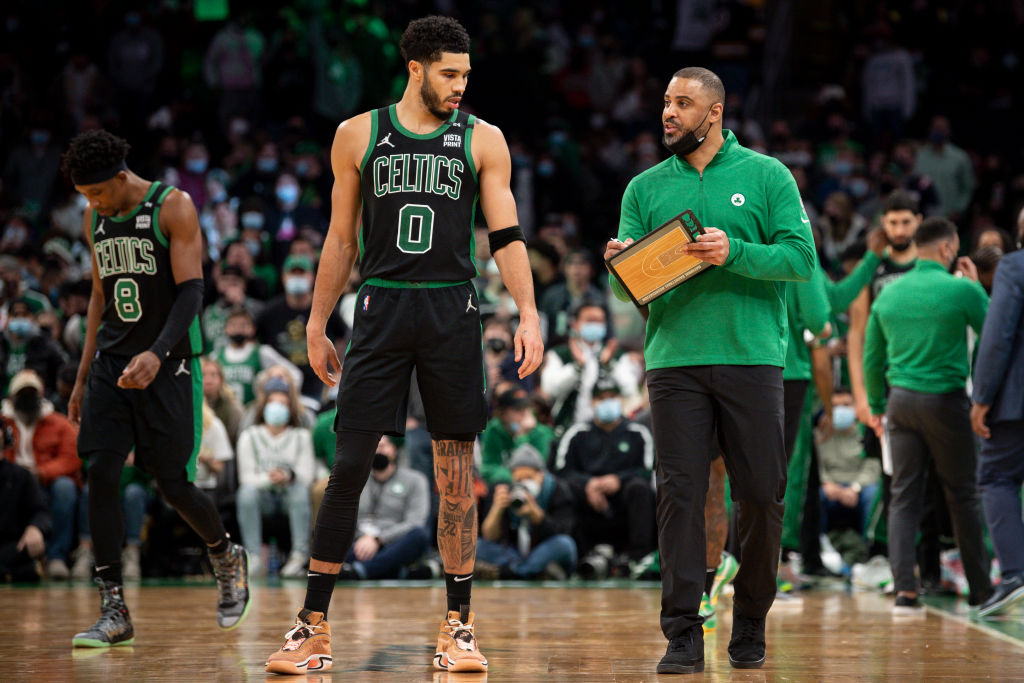 "Imagine doing something for years, and then you come into a job where you went to school to get a degree for this job. And then out of nowhere, something that you've never studied for, never had experience with, they come in and tell you they wanna do, and it's supposed to happen overnight. And it's not gonna happen. You're gonna take time, you're gonna have to learn, have to adjust, you're gonna have to find out how to do it in a quicker way to help you. And that's what we're doing,
Ime's a different coach than what we were used to for those years here in this organization. He brings a different method, mentality to this team, and we knew coming in that it wasn't going to be easy, we knew we were gonna have ups and downs. Especially learning a new system, learning how he wants us to play, and just getting re-familiarized with him and his coaching staff, but we've been doing a great job. Like I said, it's not gonna be easy, and the patience that Ime has had with us, and that we've had with one another just shows the growth and maturity that this team has," Smart said.
It may have been a bumpy road, but Udoka's plan is finally starting to take shape, as the Celtics have been a dominant force since the turn of the year, shooting up the defensive rankings as a result. Since January 1, the Celtics rank first in defensive rating and second for the season, the team is also 9th for offensive rating in 2022 – which is a testament to the roster construction's balance.
When dissecting the alterations Udoka made to fuel the Celtics sudden uptick in performances, you can pinpoint three main adjustments.
---
---
Shortening the rotation
Udoka has shortened his rotation and is now relying on a core group of eight players. While some fans believe the additional workload on those eight guys could cause burnout once the playoffs roll around, the method in Udoka's madness is clear.
By keeping your rotations tight, you're allowing a core group of players time to develop as a unit and build winning habits among themselves. You're also creating a competitive spirit within the team, especially during training, as those on the outside of the rotation are forced to up their game in the hope of breaking into the playing squad as the season progresses. You only need to look at Payton Pritchard's performance off the bench against the Detroit Pistons for further proof of this.
The only knock on this recent development is the lack of playing time for younger guys such as Aaron Nesmith, but there's something to be said about earning the right to play, rather than being given minutes because the coaching staff have no choice. Simply put, if the young guys are good enough, they'll earn their minutes throughout the course of the season, and if they're not, they will have to put the work in to get there or find themselves looking for a new home around the league.
Moving Robert Williams into a "free safety role"
Robert Williams is undoubtedly one of the best shot blockers in the NBA, but until this season, it was incredibly easy to get him into foul trouble or fake him out of his sneakers with shifty head movement. Credit should go to Williams for his defensive improvements, as he no longer bites on every pump fake or gets lost on switches.
But Udoka also deserves a large share of the praise, as moving Williams into a free safety role has been a masterstroke. A free safety role in the NBA is simple, you put your most athletic defender on the opposing team's worst shooter, allowing the defender to roam and contest shots at the rim. For a player like Williams, that role is tailor made to his skillset, specifically due to his ability to cover ground quickly and jump out of the gym with no run-up.
By having Williams operating outside of the initial offensive action, it lulls opposing teams into a false sense of security before the athletic big man comes out of the blue to send your shot packing and leave you crimson faced for millions to see.
Staying true to his philosophies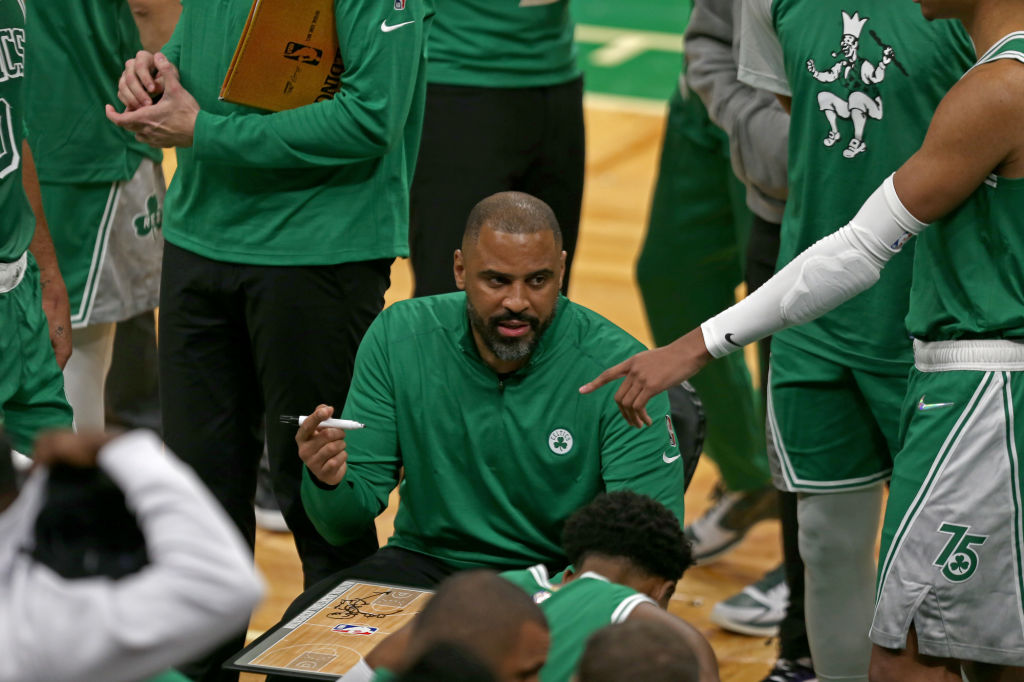 Having a basketball philosophy when things are going well is one thing, but to stick with your core beliefs during an awful start to the season, when you're catching strays from every direction? Well, that takes serious commitment. But, as it turns out, Udoka was right all along, as even though Boston's offense continues to miss open shots, they're carving teams open consistently.
And then there's the defense. When we first saw the double-big line-up to start the season, it was hard to imagine an aging Al Horford guarding the perimeter, or a susceptible Robert Williams executing a switching defense to perfection. But as the saying goes: "drillers make killers" and we can see the Celtics have been drilling their defensive patterns over the last few months.
You have to tip your hat to Udoka, he has a core belief in how basketball should be played, and now we're seeing growth across the board, both on an individual and collective level. Heck, even the coach himself is improving as the season goes along, which only endears him to the fan base even more.
Final thoughts
When a player or coach joins a team to a large swell of fanfare, it's only natural that people expect instant results – it's the nature of the beast. We live in a world of instant gratification, and often struggle to process the need for patience. Luckily, it took less than a full season for Udoka's vision to become an on-court reality, and the Celtics are flying high as a result.
Yes, mistakes have been made along the way, but that's how you learn and grow. And as much as we hated to admit it at the start of the season, Udoka was a rookie tasked with leading Boston to a deep playoff run. It was always going to take time for the Celtics to morph into a fluid unit, especially after multiple years of high pick-and-roll, isolation basketball.
It was worth the wait, though. And now Celtics fans everywhere are watching on closely as the team chases a high-seeded ending to a rollercoaster season.
---