When the Boston Celtics traded away Kemba Walker during the off-season, and failed to bring in a replacement point guard, there were concerns surrounding Marcus Smart's suitability as the team's starting guard. Smart, a beloved member of the Celtics roster, is known for his defensive acumen and fierce competitive desire, but he's never been seen as a primary ball-handler or playmaker. 
Those concerns were exacerbated when people looked back to the tail-end of last season, where Smart would regularly call his own number on offense, taking questionable shot after questionable shot. Yet, with Payton Pritchard as the only other recognised guard on the team, Boston found themselves with no choice but to trust the development of the Texas native.
Until Dennis Schroder came to town on a one-year "prove yourself" deal. Now, Smart had legitimate competition for the starting guard role, and would need to align his offensive priorities with new head coach Ime Udoka's system if he wished to maintain his status as Boston's lead guard. Over the first few months of the new season, when the Celtics were struggling to close out games, Smart bore the brunt of the criticism. 
---
---
Fans couldn't understand why a guard as shifty as Schroder was operating on the second unit, while Smart struggled to implement his will onto games. How could a potential 20-point per game scorer such as Schroder be resigned to a role with the second unit, while a career 32% three-point shooter manned the offense in his place. In truth, Schroder never fit with Udoka's system, and his playmaking numbers were always fools gold, but in the midst of an awful start to the season, the only thing that mattered was finding the right balance.
Things got worse before they got better, with Smart calling out Jayson Tatum and Jaylen Brown for their selfish style of play. At the time, Smart's comments weren't perceived as help. Here was a guard known for shooting Boston out of games, and he had the audacity to be calling out the teams best players?
"Every team knows we're trying to go to Jayson and Jaylen. Every team is programmed and studied to stop Jayson and Jaylen. I think everybody's scouting report is to make those guys pass the ball. They don't want to pass the ball," Smart said after an early season collapse against the Chicago Bulls.
Shortly after that outburst, the Celtics began to grow into Udoka's vision, Smart began to develop into a reliable point-guard, tempering his shot attempts in favor of dictating the flow of the game, and embracing his role as the table setter.
Fast-forward a few months, and Smart has grown into his role as the team's starting guard. He saw off the challenge of Schroder, worked out the kinks in his passing game, and is now one of the better pass-first point guards in the Eastern Conference. The numbers back this up, too! 
Since January 1, Smart is averaging 5.2 dimes per game with an assist-to-usage ratio of 1.17, ranking him in the 74th percentile among combo guards. The former sixth overall pick is also assisting his teammates on 23.9% of their made buckets while he's on the floor, placing him in the 65th percentile for assist percentage, per Cleaning The Glass.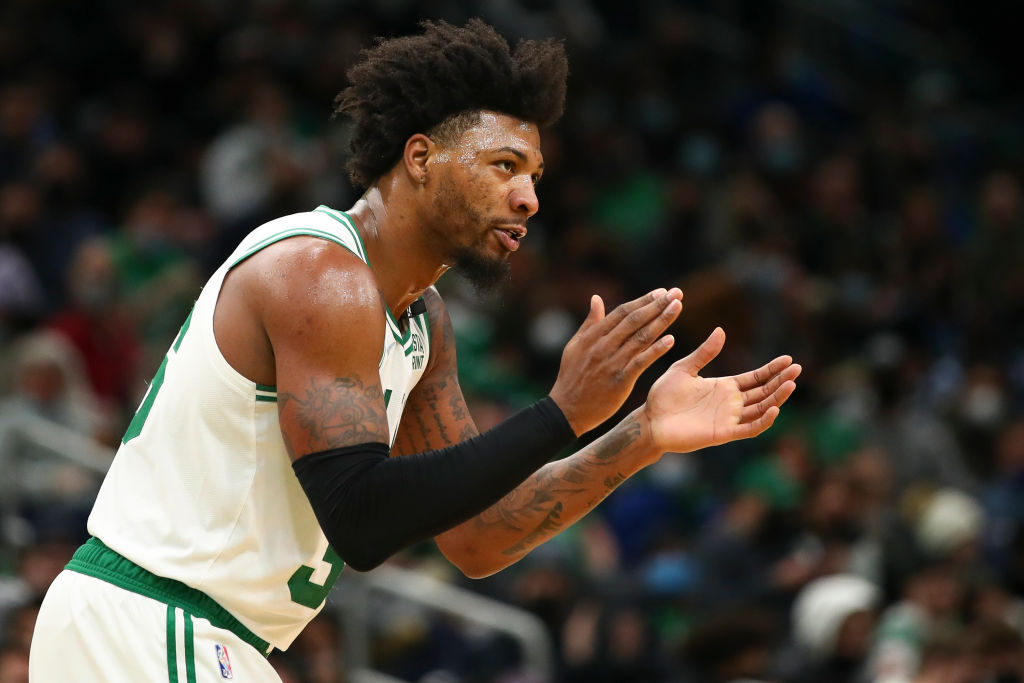 The Oklahoma State alum's shot attempts have also decreased from 10.6 per game last season to 9.3 per contest since January 1, as he embraces his new role within the team. Of course, Smart's primary skillset will always be setting the tone on the defensive end of the floor, but his new found love of setting the table has seen him become a multi-dimensional threat, and every contending team needs as many of those players as possible. 
Diving a little deeper, one of the biggest improvements Smart has made this season is ability to read the defense and react with pace. In the sports science world this type of skill is known as "processing speed" and is defined as a players ability to perceive an opportunity or action, process what needs to be done and act promptly. Elite players, in any sport, have exceptional processing speed – it's what allows them to see gaps before they're there, or attack defenses before they're in place. Of course, processing speed isn't a new phenomenon, we've been talking about it for years, but we've generally just noted how "the game is slowing down" for the player – it's the same thing. And when you're thrust into a new role, with new responsibilities, it takes time for the game to slow back down.
Perhaps that's why Udoka spent the early part of the season using Smart as an inverted screener (when a smaller player screens for a bigger player) – to allow him time to understand how to manipulate defenses and create mismatches by forcing unfavorable switches. Smart is now one of the team's better off-ball screeners, and regularly finds himself featured in offensive sets to get either himself or others open for a scoring opportunity. Take the below play out of Boston's flex series from my Instagram account as an example.
Smart may not be considered one of the elite guards in the NBA, nor is he one of the better offensive players in the league. But, his incredible defense, coupled with his growth as an offensive tone setter has enabled him to become a superior version of himself as the season has wore on. When looking at the numbers, you can clearly see the veteran guard has embraced his new role and status as one of the Celtics foundational pieces, as he's spraying the ball to whoever finds themselves in space.
As of February 27, Smart has assisted on 280 made baskets with approximately 23 games left of the regular season, in contrast, throughout all of the 2020-21 NBA season, Smart totalled 273 dimes, so we can see the growth is legitimate. As for sharing the wealth, here's a list of how many times the guard has assisted each of his teammates; 
Al Horford – 31
Enes Freedom – 4
Dennis Schroder – 14
Jabari Parker – 1
Josh Richardson – 10
Jaylen Brown – 60
Jayson Tatum – 71
Rob Williams – 49
Romeo Langford – 8
Grant Williams – 21
Aaron Nesmith – 5
Payton Pritchard – 6
Assist numbers courtesy of PBP Stats. 
One important aspect to note, is that Smart only participated in 45 games last season, so it's hard to gauge where his assist numbers may have ended up. Judging by the Celtics' isolation heavy style of play in Brad Stevens' final year as head coach we can safely assume the numbers wouldn't have been high.
Another aspect to keep in mind is that not all assists are made the same. One of the biggest knocks on Dennis Schroder was his poor playmaking skills, yet he consistently averages five or six dimes per night. But dumping the ball off to a teammate around the rim with three seconds left, after spending 21 seconds operating as a ball-hogging hero doesn't mean you're a good playmaker. Smart's assists are coming courtesy of intelligent movement, reading the defense, and attacking teams before they have chance to shut down driving lanes or tag the roll man. There's a difference in how assists are created, but unfortunately, they're all recorded the same way – it can be rather disingenuous to be honest.
That's why any statistical analysis has to be backed up by hours of film work, because otherwise, it's easy to be swayed by some numbers on a screen, but that's an argument for another day.
Overall, Smart has grown into his role as the Celtics lead guard, and has developed multiple new skills as a result. Once known as a defensive lynchpin with clear issues as an offensive player, Smart is quickly becoming one of the more desirable guards in the NBA, and if he can continue to work on his three-point shot, it won't be long until he starts being viewed in the same light as Mike Conley – another player who built his reputation on defense before figuring out his identity as an offensive player. And for the Celtics, they couldn't ask for a better fit on their team, or in their starting unit, than Marcus Smart. 
---