UFC newcomer Ian Garry's mentality heading into his promotional debut all stems from a loss taken early in his amateur days.
Garry will face Jordan Williams at UFC 268 on Nov.6 inside the hallowed grounds of Madison Square Garden in New York City. He has earned a reputation tearing through the regional scene in the United Kingdom and the results speak for themselves.
However, back in 2018 "The Future" took on Andreeas Binder at Clan Wars 31 and dropped a split decision. Although this experience still doesn't sit well with him, it has transformed him into the uber-prospect fans know today.
"I hate talking about it, I don't like it at all," Garry told The AllStar. "You're gonna go home. You're gonna be fine. You're gonna shut down this laptop, you're gonna be fine. I'm going to be fuming for the rest of the day.
"That was probably the biggest learning point of my career. That guy wasn't good enough to beat me, he wasn't. He knew it, I knew it, everyone else knew it. But the reason he beat me was because of me. Me not showing up. Me allowing him the room to do stuff. I was like there's nothing he can do to beat me. He can't beat me on the feet, he can't beat me at grappling, he can't beat me anywhere. But because I did that I allowed him to get positions going.
"For me as a young athlete to learn that. Look, everyone has something they can try to do. And everyone gonna try to come out and beat me. I need to go out there and just go this is why I'm better than you are. I need to do it fast and I need to do it in style. I need to make sure I keep this pretty face the whole time and not get hit."
After that setback, the 23-year-old Irishman has absolutely dominated the competition. Stringing together 11 straight victories while topping it off with the Cage Warriors welterweight title last June before getting signed to the UFC.
Garry added, "I've gone out there with the attitude going I don't care what he's good at, I don't care what he's bad at, I don't care what he thinks he's going to try to do. I'm gonna go out there and put him away and I'm not going to give him any time.
"And I've taken that kind of atmosphere into training, in general, because the reason I got injured leading up to my world title fight, it was because I was going easy. I was with a young lad and he was an amateur. Obviously, I'm fighting for a world title. I'm not gonna go and smash a young amateur. But he done something stupid pop my knee. I tore my knee because of it.
"If I go slow in life, I feel like things are harder. Whereas if I just go fast, my reactions are so quick that I'll react properly. If I give myself time to doubt or kinda change anything in my head, situations start in. Just go with what your gut is and just go as fast as you can. That's my attitude in life. Just go at it head first as fast as you can and make the right decisions happy days. Make the wrong decisions change it up and go again."
There is a lot of talk surrounding Garry and he is adamant that the next stage of his career will start off with a bang.
"The bigger the stage the brighter I shine," Garry said. "A lot of people don't live up to their full potential on big stages and it's only the best that really do. I love the spotlight, I love attention. You put me in that cage you're just going to get a better me.
"I just cannot wait to go into that cage and show everybody why I am 'The Future'. Why I have all this hype. Why I am the biggest thing in European MMA. People are going to find out."
Watch this video and more on The AllStar YouTube channel.
---
Fighter profile
"The Future" Ian Garry is a 23 year old male fighter from Ireland with 7 pro wins and 0 losses. Garry is scheduled to fight Jordan Williams at UFC 268: Usman vs. Covington 2 on Saturday November 6, 2021.
Garry's recent form coming into this matchup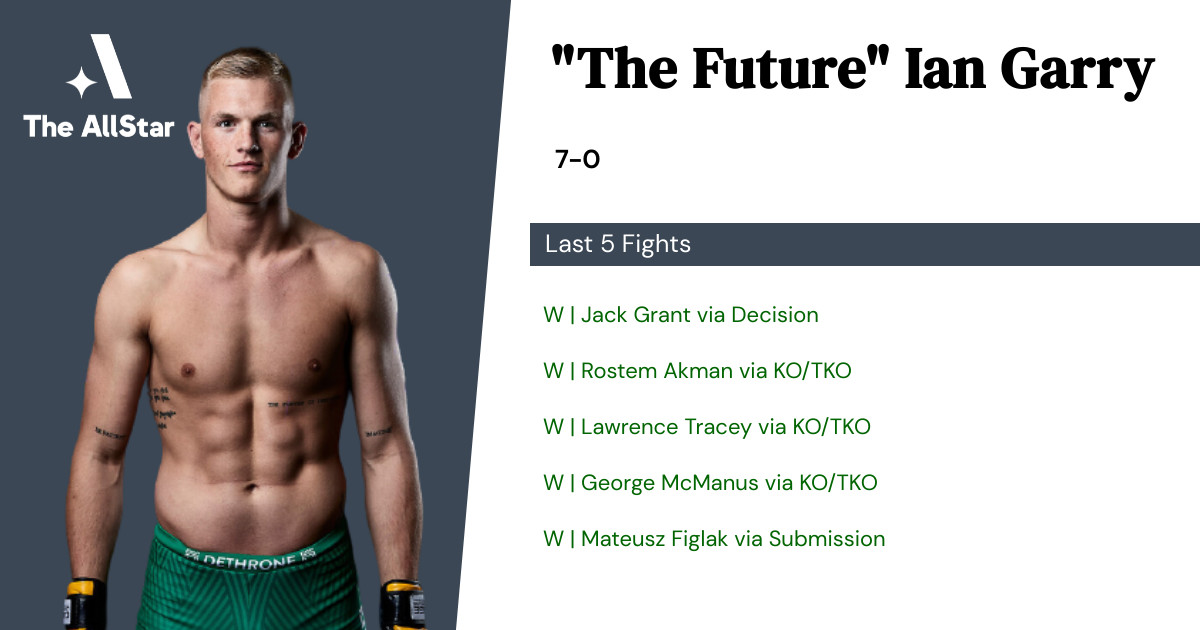 Ian Garry has gone 5-0 in the last 5 professional MMA fights.
Win vs Jack Grant • Decision R5 5:00 • 2021-06-26
Win vs Rostem Akman • KO/TKO R2 2:28 • 2021-03-19
Win vs Lawrence Tracey • KO/TKO R1 4:02 • 2020-12-12
Win vs George McManus • KO/TKO R2 3:17 • 2020-09-25
Win vs Mateusz Figlak • Submission R1 3:41 • 2019-11-09
Ian Garry's next opponent: Jordan "Bomaye" Williams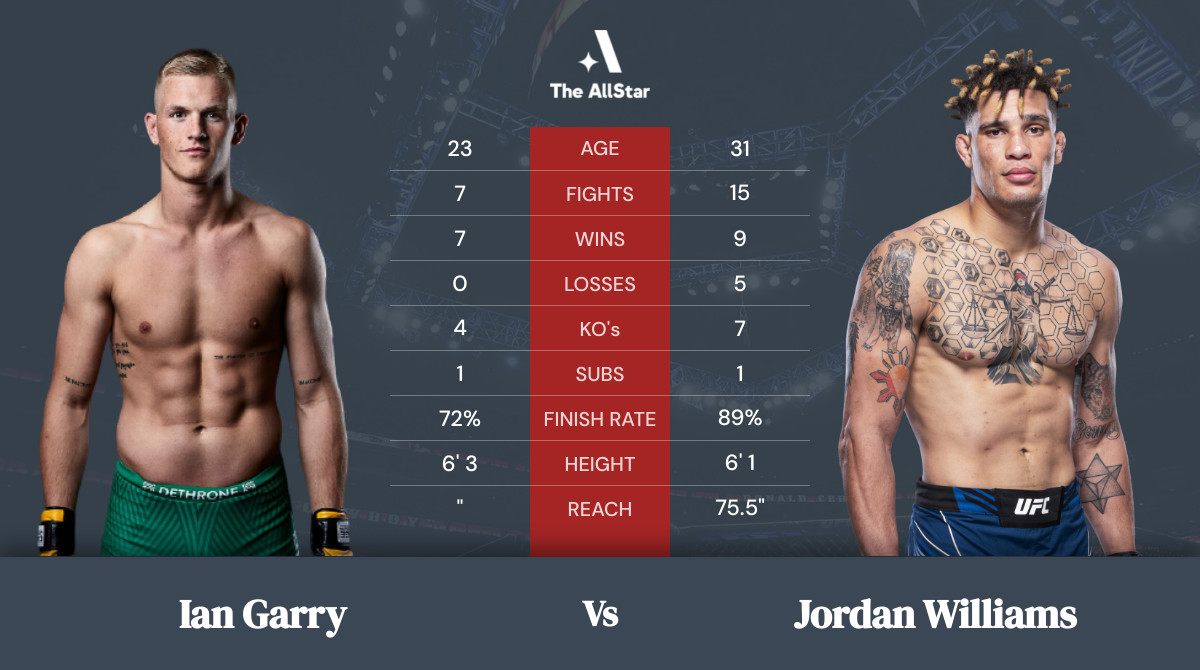 Jordan "Bomaye" Williams's recent form coming into this matchup
Jordan "Bomaye" Williams is a 30 year old male fighter from United States with 9 pro wins and 5 losses. Williams is scheduled to fight Ian Garry at UFC 268: Usman vs. Covington 2 on Saturday November 6, 2021.
Jordan Williams has gone 2-3 in the last 5 professional MMA fights.
Loss vs Mickey Gall • Submission R1 2:57 • 2021-07-24
Loss vs Nassourdine Imavov • Decision R3 5:00 • 2020-10-03
Win vs Gregory Rodrigues • KO/TKO R1 2:19 • 2020-09-15
Loss vs Ramazan Kuramagomedov • Decision R3 5:00 • 2019-07-23
Win vs Diego Herzog • KO/TKO R3 1:21 • 2019-04-27
How to watch and bet on Ian Garry vs Jordan Williams
Keep track of all the latest odds and line-movements at our bout page for this matchup.