Charles Johnson loves to dream big.
Not only does he think he'll be fighting for a UFC title in a year's time, the LFA flyweight champion thinks he can be the best in that weight class, period. The Murcielago MMA product is due to defend his title against undefeated prospect Carlos Mota in the LFA 122 main event on Jan. 21. 
"In my mind, I feel like I am three or four fights away from a UFC title," Johnson told The AllStar. "The flyweight weight class is wide open. You go in there and get a couple of great wins and you're in title contention. 
"I'm gonna be as active as possible. We get through this fight. Things go the way we're planning and the way we'd prepared for. We get through this fight. We get called up as we should. The UFC, for me, I want to fight as often as possible, as often as my body allows me to. I'm all about activity. Activity means longevity. The more active you are, the more you're in it, the more you're doing it, the more you'll have longevity."
He's not short of confidence, boosted in his youth by success in wrestling and from running AAU track. More recently, he had a memorable stint at Tiger Muay Thai in Thailand, where he pitted his skills against fighters from all the major promotions.
After Thailand, Johnson returned stateside at the height of the pandemic in 2020. He stepped back into the cage almost a year later at LFA 100 and choked out Karlee Pangilinan in the second round.
Title defence
This superb victory earned him a shot at the flyweight interim title against Yuma Horiuchi five months later at LFA 110 and won a closely-contested five-round battle to have the belt wrapped around his waist. In under two months, he defended it successfully by knocking out Joao Camilo. 
"The one thing I can say I got the most out of going to Thailand was confidence. I learned some skills there but I had a pretty well-rounded skillset before I got there. Being able to be in a room full of UFC veterans, UFC champions, ONE Championship fighters, Bellator fighters.
"Guys in the UFC saying like, 'Hey man I can't believe you're not in the UFC yet. You're good, man. Charles, you're good. Keep at it.' Getting that confidence back and being able to spar with world champions and hold my own. Not every day is great but not every day is bad either. Some days are great and some days are like I did that. 
"InnerG" enters his next fight with this confidence oozing out his pores. He refers back to his past accomplishments in high school and college as an omen to what type of performance he will have against Mota. 
Best ever?
"I believe that I'm going to drown him. I'm going to start off sprinting and see how long [he] can sprint. When I ran track, I used to draft people. When I started off running, I ran long-distance. So drafting is running on their hip and pushing the pace. Let them take the wind, stay on the hip and you push them. As soon as they let off, you pass.
"Equating that to my fighting career, I'm getting to the point where I'm able to lead from start to finish. And if I'm not, I'm drafting people enough where I can take over."
The UFC is often the preferred destination for most fighters. The 31-year-old Johnson is no different in that aspect but he is much more ambitious.
"A year from now when they are talking about Charles Johnson. I'm gonna be challenging for the UFC [title]. Look at the rise of this guy. From the LFA. His dominance from the last seven, eight fights. That's what I hope and what I'm aspiring to and that's what I'm speaking into existence."
"I will be the best flyweight in the world as long as I'm confident," Johnson said.
Watch this interview on The AllStar's Youtube channel.
---
Fighter profile
Charles "InnerG" Johnson is a 31 year old male fighter from United States with 10 pro wins and 2 losses. Johnson is scheduled to fight Carlos Mota at LFA 122: Johnson vs. Mota on Friday January 21, 2022.
Johnson's recent form coming into this matchup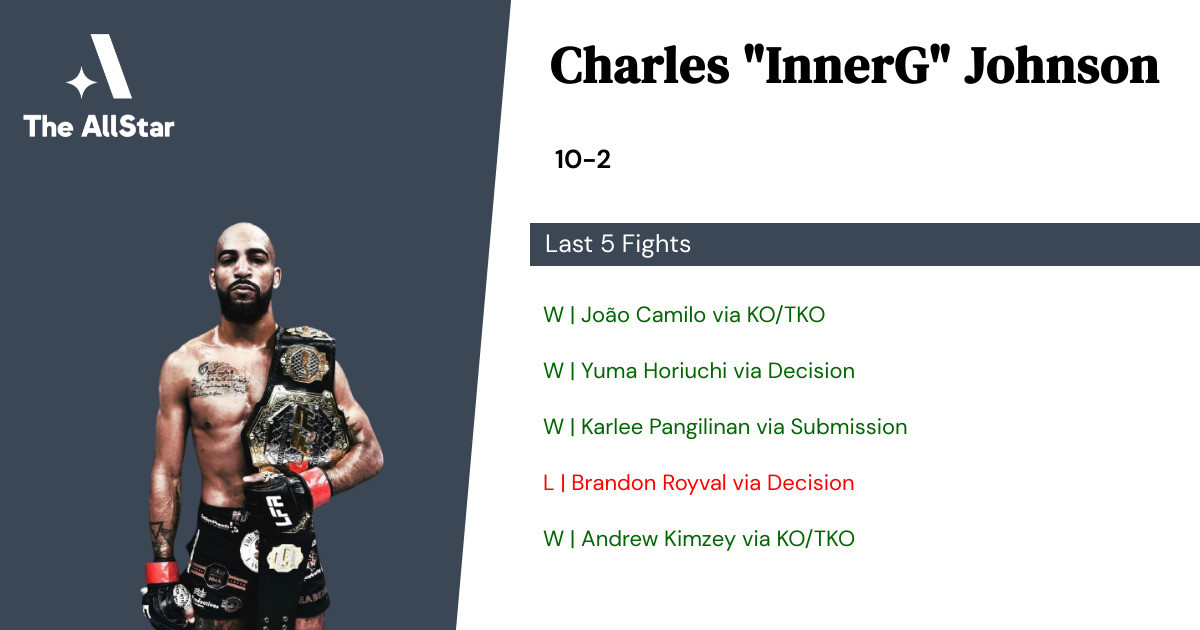 Johnson has gone 4-1 in the last 5 professional MMA fights.
Win vs João Camilo • KO/TKO R2 4:07 • 2021-08-27
Win vs Yuma Horiuchi • Decision R5 5:00 • 2021-07-02
Win vs Karlee Pangilinan • Submission R2 1:41 • 2021-02-19
Loss vs Brandon Royval • Decision R3 5:00 • 2018-09-07
Win vs Andrew Kimzey • KO/TKO R1 1:41 • 2018-06-08