Mackenzie Dern is not abandoning what elevated her to the top of the division.
On October 9, Dern will take on No.6-ranked Marina Rodriguez in the main event of UFC Vegas 39 in Las Vegas. As the record holder for most submissions in women's strawweight history, the decorated grappler plans to keep it simple and add another victim to that list.
"[Marina] is not the one I'm coming out to like, oh let me get in some of my shots," Dern told The AllStar. "I've seen her right hand. She has a win over Amanda Ribas who is my only loss, you know, with her hands.
"I want to try to get in one more fight this year. So I definitely don't want to take too much damage. Even though if I think I can beat her even standing up, I don't think that's…that's what I want to risk because all [she] needs is one. One to get the right spot and the fights over. So I definitely prefer [to] take her on the ground, get her tired. She's kinda like a slow starter. She looks like she studies a lot first. Just kinda seeing openings like that striker style.
"I don't want to give her time. I don't want to give her close rounds and give her the fifth round to come out and kinda like a bull and try to run me over. I want to put the pressure from the first and keep that pressure all the way until the end if I need to."
The constant pressure and overwhelming attacks on the ground have allowed Dern to accumulate 4 straight wins with three first-round submissions.
This fight has been labeled as a grappler versus striker affair, yet the No.4-ranked strawweight contender admits she favors these types of matchups all the way to the championship belt.
"I definitely feel good being the strongest representative of jiu jitsu in women's MMA," the 28-year-old said. "I think that's kinda what's a little bit crazy about my beginning. I'm happy that I did kinda get that out of my way at the beginning of my UFC career. Banging it out, feeling what it's like to be standing up and throwing punches and getting punched.
"I can even win [with] striking but the jiu jitsu it's like that's the way to win. That's the way to beat these girls. That's my strength but like my big strength."
Watch the full interview above or on our YouTube channel.
---
Fighter profile
Mackenzie Dern is a 28-year-old female fighter from the United States with an 11-1-0 pro-MMA record. She will fight Marina Rodriguez at UFC Vegas 39 on Saturday October 9, 2021 in a strawweight bout.
She has 11 wins with a 64% finish rate, including 7 by submission, 4 by decision.
Dern is riding a 4 fight win streak, having beaten Nina Nunes at UFC on ABC 2 on Saturday April 10, 2021 by submission in round 1.
Dern's Last 5 bouts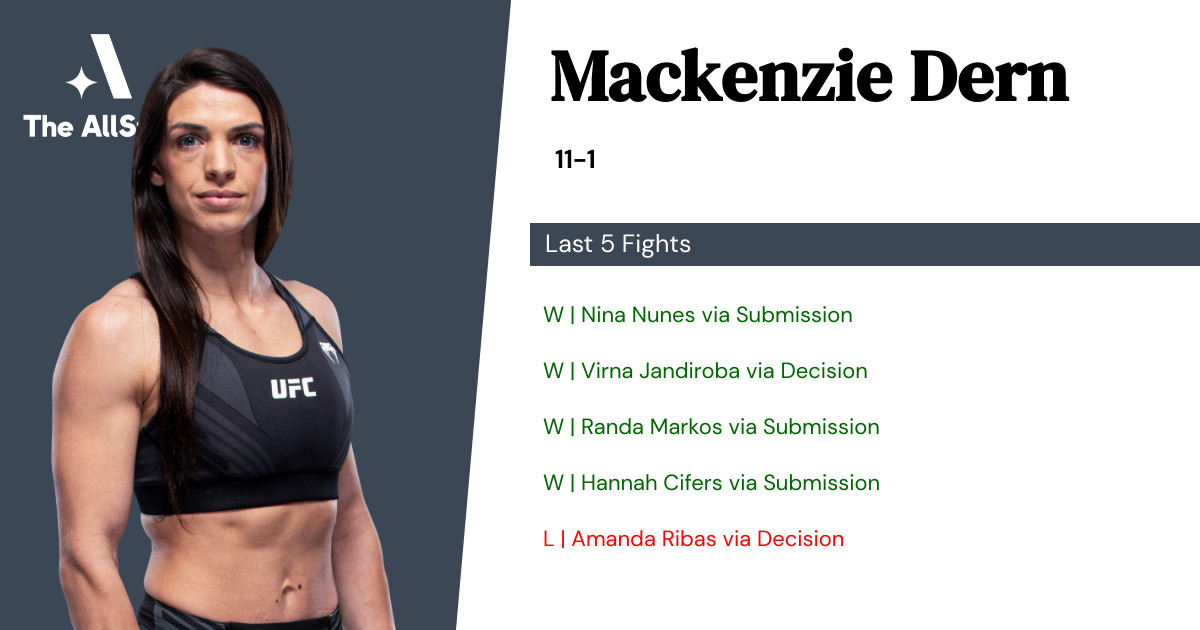 WIN vs Nina Nunes by Submission R1 4:48
WIN vs Virna Jandiroba by Decision R3 5:00
WIN vs Randa Markos by Submission R1 3:44
WIN vs Hannah Cifers by Submission R1 2:36
LOSS vs Amanda Ribas by Decision R3 5:00
Mackenzie Dern's next opponent: Marina Rodriguez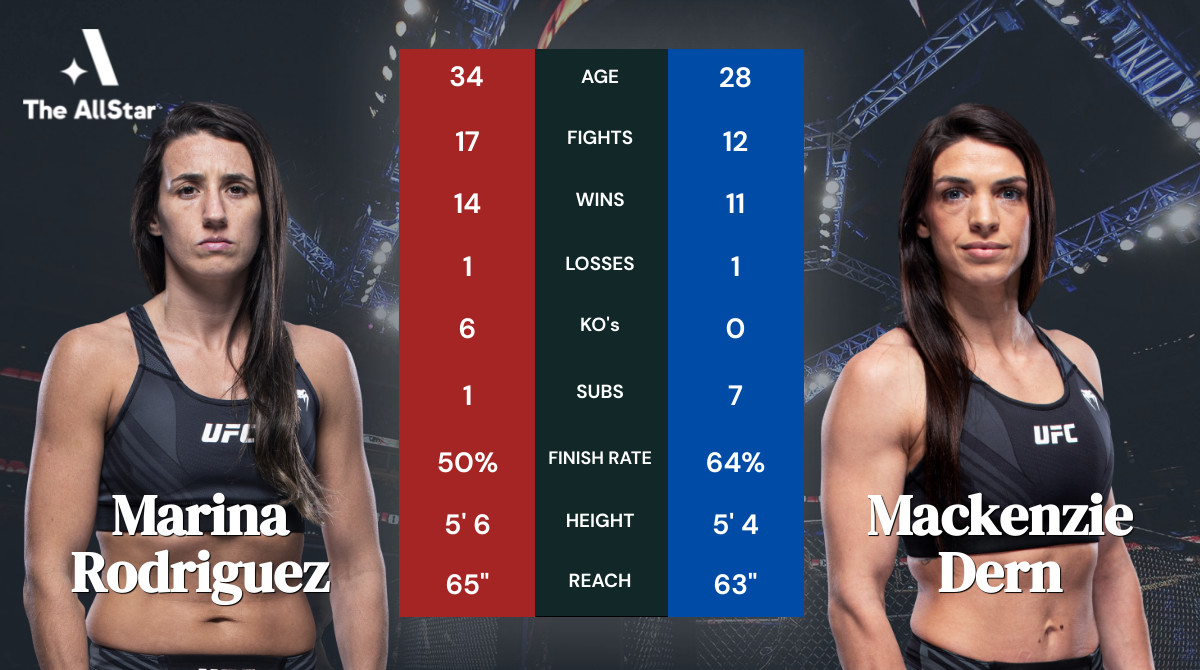 Marina Rodriguez is riding a 2 fight win streak, having beaten Michelle Waterson at UFC Fight Night on Saturday May 8, 2021 by decision.
Her professional MMA record currently stands at 14-1-2.
Marina Rodriguez vs Mackenzie Dern betting odds
Dern opened as the -145 betting favorite. Placing a bet on Dern means you would need to bet $145 in order to win $100.
Rodriguez is priced at +135, meaning if you put down $100 on her, you could win $135.