Finally, it looks like Manchester United have got something right.
With fans threatening to carry out another crippling matchday protest before Saturday's match against Norwich, almost a year on from getting the home Premier League clash with Liverpool postponed, the club's owners have pulled their fingers out and all but confirmed a deal to appoint Erik ten Hag as new manager.
The Athletic's David Ornstein reported on Wednesday that United have reached an agreement in principle with Dutch giants Ajax, and he is expected to join on a four-year contract, ending a months-long saga to find a successor to interim boss Ralf Rangnick.
But there will be no formal announcement until after ten Hag's side play PSV Eindhoven in the KNVB Cup final this weekend, with United looking to maintain their good relationship with Ajax.
The 52-year-old is set to officially begin work at United's Carrington training ground on July 1 before embarking on a pre-season tour of Thailand and Australia just five days later.
Poisoned Chalice
Formal or not, the news couldn't have come soon enough.
After an initial meeting with the Dutchman weeks ago, United's board had continued to dither with what should have been a very simple decision, pretending to interview a bunch of other candidates in attempt to look like this was a highly-sought after position, and not a poisoned chalice.
Then came last weekend's thrilling 2-2 stalemate at the Etihad Stadium, which provided a stark reminder of how brilliantly Manchester City and Liverpool have been run by their respective owners – and how poorly United have by theirs.
With a decrepit, crumbling stadium an apt metaphor for the mess the club finds itself in after more than a decade of mismanagement, United have now taken the first necessary step to arrest the slide, by appointing a man tipped to be the next Pep Guardiola or Jurgen Klopp.
Ten Hag was even nicknamed "Little Pep" while coaching Bayern's second team under Guardiola, where he earned a reputation for having an incredible knack for detail – even when it comes to his job description.
Little Pep
The man has rejuvenated Ajax, leading them to two Eredivisie league titles and two KNVB Cups, as well as a Champions League semi-final, all while rebuilding his team every summer with his latest star players picked off by richer European clubs.
"Eril ten Hag is a stickler for detail and he'll want everything in the contract to be absolutely spot on," Ornstein said on The Athletic Football Podcast this week.
Despite twiddling their thumbs and doing their best to mess it up, United have stumbled across the kind of manager that can restore them as giants of the European game, the way Klopp has transformed Liverpool and put them on the brink of a third Champions League final in 5 years.
Unlike United, Liverpool did not dither when appointing Klopp, laying the groundwork for his arrival for months, while City courted Guardiola for years and made sure everything was in place for him when he finally arrived.
Thankfully, this saga did not drag on to the summer, and Ten Hag can now start planning to hit the ground running at United.
Complete overhaul
The first item in his in-tray will be a complete overhaul of the playing squad, and to determine which players fit into his defined playing style.
The new manager reportedly wants to implement a high-pressing, high-octane game, and knows that many of the current crop of players would struggle to fit those expectations.
United haven't consulted their underperforming "stars," either, of Ten Hag's impending appointment – and quite rightly so. This squad has been overindulged, with inflated wages to match their inflated egos, and they have got the last two managers the sack.
Why should anyone listen to them? They have downed tools spectacularly since bombing out of the Champions League, either in the knowledge there will be a new manager soon or that they will be leaving the club either way.
Full control
Ten Hag may already know whom he intends to keep, and whom he intends to ditch. This is something certain star players who have been selected for years on reputation alone, while rarely justifying it with performances, will be dreading.
Part of the reason the appointment of Ten Hag dragged on is seemingly down to his demand to have full control over transfers – incoming and outgoing – as well as contract renewals, as he looks to shape his squad to his exact needs.
Reports emerged this week that Ten Hag was weighing up an offer from RB Leipzig, who supposedly wanted to give him everything he needed to challenge German champions Bayern Munich.
Almost every single one of the United first team could, in theory, be on the chopping block, bar Jadon Sancho, Raphael Varane, Bruno Fernandes and Anthony Elanga.
We already know there are several big names out of contract, like Paul Pogba, Jesse Lingard, Edinson Cavani, and Juan Mata.
Chopping block
It was interesting to read, by the way, in the Daily Mail that United's players are just as miffed as many of the fans about the club trying to hand Pogba 500,000 pounds a week to stay, when he keeps saying he wants to leave.
Cavani has been fairly useless on the rare occasions he has made himself available to play this season, while Lingard tarnished his standing with fans after posting pictures of himself in a West Ham kit on social media as he looked for a move away in January.
Mata has been a good servant for the club, and has the right attitude and plenty of experience to pass on the next generation, but he has been way past his prime for years.
It remains to be seen if Ten Hag will try to solve the Cristiano Ronaldo conundrum. He may just wash his hands of the expensive superstar, who will hardly fit the bill as a hard-working focal point to the team.
Mason Greenwood is out, whatever happens, after being arrested on suspicion of sexual assault and making threats to kill.
No future
Marcus Rashford has made plenty of noise about feeling unloved and under-utilised by Rangnick. The fact is, he has been woeful for nearly 18 months now, and does not deserve a place in the team on merit.
Amad Diallo has not impressed on loan at Scottish champions Rangers, and could be farmed out again, along with Facundo Pellistri.
One loan star who has had an impact is English midfielder James Garner, who has impressed at Nottingham Forest and could stake his claim in pre-season. His creativity will certainly be a breath of fresh air, after a season watching Scott McTominay, Fred and Nemanja Matic stink out the joint.
Matic, at 33, has no future at Manchester United, despite showing flashes of his old class. His legs are gone, and Ten Hag will want some industry in the middle of the park – which could spare McTominay and Fred for another season, but hopefully in the role of squad players.
Club chiefs reportedly want to extend Luke Shaw's contract, but the jury is still out on whether he can be a long-term solution at left back after another poor season, while Alex Telles has been largely average.
Harry Maguire
Neither Diogo Dalot nor Aaron Wan-Bissaka have nailed down the right back spot under Rangnick, with neither possessing the complete attacking and defending game required of modern full-backs.
The less said about Captain Fantastic Harry Maguire the better. Reports are already emerging that Ten Hag wants to bring Ajax centre back Jurrien Timber with him from Amsterdam. Hopefully, the armband will also find its way to someone else.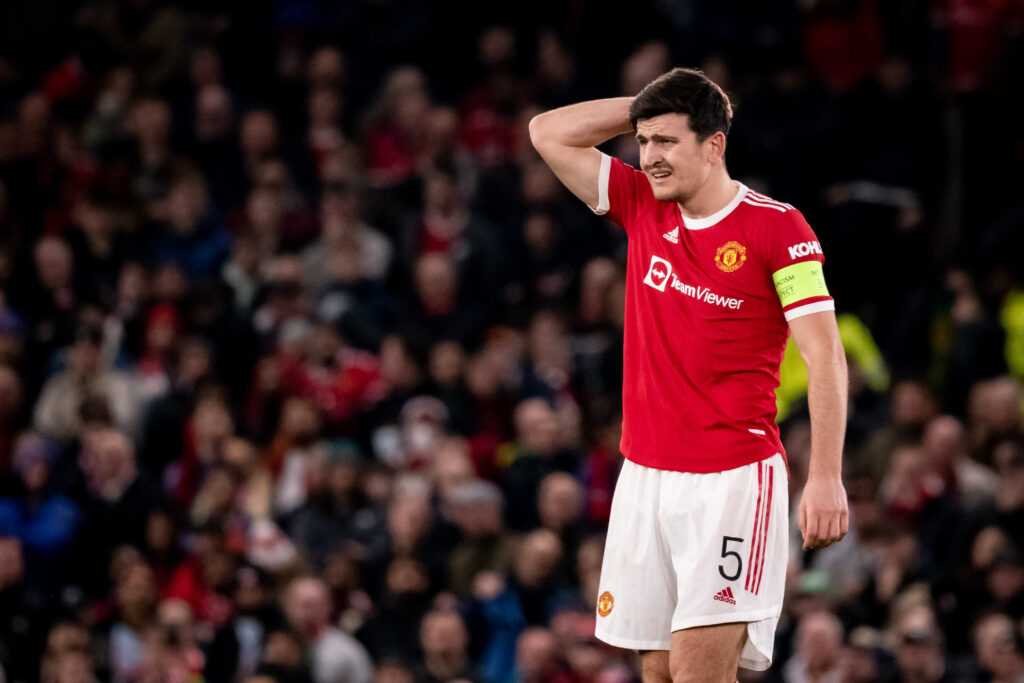 Eric Bailly will almost certainly be on his way, having grown frustrated with his lack of opportunities this season. He's played only 7 games, despite signing a new contract in April. United must find a buyer willing to gamble on his poor fitness record.
Phil Jones is also likely to move on, finally, while the perennially average Victor Lindelof could get a stay of execution.
David De Gea has been Manchester United's standout player by a mile this season, but there are questions over whether his poor distribution will suit Ten Haag's style. Dean Henderson may not be any better in that regard, and is desperate for first team football at 25.
That could mean plenty of exits at Old Trafford, though the Glazers are unlikely to offer up a measly transfer budget for replacements, with Champions League football looking unlikely next season.
New blood
In that regard, Ten Hag should look to make 3 key signings at centre back, defensive midfield, and striker – with West Ham's Declan Rice and Benfica's Darwin Nunez also on the radar – and then blood some of the academy stars, while looking to improve a few underperformers.
There are several names in United's Under-18s side who look like they are future stars, with the club reaching the FA Youth Cup final for the first time since 2011. That side featured Lingard and Pogba, while Maguire was on the opposite side playing for Sheffield United.
Forward Alejandro Garnacho, 17, earned a call-up to the senior Argentina squad last month, after starring with a trove of spectacular goals and assists.
Striker Charlie McNeil, 18, scores goals for fun, while Alvaro Fernandes looks a prospect at left back. Kobbie Mainoo also seems a future midfield superstar, while there are plenty of others showing potential.
Ten Hag has shown he is astute at working on a budget and identifying bargains – something that will be music to the Glazers' ears as they pump more millions into Tom Brady's swollen coffers.
The owners – and the fans – will need to show unwavering support, however, when results inevitably dip, because this is not going to be a quick turnaround.
Ten Hag will need time, and patience, and he deserves it after putting his hand up to fix this mess of a football club.