After an understandably up-and-down slew of showings to start the season, the now-healthy Milwaukee Bucks are suddenly looking more hobbled than ever before. Their injury-riddled roster shouldn't be much of an excuse at this point in time; only Brook Lopez projects to remain out of Mike Budenholzer's rotation in the long term. Everyone else has had sufficient time to recover and acclimatize to the new roster and system. It's just getting increasingly difficult to find excuses for the way they've played these days.
And thus, for better or worse, fans and media alike hardly gave the Bucks their flowers as the defending champions for what feels like the entire season so far. The reason for that is getting clearer by the day: they haven't done much to deserve it lately. It's getting harder to ignore as the Bucks continue to drop games against the ostensibly weaker competition: they just don't look as formidable on the basketball court anymore.
Unsurprisingly, sects of the Bucks fandom are pointing to the trade deadline as the only saving grace for Milwaukee's title repeat hopes this season. As trade proposals come in by the dozen, cutting through the noise looks to be an arduous task more and more. Here's a quick assessment of the trade proposals that have been floated for the defending champs as of late.
The deer needs size (that shoots) heading into the playoffs
Let's start with the ones that have actually been proven to be at the very least possible. Per Bleacher Report's Jake Fischer, the defending champions have already reached out to the Houston Rockets to inquire on the availability big man Daniel Theis.
Bigs like Theis definitely give the Bucks more breathing room in the absence of Brook Lopez. Even though they've adjusted quite gracefully by slotting their Finals MVP into their center rotation, the Bucks have no doubt felt the absence of their starting big man all season long.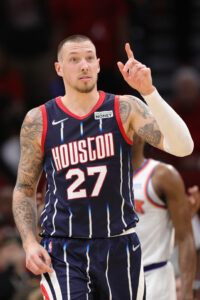 At the same time, Theis doesn't stroke the basketball from range as dependably as Lopez does. He's shooting just 29.1 percent from distance on three attempts per game en route to 8.4 points per contest. That's not to say a slasher like Giannis won't improve those numbers; Giannis has an extensive history of bringing the best out of the shooters around him with his All-World gravity. But he's also nowhere close to being of the same caliber when it comes to protecting the rim from opposing scorers.
The Bucks certainly have the assets to pull this off. Houston is looking for more youth to develop to bolster their rebuild. Pieces like Jordan Nwora and Donte DiVincenzo could definitely benefit from a change in scenery and a boost in playing time, as the former is quickly making a name for himself as an exciting young scorer who can stroke the rock from distance. As it is, the Rockets already have former Bucks in Christian Wood and DJ Augustin to strengthen their culture, too.
One trade proposed by a fan submission to The Athletic (subscription required) sees the Bucks landing Kenrich Williams and Mike Muscala in exchange for a robust haul of Jordan Nwora, Rodney Hood, Semi Ojeleye, and two second-round picks.
This one seems more reasonably solely because of the 6-foot-10 Muscala's 42.9 three-point percentage on nearly four attempts per game. For a litany of (arguably) non-playoff performers, the Bucks get a bigger and more stretchable center than the aforecited Theis, while also getting the playmaking and ball-stopping of a big guard like the 6-foot-6 Williams.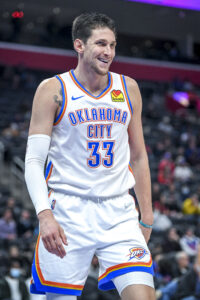 Muscala is probably the best Lopez replacement the Bucks can ask for right now given their dearth of trade assets. He still doesn't bring the same rim protection and interior scoring, but he's already a better floor-spacer than the 7-foot Lopez who only sank 33.8 percent of his triples in the championship-winning season.
Separate trades pitched by ClutchPoints have Mo Bamba heading to the Bucks in exchange for Donte DiVincenzo and Semi Ojeleye. On its face, its a straightforward and equivalent exchange where the money seems to work out nicely for both sides.
In a vacuum, this trade makes sense for a number of reasons. Shipping out DiVincenzo and Ojeleye — two athletic wings who provide defense and spacing — in exchange for a big rim protector is an equalizer of a move more than anything else. It makes the defending champs a more balanced team while also plugging in one of its more gaping holes on defense.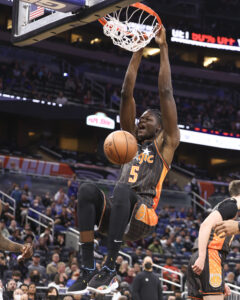 Bamba would be the perfect big to place next to Giannis owing to his rim protection and relatively decent mobility on the perimeter. He definitely gets closest to Lopez's near-elite blocking ability at the rim while maintaining a respectable shooting stroke from beyond the arc at 35.3 percent for the season.
Another eye-raising trade also proposed by ClutchPoints sends former Sixth Man of the Year Montrezl Harrell to Milwaukee in exchange for the same two players plus Rodney Hood.
What should be the biggest priority consideration when it comes to assessing the potential of Harrell is that he is in no way a floor-spacer at his position. Harrell has carved out his place in the league with a tireless work ethic on the glass and a physical approach to scoring in the interior.
Lopez is by no means as elite a three-point shooter as his Splash Mountain nickname would imply. Portis, though, has been an excellent long-range bomber in his new role as a full-time starter for the Bucks. But it's their respectable numbers from deep that open up defenses to allow Antetokounmpo to wreak havoc in transition. This is why the Bucks should be looking for size that shoots.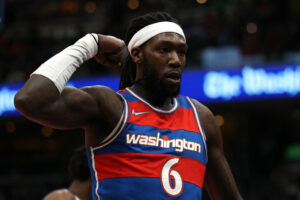 And even though Harrell adds girth, he hardly brings any size. To put the numbers into perspective, his 6-foot-7 stature is equal to that of Khris Middleton. He's also just inches away from Connaughton and Ojeleye.
Regardless, if either of these trades come through, it will be interesting to see if the boost on the defensive end will be worth the significant dip on the offensive end caused by the lack of spacing bogging down an offense built around the talents of Giannis Antetokounmpo.
Defense won their last championship
More than anything else, it was a league-best ball-stopping acumen that left the Bucks as the last team standing in last year's playoff race. This can mean that the Bucks should double down on this identity by patching the holes in their interior defense.
On the other hand, though, it could also be said that this is precisely the reason why the Bucks should also be careful with trading DiVincenzo. While he is objectively their most attractive asset — both in terms of age and contract — he also provides them quite a few things that are hard to find in the trade and free-agent market later on as a tireless defender and near-elite rebounder. This is evidenced by the substantial number of teams who have already shown interest in the young guard according to Micahel Scotto of the HoopsHype podcast. Defense won the Bucks a championship, and letting good of elite perimeter defense to load up on stouter interior defense may not be the right direction moving forward.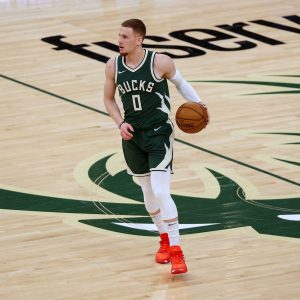 ClutchPoints also pitched a number of trades that might solve this problem. For varying packages centering on a combination of DiVincenzo, Ojeleye, Rodney Hood, and George Hill, the site proposed gunning for pieces like Justin Holiday, Robert Covington, and Tyrese Haliburton.
On paper, it would seem like Covington is easily the best piece out of those three given what he can bring to the team. So far this season, though, the 6-foot-7 forward is holding opposing forwards to a very lukewarm 47.9 field goal percentage as the closest defender, per NBA.com/stats. His defense just hasn't been the same as years past when he was recognized as one of the league's premier defensive swiss army knives. He still does provide a bit of defensive versatility, though: he's also holding guards and centers to 44.1 percent and 47.1 percent efficiency, respectively.
However, given the possible asking prices of the other teams, it's looking like Holiday might be the most realistic trade. There's really no reason the Sacramento Kings would give up a player like Haliburton only to take a slightly worse player with a very similar skillset like DiVincenzo in return.
That isn't to say it wouldn't be an interesting idea; Haliburton's playmaking and shot-creation would certainly breathe life into the Bucks' stagnant offensive production from a bench that relies a little too much on the gravity of Giannis Antetokounmpo to generate scoring opportunities. However, the young and lanky guard solves none of their defensive woes whether on the perimeter or inside.
Versatility is key moving forward
As the Bucks continue to recover from their Brook Lopez-shaped hole, it's important not to overblow the whole situation, even if he was absolutely an important part of the time. A year ago, the Bucks allowed the fewest number of shots taken six feet from the rim or less at just 29.4 percent according to NBA.com/stats. Without Lopez manning the middle, that number has only risen to 30.1 percent, which is good for fourth-lowest attempts from that area.
Size is a need for the team, but perhaps another more pressing area of concern is offensive output from the bench. The lack of a serviceable big man aside, the Bucks are also a team that just lost their defensive dog in PJ Tucker. Another big-but-switchable defender to put on the likes of Jimmy Butler and Kevin Durant would always be a welcome addition for a squad that now has to rely on Wesley Matthews to play that role for the time being. This far into the season, it's clear their Semi Ojeleye experiment isn't going to work out any time soon, and it's time to look for better options.
For this writer, multi-positional defenders who satisfy the team's need for size but also defensively should be top priority moving forward. Think defenders like Dorian Finney-Smith and, well, Tucker himself as the ideal archetypes — just defenders with all of the girth of the aforementioned but none of the youth, inexperience, and inconsistency of Ojeleye.
Considering the trade market, this means that the prime options as it stands are big wings like 6-foot-8 Thaddeus Young — who might still be bought out by the San Antonio Spurs later on — and the likes of Covington, who was just recently traded to the Los Angeles Clippers. Cam Reddish, too, could seek a buyout given the lack of available opportunities for him on the New York Knicks roster. And among the names floated, Justin Holiday seems most equipped to take on that role given his 6-foot-6 frame and excellent shooting stroke.
Regardless of whichever route they choose to take, Milwaukee's front office evidently has their work cut out for them as the trade deadline draws closer. It will be interesting to see what moves they make to gun for a repeat with their Big 3 in tow.