Undefeated bantamweight prospect Mo Miller joins The AllStar's John Hyon Ko ahead of his fight with Johnny Campbell on Nov.14 at Fury FC 53: Lookin' For a Fight in Colorado USA. "Mo Show" talks about the Campbell matchup, getting snubbed at the Contender Series, improving off every performance, and more.
Watch this video and more on The AllStar YouTube channel.
---
Fighter profile
Mo "Mo Show" Miller is a 29 year old male fighter from United States with 6 pro wins and 0 losses. Miller is scheduled to fight Johnny Campbell at Fury FC 53: Lookin' For a Fight on Sunday November 14, 2021.
Mo Miller's recent form coming into this matchup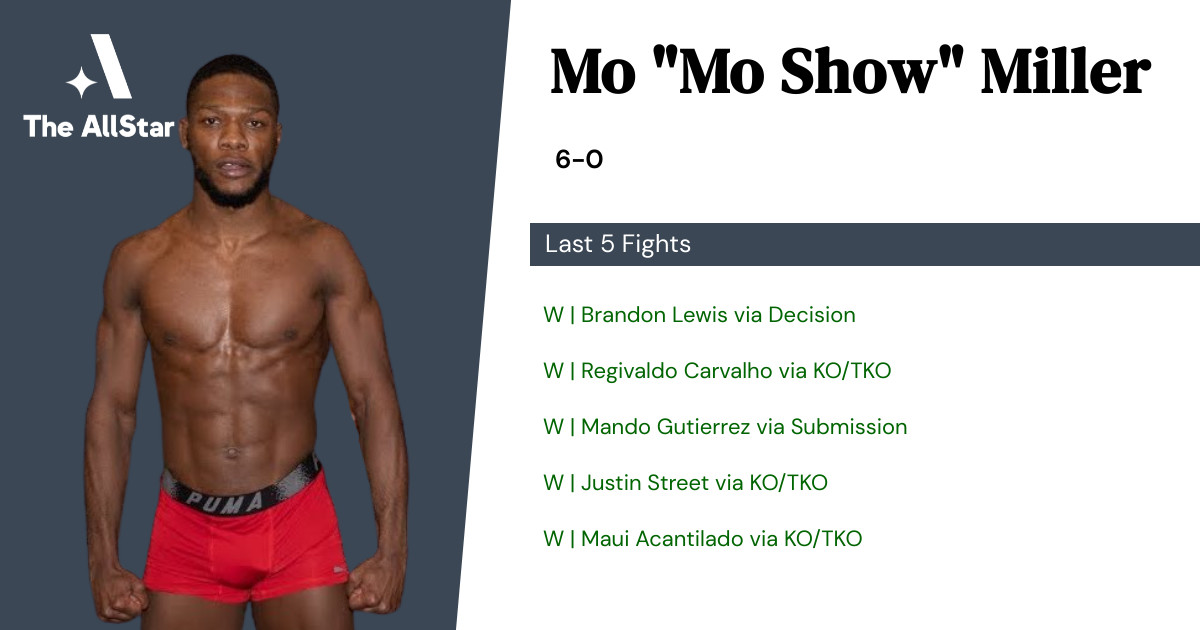 Mo Miller has gone 5-0 in the last 5 professional MMA fights.
Win vs Brandon Lewis • Decision R3 5:00 • 2021-09-14
Win vs Regivaldo Carvalho • KO/TKO R2 2:57 • 2020-12-04
Win vs Mando Gutierrez • Submission R2 4:26 • 2020-09-04
Win vs Justin Street • KO/TKO R1 1:15 • 2020-02-22
Win vs Maui Acantilado • KO/TKO R3 4:07 • 2019-11-16