OG Anunoby drew buzz early this year to win the Most Improved Player of the Year award or perhaps even to smash his way into the All-Star game. Indeed, he averaged 20.6 points per game over the first 10 for the Toronto Raptors — which erstwhile-leading-scorer Pascal Siakam missed with a torn labrum in his shoulder. To that point, Anunoby's career high in points per game over a full season was 15.9, set in 2020-21, and Anunoby was blowing it out of the water. 
But beneath the surface, Anunoby's numbers were shaky. He was shooting 41.7 percent from the field, which was dramatically worse than his 48.0 percent in 2020-21. The Raptors were more or less playing equally with him on the court or on the bench, which was a huge step back from his marks the year previous. All in all, Anunoby's scoring may have been up, but his impact was down. That turbulence — dissonance between role and performance — has to some extent defined his season. His struggles were quiet because the Raptors were winning — in fact, the only extended stretches of losing the Raptors have endured this year have coincided with Anunoby's absences. But now that he's turning his season around, his successes have remained covered with muted applause. 
The main issue for Anunoby early in the year was his underdeveloped self-creation ability. He has long been a talented scorer, shooting above-average-for-his-position percentages from deep and at the rim in four of his five seasons. But so much of his scoring entering this season saw the opportunities created by his teammates. Last year, 70.3 percent of his points were assisted, as the vast majority of his used possessions came via spot-up jumpers, pump-and-drives against rotations, and cuts. When he did create for himself, it was often in transition.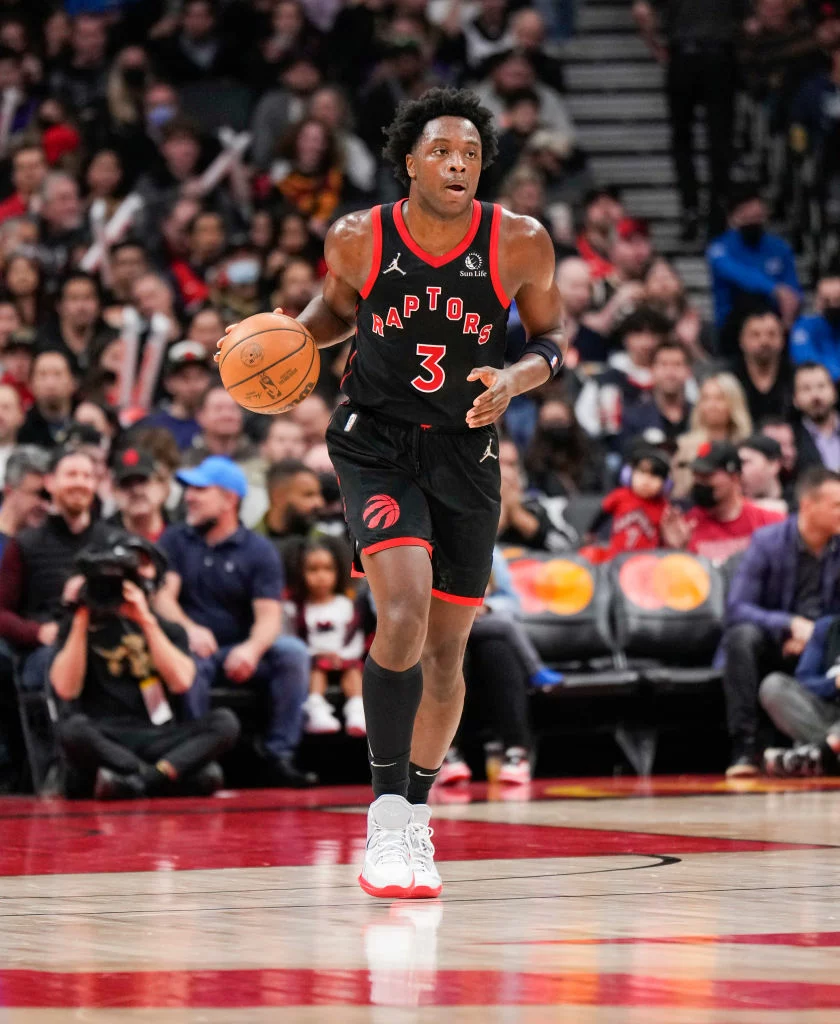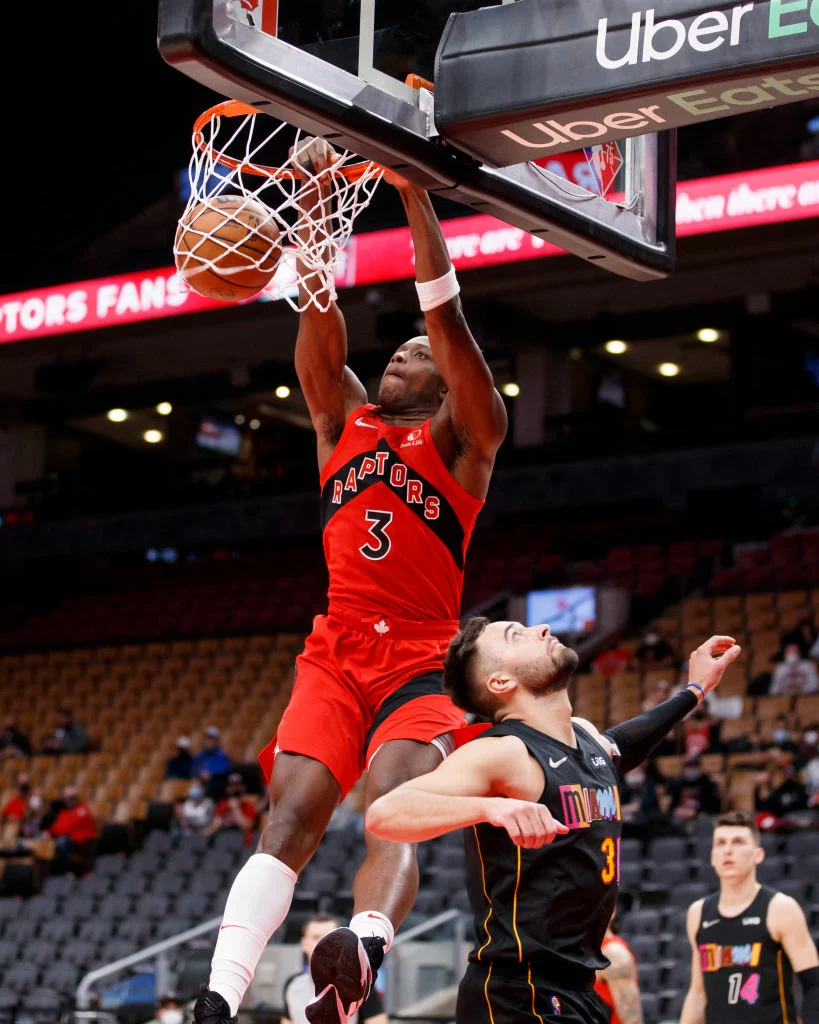 This season has seen a far larger share of self creation for Anunoby. During the month of November, for example, his share of points that were assisted or unassisted were almost split 50-50. He averaged 5.4 pull-up jumpers a game while Siakam was out with injury — and connected on 29.6 percent of them. Among those with five or more pull-up jumpers attempted per game to Nov. 5, Anunoby had the fifth-lowest percentage.
Those difficulties didn't entirely disappear when Siakam returned. During November and December, Anunoby's pull-up attempts remained high, while his accuracy remained critically low. But by and large, he started to drift back to himself. His attempts within 10 feet rebounded from sub-50 percent accuracy to a much more Anunobian 61.1 percent. 
Everything seemed to be coming together, and the Raptors not coincidentally enjoyed separate six-game and an eight-game winning streaks between New Year's Eve and the All-Star break. Meanwhile, the stars in Siakam and Fred VanVleet saw their contribution grow and grow; as often happens to Anunoby, his comeback story lost oxygen to flashier players during — or perhaps because of — Toronto's hot streak. The Raptors found themselves winning, and Anunoby found his role shrinking, and those two facts coinciding were not a coincidence. 
---
---
But then came another blow. At some unrevealed point (but perhaps Feb. 12, as discovered by perceptive internet sleuths — also, perhaps earlier, as Anunoby spoke in March about it having hurt for months), Anunoby fractured his right ring finger. He played with the injury, likely undiagnosed, for some number of games, and saw his shooting numbers plummet, and then he sat for 15 games to allow it to heal following the All-Star break. 
Since returning in mid-March, he's been back to spending a larger share of his time doing the things at which he excels. He's been automatic from distance and at the rim, and he's also taking fewer pull-up jumpers than he has all season. His scoring is down to where it was last season, averaging 17.3 points per game, but his impact has never been higher. 
Since his most recent return, the Raptors have had a net rating of 25.4 with Anunoby on the court and only 3.8 with him on the bench. Those on/offs would dwarf his career high of 6.5, set in 2020-21. He may be playing well in the same way that he always has, but that same qualifier of "well" has moved from important for the Raptors to downright crucial. The Raptors, currently in sixth in the east with a 45-33 record, have gone a middling 14-17 with Anunoby out of the lineup.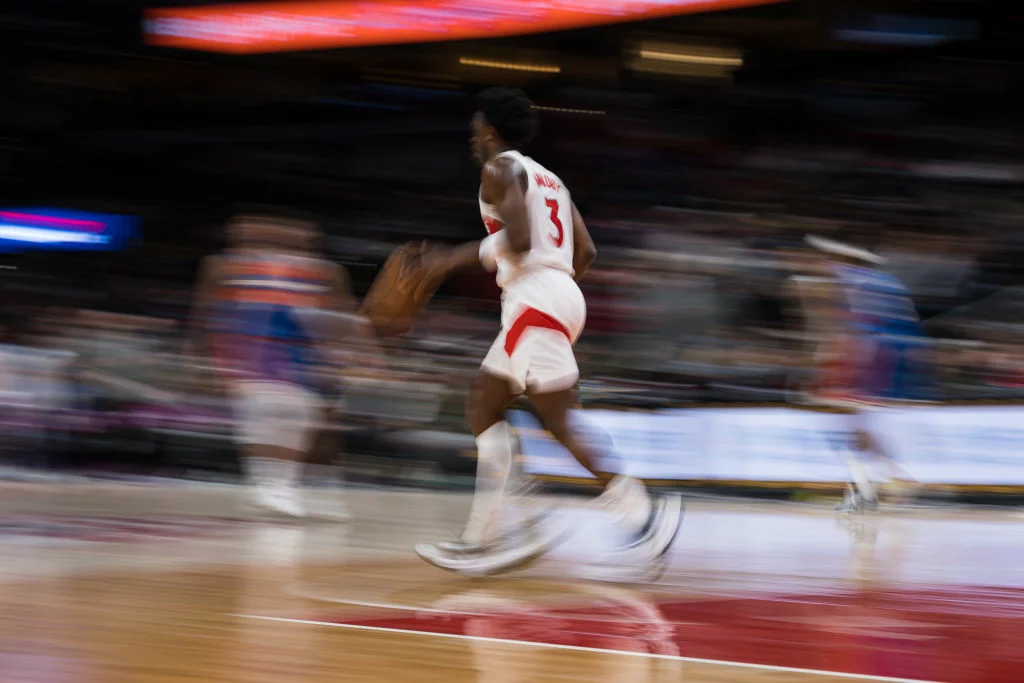 Part of Anunoby's outsized significance to the team is the fact that whereas the Raptors used to roster a host of shooters, they now only seem to have three: VanVleet, Gary Trent jr., and Anunoby. Defensively, the Raptors roster a huge number of players who resemble Anunoby physically, but he is still the archetype; his presence is the most important indicator of Toronto forcing opposing turnovers, which is definitive to their identity on both ends. He is arguably the best on the team at both locking up opposing scorers in isolation and stunting into the lane to muck up drives when his man doesn't have the ball. Now that Toronto's defense is finally settling into a solid groove with more consistent fundamentals, Anunoby's contributions on that end have even more value; a defensive stand is often defined by the weakest link, and now that Anunoby's teammates are making fewer mistakes, his iron-clad connectivity is better able to chain the unit together.
For those keeping track at home, Anunoby's season started low, rebounded, crashed back to the ground, and is now soaring to the highest point yet, with the team completely reliant on him. He is now, once again, out with a thigh contusion, though it doesn't seem to be a long-term injury. That's a roller coaster! Yet it's been incredibly underdiscussed on Twitter, in blog spaces, and in the pages of print media. Part of why Anunoby's seesaw season has been so invisible is because he still offers so much even when he's playing poorly. Even when he's missing pull-up jumpers, he's making them off the catch. Others' mistakes can be more visible — Chris Boucher comes to mind, sparking a dramatic peace summit with oft-critical William Lou. His successes, too, are less flashy than those of many of his teammates.
Anunoby's process doesn't change whether he's succeeding or not. His role changed, as he was forced into more offensive responsibility, for which he perhaps wasn't entirely ready. But he still took the same shots when they were available to him. His attention on the defensive end never wavered. Instead, the context of the team has shifted around his talents. That's not much of a headline (except, of course, here). So Anunoby's season has been hugely underappreciated. It's perhaps ironic that only now, finally, has Anunoby started fulfilling the expectations placed upon him in the beginning of the season. Just in time for those voices lauding his value to quiet and start to look elsewhere for their stories.
---