In the Toronto Raptors' relatively brief, 27-year existence, the amount of legendary playoff runs from individual players is slim. Of course, the Raptors won a championship in 2019, and the stars from that journey are all on Toronto's Mt. Rushmore. But only 10 playoff-long performances have ever included averages of 20 or more points per game, and five of those belong to DeMar DeRozan. The Raptors haven't had too many stars forged in the crucible of playoff success; however, we're in the midst of watching one more name added to the list: Pascal Siakam.
It feels strange saying that Siakam is adding his name to the list of legendary playoff performances considering he was Toronto's second-leading scorer in the 2019 championship run. He averaged 19.0 points per game then, but both he and the Raptors are in a far different situation in 2022. The Raptors are no longer frontrunners — both literally, as they're in the midst of trying to dig out of an 0-3 hole against the Philadelphia 76ers in the first round, and metaphorically, as without Kawhi Leonard they're no longer a championship favourite. And without Leonard and Kyle Lowry as well, Siakam is now Toronto's offensive hub, the determinant of success or failure on both a nightly and possession-by-possession basis.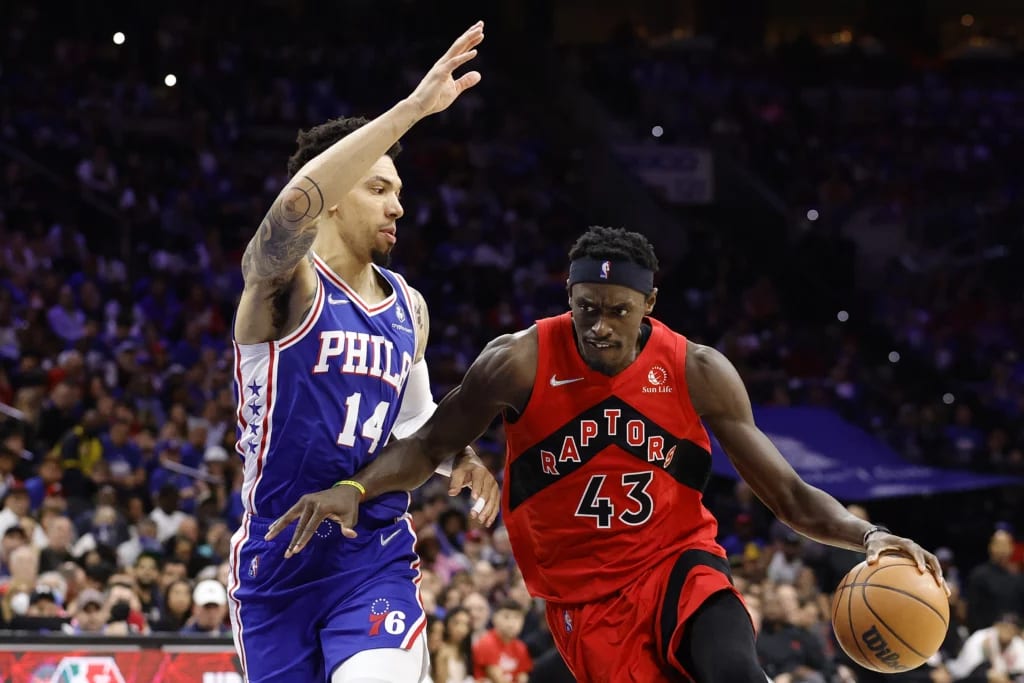 Finding workarounds for Philadelphia's defensive attention
The Sixers are making Siakam's importance to Toronto's offensive process the battlefield on which they live or die — their very own Little Bighorn in miniature. As a result, Siakam's shots have been harder than hard. He has taken the second-most 2-pointers after seven or more dribbles in the playoffs yet only the third-most on his team from within five feet. He's sixth in the league in shots out of isolation, yet he's 97th in 3-point attempts. All this means he's working hard for his shots — using huge portions of the shot clock — yet ending up with extraordinarily difficult looks regardless. The thesis of the analytics revolution was that shots at the rim and from deep are best, and Siakam is taking most of his shots in the dreaded space in between. All told, he has an expected 47-percent effective field goal accuracy, the lowest on the team.
And yet, Siakam is persevering, outstripping what that poor shot quality would predict. He's averaging 22.6 points, 7.2 rebounds, 5.6 assists, 0.8 steals, and 1.2 blocks per game on 48.9 effective field goal percentage, which benchmarks have only ever been accomplished by 18 players in history. (LeBron James, Larry Bird, Michael Jordan, Kobe Bryant, Clyde Drexler, Nikola Jokic, Kawhi Leonard, Kevin Durant, Blake Griffin, Charles Barkley, Paul Pierce, Giannis Antetokounmpo, Julius Irving, Tracy McGrady, Luka Doncic, Paul George, Victor Oladipo, and CJ McCollum. In all likelihood, hall of famers, almost all.) That Siakam is doing it while his team is shooting 32.1 percent from deep, fourth-lowest in the playoffs, is all the more incredible. There's almost no spacing around him, and the Sixers are begging Siakam to pass the ball to uncontested shooters, confident that their misses will pave the way to Philadelphia's victories.
Siakam had a low point, certainly. In Game 3, the Raptors led at one point by 17 — and the Sixers didn't lead until overtime. Yet Siakam didn't score a point in the second half and overtime, deferring to his teammates to shoulder the burden of creating looks. That stretch can't be ignored. But it is dwarfed by Siakam's positive contributions through the rest of the series.
Toronto's offense was actually quite good in Games 1 and 2, notching two of the team's 16 most efficient half-court performances of the year, including the regular season. He scored 34 points in Game 4 as he forced the Sixers to foul in his relentless pursuit of the rim late in the game. In Game 5, he tried to supersede Philadelphia's defense by forcing the ball into transition, both by throwing hit-ahead passes and by taking the ball himself. He didn't miss at the rim. Siakam has worked hard to find workarounds for Philadelphia's defensive attention, but the only answer to such attention is either to have teammates make shots (they haven't) or to make them yourself. He has. 
A Raptors legend in the making
So how does Siakam's performance compare to Toronto's history of 20-point-per-game playoff scorers? Let's go back to the aforementioned list. 

It's reasonable to say that Siakam doesn't compare to some of the players on the list. Leonard, of course, led the Raptors to a championship with Siakam sidekicking. Vince Carter may have lost to the Philadelphia 76ers in 2001 in a painful miss from the baseline that Leonard redeemed so many years later, but Carter still had an enormously impactful playoff run. 
Do any of the other playoff runs top Siakam? Toronto's current leader leads the list in assists and bottoms it in turnovers, meaning he's not only one of Toronto's best scorers in playoff history, but he's also the best creator among those top scorers. He is also in the midst of playing a near-immaculate series on the defensive end. The Raptors are keeping Siakam away from the ball — though he's been very effective in switches and isolation — because he's so fantastic at helping, rotating, and forcing turnovers while doubling Philadelphia's best player in Joel Embiid. All this to say, Siakam may be one of the best scorers in Toronto playoff history, but he's so much more than a scorer. 
It's certainly arguable that there are other playoff runs that could compete with Siakam's current offering even if they didn't cross the 20-point-per-game threshold. Kyle Lowry in 2019 comes to mind, as he helped Siakam and Leonard guide Toronto to its championship. And Siakam has only played in five games to this point — far fewer than some other impressive performances, like Lowry in 2016, for example. But purely on a per-game basis, Siakam must at least rank in the top five, beneath at the bare minimum individual runs from Leonard, Carter, and Lowry. That's legendary company.
Halfway to making history
And Siakam is far from done. The Raptors are on a two-game winning streak against the Sixers, which doesn't seem all that spectacular until you consider they are digging themselves out of that 0-3 hole in the series. Of course, no NBA team has ever won a series after falling behind by three games. Yet the Raptors are in total control of the series, with the Sixers scraping the bottom of the barrel for adjustments. Siakam is halfway to making history, not just for the Raptors, but for the NBA.
Siakam already made history in 2019 by winning Toronto a championship. But in some ways, he's doing much more now. Rarely has any NBA player done so much with so little space, yet Siakam is proving unstoppable even as an entire defense — led by All-Defensive Team member Embiid — is geared to stopping him. The Raptors haven't seen a player thrive in such circumstances. Even if the team falls short of its historical comeback, Siakam will have made history for his franchise.