Ray Cooper III has become a world champion in the new era with old-school tactics.
Cooper is set to face Magomed Magomedkerimov in the 2021 PFL Welterweight Tournament Championship on Oct.27 in Tallahassee, Florida. It is a rematch three years in the making and the Hawaiian slugger is looking for revenge.
The rules and regulations due to the pandemic have altered training camps for many high-level athletes, the farthest could be said for the returning 2019 tournament champion.
"I don't have all this fancy gear or fancy stuff that many of these gym guys use," Cooper told The AllStar. "I get on the road and run miles, I do my live rounds every day.
"It's real basic what I do. It's boring. It's a boring freaking training style but it works. That's what old school boxers, old school wrestlers that's all they do. They run miles and wrestle live rounds for hours and hours. It's boring but that's what it takes to be a champion. You gotta do the things constantly over, over, and over again until it's muscle memory."
Keeping it simple has allowed the Hawaiian slugger to once again slice through the regular season with much success. He has displayed another level this year yet Cooper does not feel the same about Magomedkerimov.
"There's nothing much he's the same guy," Cooper said. "He just wants to wrestle. There's nothing much to say about that.
"I already know what I did wrong [in the first fight]. And I already know what he gonna do but he don't know what I gonna do. He thinking I just gonna come in there, swing for the fences like last time, and just let him grab my neck. I'm matured from [2018]. I was real immature in that fight. Just fighting in a high-level promotion I think that got to me. I was real immature about it.
"I had ten fights in the first two years. This will be my 14th fight with the company. When you have that much experience, you grow as a fighter. I gonna punch a hole in his face when we meet."
There are no regrets for the 28-year-old "Bradda" but he has learned from every setback and will use those experiences to win another title and add another million dollars to the bank account.
"[Losing] doesn't define you as a man or as a competitor," Cooper said. "Everybody loses in anything you do. There's no undefeated guy ever to live. They had to lose some time in their life whether it's in sports or in life.
"I learned from what I did and I'm gonna fix that this fight."
Watch this video and more on The AllStar YouTube channel.
---
Fighter profile
"Bradda Boy" Ray Cooper III is a 28 year old male fighter from United States with 23 pro wins and 7 losses. Cooper III is scheduled to fight Magomed Magomedkerimov at PFL 2021 #10: Championships on Wednesday October 27, 2021.
Cooper's recent form coming into this matchup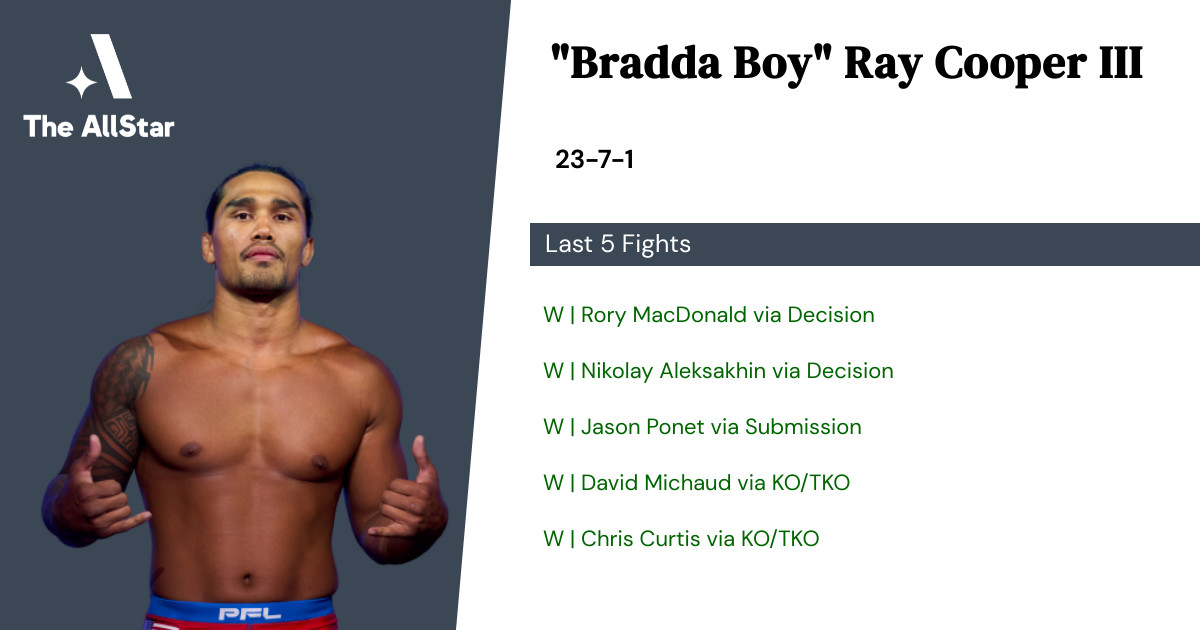 Ray Cooper III has gone 5-0 in the last 5 professional MMA fights.
Win vs Rory MacDonald • Decision R3 5:00 • 2021-08-13
Win vs Nikolay Aleksakhin • Decision R3 5:00 • 2021-06-17
Win vs Jason Ponet • Submission R1 1:23 • 2021-04-29
Win vs David Michaud • KO/TKO R2 2:56 • 2019-12-31
Win vs Chris Curtis • KO/TKO R2 0:11 • 2019-10-11