Raul Rosas Jr. made headlines recently by becoming the youngest fighter signed to the UFC – at 17 years old.
I was thrilled and ecstatic for him – and not exactly surprised that he got the opportunity. I trained with Raul earlier this year at Syndicate MMA in Vegas, and discovered first hand how skilled he was for someone so young.
At the time, I was still an active fighter training at Syndicate. I often watched my grappling trainer, former UFC welterweight Mike Pyle, train Raul and his brother Jessie.
They did private lessons before class and practiced things like cage wrestling, escapes, and pinning each other to ground and pound effectively. Pyle is a master. I often warmed up while casually observing their session. They were little beasts! I couldn't believe they were still teenagers – Raul at 17 and Jessie at 19.
One day during MMA class, I was looking for a good partner to work my take-down defense on. I was getting ready to fight Casey O'Neill and thought she'd shoot on me. Most training partners didn't want to shoot on me because grappling was my thing.
"Who should I ask to spar?" I asked Pyle.
Sparring with Raul
"You could try one of the boys," he said, referring to the Rosas brothers. "They'd give you a good look. Their wrestling is on point."
Great! I thought, They're strong but teenagers, so it'd be a good fit. They probably won't be as strong as adult men, and I have more experience because I'm older. I asked Raul if he'd be my partner. He nodded and smiled. He was always so polite.
I was excited, and wrong about the "good fit." The round bell went off and sure enough, Raul came right in and shot. I sprawled! Yeah, I did it!! My practice with timing had paid off……..oh no!
Then despite my best efforts, I felt myself being lifted completely off the floor. He carried me on his shoulders across the cage, and gently placed down. He then effectively pinned me, and began doing just what Mike had taught him to do. There was nothing I could do about it.
Well, somebody did the move of the day, I thought crossly, unable to move. At least he's nicely beating me up. I tried to scramble, but he was all over me for the rest of the round. I only managed to climb back to my feet once, and I think he let me. When he shot a take-down, I tried to out-wrestle him but to no avail.
Syndicate MMA
We trained side by side for a while at Syndicate. He and his brother hit mitts with their dad, did the MMA classes, and took lots of lessons with Pyle. They visited now and then for a year or more before finally moving to Vegas. Their father seemed to be a fan of mine and always greeted me politely every time we passed each other. I was thrilled when Raul got into the Contender Series. Even more thrilled when he won his fight!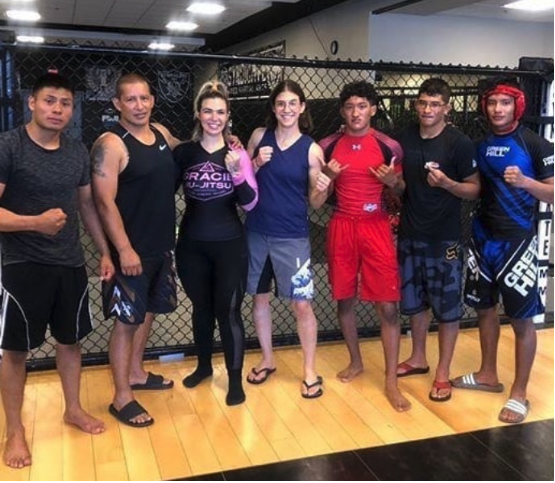 Raul, who turned 18 recently, is now the youngest signed fighter to the UFC. He deserves it! "The Problem Child" did nothing but work hard and earnestly apply himself to get stronger and better.
Is he too young? I think in the past, maybe yes. In this day and age, no. It's less about age and more about skill and athleticism.
Imagine this: Adults who started watching the UFC when it first become popular had kids and put them in jiujitsu or other martial arts. Recently, we entered the era where those kids are old enough to start fighting, and they've been doing it for as long as some adults!
Amateur career
Raul started competing in youth MMA when he was eight, and completed a record of 20 wins and 2 losses in the kids circuit. Let's say he started training when he was four or five. That means he's been training for 12 or 13 years!
He said he went to Italy and competed in the 14-15 year-old bracket, winning first place. He made his adult amateur debut at 15 years old. He's 6-0 as an amateur and 5-0 as a professional.
During his Contender Series fight, he looked like he wasn't even close to being tired. Do 17-year-olds even get tired? That's a huge benefit to youth. He'll probably gain even more strength as an adult, but he's shredded and strong right now.
His speed and flexibility coupled with amazing technique make him a huge threat to the bantamweight division. I think he'll become the type of fighter who beats everyone with his wrestling and jiujitsu while getting good enough in striking to hang on the feet and win on the ground whenever he wants.
Hopefully, the UFC will give him good match ups that allow him to grow and evolve at a good speed in the organization. Raul is very entertaining to watch, and a good example of earnest dedication. He's polite and humble with everybody in the gym, and I can't wait to see him fight more.