Soren Bak is outlining a return against a formidable opponent in the new year.
After starting his Bellator career with two straight victories, the former two-division Cage Warriors champion Bak dealt with visa delays that kept him out of the cage at the end of 2021.
With those issues about to clear up in early 2022, "The True Viking" is looking at the top tier of the lightweight division with a dream matchup in mind.
"Lightweight is such a big division almost anywhere in the world," Bak told The AllStar. "Looking at it right now, I think there are a few good matchups for me. I'm sure with my next victory I'm gonna be right there with them. And going [off] that, almost like a dream when I started MMA would be to face Benson Henderson.
"Back in high school, sitting in the back of the class a few times watching WEC and seeing him there. That's pretty much where my love for the sport started."
Henderson, the former WEC/UFC lightweight champion, is considered a legend of the weight class in many people's eyes. The influence 'Smooth' has had on the sport with calf kicks is not forgotten by the Dane.
"It is such an underrated technique," Bak said. "Just recently it started really stepping it up a notch in our gym as well. Don't get caught too many times, you're going to be on your back."
With what he has accomplished and his status in Europe, Bak has other options for his projected return in February.
"I saw [Myles Jury] last fight live and I could picture myself on his back," the 29-year-old said with a grin. "I don't know if I'm gonna be…if Bellator wants me against one of the top ten guys being that I'm just outside of the ranks.
"Maybe there's another guy right on the cusp of being ranked as well. Maybe that's where I have to put my energy for this fight and then we can pick a place in the top ten."
Watch this interview more on The AllStar's Youtube channel.
---
Fighter profile
Soren "The True Viking" Bak is a 29 year old male fighter from Denmark with 15 pro wins and 1 loss. Bak most recently fought Bobby Lee at Bellator 261: Johnson vs. Moldavsky on Friday June 25, 2021.
Bak's recent form coming into this matchup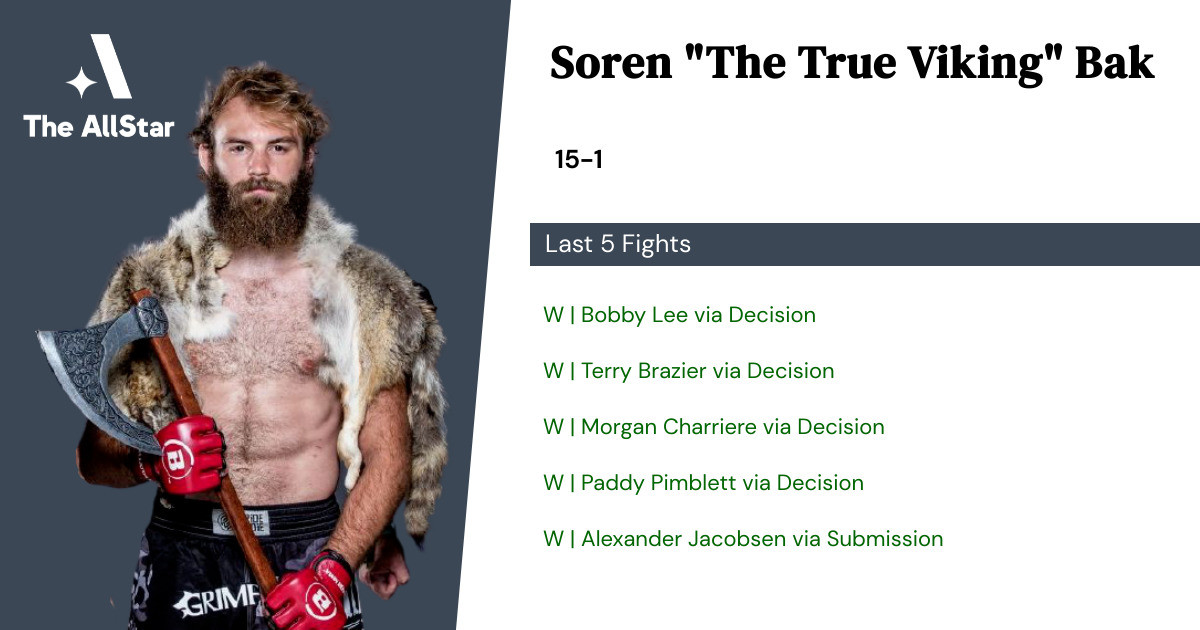 Bak has gone 5-0 in the last 5 professional MMA fights.
Win vs Bobby Lee • Decision R3 5:00 • 2021-06-25
Win vs Terry Brazier • Decision R3 5:00 • 2019-11-23
Win vs Morgan Charriere • Decision R5 5:00 • 2019-03-09
Win vs Paddy Pimblett • Decision R5 5:00 • 2018-09-01
Win vs Alexander Jacobsen • Submission R2 4:17 • 2018-04-28