Established in 1994, BetUS is the oldest of our recommended online sportsbooks. In the world of online gaming, longevity is an important point of differentiation as it points to trustworthiness and credibility. In this BetUS Sportsbook Review we'll explore the offering in detail so you can decide whether or not to sign-up with the book, deposit and play.
BetUS offers as wide a range of promotional bonuses as we have seen, including a 125% sign-up bonus, a 200% Crypto Bonus and a 300% Referral Bonus. The sportsbook offering is as comprehensive as other sites, and the lines stack up well against competitors.
A great feature that stands BetUS aside from other books is access to content on-site to help you make your betting decisions. The Locker Room is essentially their sports betting blog, while you can watch BetUS TV to see expert panels discuss the markets on the biggest games of the week across major sports like football, baseball, basketball, hockey and the big European soccer leagues.
BetUS Sportsbook Review
As far as the BetUS Sportsbook is concerned, the offering is comprehensive and competitive when compared with other sites – both in terms of the number of sports on offer and the breadth of leagues and competitions that you can bet on.
The site also offers a decent number of prop bets – on both games and individual players. Parlays can be built, though not as easily on some other sites.
| | |
| --- | --- |
| Pros | Cons |
| Available to US players | Low default bet limits |
| Simple, easy to use site | Low fiat limits vs crypto |
| Great onsite content for picks, news | Casino cross-sell in promos may not be for everyone |
| Stats-heavy info for markets/bets | No way to buy crypto on-site |
| Generous Bonuses; wide range of promotions | |
| Good withdrawal times | |
| Loyalty programme | |
---
Sports Betting Experience
BetUS is an online sportsbook with an in-depth sports offering that is broad enough and deep enough to hold its own with the competition. As one would expect, all major North American sports and leagues are catered for, as well as the other largest markets in global sports, such as all major (and many minor) soccer leagues across Europe and other parts of the globe.
| | | |
| --- | --- | --- |
| Football (NFL, NCAAF) | Boxing | Politics |
| Basketball (NBA, NCAAB) | Table tennis | Entertainment |
| Baseball | NASCAR | Volleyball |
| Ice hockey | Motor sports (F1, Moto GP etc) | Surfing |
| Golf | Rugby | Handball |
| Tennis | Esports | Novelty |
| Boxing | Horse racing | Bowls |
| Soccer | Cricket | Snooker |
| Martial arts (MMA) | Darts | "Other sports" |
| Horse racing | Cycling | |
The sports selection available at BetUS
For the next part of this BetUS Sportsbook Review, let's take a look at the site itself, which is rather stripped-down and simple. There's not much in the way of fancy bells and whistles here – or at least, not that is immediately obvious.
The UI isn't as slick as the likes of Stake, or even BetOnline, and it's nowhere near as comprehensive or busy as Cloudbet. Of our other recommended sportsbooks, it's stripped-down nature is perhaps closest to that of SportsBetting.
Some might appreciate this. Others might be left feeling wanting.
The main sportsbook page has an area near the top that displays your "followed" bets, and below that, a section for "Last minute bets" which lists matches/events close to going live should you want to get a last-minute bet on.
Here, for example, is the NFL Week 5 game market for the Las Vegas Raiders vs last year's Super Bowl team Kansas City Chiefs.

The three main markets – Point Spread, Moneyline and Total – are clearly listed along with (not often shown up front) Team Totals as well.
If we draw our attention to the three buttons just above the Totals markets, we can see:
A bar chart icon
A "Follow" button
And a "Markets" button.
Stats, Stats and more Stats!
Clicking on the chart icon is a revelation.
This opens a new window, populated with what can only be described as an encyclopaedic wealth of knowledge – an insane amount of information and stats to help inform your bet-making decisions.
The wealth if information is staggering, and it sets BetUS in front, in this reviewers humble opinion, of The AllStar's other recommended sportsbooks.
From the top, stats on the two teams in question – in this case, the Raiders and the Chiefs:
Moneyline records
ATS – Against the Spread – records
Over/Under records
Home/Away records
Underdog/Favorite records
Continue scrolling and you have Matchup Edge stats, which include team rankings for that stat in the league. At 32.25, the Chiefs are the leagues highest average scorers, vs #9 Raiders on 24.00.
The Chiefs also have a tendency to come out strong after the half – ranking #2 for points scored in the 3rd Quarter… but they also seem to have a tendency to tire, allowing 8.75 points to be scored in the 4th Quarter, vs the Raiders' 5.75 (#17). That's an interesting stat if the scores are close going into the final period.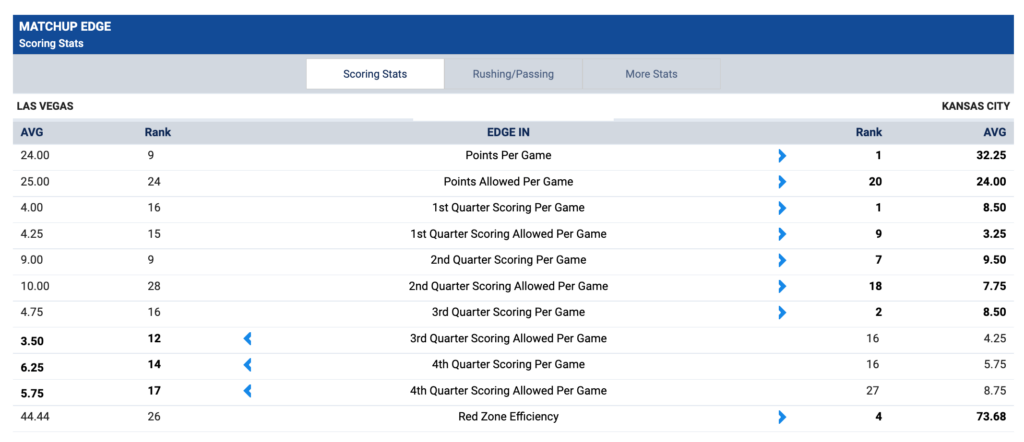 Next, we have some cool Hot and Cold trends – listed ATS & OU and Head-to-Head:

Below this follows extensive player news for both rosters (all 53 athletes), which gives way to historical data between the two teams. All the key stats are provided to help inform your bet on mainline markets, as well as yardage numbers that might help you settle on player props.
You can also toggle between:
Recent meetings between the two sides
Last 10 matches for Team A, and
Last 10 matches for Team B.
If that wasn't enough, you then get QB stats (Last 5 games and for the Season) and the starting line-ups for both teams in their previous games.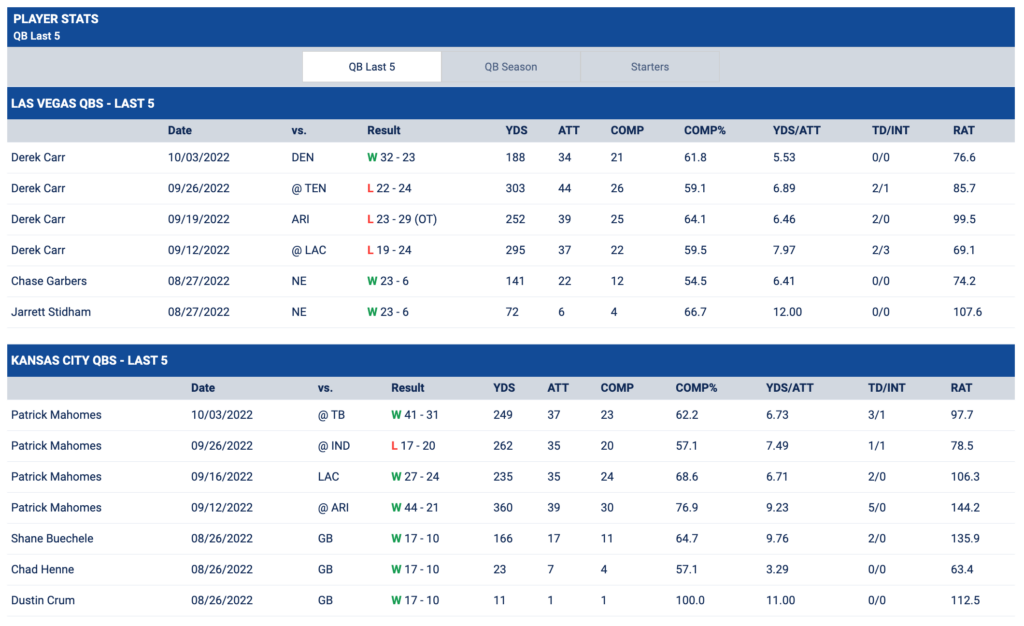 If this isn't immediately obvious to you, this is properly impressive.
And we're not done yet!
All of this is simply on the first default page when this window opens.
Clicking through the different categories – Scores, Standings, Statistics, Teams, Players, Injuries, Transactions and Drafts – gives you comprehensive news across the whole league.
What we have here is essentially easy access to an entire database of information across the NFL, NBA, MLB, NHL, NCAAF, NCAAB, PGA, Nascar and Soccer. It's a very clever way to repurpose this content over the vast majority of bets that players are likely to place across the site. A Gold Star to BetUS.
Like, Follow and Subscribe… kinda
The other two buttons on the market page are simpler to describe. Select the "Follow" button and this market will appear on the top of your sportsbook homescreen, simplifying future navigation. This is also handy if you know you want to place a bet on this market, but perhaps it's too early for the moneyline to have been set. This saves you having to click your way back to the specific market page every time.
Markets
Clicking on the Markets button takes you to all the different markets available on the game – in this case over 160 of them. Aside from the main lines, these include all the different, game, quarter and half markets, as well as all game and player prop bets.
Again, this just makes for simpler navigation and is user-intuitive.
---
Got Picks?: Watch BetUS TV, Read The Locker Room
None of our other recommended sportsbooks offer their own on-site content channels – so here, BetUS stands apart from the competition.
BetUS TV – Expert Picks and Predictions
BetUS TV shows focus on picks and predictions. With football season in full flight, there are NFL and NCAAF shows, plus "3 Dog Thursday" – which puts guests into an underdog survivor competition.
MLB, NHL, NBA, NCAAB, Boxing and European soccer – EPL, La Liga, Serie A, Bundesliga, UCL and Europa League – are all covered.
All this content is also on BetUS's YouTube channel.
The Locker Room – More than Wet Towels
The Locker Room is a team news, picks, best bets and bad beats blog.
With articles on all the big weekly sports events, you'll find previews and picks for the NFL week-to-week, college ball, MLB, tennis, hockey, UFC, golf and more.
There's also a Free picks and Parlays page not to miss.
---
How it Works – Laying a Bet
As mentioned already, the site itself and the UI is pretty stripped down, but it does have some really cool functionality that other sites don't.
Once you select your sport – Basketball for this example – the site displays all available markets across all the various leagues (this screenshot is a small sample). From here, you can select exactly which markets you wish to see by ticking the relevant checkboxes.
Click "Display Selected" and you are shown only those markets you checked, which in this case means three different leagues displayed on one page. This is way different from most sites where navigation logic usually follows Sport > Country > League – meaning if you want to check more than one league you need to navigate back out and click through another country vertical.
Here, BetUS shows you exactly what you want to see, across three leagues, on one page. Which also make comparison of lines a lot easier too.
Honestly, this feels like a brilliant feature on BetUS's part. Another bells-and-whistles feature laying low. Very impressive.
However, before we start sounding too overtly positive, there are small things that BetUS could improve, and one fo those is its betslip and how that works.
The Betslip
The BetUS betslip is pretty functional and unspectacular.
As you add bets, you have the ability to create Parlays.
If the bets you select are relevant, you can create Teasers (big in NFL betting), If Bets and Reverse bets (Reverse teasers, sometimes aka "Pleasers").
So far there has been almost nothing negative to say about BetUS, but this is one area that could be sharpened. Moving around the betslip, adding and removing bets, creating parlays is a little bit clunky compared to the bet-building tools that some other sites offer.
---
Sign-up Bonuses
Next in our BetUS Sportsbook Review, a topic that most people are usually intersted to explore – what can I get when signing up?
While all sportsbooks generally offer numerous promotions, they usually have only one main sign-up or Welcome Bonus along with other top-up/reload bonuses or special offers linked to sports.
BetUS offers a choice of two first-time deposit bonuses – a 125% Sign-up Bonus and a 200% CryptoBonus – plus there's a significant referral bonus you can claim too.
And they all come with some pretty generous, eye-catching headline numbers.
1. 125% Sign-up Bonus, Up to $3,125
If $3,125 sounds like a fairly random total, the sign-up bonus is divided 100% to the sportsbook – capped at a more rounded $2500 – and 25% to the casino, up to a further $625.
The minimum deposit is $100, and while there's never a cap on your first deposit (beyond that dependent on the method of payment; see section below), the 100% matched bonus for the sportsbook tops out at $2500 and is subject to a 10x rollover requirement.
The smaller portion of the sign-up bonus, the 25% casino bonus tops out at $625 and requires a more significant 30x rollover for release and cash out.
A very important condition to note, is that this bonus expires within 14 days, so you'd have to play pretty hard straight out of the gate.
2. 200% Crypto Bonus, Up to $5000

The 200% Crypto Sign-up Bonus is also split between the sportsbook and the casino – in this case, on the basis of a 150% / 50% split.
The minimum deposit is again $100, and the maximum deposit is $2500. BetUS accepts Bitcoin (BTC), Bitcoin Cash (BCH), Ethereum (ETH) and Litecoin (LTC).
The 150% sportsbook bonus means you can receive a maximum $3750, subject to a 15x rollover requirement – bigger than the 10x requirement on the 125% Sign-up bonus.
The 50% casino bonus means you can receive up to $1250, subject to 30x rollover – the same level as the 125% bonus. For the casino there is a $5,000 maximum release and cash out.
This bonus is also subject to a 14-day expiration.
Lastly, BetUS sweetens this offer by saying that use of this bonus unlocks a further two 100% matched bonuses on your two next crypto deposits, both up to $2500, leaving another potential $5000 in bonus funds on the table (see Re-up bonus below).
3. 300% Referral bonus, Up to $6000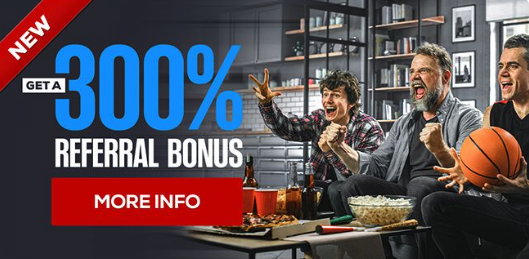 Follow the instructions to sign-up a friend, and you can receive up to 100% of their first three deposits, capped at $2000. You can refer three friends, taking your potential bonus up to an impressive $6000.
The referral bonus is split 50/50 between sportsbook/ casino, with different rollover requirements and withdrawal caps (Sportsbook: 3x and $1000; Casino 30x and $750).
Refer a friend and you have a chance to win prizes in monthly Raffle Contests as well.
Rollover requirements
While sportsbooks will make generous offers to entice you to sign up with free money, there are, of course, strings attached. This is the norm in the industry, and it's important that you're aware of them.
If you are new to the world of sports betting, or online sportsbooks, you may not be familiar with the notion of rollover and how it works.
If your $2500 of free play funds carries a 1ox rollover requirement, it means you are required to play through that amount 10 times – $25,000 – before you can withdraw any of those funds.
Rollover is also not just as simple as counting that amount of money you have wagered. Generally speaking, a sportsbook takes the lower of funds at risk (funds you bet), or won, to count towards your rollover. If you back a favorite to win, you risk more to win your $100 than if you were to back the underdog.
For example:
Bet A is $250 to win $200. The win amount of $200 is lower than the $250 at risk.
Bet B is $100 to win $150. The $100 at risk is lower than the $150 win amount.
These two bets would count $300 towards your rollover requirement – not the $350 in total that you have wagered.
Stacks up well
Compared to other online sportsbooks, BetUS's rollover requirements on sportsbook bonus funds is not too extreme, and as a selling point this shouldn't be underestimated.
The rollover requirement on the 125% first-time deposit bonus is 10x, and on the 200% Crypto bonus it's 15x.
Let's compare this to some of our other recommended sportsbooks.
BetOnline's Welcome Bonus comes with a 10x rollover requirement if you deposit with fiat currency, and a 14x requirement on crypto deposits – which is almost identical.
Bovada has a very low 5x requirement on its welcome bonus, in stark contrast to Stake, which carries a 40x requirement.
BetUS
Welcome Bonus
BetOnline
Welcome Bonus
Stake
Welcome Bonus
Bovada
Welcome Bonus
Fiat
125% matched up to $3125 split 100% sports (10x) and 25% casino
50% matched up to $1000 (10x on sports)
–
50% matched up to $250 (5x on sports and horses)
BTC
200% matched up to $5000 split 150% sports (15x) and 50% casino
100% matched up to $1000 (14x on sports)
200% matched up to $1000 (40x)
75% matched up to $750 (5x on sports and horses)
How BetOnline's Welcome Bonus stacks up against the competition.
Other Bonuses (Sports and Crypto, ex-Casino)
10% Cash + 20% Casino Bonus: Up to $2500. Min deposit $100. 10% cash subject to 3x rollover. 20% casino 30x.
100% Sports Crypto Bonus: Up to $2500. Min deposit $100. 10x rollover on sport. First crypto deposit bonus.
2x 100% Crypto Re-up Bonus: Up to $2500. Min deposit $100. 10x rollover on sport. Can be used twice, but only in conjunction with the crypto sign-up bonus (see above).
Re-up 50% Cash Bonus: 50% extra on every crypto deposit. This is also linked to FP funds and the Loyalty Program (see below).
Re-up 20% Cash Bonus: Up to $500 on crypto deposits. Max deposit $2500. 6x rollover. Must make a real money deposit of $100 to be eligible. Cant be used in conjunction with the 50% re-up bonus.
Weekly $25 Free Play and $10,000 Log-in Lottery
Players get $25 credited to your Free Play Balance every week, simply for logging in – and you're entered into a $10,000 weekly log-in lottery.
Free Play (FP) funds carry 10x rollover and a $100 max cashout. There are others terms and conditions attached too, so always understand how bonus funds work.
Read the T&Cs
Other terms and conditions which we have not covered here will apply to all of the bonuses described above. We cannot stress enough the importance of reading all the T&Cs, and understanding the implications, rather than making any assumptions you may regret later.
For example, it's important to know that FP funds can only be used for straight bets, two-team teasers and three- and four-team special teasers, on lines between +140 and -200. At this level, a $25 FP bet isn't going to exceed the $100 max withdrawal requirement, so you'd be OK. A $50 bet at +140 however, would.
If you want to bet using FP funds, you need to specify this on your betslip by checking the FP checkbox. If you don't see an FP checkbox, you need to use real money funds for that bet. In other words, there are restrictions compared to real money funds on what bets you can make with bonus money.
Click here to read the Bonus Rollover Rules and Free Play Betting Rules.
---
Loyalty Rewards
BetUS does have a tiered Loyalty programme to reward its customers for playing. To qualify for membership you only have to deposit $50 and place one bet.
Sports bettors get points when they bet, which accumulate through the year, or "season" (Aug 1 – July 31). The book differentiates between "season points" and "lifetime points".
Wagers of $5 (minimum bet) to $500 earn 1 point per dollar wagered. A $100 bet earns you 100 points.
Wagers of $501 to $1000 earn 1 point per $1 for the first $500 and then 1 point for every $2 wagered above that. A $700 bet earns you 600 points (1×500 + 0.5×200 = 700).
Wagers of $1001 or above earn 0.25 points per $1 wagered after the $1000. A wager of $1400 earns you 850 points (1×500 + 0.5×500 + 0.25×400 = 850)
Bets placed using Free Play funds do not accrue loyalty points.
All new players start as Blue members. The accumulation of 5,000 season points earns you Silver status; 12,000 season points, Gold status.
The Loyalty Program is another way BetUS tries to cross-sell its casino, allowing members to enter casino tournaments based on their tier. The amount you can win is in the table below. All prizes from these tournaments are credited to your BetUS account as real money, with no rollover – which is quite a nice touch.
Other perks include Welcome Free play funds when you move up a tier, and extra percentages added to your deposit bonuses in the top three Platinum, Diamond and Black tiers.

BetUS Mall
Lastly, players can use their loyalty points to buy FP funds as illustrated below, or go to the BetUS Mall to exchange points for merch. Alas, in our newbie status the only merch on offer was a branded face mask… a relic of a bygone pandemic era!
We'll be sure to play more to find out what else might be available down the track…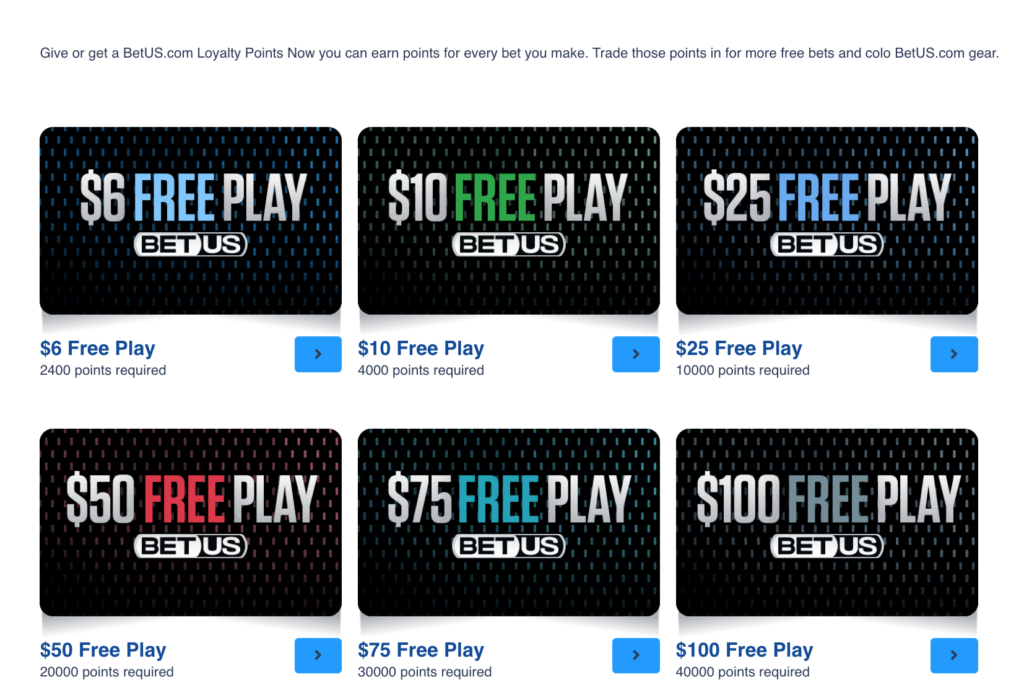 ---
Deposits, Withdrawals and Limits
You can deposit fiat currency at BetUS via credit card, MoneyGram, cash deposits and bank transfer. You can make crypto deposits in four coins – Bitcoin, Ethereum, Bitcoin Cash and Litecoin, although there is no way to purchase crypto on-site. This means players need to have already bought their cryptocurrency elsewhere before depositing.
While crypto is offered, and there are specific bonuses structured around depositing crypto, BetUS does not push this as hard as other online sportsbooks. Anyone not accustomed to crypto may appreciate this fact.
Playing with fiat
You can deposit funds to your BetUS account directly using a credit card – Visa, MasterCard and American Express – or call a service operator to help with money orders, bank wires or deposits via person-to-person platform MoneyGram.
Playing with crypto
You can only play with four cryptocurrencies at BetUS, which is limited when compared to BetOnline's 15 and Cloudbet, which now offers 30.
Deposits and Withdrawals
The tables below summarise the information we found on the BetUS website:
| | | | | |
| --- | --- | --- | --- | --- |
| Deposit method | Min deposit | Max deposit | Fee | Restrictions |
| Credit Card (Visa, MasterCard, AmEx) | $50 | $2,499 | As per card provider | Limited to 15 transactions per month, 7 per week and 2 per day. |
| Cash transfer / Bank wires | – | – | As per service provider | Customers must call 1-888-51-BetUS (23887) to organize these. Limits will vary depending on proof of funds available. |
| MoneyGram | $100 | $500 | As per service provider | Every 15 days. |
| Bitcoin (BTC) | $10 | $50,000 | No fee | |
| Ethereum (ETH) | $10 | $50,000 | No fee | |
| Bitcoin Cash (BCH) | $10 | $50,000 | No fee | |
| Litecoin (LTC) | $10 | $50,000 | No fee | |
BetUS's deposit options
Customers can only make five sub-$100 transactions every 30 days.
When it comes to withdrawals, BetUS doesn't offer much in the way of definitive information that applies across the board. Instead, they encourage you to call their service agents (1-888-51-BetUS (23887)) and speak to them directly.
We're torn here – on one level this can be seen as an effort to deliver solid customer service, but on the flipside it would be nice if the basic information were available, especially if you're based outside the US.
Same-Day Crypto Payouts
Crypto withdrawals may take 24-48 hours to review after the request has been made, but once it is deemed "PAID" funds should appear in your wallet within 1-2 hours. The site makes a point of noting that fund withdrawal requests are reviewed on a 24/7 basis.
Traditionally, fiat payments take longer to settle – usually around 3-5 business days. For some who like to bet with cryptocurrency, this is a major factor why they choose to do so.
---
Customer Support
As soon as you log in to the site, a Live Chat window with agents online 24/7 opens. That might irritate some, but at least it's there and can be harmlessly minimized.
A phone icon also sits on page allowing you to face time support as well.
Be warned though, that if you ask very specific questions about rules and regulations, terms and conditions, or specific wagering questions, these agents will ask you to call the same 1-888-512-3887 number. So again, this may prove frustrating if you are non-US based or simply the type of person in this day and age who prefers not to have to talk to people.
---
Trustworthiness
Operating for Almost 30 Years
In the world of online gaming, longevity is an important point of differentiation as it points to trustworthiness and credibility. Sites with long operating histories are – quite rightly – proud of their legacy and often boast about it.
BetUS is no different, proudly displaying the fact that this is its 29th year of operation.
Negativity is Part of the Game
Although BetUS has in the past had issues with complaints about payments and settlements, the fact is that practically every online sportsbook has, at some point had to deal with similar claims. It's an almost inevitable part of operating in the online world where anyone – and often it seems everyone – can, and does, have a voice and can make themselves heard.
Online sportsbook having to deal with accusations of scamming, or illegitimate practices levelled at them by unsatisfied customers is a part of doing business in the space. We're not saying that at times these complaints aren't legitimate, but at the same time the sportsbook is not always in the wrong.
This is why we urge you, for example, to read all the specific terms and conditions that apply to bonuses and promotions, because those funds, or free funds, will – we guarantee it – be treated differently to real money funds that you deposit yourself. So if a sportsbook rejects your request to withdraw these funds, the chances are you haven't met the very specific requirements that are applicable – rather than the site being there to act simply as a scam to taxke your hard earned money.
---
Is BetUS Legit?
Put simply, Yes. The site has been in operation for almost 30 years, and in the online sportsbook and casino space, that delivers a sense of credibility and trustworthiness that can't be gained any other way.
BetUS is fully licensed under the authority of Gaming Curacao.
For players based in the US looking to place sports bets online, it is a serious contender and definitely one of our top recommended sportsbooks.
---
How quickly does BetUS payout?
Fiat currency payouts will vary and depend on the method of withdrawal/settlement. Typically, this would be around three to five business days if the intermediary is a bank.
For crypto withdrawals, your request to withdraw funds will be reviewed within a 48 hour period, and once approved, funds should appear in your wallet within two hours.
Does BetUS report to IRS?
No online sportsbook will report to the IRS, and BetUS is no different.
In the US, gambling winnings are taxable, and the IRS requires you to state them as income on your tax return. However, this has nothing to do with BetUS, or indeed any other source of your gambling winnings.
It's real money – meaning you can win and lose it – but like other sportsbooks, your BetUS account will have two types of funds in it – real money funds that you deposit, and free-play funds that are given to you for loyalty, in promotions, or as bonuses.
Both are real money in that your account value will show a dollar value total, but they will have different rollover requirements and may be subject to different withdrawal limits.
Visit BetUS
Sign-up Bonus up to $3215