PFL lightweight contender Taylor Guardado joins The AllStar's John Hyon Ko ahead of the Professional Fighters League Lightweight Tournament Finals on Oct.27 against Kayla Harrison in Florida USA. "No Mercy" talks about the Harrison matchup, turning turmoil into motivation, development through the season, and more.
Watch this video and more on The AllStar YouTube channel.
---
Fighter profile
Taylor "No Mercy" Guardado is a 30 year old female fighter from United States with 3 pro wins and 1 loss. Guardado is scheduled to fight Kayla Harrison at PFL 2021 #10: Championships on Wednesday October 27, 2021.
Guardado's recent form coming into this matchup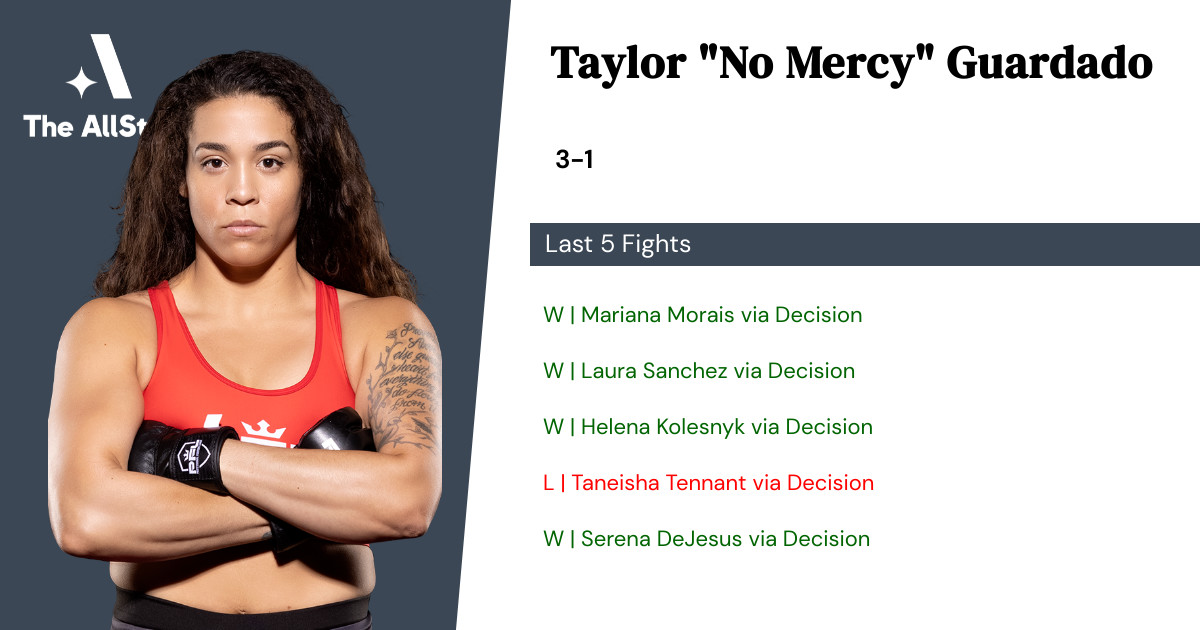 Taylor Guardado has gone 4-1 in the last 5 professional MMA fights.
Win vs Mariana Morais • Decision R3 5:00 • 2021-08-19
Win vs Laura Sanchez • Decision R3 5:00 • 2021-06-25
Win vs Helena Kolesnyk • Decision R3 5:00 • 2021-05-06
Loss vs Taneisha Tennant • Decision R3 5:00 • 2020-03-06
Win vs Serena DeJesus • Decision R1 5:00 • 2020-03-06