Mixed Martial Arts (MMA) is one of the most exciting and fast-paced sports in the world. With so many fighters and events, it can be challenging to keep up and make the right MMA picks. In this blog post, we'll discuss four simple actions to help you pick smarter and better.
1. Know Your Fighters
One of the most critical factors in making successful MMA picks is understanding the fighters. You need to know their strengths, weaknesses, fighting style, and record.
You should also look at their previous opponents and how they performed against them.
In The AllStar MMA Picks app you can find comprehensive fight histories on all fighters – all historical fights, their win/loss record, method of winning/losing, and the time of the win/loss.
Jon 'Bones" Jones Crowned Heavyweight Champ at UFC285
Jon Jones' long reach gives him a significant advantage in the Octagon.
At 84.5 inches, Jones has one of the longest reaches in the UFC. This allows him to keep his opponents at bay and strike from a distance, making it difficult for them to close the distance and mount an effective offense.
Jones has used his reach advantage to great effect in many of his fights, and it is one of the key reasons why he has been so dominant in the light heavyweight division for so long.
We saw this so effectively in his fights against Daniel Cormier.
Additionally, Jones' height and reach advantage allowed him to land strikes from a variety of angles, making it difficult for Cormier to defend.
While Cormier may have been a superior wrestler on paper, Jones' size gave him an advantage in leverage – nullifying Cormier's wrestling in their first fight.
Cormier mentioned this himself after the fight.
Jones' second win over Cormier came by way of a knockout that started with a well-placed head kick – proving, again, that defending against his abnormally long limb length is very hard for any fighter.
Moreover, are a fighter's age, experience and injury history pertinent to the matchup? All of these factors can affect their performance and increase or decrease their chances of winning.
2. Analyze the Matchup
Another important factor to consider when making MMA picks is the matchup.
You need to look at how the fighters' styles match up against each other. Some of this can also be learned from looking at the stats.
10 Ways a Fighter's Record Might Affect the Outcome
High striking accuracy can give the fighter an edge in a stand-up battle.
A fighter with more knockouts may have a psychological advantage over their opponent.
A fighter with stronger takedown defense may be able to keep the fight standing, where they have an advantage.
A fighter with a better ground game may have the upper hand in a grappling exchange.
A fighter with a longer reach may be able to keep their opponent at bay and strike from a distance.
A fighter with a higher submission rate may be more likely to finish the fight on the ground.
A fighter with better cardio may have an advantage in a longer fight. A history of going the distance may suggest a fitter fighter.
A fighter with more experience may be more composed and better able to handle the pressure of a high-stakes fight.
A fighter with more significant strikes landed may be able to wear down their opponent over time.
A fighter with a higher takedown accuracy may be able to control where the fight takes place and dictate the pace of the fight.
Look at the fighters' physical attributes, such as height, reach, and weight. These factors can affect how the fighters perform against each other and increase or decrease their chances of winning.
3. Consider the Odds
The odds are an essential factor to consider when making MMA picks. The odds represent the probability of a fighter winning and can help you determine the value of a bet. You should also consider line movement, which can indicate where the smart money is going.
If the betting market shows a heavily favored fighter and a long shot underdog, then backing the favorite may seem like a no brainer.
But in sport, and the octagon in particular, there are no guarantees – Just ask -595 favorite Valentina Shevchenko after her upset loss to +650 underdog Alexa Grasso at UFC285.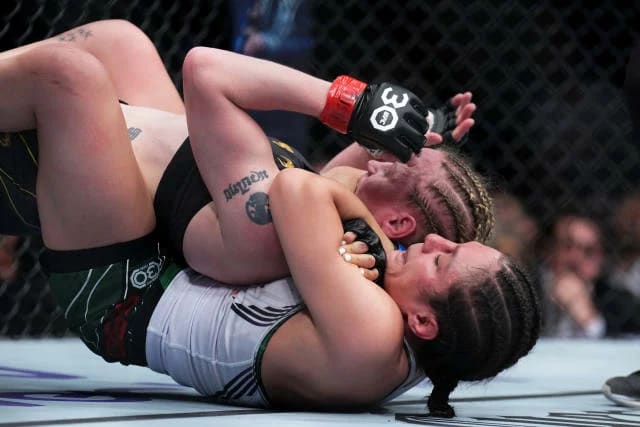 If the odds are closer at say -120 / +125, that's a harder fight to pick – it could easily go either way.
While the odds aren't always right, The AllStar MMA Picks app provides you with the best odds available from a selection of leading online sportsbooks to help you make your picks.
4. Follow the News
Finally, it's crucial to stay up-to-date with the latest news and developments in the MMA world.
Follow fighters and promotions on The AllStar app and get the news that you want delivered straight to your phone. Customize your news feed to only receive what you want, and cut out the noise.
Follow your favorite fighters on social media, and find other expert feeds – like The AllStar's Twitter account and out very own JHK (@JHKMMA) – to stay updated on injury reports, fight cancellations, and other news that can affect your picks.
Subscribe to The AllStar's YouTube channel to get notifications for new content, on everything from big fight night previews, picks shows, post-fight review shows, fight breakdowns and analysis, and fighter interviews.
Check out The AllStar MMA Picks Show with JHK, MMA junkie and friend of The AllStar, Rob "JSpec" Nakamura and special guests.
Conclusion
In conclusion, making successful MMA picks requires a combination of knowledge, strategy, and research. You need to understand the fighters, analyze the matchup, consider the odds, and follow the news. By following these tips and strategies, you can increase your chances of making successful MMA picks and have a more enjoyable and profitable picks experience.
Download the app now and Good luck!