Daniel Vreeland takes a deep dive into one of UFC Vegas 42's fights. This week: Max Holloway vs Yair Rodriguez – a striking match-up years in the making.
The Stats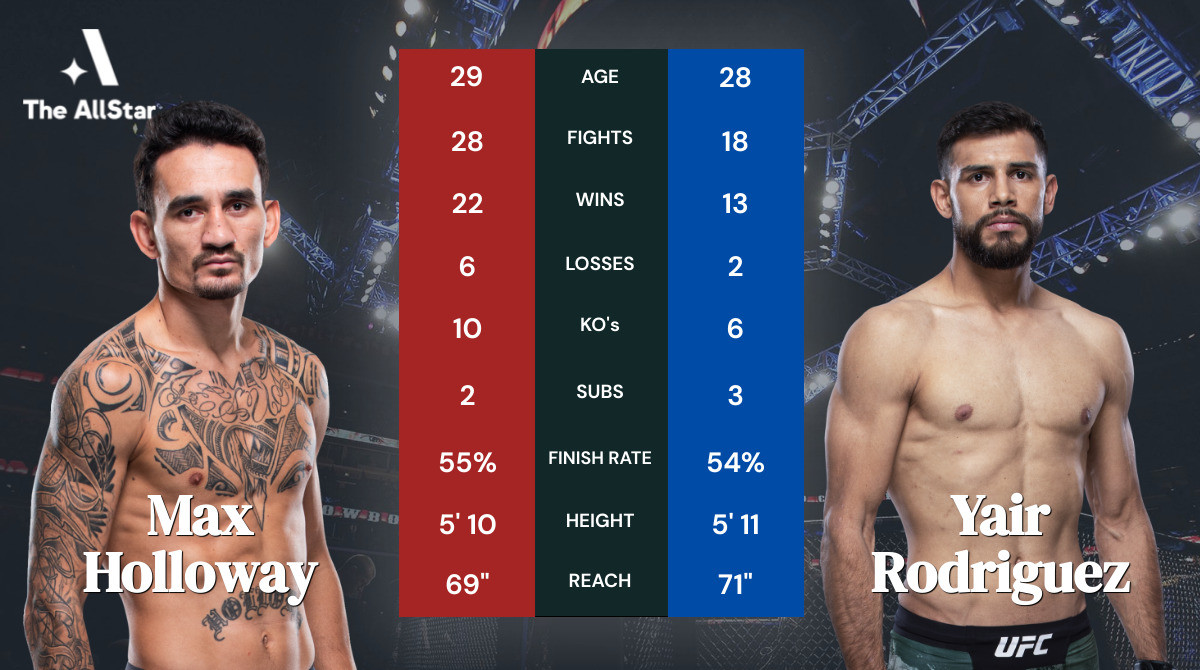 | "Blessed" Max Holloway | Yair "El Pantera" Rodriguez |
| --- | --- |
| 22-6 (18-6 UFC) | 13-2, 1NC (8-1, 1NC – UFC) |
| Waianae, Hawaii | Parral, Chihuahua, Mexico |
| 5'11" – 69" Reach | 5'11" – 71" Reach |
| Gracie Technics | VFS Academy |
Max Holloway vs Yair Rodriguez – Tale of the Tape
Leading Up
After a thirteen-fight win streak that saw him capture the featherweight title, Max Holloway has run into a bit of a tough patch. In his last five fights, he's picked up just two victories. Of course, with a resume like he has and a spot in the top ten of the pound-for-pound rankings, these losses are due to a high level of competition. Each of the last two losses came against current featherweight kingpin, Alexander Volkanovski. The one prior to those was against Dustin Poirier for the vacant lightweight strap. Each of those two fights went the distance, as there appears to be no way to finish Max Holloway.
Following the Volkanovski losses, Holloway rebounded in emphatic fashion. In the first headliner of the new year, Holloway was booked with Calvin Kattar. Over the course of the five-round affair, he put a striking clinic on Kattar to the tune of which we have rarely seen. The victory was so clear, that it had people again talking about another shot at the champ.
It's been a hot minute since we've seen Yair Rodriguez in the octagon. The last time he stepped in was in October of 2019. Rodriguez took on Jeremy Stephens in a rematch of their fight that had taken place the month prior. In the first of the two bouts, an eye poke just fifteen seconds in called a stop to the fight. After some nasty exchanges of words surrounding that infraction, they agreed to meet again in Boston. In the follow-up fight, Rodriguez would come out on top, but not without facing some adversity. Rodriguez was able to outclass Stephens on the feet but was taken down three times in the fight. Ultimately, he took the win on all three judges' scorecards.
The two years, leading up to UFC Vegas 42, since he had last fought may seem like a lot, but Rodriguez has never been a picture of activity. Since making the UFC following The Ultimate Fighter: Latin America in 2014, Rodriguez has fought just ten times. Those ten fights include both of the Stephens fights. He's had bouts canceled three times in the past, including one against Holloway – who he was supposed to have tangled with back in July.
Styles Make Fights
Blessed
The self-described "best boxer in the UFC", Max Holloway has a lot of attributes on the feet that make him particularly dangerous. Perhaps the most impressive of them all is his defense through a multiple strike combination. Holloway hardly ever throws just one strike. Sometimes this can lead people to either missing a lot or getting hit at an abnormally high rate. Neither seems to be all that true for Holloway, especially not the defense.
For a guy who throws nearly seven and a half strikes per minute, he is still managing to avoid 60% of the ones coming back. You have to credit his head movement for this, but also his footwork. The way he moves forward through combinations puts his opponents on their back foot and makes it hard for them to set and throw a combination in return. As a result, it's harder for them to place their shots.
On the grappling side of things, we see very little from Holloway attack-wise. It's been since his 2018 fight with Brian Ortega that he has scored a takedown, and even that one seemed to be more to keep Ortega off-guard than anything else. Likewise, when he's on his back, we don't see him looking to throw up much in the way of submissions. He has less than one-third of a submission attempt per fifteen minutes. The focus for Holloway is to get up as quickly as possible. Even though he uncharacteristically ceded three takedowns to Alexander Volaknovski, he only spent a grand total of eighty-six seconds on his back. Percentage-wise, Holloway is pretty strong at scoring takedowns – filing in at 71%. It's just unlikely that you'll see him shoot for much more than a change of pace these days.
El Pantera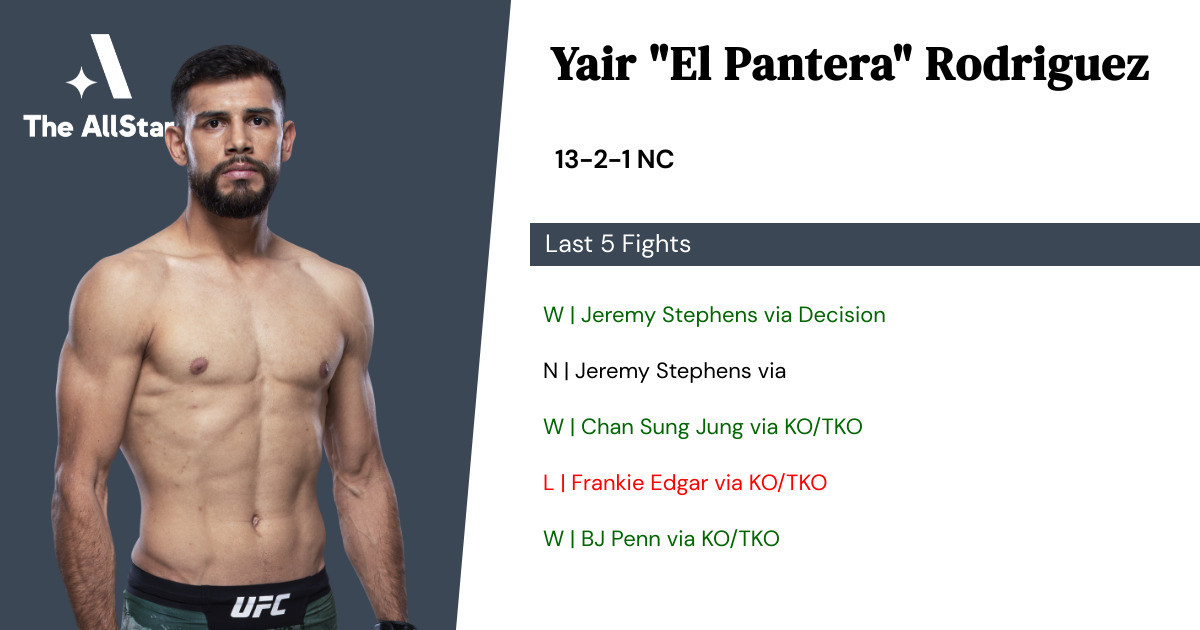 Yair Rodriguez has always been seen as a flashy striker, who has a diverse set of attacks. He's perhaps best known for his crazy, up-elbow knockout of Chan Sung Jung back in 2018. However, a lot more came out of that fight than just a flashy highlight-reel finish. In this fight, particularly early in it, Chan Sung Jung advanced with a lot of combinations. As he did so, we saw two facets to Rodriguez's game that seem to be staples of how he reacts to that scenario. The first of which is a hard leg kick. Just seconds into the fight, Rodriguez landed a big one that buckled 'Korean Zombie'. He went back to that well plenty of times and he found success with it the most when his opponent was advancing.
The other thing we saw from 'El Pantera' was that he tends to shell up when the pressure is put on him. More than once, we saw him put up a guard and await the end of a combination rather than throwing back. This is part of what made his knockout so surprising to fans and Chan Sung Jung alike.
Similar to Holloway, the offensive grappling game is just not a priority for Rodriguez. The last time he landed a takedown was against Alex Caceres in their 2016 main event. There are a couple of ways that he is distinctly different than his opponent on his back though. Firstly, he is much more willing to throw up submissions on his back. In fact, if you go back to his time on The Ultimate Fighter, it actually seems like something he enjoys doing. He had some early triangle chokes back in the day, but those haven't surfaced against stronger competition.
The other way he's different than Holloway is that there is less urgency to get to his feet. Some of this may be due to how comfortable he is off of his back. However, in fights like the Frankie Edgar bout, it led him to being on his back for almost 85% of the fight time.
The Clash
It would absolutely shock me to see either of these men try to take this fight to the mat. If this was an avenue that either fighter wanted to employ, I'd imagine it would be Holloway. He has better offensive wrestling and knows how to implement it when he gets people hyper-focused on the striking. Whether he has the top game to hold Rodriguez in place is a whole other question worth asking.
On the feet, I do believe this fight will be decided based on how Rodriguez deals with pressure. When Holloway moves forward and throws in bunches, it can be difficult for anyone to deal with. If Rodriguez shells up in those moments, it will likely be a disaster for him. Likewise, if he tries to counter with spinning attacks, the superfluous moments are going to tire him out. So the real question is whether he is able to go to that leg kick enough to deter Holloway from some of that pressure or at least enough to slow him down.
Final Verdict
I really like that the UFC matchmakers keep testing Holloway with top-level strikers. I also think it's nice that they didn't confront Rodriguez with a suffocating grappler in his first fight back after all of that time away. However, Holloway is a tough fight for anyone when you're trying to regain your timing after years away. He's also a fighter who builds momentum well. As a result, I'm having a really hard time seeing how Rodriguez gets this done outside of an odd, flash KO. The betting line reflects this fairly well, with Rodriguez coming in as a +515 underdog. I think those odds are about right and I'm siding with Holloway. I expect him to either take a clear decision or get a late, volume-based stoppage.
If you agree with Gumby on UFC Vegas 42's main event, you can find Max Holloway as a massive -695 favorite. If that line tickles your fancy, you can bet on it right here.