Daniel Vreeland takes a deep dive into one of UFC Vegas 41's prelim fights. This week: Jun Yong Park vs Gregory Rodrigues.
The Stats
| "The Iron Turtle" Jun Yong Park | Gregory "Robocop" Rodrigues |
| --- | --- |
| 13-4 (3-1 UFC) | 10-3 (1-0 UFC) |
| Seoul, South Korea | Manaus, Amazonas, Brazil |
| 5'10" – 73" Reach | 6'3" – 76" Reach |
| Korean Top Team | Sandford MMA |
Jun Yong Park vs Gregory Rodrigues- Tale of the Tape
Leading Up
Jun Yong Park enters this UFC Vegas 41 bout on the heels of a three-fight winning streak. After dropping his debut by anaconda choke, he has reeled off three straight decisions. The first two, which were over Marc-Andre Barriault and John Phillips, were unanimous decision victories. The latest win came by majority decision, over Tafon Nchukwi, with one judge calling it a draw by giving two rounds to Nhcukwi, but deducting a point in the second for a low blow. Prior to his time in the UFC, Park spent time in various promotions, mostly out of Asia. He had multiple stints in Top FC, which is a major promotion in Korea. He also fought some very notable names on the regional scene. Early in his career he lost by submission to Shavkat Rahkmonov, and a bit later he scored a submission victory of his own over PFL veteran Ray Cooper III.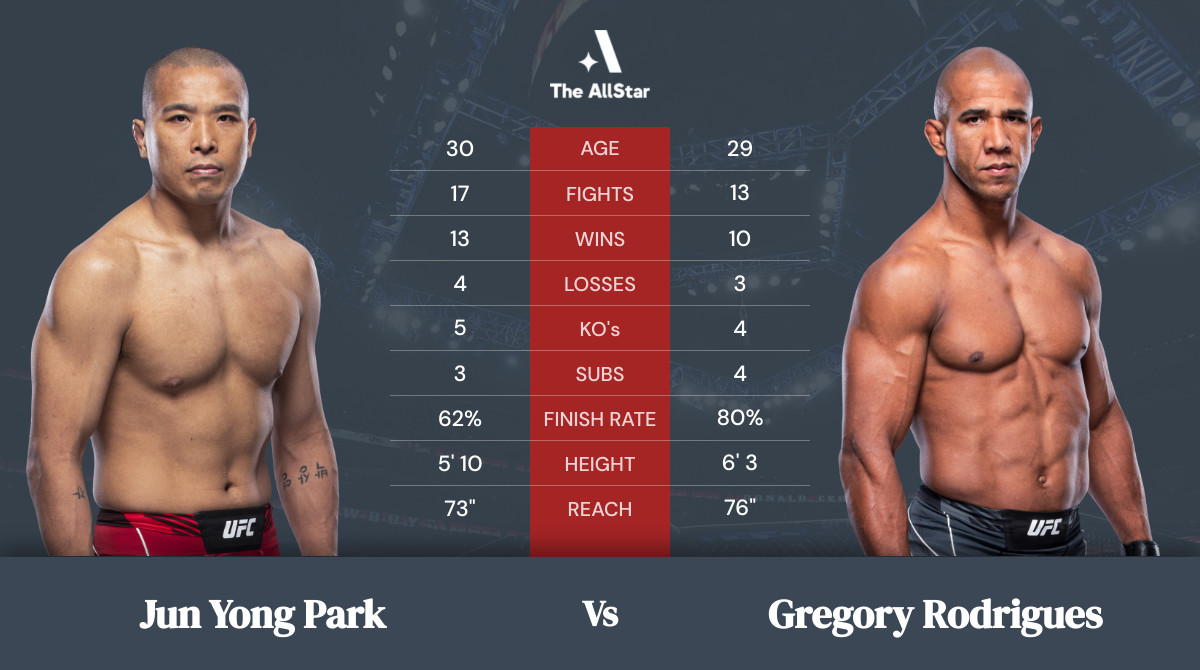 Gregory Rodrigues had his first crack at making the UFC by way of the Contender Series. During last year's run of the show, Rodrigues was paired with Jordan Williams, who was trying for the third consecutive year to get a contract on the show. At the expense of Rodrigues, Williams was finally successful. However, it wouldn't be long before the UFC came calling for Rodrigues anyways. He quickly picked up two wins in LFA, the latter of which was for the vacant middleweight title over Josh Fremd. Shortly after snagging that belt, he was offered a two-week turnaround to fight Dusko Todorovic when Maki Pitolo was forced to withdraw from that fight. He made the best of his chance with an impressive decision victory, and now gets a chance to do so will a full camp at UFC Vegas 41.
Styles Make Fights
The Iron Turtle
The striking of Jun Yong Park is not really the reason anybody comes to the show. What he does best is well-known and it usually takes place with a hold of his opponent rather than a hand. However, even with that being true, the striking of Park is actually fundamentally solid. Like a lot of grapplers, some of the techniques that he uses are geared specifically towards encouraging tie-ups. You can see signs of this when he's moving forward and getting opponents back to the cage. When he is losing the footwork battle, not all is lost. He puts together some really nice counters that typically end with a fairly dangerous rear cross. He hasn't stopped anyone in the UFC yet, but some of the damage he did to Anthony Hernandez seems to suggest that he could.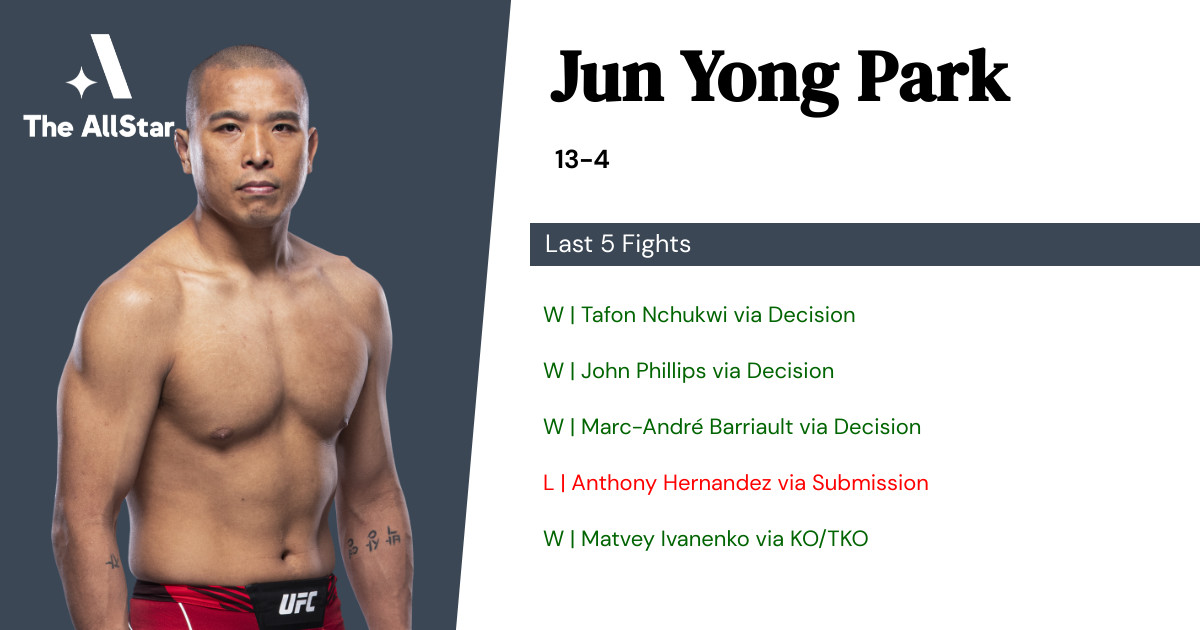 Whereas you may not be particularly excited about the striking of Park, the grappling is exactly why you will watch him fight at UFC Vegas 41 – and it does really live up to the hype. That hype largely came from his last fight, where he repeatedly tripped Tafon Nchukwi with the same exact move from the clinch. He then unleashed some really impressive ground and pound. While this was exciting, it was far from the first thing we should have been excited about. Double legs that come as a counter to being backed up are not nearly as flashy, but they serve maybe an even more important role. He uses them to completely change the tenor of the fight and to deter the opponent from getting too comfortable with their striking.
Robocop
The UFC's interest in Rodrigues was always in his striking. He has exceptional power and a lot of the KOs that he's gotten on the regional scene are spectacular in nature. To get his shot on the Contender Series, he KOed Brandon Hester with a violent body kick. Then after missing out on a contract, he picked up two others – albeit slightly less flashy. The secret to the power in his hands is that he throws from a lower placement. He doesn't quite have a hands down, throwing from the hip approach. It's also not quite a karate-style either. Instead, it almost exists in the space between a traditional stance and these two others. Regardless of how it looks, it does seem to generate a lot of power, but of course leaves him a bit more open defensively.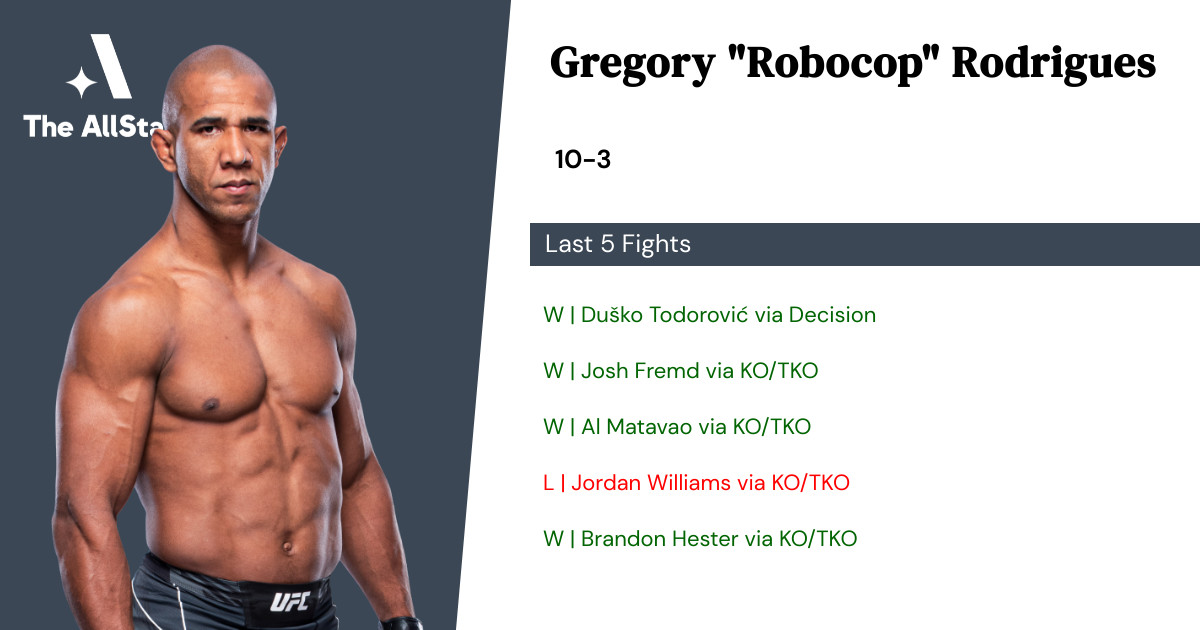 Which Park is underrated when it comes to his striking, I think Rodrigues is the other way around. He's done such good work with his hands in the past that people forget just how good he can be on the ground. While people remember the KO of Al Montavo, he also showed the Contender Series veteran up with some of his grappling. He had a nice double leg takedown and quick transitions, particularly to the back. This should come as no surprise as a guy who had competed a bunch in the gi and also trains at Sanford MMA. The interesting aspect of this for Rodrgiues is just when he decides to use this. With it being such a weapon and a safer one, he does tend to lean on his striking more often. Whether he will at UFC Vegas 41 could be a huge factor.
The Clash
Should this fight stay on the feet at UFC Vegas 41, there are clear advantages for both men. On one hand, Rodrigues has the power to turn the lights off or at least put Park on wobbly legs in an instant. However, Park seems to be the more technically proficient striker and seems to have a purpose for whatever he does. Being that neither guy has been KOed, with the slight exception of Rodrigues' professional debut, it seems unlikely that either will score one here. That may mean that the striking battle leans ever so slightly to Park.
The ground game at UFC Vegas 41 will really be dependent on approach and intention. I could envision either of these two seeing moments on the ground. I can see either of them landing takedowns and working from the spots where they do their very best work. However, I don't know how often I expect Rodrigues to attempt to bring the fight there. Conversely, I do think we see Park try to take Rodrigues down pretty early in the fight and continue to do so regardless as to how successful he is.
Final Verdict
Although the power of Rodrigues is alarming, and likely the reason that they are so close in the odds (Park is currently a +105 undedog), I do think Park can avoid it. While doing so, I think he takes advantage of the slightly wilder striking of Rodrigues and manages to score some much needed top time. He has good pressure and control when he is on top, which should help him avoid the sweeps and jiu jitsu of Rodrigues and win a decision at UFC Vegas 41.