Daniel Vreeland takes a deep dive into one of UFC 267's fights. This week: Khamzat Chimaev vs Li Jingliang.
The Stats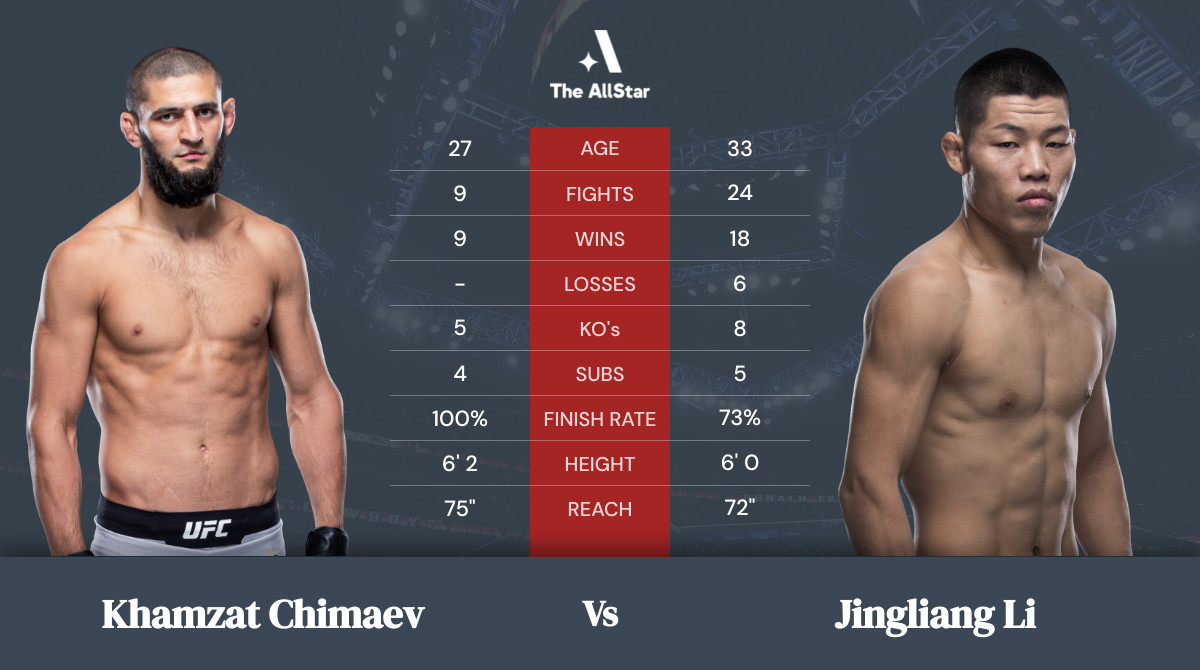 | Khamzat "Borz" Chimaev | Li "The Leech" Jingliang |
| --- | --- |
| 9-0 (3-0 UFC) | 18-6 (10-4 UFC) |
| Stockholm, Sweden | Tacheng, Xinjiang, China |
| 6'2" – 75" Reach | 6'0" – 72" Reach |
| All Star Training Center | China Top Team |
Khamzat Chimaev vs Li Jingliang – Tale of the Tape
Leading Up
The path to this Saturday's UFC 267 has been a long and odd one for Chimaev. At first, it seemed like the UFC could not get him fights fast enough. He famously fought twice in just 10 days on Fight Island and then said he was ready for another. He got that fight just two months later, which seemed like an eternity for those awaiting his return, against Gerald Meerschaert III. When he won that fight as well, in just seventeen seconds mind you, the thought was that he'd be fighting again in no time. He was booked with top welterweight contender Leon Edwards, but before he could make the fight he got COVID. Not only did this cause him to pull out of the fight, but it led to multiple hospitalizations and lingering symptoms. The symptoms were so bad that Chimaev announced his retirement from the sport of MMA. It was short-lived though, as he appears to have recovered fully heading into this much-anticipated bout.
Li Jingliang's time in the UFC has been much longer, but notably less tumultuous. He made his debut for the organization all the way back in 2014 at UFC 173. His career has had many ups and downs, but with far more ups as of late. In his last ten fights in the UFC, he's won eight of them including six by (T)KO. In that span, he's won six performance bonuses, two of which were fight of the night and the other four being performance of the night. Most recently he faced returning welterweight contender Santiago Ponzinibbio on the UFC's debut on ABC. He picked up a first-round knockout in that fight and moved himself up to #11 in the UFC's official rankings. He has not fought since January of this year, which may be due in part to the difficulty of booking international flights. He'll get a chance to continue that run now that we're back at Fight Island for UFC 267.
Styles Make Fights
Borz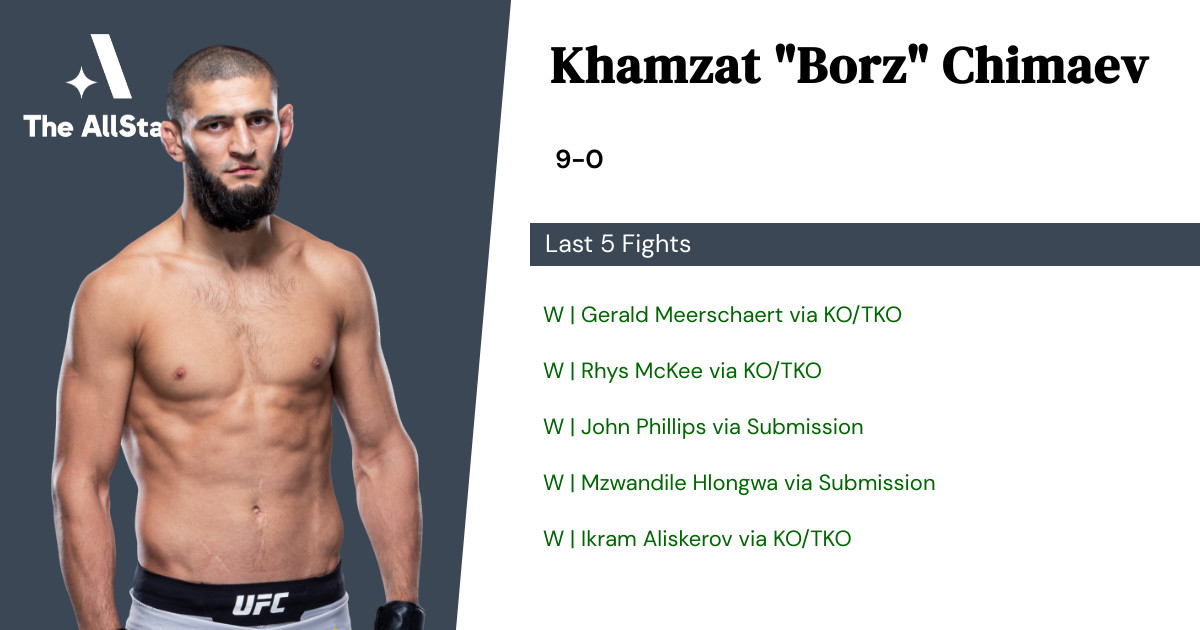 The best way to describe the grappling style of Chimaev is relentless. Whether it's working to get to the mat or work once he's there, it's always high intensity. When taking the fight to the ground, Chimaev chains submission attempts together insanely well. He may start from a traditional double-leg attempt, but he's perfectly capable of switching to singles and body locks (and sometimes back to doubles) in order to get the takedown. Those facets of his game make it particularly hard to fend him off. He also presses constantly for a finish when he's down. Although his positional game is good, he makes it a priority to be dangerous first – landing as many punches as possible to either get a finish or open up a submission. I assume he'll be looking for that again at UFC 267.
We've seen little from Chimaev on the feet since coming to the UFC. We did see him KO Gerald Meerschaert in just seventeen seconds, but that didn't tell us much about what he is capable of doing. Prior to coming to the UFC, Chimaev fought in Brave CF, where we got to see a little more of his hands. Perhaps not surprisingly, he's a bit wild and free when it comes to striking. He's more concerned with being dangerous than being safe. While it opens him to counters from time to time, the pressure typically causes his opponents to worry about their defense first. That may not be the worst idea, but it hasn't stopped him from knocking people down or even clean out. Surprisingly, his jab that he uses to set up combinations can be one of the toughest weapons when it comes to this.
The Leech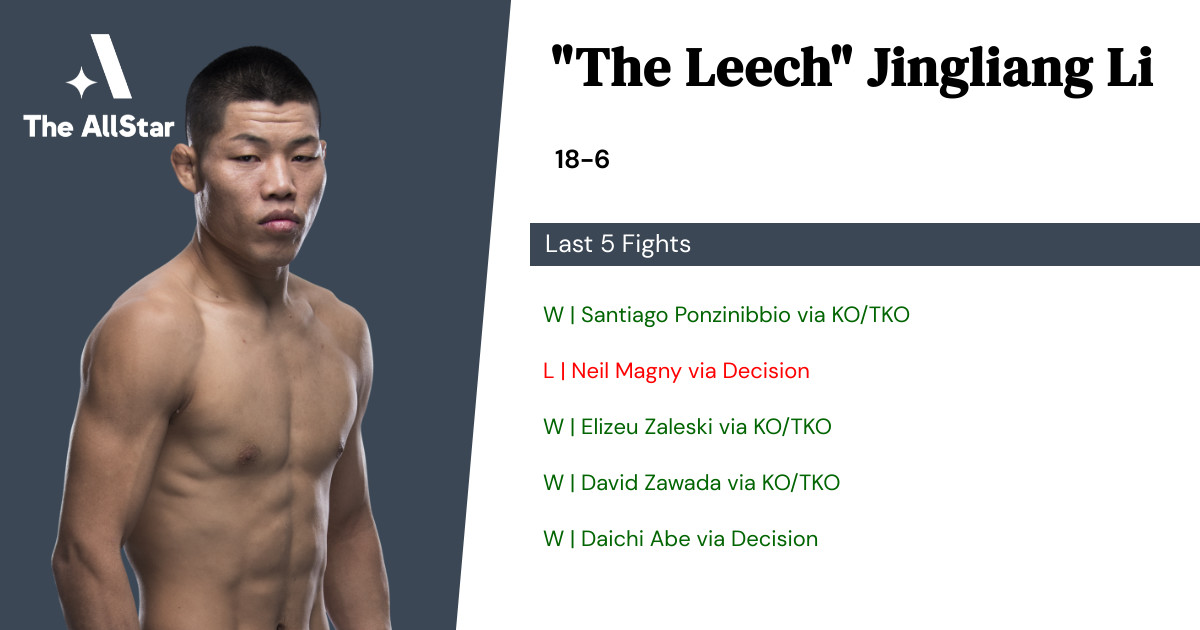 When it comes to striking, Jingliang has had one common thread that has continued throughout his fourteen-fight UFC career – leg kicks. Jingliang loves the low calf kick and a kick to the thigh. Both of those have served him well in his career, notably in the Bobby Nash fight where he pretty much rendered his opponent unable to walk. The best part of this facet of his game is that it doesn't come as a standalone weapon. Jingliang typically follows up all of his low kicks with a two-punch combination to the head. While this is an effective use, there is a small drawback to this. Because he uses this combination so often, it is somewhat predictable and easy to plan for. In some cases, such as when he fought Neil Magny, that has cost him. It could cost him similarly at UFC 267.
On the grappling side of things, Jingliang is a bit of an enigma. On one hand, he has really strong takedowns. He is able to work to body locks well and can finish them just as easily with a trip as he does a big slam. We saw him do the latter of which to Frank Camacho and he looked incredible doing so. However, the other side of this coin is that his defensive wrestling leaves a lot to be desired. Even in that aforementioned fight with Frank Camacho, who prefers to stand and brawl more than anything, Jingliang conceded a takedown. Each of his four losses could be attributed to some issues on the ground and it really all starts here.
The Clash
If this UFC 267 fight were to entirely take place on the feet, I would genuinely be intrigued by what it would look like. Sure, Chimaev seems to have a power advantage, but the technical nature of Li Jingliang would make it interesting. The way Chimaev lunges forward with some of his strikes could possibly leave him open to some heavy leg kicks. Enough time on the feet and those would certainly begin to pile up and perhaps cause Chimaev some long-term issues.
The issue is that this most likely won't take place on the feet. Chimaev has some really phenomenal offensive wrestling, particularly when it comes to chaining things together. Defending precisely that sort of takedown has proven to be trouble for Jingliang. You could see this a bit in the Neil Magny fight as Magny made his way to four takedowns and an easy decision victory. Were Jingliang be the first to engage in the grappling, I feel that he'd be denied sort of easily, but it may be an avenue worth exploring for him at UFC 267.
Final Verdict
When it comes to the styles and the skills at UFC 267, there is no question. Khamzat Chimaev is going to use his wrestling to take this fight into his realm. The biggest question is on the lingering effects and symptoms of COVID that Chimaev may still be experiencing. If Jingliang manages to stay away from finishes early on, Chimaev may have reduced cardio. He also has never been into the third round of a fight. But this is the best-case scenario for Jingliang and it requires too many caveats. As a result, I'm taking Chimaev by submission.