Daniel Vreeland takes a deep dive into one of UFC Vegas 40's prelim fights. This week: Lupita Godinez vs Luana Carolina.
The Stats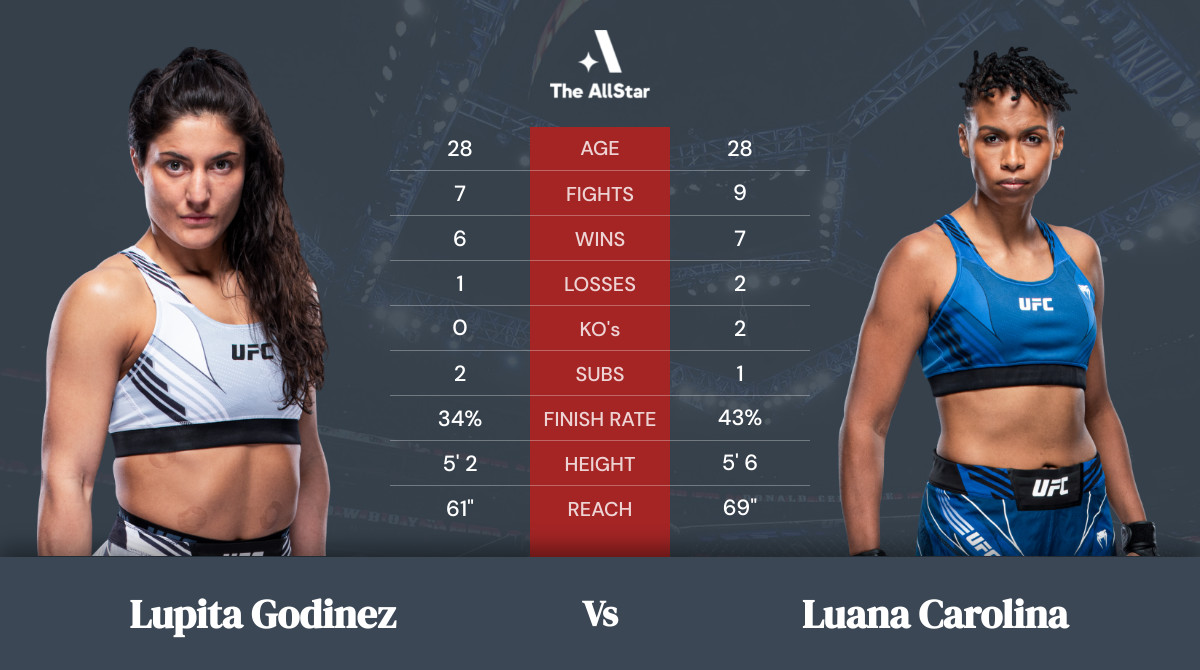 | Lupita "Loopy" Godinez | Luana "Dread" Carolina |
| --- | --- |
| 6-1 (1-1 UFC) | 7-2 (2-1 UFC) |
| Langley, British Columbia, Canada | Sao Paulo, Sao Paulo, Brazil |
| 5'2" – 61" Reach | 5'6" – 69" Reach |
| Titan MMA | Capital da Luta |
Lupita Godinez vs Luana Carolina- Tale of the Tape
Leading Up
Lupita Godinez comes to UFC Vegas 40 on the craziest turnaround in modern UFC history. People were raving about Khamzat Chimaev taking a fight just ten days after his last victory out on Fight Island. Godinez will be doing so just seven days after her win over Silvana Juarez Gomez – a fight she won by first round armbar. Luckily, in that fight, she seemed to sustain almost no damage and did not require a medical suspension. That may be due to the fact that Juarez only landed three significant strikes. Prior to this past weekend, Godinez was coming off a loss to Jessica Penne in her UFC. She had taken that fight on short notice as well when Hannah Goldy fell off the card. As the LFA strawweight champion, she had been on the radar of the UFC for a little while, but her fight anywhere, anytime mentality is clearly one of the reasons why the UFC snatched her up.
Luana Carolina is another fighter who graduated to the UFC after a win on the Contender Series. Although she didn't get the finish on the third episode of the Brazilian run of the show, she did look spectacular piecing up Mabelly Lima. Since coming to the UFC, she has put together a 2-1 record on the heels of decisions over Poliana Botelho and Priscila Cachoeira. Sandwiched between those two wins was a loss to former KSW champion Ariane Lipski. That fight resulted in one of the more gruesome looking kneebars, which left Carolina out of action for the better part of a year. She did not seem to have any kind of permanent structural issues with the knee upon return, but it nevertheless bares keeping an eye out for.
Styles Make Fights
Loopy
Upon her entry to the UFC, Loopy was lauded for her aggression and her ability to push forward. While aggressive with the footwork, she is not the type of fighter who just throws tons of strikes because she's there. Godinez's footwork is purposeful to get in the face of her opponent and make them uncomfortable, but she uses that time to keep her head moving and look for appropriate angles to strike. The strike she tends to lean on the most often is a lead left hook that she scores with around her opponent's guard. She'll also mix in some uppercuts to the combinations, especially when she reached a single collar tie position, which is one of her fall-backs when she is in close quarters.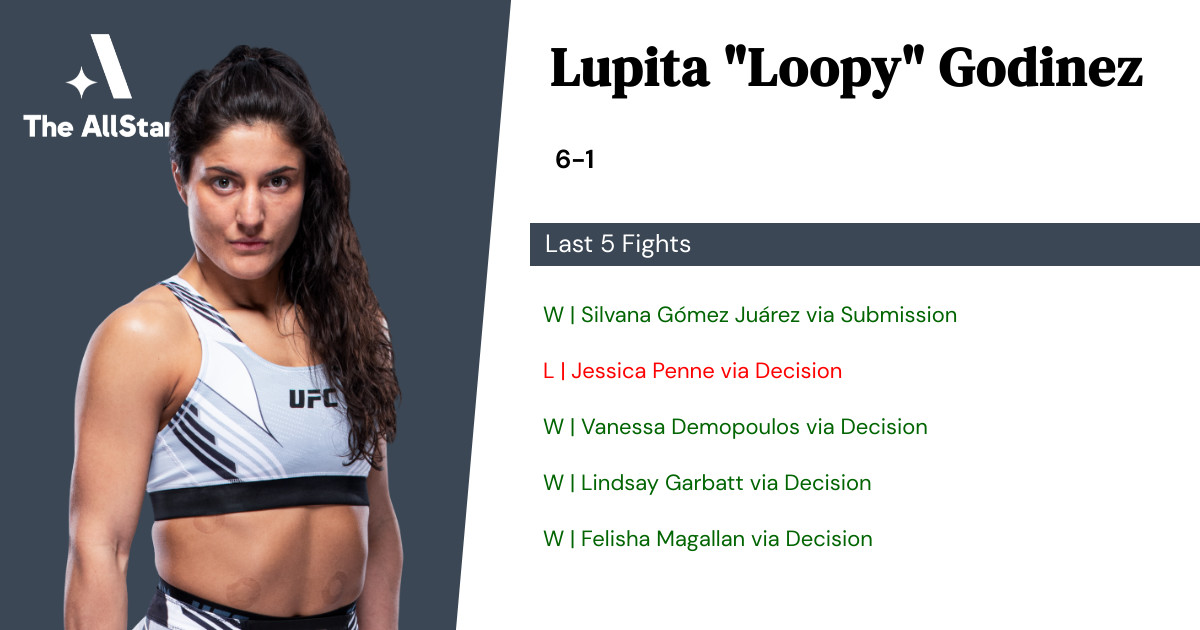 Although she came to the UFC being seen as a striker, that moniker may have entirely changed this past weekend. In just about four minutes of total action, she took Silvana Gomez Juarez down five times. She also did so with a mixture of takedowns. The first of which was a power double leg that seemed to come out of nowhere. She ducked under a shot perfectly and finished like someone who had been wrestling a much longer amount of time. She also had some very smart trips from back control that showed this is a part of her game she was clearly working on. In addition, she was hunting for the back on every attempt in order to look for the finish. When she did find it, she didn't settle for just digging the rear naked choke. Instead, she switched to the back mount armbar, which can be a risky move in terms of positioning if you're not confident it will work.
Dread
Luana Carolina is everything that you would expect from someone with a Muay Thai base. She inherently tends towards clinching up in most exchanges and it typically works for her. She keeps good control of the head when, especially when against the cage. She also throws knees and elbows with really solid power behind them. In fact, she's stopped a pair of opponents on the regional circuit with those elbows and knees. She also did a good portion of her damage on the Contender Series that way. At distance, she's a bit less effective, but her style still holds up. She's light on her feet with a slightly lower guard. While that can cause problems for some people, the way she enters the clinch so quickly generally saves her from any real trouble.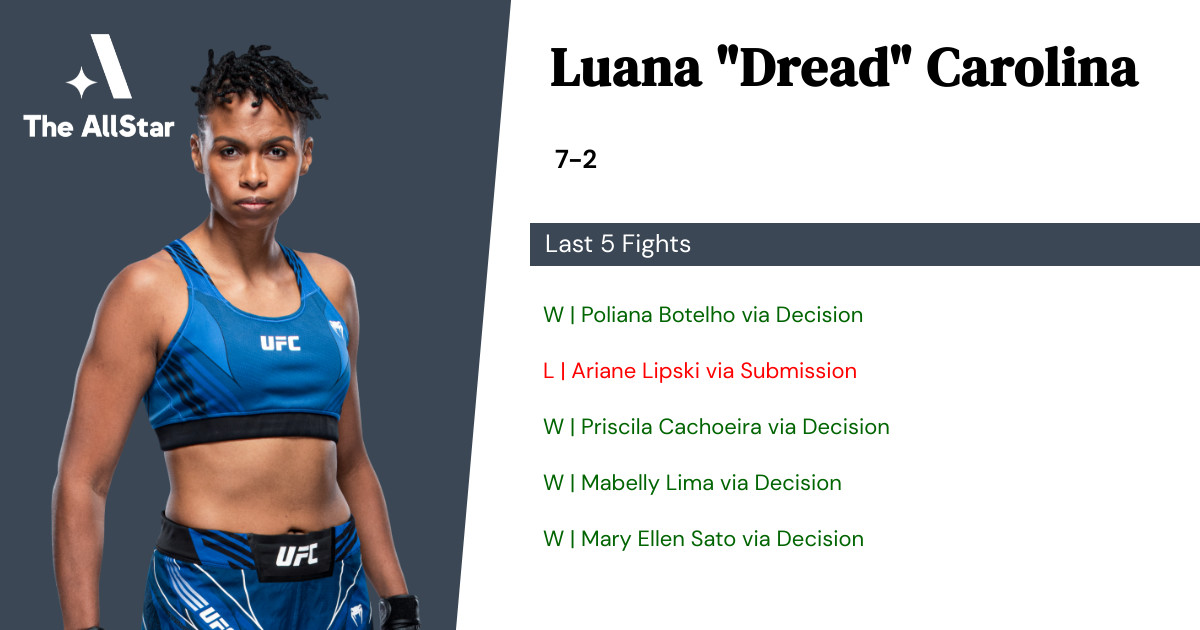 The grappling side of things is a little harder to decipher for Carolina. While she's seen a number of takedown attempts in the UFC, very few have come from fighters with legitimate wrestling chops. She did concede one to Poliana Botelho, but otherwise has looked like she has sufficient abilities to stay away from the ground game. However, in the only other fight she wound up on the ground, things ended disastrously. After trying to mostly just tie up Ariane Lipski, she moved to a de la riva type position and then what appeared to be a loss leg lock attempt. At the end of it all, she left her own leg dangling and was the recipient of a knee bar. This obviously sits as a concern moving forward as Lipski isn't exactly known for her high level grappling.
The Clash
On the feet, this should be a close fight. I like the abilities of Godinez to both be in Carolina's face without just rushing in. Many fighters who could be described as aggressive strikers would likely wind up in the clinch far more often than I expect Godinez to. Should it make it to the clinch, I do think Godinez is going to have an issue with the control of Carolina. This is due to both her clinch abilities, but also due to the size advantage. To be perfectly honest, I think this is the spot where the size difference will manifest itself the most.
So the clinch seems to be the goal for Caronlina, but could also wind up being her undoing. On one hand, she is definitely going to do her best damage there. The knees to the body should be her best weapon – especially given that Godinez has such a quick turnaround. However, those types of positions lend themselves far too well to takedown attempts. A caught knee to the body would spell disaster for Carolina. Same with any situation where Godinez turns her on the cage and goes for the double leg. Carolina will have to stay measured and careful in those situations.
Final Verdict
I think the fact that Carolina's best area of attack is also an area that will for sure cause her a great deal of danger is reason to doubt her here. I'm not certain that she can get there and keep it there long enough to do the damage she'll need. In addition, the newly found (or exhibited) submission skills from Godinez give me reason to believe that I think a close range fight actually may favor her. I'll take Godinez here and I think she gets her second submission in as many fights. I'll even go as far as to predict a rear naked choke finish for her.