Daniel Vreeland takes a deep dive into one of UFC Vegas 38's prelim fights. This week: Shanna Young vs Stephanie Egger.
The Stats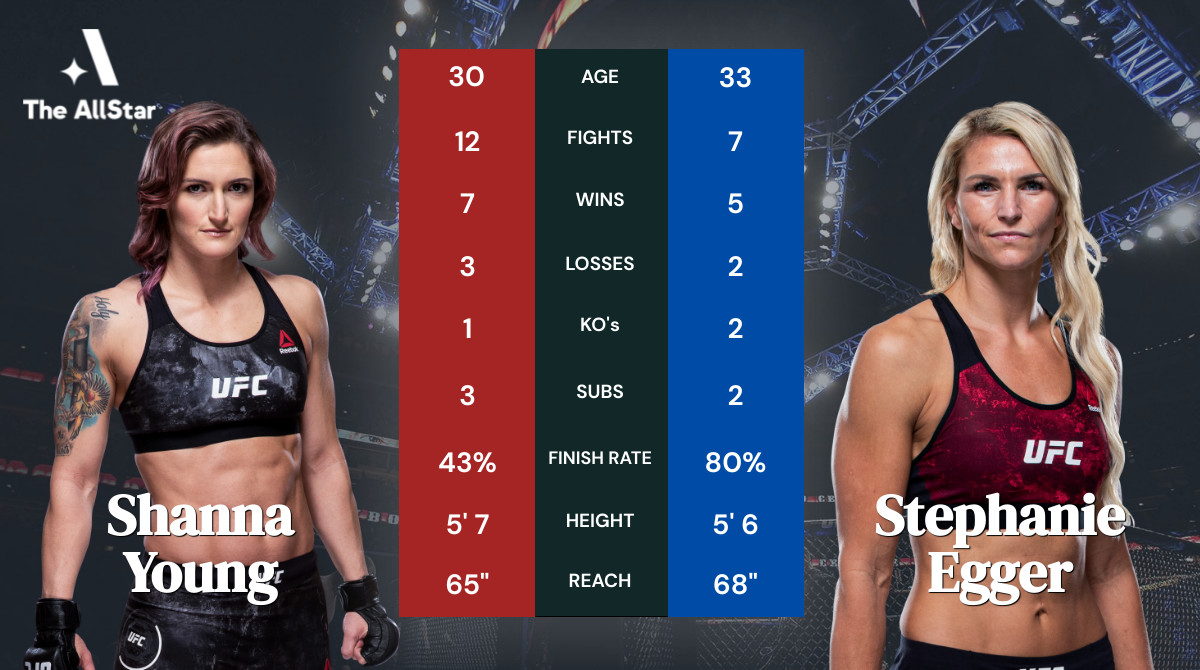 | Shanna "The Shannimal" Young | Stephanie Egger |
| --- | --- |
| 7-3 (0-1 UFC) | 5-2 (0-1 UFC) |
| Knoxville, Tennessee | St. Gallen, Switzerland |
| 5'7" – 65" Reach | 5'6" – 68" Reach |
| Knoxville MMA | Buddy Gym |
Shanna Young vs Stephanie Egger – Tale of the Tape
Leading Up
Shanna Young arrived to the UFC on a short notice opportunity. Back in February of 2020, Macy Chiasson was slated to fight Nicco Montano, but Montano was forced to withdraw from that fight due to an injury. As it goes with short notice fights, the UFC typically looks for someone from a lower weight class to alleviate the weight cutting issues that come with taking a fight with not so much time to prepare. So Young came up from flyweight to fight Chiasson, who is a large bantamweight at that. She lost that fight by decision but appears to have liked the bantamweight division enough to stay there, as this fight also takes place at 135lbs. It is also worth noting, that before her UFC debut Young was on the Contender Series, where she lost by rear-naked choke to Sarah Alpar (also up at bantamweight).
Stephanie Egger also comes to the UFC via a short notice fight and is also coming into this fight off of a long layoff following that. His lone UFC fight comes back in October of 2020 when Tracy Cortez was supposed to fight Bea Malecki. Egger stepped in and lost a unanimous decision to Cortez after Malecki withdrew from the fight for unknown reasons. Before that, Egger was not always the most active MMA fighter. In her six-plus year MMA career, she has fought only seven times. Some of this is due to cancellations. Some are due to having a tough time finding fights on the European scene. However, some are also due to spending time working grappling tournaments. She is an ADCC Worlds qualifier, where she lost in the very first round to Gabi Garcia.
Styles Make Fights
The Shannimal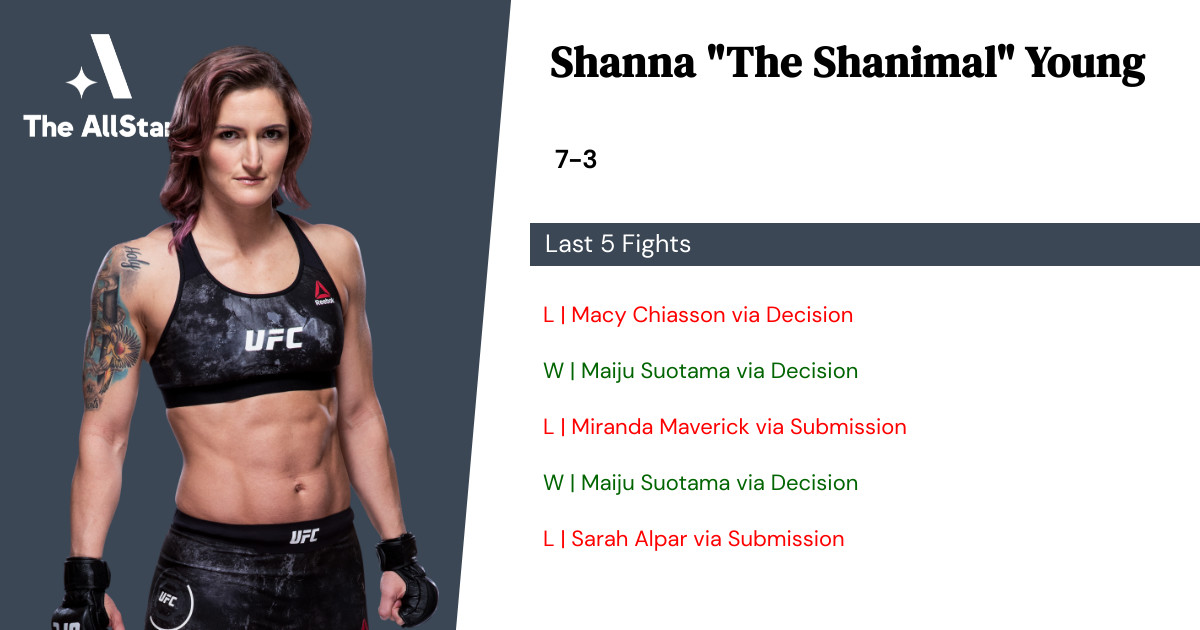 When a fight starts, you can expect that Shanna Young will live up to her nickname. There are almost no fighters I've seen on the regional circuit that look more like a caged animal than Shanna Young. She throws a ridiculous amount of volume on the feet while rushing forward, which often comes at the expense of the defensive side of striking. It also doesn't do wonders for her technique, but she does manage to make it effective. Whether that can be replicated against UFC-level opponents is still to be seen. Regardless of how much is landing, this style of fighting typically ends with a lot of clinching. A lot of times it is all her opponent has for options with the pressure that she brings.
So, of course, this begs the question – how does she look in the clinch. The clinch appears to be the one place that the animal instinct leaves 'The Shannimal'. She's much more calm and calculated in the clinch. This may be due to a little bit of fear that she'll be taken down, as she has lost a couple of times by submission. However, even if it is fear, it served her well in the Macy Chiasson fight as she was able to stall out with the much bigger fighter in those positions. On the other hand, if she is able to get her opponent down, she turns right back into that mad woman. Her ground and pound is wild and would not surprise me in the least if it contained a two-handed punch.
Egger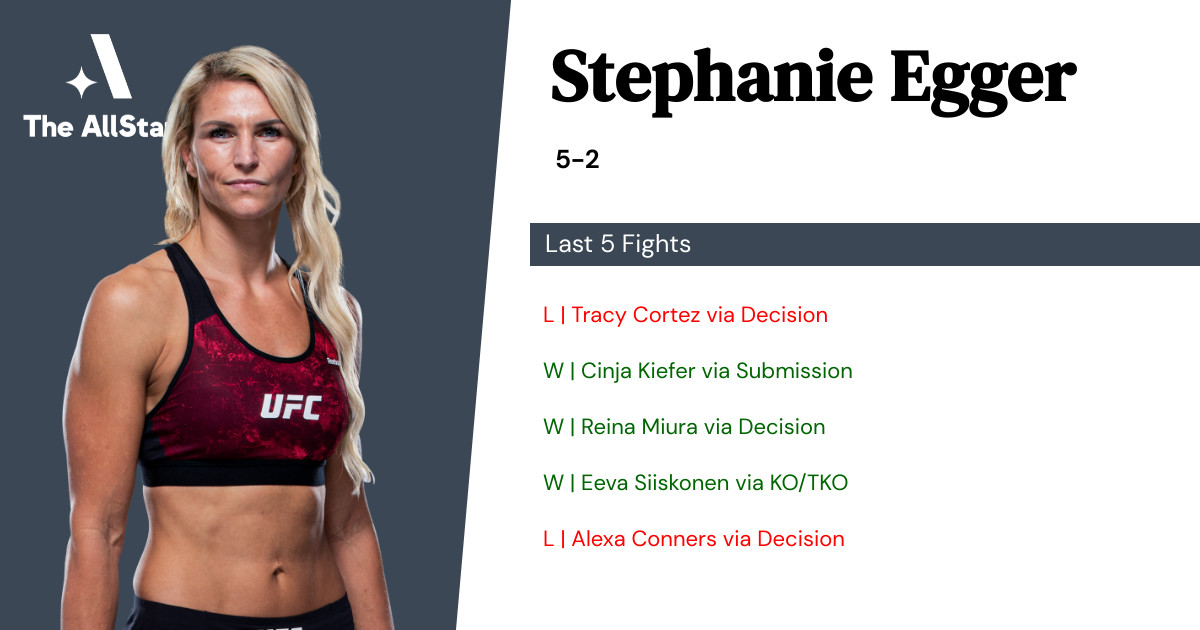 Egger is much more calculated on the feet. She's light on her feet and holds a high guard – doing the basics of defense properly. She does bite on a lot of feints and tends to avoid any kind of extended exchange on the feet. This is likely due to the fact that she does have a grappling background and feels far less comfortable on the feet. She has a low kick she goes to, but it seems mostly to feel out the range. She also throws an overhand right that almost seems to miss on purpose and leads right to a takedown – which sometimes comes from a double leg, but more likely comes from a body lock.
The ground game of Egger is a lot more nuanced than her striking. She has very tight control that makes it difficult to get up, but you're unlikely to see her really looking to posture up until she's 100% comfortable where she is. She exemplifies the term 'position over submission' as all of her transitions are crisp and minimize the risk of being swept or even a scramble. As you might imagine from an ADCC qualifier, she has a good submission game, but like her ground and pound, it only reveals itself when she feels safe in the position she is in. This means a rear-naked choke is possible, but you might not see much else.
The Clash
On the feet, this one should be pretty easy to understand. Young is going to be pushing the pace at all times and doing her best to make Egger uncomfortable on the feet. Egger needs to look to use that aggression and turn it into clinch situations. Both of these goals I think will get met with regularity in this fight. Young will be successful with the strikes. Egger will get her clinches. The major deciding factor of this whole fight will be whether or not Egger can do anything with those clinches. Typically, she likes to be pressing her opponent up against the cage (or ropes in some of her fights), but will she be able to get there?
If Egger does manage to get some top control, she should be able to keep it. While Young is powerful, the careful control of Egger should counteract those blasts of aggression quite well. Young has fallen victim to a couple of rear-naked chokes, which seem to be what Egger likes best. It'll be important for Young to avoid showing her back to the most talented grappler here.
Final Verdict
As I said earlier, I think a lot of this fight will be determined by what happens when these two women wind up in the clinch. Young was able to stall out a very strong Macy Chiasson when they clinched in her debut. That fight came with very little preparation for those situations as well. Given that this camp is both full and likely entirely dedicated to keeping this fight on the feet, I like the strength and physicality of Young to get her out of grappling with Egger. As long as she does that, her work on the feet should be more than enough to help her cruise to a unanimous decision victory.