Daniel Vreeland takes a deep dive into one of UFC Vegas 39's prelim fights. This week: Steve Garcia Jr. vs Charlie Ontiveros.
The Stats
| Steve "Mean Machine" Garcia | Charlie "The American BadBoy" Ontiveros |
| --- | --- |
| 11-4 (0-1 UFC) | 11-7 (0-1 UFC) |
| Rio Rancho, New Mexico | Cleveland, Texas |
| 6'0" – 73" Reach | 6'2" – 76" Reach |
| Jackson-Wink | WAR Training Center |
Steve Garcia vs Charlie Ontiveros – Tale of the Tape
Leading Up
Steve Garcia came into the UFC in a very tough way. Although he put in an excellent performance on the Contender Series, he missed the bantamweight limit badly. In fact, he was the first to miss weight on the show, prompting Dana White to all but confirm that he wouldn't give a contract to someone who missed weight. He then moved up in weight class to featherweight and signed to fight for LFA. After picking up another stoppage victory at LFA 80, Garcia got a short notice offer this time going all the way up to 155lbs – which he had fought at prior. With Alex Munoz pulling out of a fight with an injury, Garcia stepped in to fight Luis Pena in February of 2020. He would go on to lose that fight and has been on the shelf since.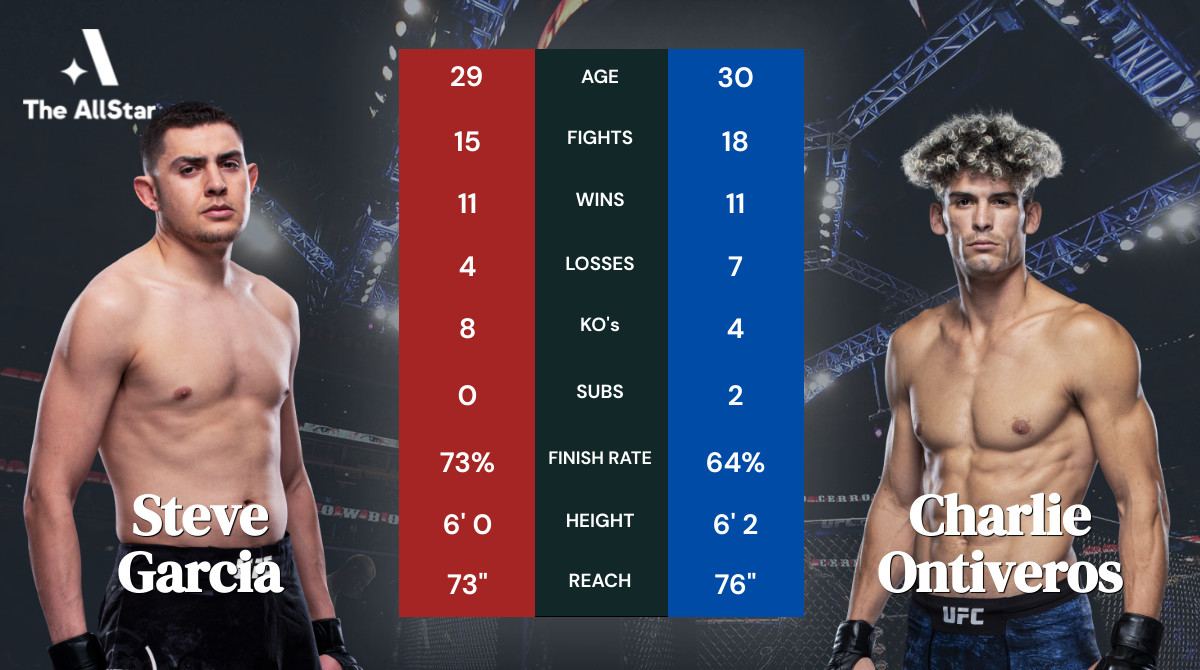 Charlie Ontiveros had some similar issues with his first fight. While he didn't have to worry about making weight (he actually reported that he has difficulty keeping weight on), he did make his debut on short notice. During his incredible run, Kevin Holland was supposed to fight Makhmud Muradov in October of 2020. Muradov withdrew from that fight and Ontiveros stepped in on short notice. However, it wasn't just a short notice fight for Ontiveros, it also involved a decently large step up in weight. Like Garcia, and a lot of late replacements, the fight came a weight class higher than where he was previously fighting. Ontiveros had been fighting at welterweight, and cutting very little weight doing so. Even though this was at middleweight, Ontiveros didn't come close to the weight limit, weighing in at 182.5lbs. He would go on to lose that fight by a neck injury.
Styles Make Fights
Mean Machine
When it comes to the striking, Garcia has a lot of aggression. Despite the fact that he has some above-average wrestling skills, he seems much more inclined to let those hands fly and with a fair amount of regularity. His forward movement comes paired with a loaded-up rear left hand that is clearly trying to get the fight ended as soon as possible. However, it's not just a sloppy, winging shot. Instead, he throws it in tandem with some measuring rights. He also doubles, or even triples, up on it from different angles. You'll see him back someone against the cage and get the guard up with a left hook. He'll then follow it up with a left uppercut or even a body shot. The way he pairs all of this together to pour it on can make it really hard for opponents to reset the fight when things aren't going their way.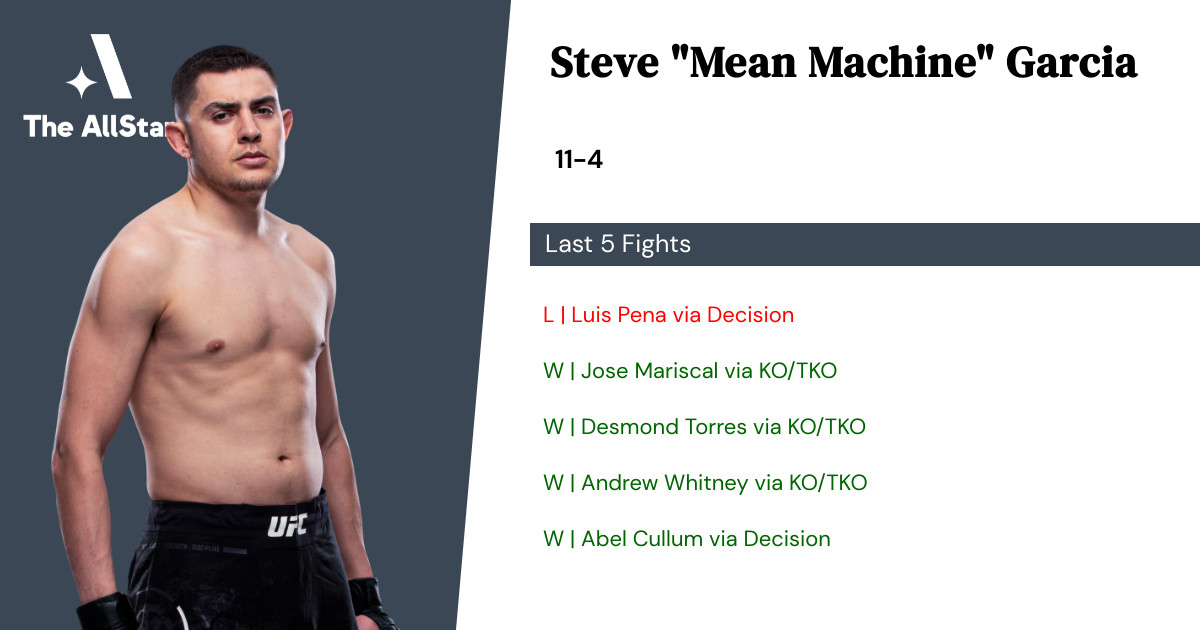 On the grappling side, he has always been an apt wrestler, which is part of why he enters this fight as a -305 favorite. When he was with Bellator, he was able to ground and control a lot of his opponents. In his UFC debut with Luis Pena, he got the much taller fighter down once, but that was in four tries. That's a little alarming as Pena is not typically known for his grappling defense. This was also a similar problem when he fought Aalon Cruz earlier in his regional career. Cruz is similarly built to Pena and as a result was hard for Garcia to take down, even if he was the bigger guy at featherweight.
The American Badboy
The striking of Ontiveros is pretty much the antithesis to Garcia. He isn't in a particular hurry to get work done. He's patient and measured in the strikes that he does throw. Also, you're pretty unlikely to see him double or triple up on any shot that he's throwing, particularly from the stance he fights out of. He stands in a traditional karate stance and tries to bounce in and out of range like you would imagine someone with that style would. While he isn't quite as good as some of the other karate practitioners at that part of the game, he does back it up with kicks that seem to help matters. The kicks work both because of the stance and his extreme length, which will be even more extreme down at lightweight. He also doesn't telegraph and of them – they seem to come without any loading up.
The grappling department is a little of an unknown for Ontiveros. While he has a slew of fights and a good deal of them are available to watch in various places, there just isn't much opportunity to see what he does on the ground. In addition, some of it is against some really high-level opponents like Michael Page or Geoff Neal. One fight where we could glean some information was his loss to Contender Series alumni Nikolay Veretinikov. In that fight, he was taken down by the judoka. However, the ground work was largely controlled by Ontiveros. He had an armbar off his back sunk in fairly deep, and then used the ensuing scramble to get a single-leg and get back to his feet. So it's reasonable to question his takedown defense, but once there he seems to both have weapons and know-how to get back to his feet.
The Clash
On the feet, this largely will be a question of space. We have Garcia who has fought as low as bantamweight in his career and is used to being the bigger guy. Then we have Ontiveros, who recently fought at middleweight and usually fights at welterweight. Despite being in those classes, he is not bad at keeping distance with his karate stance. If Ontiveros is able to stay away, he should be able to pick Garcia apart. On the inside, I think it leans to Garcia, who is much more of a volume threat than Ontiveros.
Inside is also where Garcia is going to look for those takedowns. This is another big question considering the stature of Ontiveros. Garcia has struggled with a lot of guys that look like 'The American Badboy' when it comes to scoring top control time. I'm not sure Ontiveros quite has the defensive wrestling that some of those other names do, but the frame and balance alone may help.
Final Verdict
With the unknowns so high in this fight, it seems surprising that the line is so far apart. Ontiveros comes in as a +255 underdog and I have to assume it's because they don't think he can stuff the wrestling attempts and will wind up on his back. However, I have far more confidence going into this fight that his size will play a large factor. Garcia is used to being the bigger man, which sometimes hasn't even helped. I think the technical striking of Ontiveros plays up in this fight and he may even catch Garcia coming in with something big. Ontiveros by (T)KO.